Police arrest 'Do not Kill!' protesters in Tbilisi
On 11 June the police arrested six protesters. According to the Georgian media, among them were Zviad Kuprava and Lasha Tsutskiridze who organised the protest. Allegedly they were arrested when the police tried to move tents from the traffic side of Rustaveli Avenue to another place which was used previously – the square in front of the parliament building.
The Georgian Interior Ministry issued a statement saying that on 11 June the arrestees did not obey the police's demands and therefore they were charged with petty hooliganism, while another one was arrested because of resisting authorities. According to the Ministry of Internal Affairs, one of the detainees was wanted and another one was under a suspended sentence.
Law enforcers started to clear Rustaveli Avenue around 13:00, which caused protests by those who had erected the tents on the roadway on 10 June. In this manner David Saralidze, the father of the boy who was  murdered on Khorava Street, and Tamerlan Machalikashvili, the father of the boy killed during the raid in Pankisi Gorge, have continued protesting demanding punishment for the perpetrators of the murder of their sons. They refuse to stand down until their requirements have been met.
The protesters demand that the guilty be punished, that the former chief prosecutor be brought to justice as well as prosecutors who directly dealt with the deaths of David Saralidze and Tamerlan Machalikashvili, the resignations of the ministers of the interior and justice, and the appointment of a candidate from the non-governmental sector as chief prosecutor.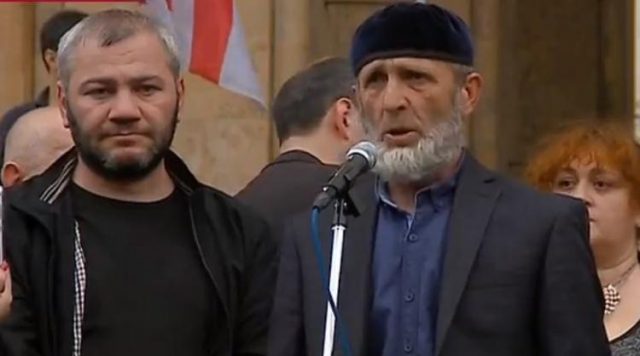 " Zaza [Saralidze] and I are standing here so that those people who have brought us eternal grief cannot harm you all. We will ensure that all the guilty, the entire criminal group, be punished," said Machalikashvili.
"I will not leave this place until the murderers of my son are punished. Let them bring out armoured vehicles against me, let them crush me… ," said Saralidze.
Late in the evening, police and special forces were mobilized on Rustaveli Avenue.