"Baku's plans - deportation, reintegration or war". Opinion from Yerevan
Open Lachin corridor and route through Agdam
"At the meeting of representatives of Nagorno-Karabakh and Azerbaijan, if it is still organized, the Armenian side should discuss the possibility of simultaneously opening the route through Agdam and unblocking the Lachin corridor". Political scientist Areg Kochinyan sees this compromise as a way out of the situation.
He does not rule out that Baku initially intended to use the route through its territory to the unrecognized NKR, i.e. the Agdam road. That's why the Lachin corridor connecting with Armenia was blocked. He says that in the event of rejection of this compromise, there is no alternative. He emphasizes that it is important that if the Lachin corridor is unblocked, it should not become a one-way corridor, i.e. a road only for the exodus of Armenians from Nagorno-Karabakh.
Azerbaijan continues to maintain that the Lachin corridor is not blocked, but proposes to deliver humanitarian aid to Karabakh Armenians via the Agdam road. In the unrecognised republic this has so far been declared an unacceptable option. But a few hours ago Azerbaijani media reported that two trucks with 40 tonnes of flour had already reached Agdam from Baku.
The MK reported that "there was no agreement on this issue with the Artsakh side, they will receive products only through the Lachin corridor" from Armenia.
In his latest interview Areg Kochinyan touched upon the cases of detention of Armenians at the checkpoint on the Khakari Bridge, Lavrov's proposal to ensure their rights and security, negotiations with representatives of Azerbaijan and possible scenarios of the situation development.
---
---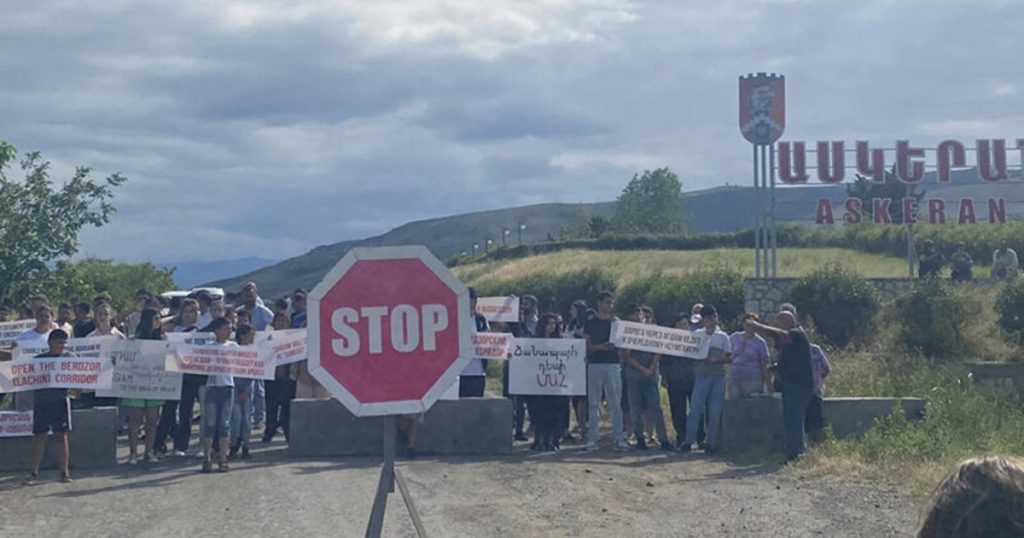 "Kidnapping people from checkpoints is outright terror."
Political scientist Areg Kochinyan believes that Azerbaijan is planning two main scenarios for the development of events:
Karabakh Armenians are terrorised and leave their homeland, i.e. there is deportation, which is a form of genocide;
they submit to the conditions of Azerbaijan and the reintegration process begins.
"In both cases, Azerbaijan's ambitions and expectations are very maximalist. In fact, Baku does not want to hear about any MK status or special conditions [for Armenians] in case of reintegration," he emphasises.
Kocharyan believes that "outright terror" in the form of detention of Armenians travelling to Armenia accompanied by Russian peacekeepers and Red Cross staff at the Lachin checkpoint is being carried out precisely in order to achieve early results.
Open Lachin corridor and route through Agdam
On the previous day, three young men accompanied by Russian peacekeepers were detained while crossing an Azerbaijani checkpoint. They are accused of "insulting the Azerbaijani state flag". It is reported that after 10 days of detention they will be deported to Armenia.
Earlier, 68-year-old Vagif Khachatryan was detained here as well. The Red Cross staff took him to Armenia for an urgent operation. He is accused of leading "a criminal group that committed the 1991 Meshali pogroms". Armenian media report that he was a driver in those years and could not have been the "organiser of the genocide".
Will Russia be able to organise a meeting
Regarding Russia's possible participation in organising a meeting between Karabakh Armenians and representatives of Azerbaijan, the political analyst said:
"There are two questions: whether they will be able to or not, even if they really want to, and how much resources and political will they are willing to invest in this endeavour".
Kochinyan believes that Russia would like to organise this meeting based on its own interests. But he emphasises that, given the recent cases of detentions, it is important to clarify the venue of the meeting and understand how the security of the participants is guaranteed.
"If even people accompanied by Russian peacekeepers and the Red Cross are taken away, where is the assurance that the same thing will not happen, for example, in Yevlakh?" he says.
Gurgen Nersisyan, State Minister of the recognised NKR, spoke recently about a possible meeting with Azerbaijanis. According to him, it could take place on the territory where Russian peacekeepers are stationed or in any other safe place in the presence of a third party. He explained that no one can guarantee the physical safety of Armenians on the territory of Azerbaijan.
"To not negotiate is to leave the situation unchanged."
The political analyst is of the opinion that it is necessary to participate in negotiations with Azerbaijan in order to change the situation. He reminds that no resolution was adopted at the last meeting of the UN Security Council. And in case this binding document would have been adopted, it is not clear which political centre should have forced Baku to implement it.
"Azerbaijan has a very powerful political, social and economic tool. It is the closure of the Lachin corridor and, as a consequence, the obvious reduction of resources in Artsakh. Baku is waiting for a critical situation to present its next demands," he warns.
Kochinyan says that Karabakh Armenians have security concerns and anticipate that the Azeris will give them ultimatums. The political analyst does not share these fears, explaining that Baku can issue ultimatums without meetings:
"If Azerbaijan is thinking about war or forced reintegration, why does it need to achieve these goals through a meeting? If a plan is outlined, it can be implemented regardless of whether a meeting takes place or not".
"The Armenian side should have agreed to Lavrov's proposal"
The analyst explains that there was at least one good reason for this, namely to position oneself as a constructive party:
"Given Azerbaijan's political appetites and ambitions, I rule out Azerbaijan agreeing to this document. Baku wants much more than it will get from this document."
He said the history of the Karabakh conflict shows that "each subsequent document was worse than the previous one." And the Russian Foreign Minister's recently published proposal implies "cultural autonomy with very limited elements".
Possible "reintegration options," according to Kochinyan, could be not only the proposed Russian document, but also the Azerbaijani and Western ones. He says that the Western one was not received, as the West failed to organize a meeting between representatives of MK and Azerbaijan.
He believes that the Azerbaijani version will be "the same deportation, only stretched in time and space."
"They will create such conditions that in a few years or decades the Armenian trace, element will completely disappear there".
Open Lachin corridor and route through Agdam
"The other possible scenario is war"
According to Kochinyan, apart from deportation and integration, Azerbaijan is also considering the possibility of starting a war. He believes that in case of integration Azerbaijan will try to combine this process with the return of Azerbaijanis to Armenia and recalls Lavrov's statement after a trilateral meeting in Moscow, in which he also said:
"Azerbaijan and Russia are discussing this possibility with each other, so there is some process going on, and this is a threat to Armenia."
The political analyst has absolute confidence that the ideal scenario for Moscow is a war, when "not only Nagorno-Karabakh, but also Armenia will have to be saved".
According to this plan, in the event of war in Nagorno-Karabakh, Armenia's intervention will not be avoided, the conflict will escalate, and there is a possibility that it will move into Armenian territory:
"This is the situation when Armenia will not be able not to intervene, will be forced to intervene, it is a political trap that will transfer the conflict to the territory of Armenia".
Follow us – Twitter | Facebook | Instagram
Open Lachin corridor and route through Aghdam