Op-ed: when a man in Azerbaijan is guilty just for being a man
O
ne day I decided to go to Tbilisi by bus. I bought a ticket in advance and arrived at the station on time.
But an unexpected "gender" conflict was waiting for me on the bus.  
The woman who had the seat next to mine became hysterical when I tried to sit down. 
"How could they sell you a ticket here – they know that I am a woman! Get out of here!"
I was in shock and could not think of anything better to do than  timidly say that the spot was my "rightful place" and that I bought a ticket in advance at the box office.  
Then she issued a wonderful "they should already know at the cash register where men will sit and where women will sit! Let them commit such indecent acts in their own country, Georgia!" 
I said nothing. For some reason, I remembered a feminist march in Baku, when they were attacked by "cleaners".  
The latter knew that they would not be punished, so they let their anger out on the rally. The demonstrators meanwhile could not respond in the same way.
In our society, it is not acceptable to quarrel with a woman who could be your mother, no matter how she humiliates you.
And so I was afraid to react. 
The woman began to loudly call for the driver. The assistant driver came. He said that she should either get up or have paid for two seats. 
She refused. 
When she shouted at the whole bus "do you want to seat this 150-pound man next to me?", I smiled again and said nothing. 
What could I have said? She would have told me to go talk to my own mother like that.
There is no right answer to this attack: everything connected with one's mother affects the honor of the Azerbaijani man.  
The public waits with bated breath, and either you answer too softly and "you are not a man anymore", or you come out too tough and you are labeled an aggressor.
The assistant driver in a panic asked the women if they would take this lady's seat, but nobody agreed to do so. 
Then the driver's assistant looked at my calm face and said: "You will sleep on my bed in the bus, okay?"
In the bus, it turns out, there is a little cabin where the crew can get a few hours of sleep.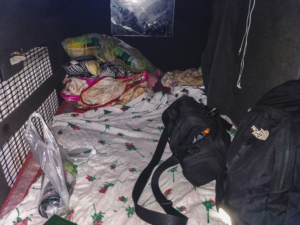 On the one hand, it was a victory – I calmly slept almost the whole way.  It is not very pleasant to sleep in a strange place, but it didn't end so badly.
On the other hand, I was a little uncomfortable because I didn't even understand what part of the Azerbaijani mentality had deprived me of a seat. 
Was it deference before age? Or a strange, perverted kind of feminism, when people defend a medieval "code of honour", or was it just fear of conflict.
I asked the assistant driver at one of the stops: 
"Could you have kicked her off the bus? Do you have the right to do that?"
He answered, proudly: "Yes, I could have."
"Why didn't you?" 
"Well, did you see her? It's better not to go near such people. They just cause problems." 
I smile, and said nothing.
Я улыбнулся и ничего не ответил.