"It is necessary to attract young people to the theater and show that there is a place more interesting than a teahouse"
Rahman Shikhiev – culture in the regions
Gunel Isayeva
"With my love of art, I have traveled all over the country. It brings back memories of the years I dedicated to the arts. It was good that I worked in the theater and was in the cultural sphere. Now only the name "People's Theater" remains. People are no longer interested in theater. People of that time had an idea of theater and culture. Now they mostly have a pale impression of a teahouse. This hurts me and fills me with sadness."
Rakhman Shikhiyev, an 82-year-old cultural activist, has devoted most of his life to folk theater. He is also known in the neighborhood as "Mikhailo from Geychay."
In fact, Rakhman Shikhiev was born in the village of Alvand in Zardab district. After receiving secondary education, he entered the Financial and Economic Technical School in Baku. During his student years he actively participated in the drama club of the educational institution. Here he received the most unexpected proposal in his life.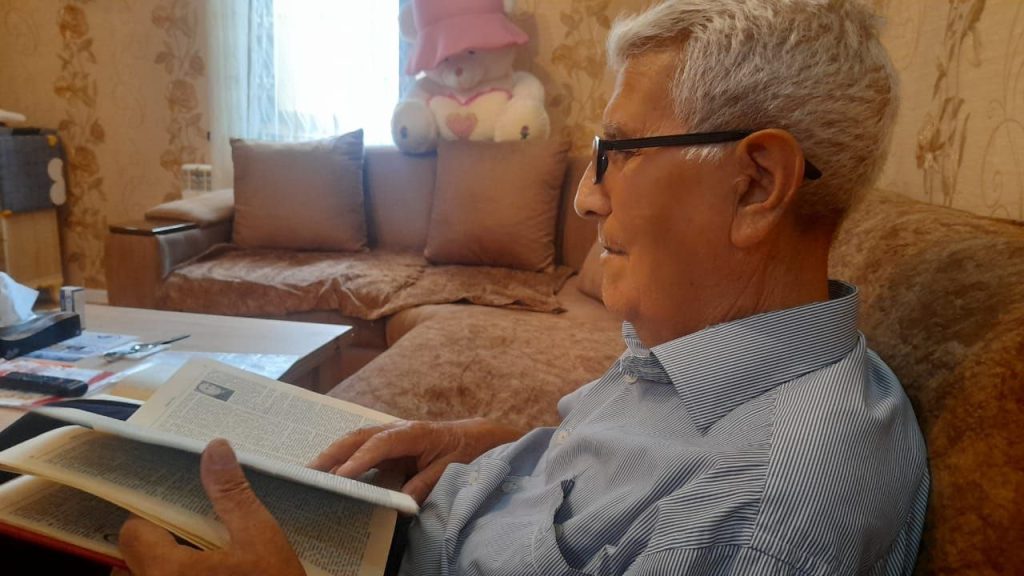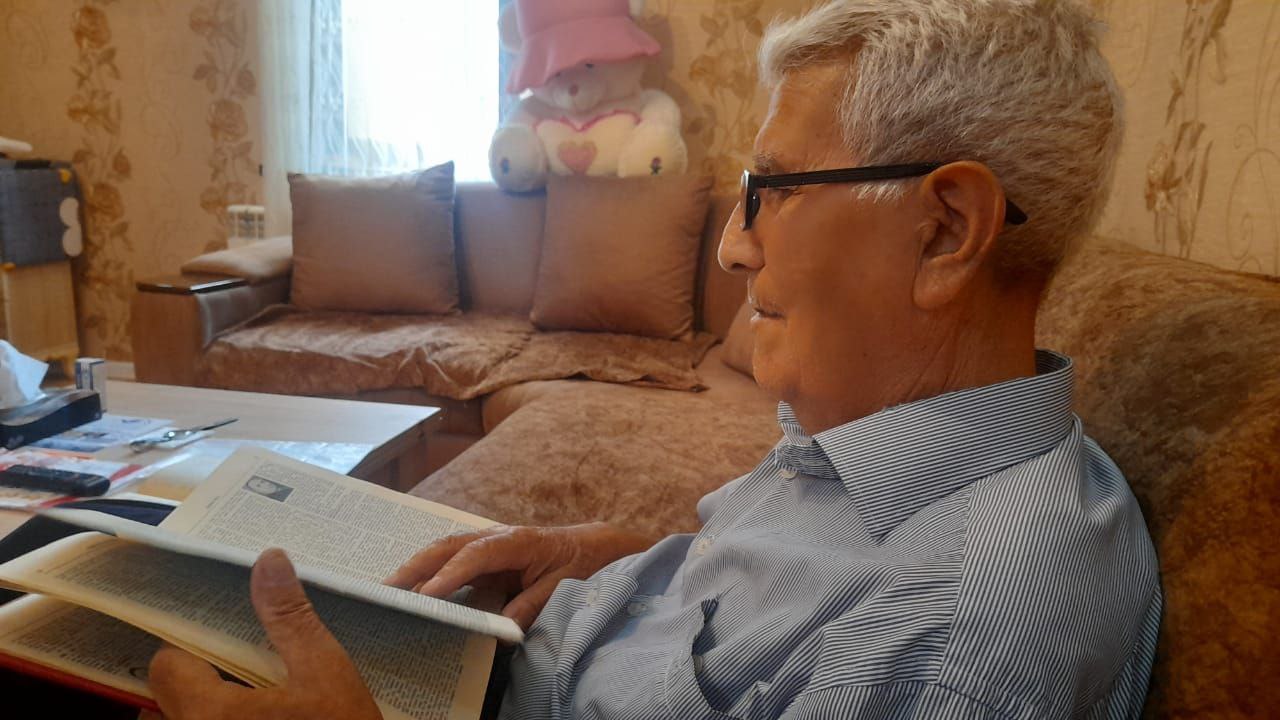 ---
---
Almost became Mikhailo at the age of 18.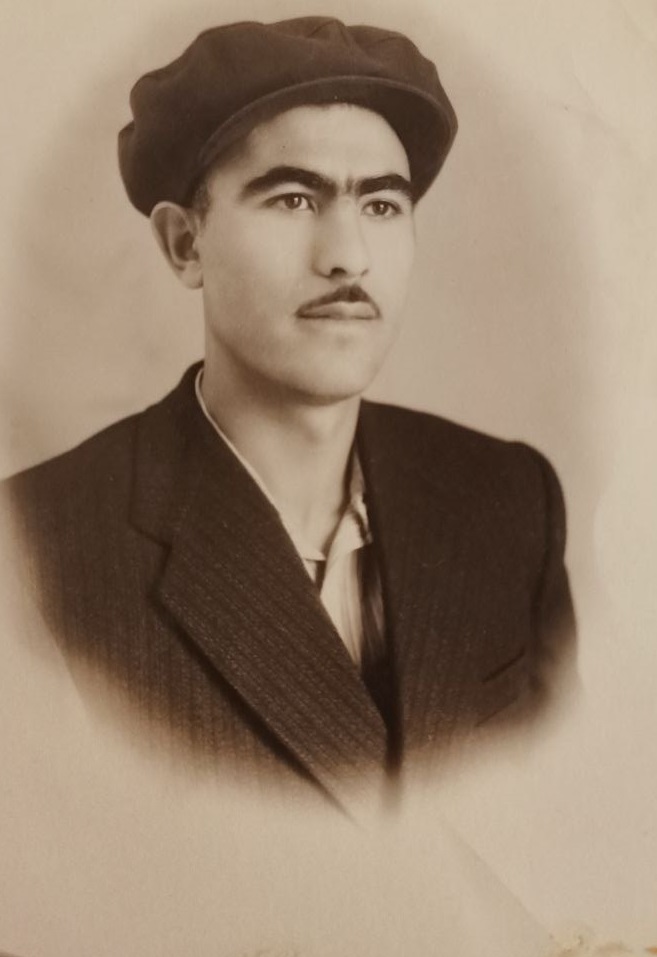 "The club was preparing a performance of 'Gachag Nebi'. I was in the character of Nebi. I was 18 years old. Mansur Madatov, an actor of "Azdrama", came and said that they were preparing to shoot the movie "Distant Shores" and were looking for an actor to play the role of partisan Mehti Huseynzade – Mikhailo. He said that you are very similar to Mikhailo, let's go and check you out. When I was young, I was a copy of Mihaylo in photos. My teacher took me there. I spent three months in test shoots for the role of Mikhailo. I was praised. But then Nodar Shashigoglu was brought from the Dagestan theater, and he starred in the film.
Trial shooting gave me a great experience. I got acquainted with the cast and director Hasan Seidbeyli. They didn't know about it at home, I didn't tell anyone about the shooting. Even though I didn't star in it, I like this movie, every time I watch it, it evokes pleasant memories. Nodar Shashigoglu played this role perfectly," recalls Rahman Shikhiyev.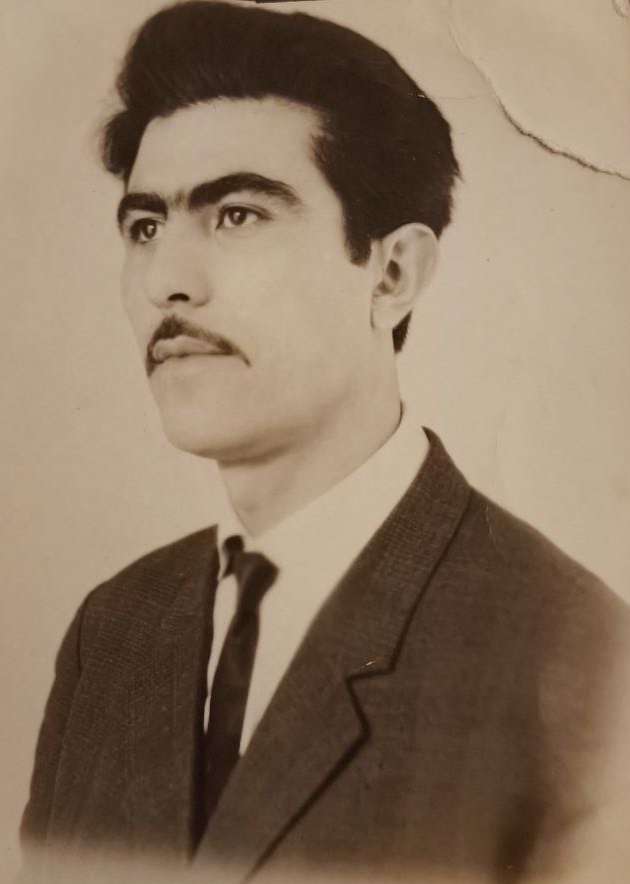 In 1960, he took the exam for the then Institute of Arts.
"Adil Iskanderov (People's Artist of the USSR) took my exam. He told me, "Here is a child sleeping, and you read the fable "The Crow and the Fox". Read so as not to wake up the child, but so that I could hear. I passed the exam. However, I could not study full-time, because I was already married, I had to feed my family. But I successfully graduated from the Institute of Arts, albeit by correspondence.
31 amateur actors, over 10 performances
Shikhiev says that for a while he worked as an accountant in Udjar district. But later he was forced to move with his family to Geychay district because their house was destroyed by a flash flood. This move again connected his life with the sphere of culture.
Since 1966, he began to manage the Geychay House of Culture named after Rasul Rza, was a director, scriptwriter of the "People's Theater". During Rakhman Shikhiev's leadership, the theater prepared more than 10 popular performances with the participation of 31 amateur actors.
"Geychay People's Theater" was founded in 1961. The first performance on the stage was the opera "Leyli and Majnun" by Uzeyir Hajibekov. It was staged by a director named Heydar Hashimli. Mejnun was played by Ibad, a music school teacher, and Leyli was played by Daria Aliyeva. Neither of them are in life anymore.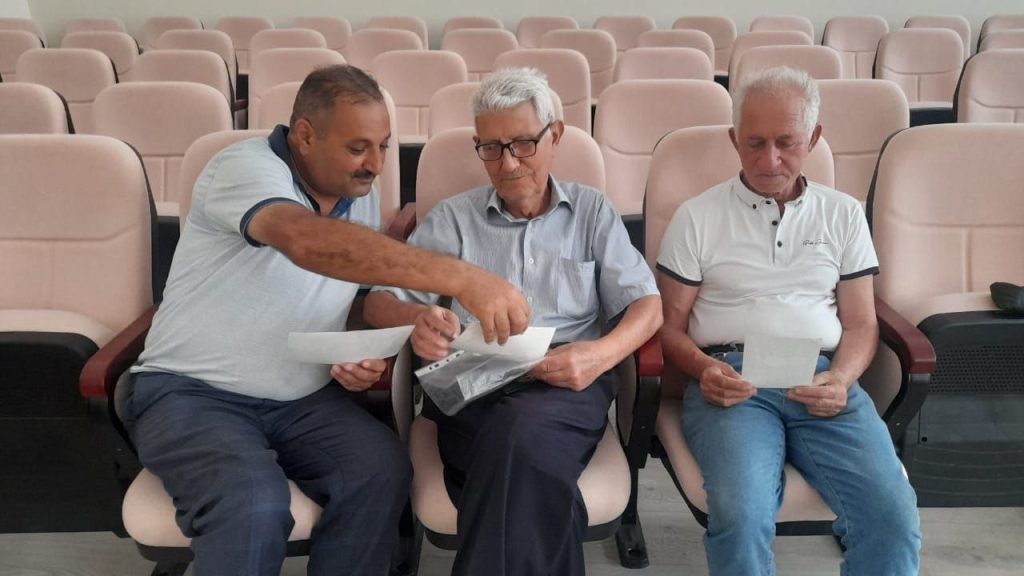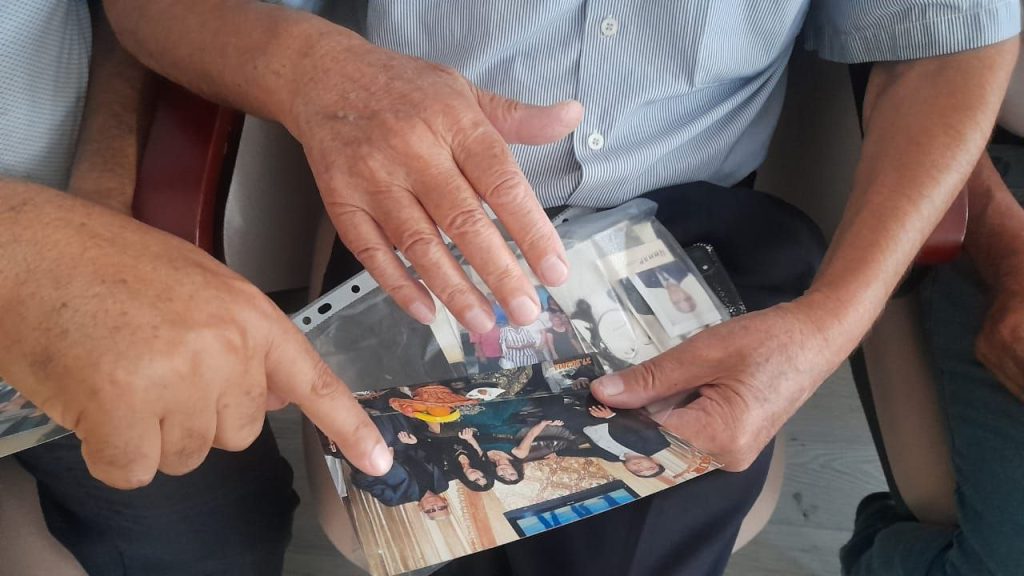 When I moved there in 1966, I tried to put on as many plays as possible. In the House of Culture we had a large troupe of actors who could act in six or seven plays at a time. Among them were seven or eight actors with higher education.
The Geychai State Drama Theater was closed in 1949. However, 12 years apart, the People's Theater was able to bring this tradition back again."
"I used to travel from village to village looking for girls who could go on stage."
Rahman Shikhiev says that at that time it was very difficult to find actresses for the People's Theater.
"I was asked, when will we see women on stage? I traveled around the villages and looked for girls who could be attracted to the theater and make actresses out of them. It was difficult to find girls for the stage from the villages of Chereki, Yeniarkh, Inje. As soon as he found girls, he paid a salary of 80 rubles to interest them. It was difficult to find girls, it took months to train them.
Once a year we had a tour to the regions. We also had a folk instrument ensemble "Könül". The artistic director was Yagub Mursalov. We often appeared on television and gave concerts in Baku.
"I kept the gold medals in the theater archives, then everything got confused."
The cultural worker says that the main reward for his work was the applause of the public – he received no honorary title or status from the state. And in fact, the plays he staged on stage were repeatedly honored with awards.
"In 1975-76, the First All-Union Festival of Workers was held. We went there with the play "Vagif". The director was Mukhtar Dadashov. There were 31 people in the troupe. The audience liked it. The head of Aghdam State Drama Theater Ismail Dagestanli (People's Artist of the USSR) came to the viewing. He said that you have staged the play "Vakif" better than us. With enthusiasm we took it to Baku. We presented it there, the audience watched it. And for this performance Geychay House of Culture was awarded a big gold medal, and members of the troupe were awarded small medals.
I kept these gold medals in the archive of the theater for history and memory, but the relic was not preserved. After I left it all disappeared, not a single one remained.
At that time we prepared more than a dozen performances, such as "Dagylan Tifag", "Khalifa", "Malikmamed", "Gambargulu", "Pari Jadu", "Ogtay Eloglu". We hung posters and played. The only play in which I played myself was "Ogtay Eloglu".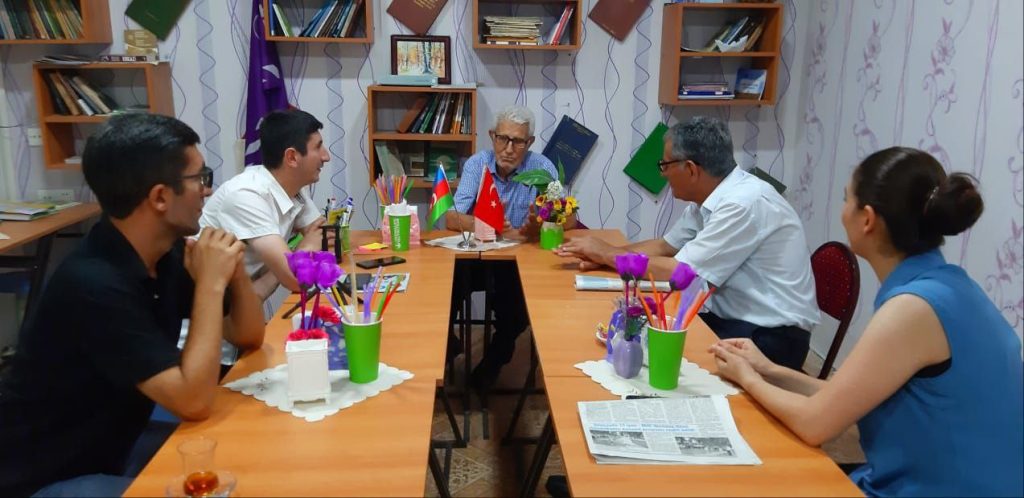 Once a year the Ministry of Culture sent us on tour to the western regions of the republic. For a month we showed plays in Gubadli, Zangilan and Lachin. I distributed tickets to schools and government organizations and set aside days for them to come and buy tickets. During the cotton period we used to visit villages and give concerts in the brigades. The pleasant memories of those years still haunt me to this day. I worked non-stop for 30 years, but I never got tired.
"Zeinab Khanlarova said: "Don't worry, everyone will be accommodated as soon as your sister sings.""
Rahman Shikhiev worked with famous actors and singers, spent days with them, organized their concerts in regions and villages. He says that at that time culture and art were very close to ordinary people.
"Famous artists often came here. We used to organize their concerts throughout the year. Lutfali Abdullayev, Nasiba Zeynalova, Samandar Rzayev, Mikail Mirza, Yashar Nuri, Hajibaba Bagirov, Siyavush Aslan, Zeinab Khanlarova, Sabir Mirzoyev, Arif Babayev, Shovket Alekperova, Rashid Behbudov… Who didn't come to us! I knew them very well. Their concerts lasted for several days. In 1961 I worked with Siyavush Aslan in Guba theater for four months. Ali Kerim and Iskander Joshgun also worked there. They were very interesting people, we could talk sincerely. Ali Kerim was sincere like a child.
There were many strong actors. It was enough for Siyavush Aslan and Nasiba Zeynalova to go on stage. People demanded them, they stayed one more day and prolonged the tour. The singers' concerts had the same success. Zeynab Khanlarova gave a concert here, 700 people came to the hall designed for 400 people, all my chairs were broken. I said: "Zeinab Khanum, by God, blood will be shed here. She replied, "Don't worry, everyone will be accommodated as soon as your sister sings. People also loved Shovket Alekperova very much; every time she came, the concerts were full house.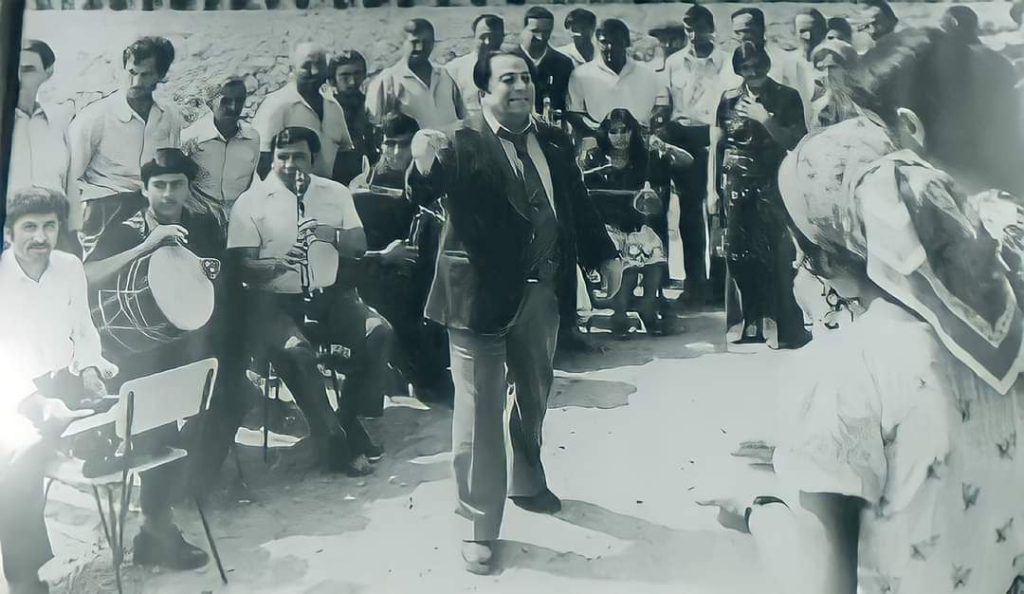 When Rashid Behbudov arrived, I was at his disposal for ten days. He was a very interesting person, but also very capricious."
"Now I spend all day either at home or at the teahouse."
In 1989, the People's Theater collapsed, and Rahman Shikhiev returned to his first profession – accounting. He is currently retired and lives alone. He lost his wife and his son, one of his five children. The rest of his children have chosen different professions and live in different places. None of his children followed in their father's footsteps and have nothing to do with art. Rahman Shikhiyev visits his children and grandchildren from time to time, but lives alone in Geychay.
"I am old, very shaken by the loss of my son. Now I spend all day either at home or in the teahouse. There are few people my age there. Mostly young people are there. Their conversations are not to my liking, they have a low level of culture, no theatrical understanding, no worldview. I feel better at home with a TV set. I watch only old movies. "Nasimi" is my favorite movie. Other programs and presenters don't satisfy me, the screens are horrible.
I have been retired since 2012. Though I continued to work in the employment department till 2018. Because there was no more theater. Now a woman from the social service comes to me, cooks my food, cleans the house and leaves. Government agencies don't think of me on holidays or theater days. They don't invite me anywhere.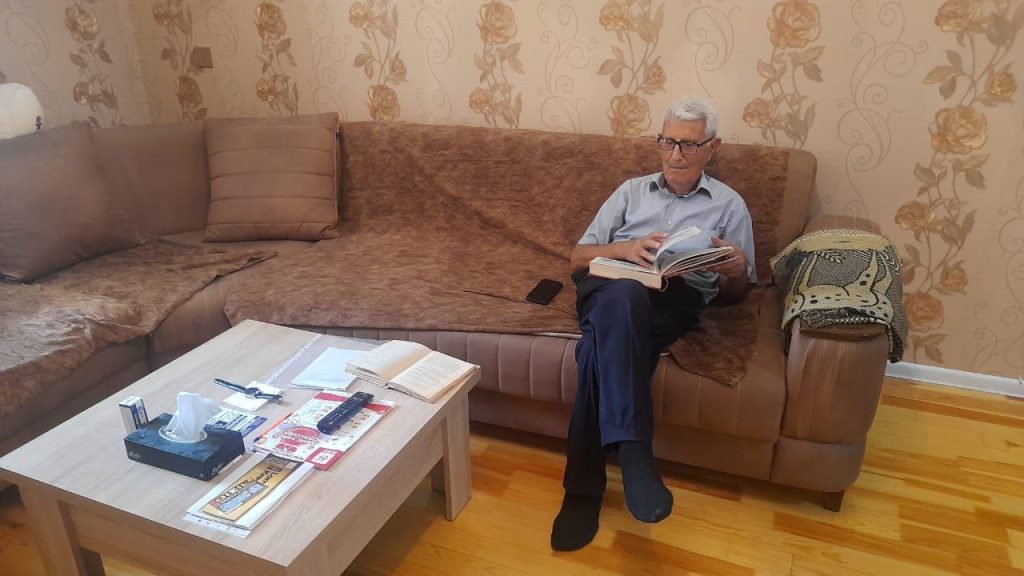 "The most important thing is the economy, you can't do anything without financial support"
The years and days that he was intimately involved in culture now flash before his eyes like a movie film. Far from theater, cinema and music, the present gray landscape of Geychay, once full of art, hurts the heart of the master.
"Geychay, once the cradle of culture, now has no regional culture department, let alone a theater. Since the collapse of the Soviet Union, the regions have lagged behind in terms of culture, theater and cinema. Nothing can replace living culture," Rakhman Shikhiyev said with regret.
He notes that a theatrical tradition can be reestablished in Geychai. According to him, it is possible to do at least small works, not necessarily large-scale performances.
"It is necessary to attract young people and schoolchildren to the People's Theater from time to time, to introduce them to art. Yes, the past can no longer be brought back, but the restoration of theater culture can be achieved. This will only benefit society.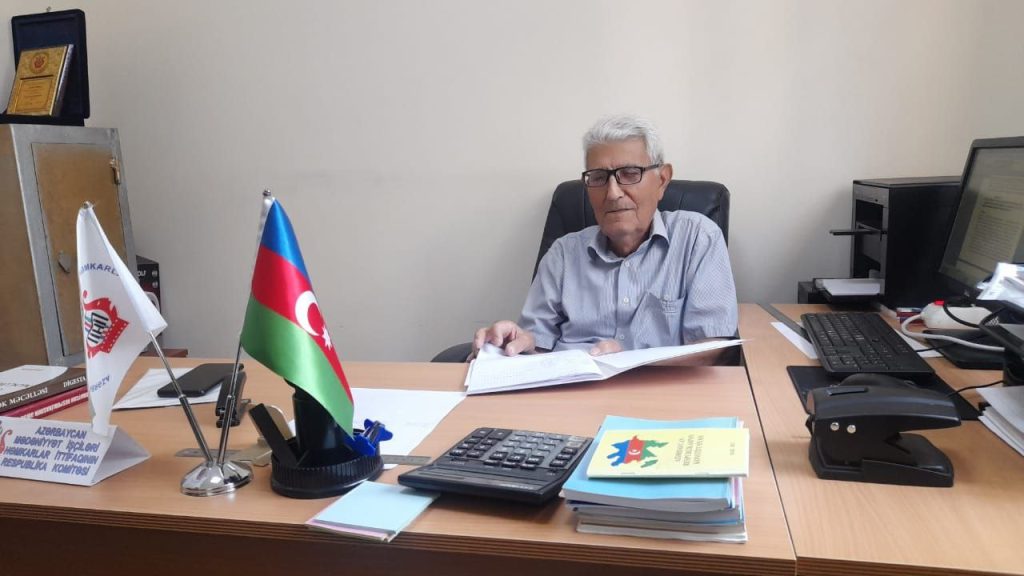 We should start from school, from high school. It is necessary to show that there is a place more interesting than a teahouse. In order to attract young people to the theater and create a theater, educated, judicious people who understand art and theater should work there. And the most important thing in this is economics. Human morality can be preserved only with the help of economy. If there is financial support, talented young people will work hard. But there is no support," says the theater worker.