Iranian Azerbaijanis achieve right to teach native language in schools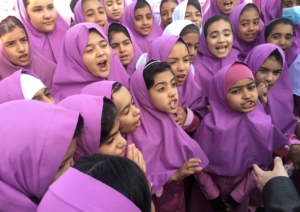 Starting from the new school year, some schools in northern Iran – which is mainly inhabited by ethnic Azerbaijanis – will teach Azerbaijani in school, Radio Azadliq reports, referencing the Iranian Ministry of Education.
• Why do Azerbaijanis in Georgia have such a hard time getting an education and good work?
• Ethnic minorities in Armenia rarely speak out about their problems
Iranian Azerbaijanis have demanded the right to have Azerbaijani taught in local schools for decades. However, it is not yet clear where the textbooks and teachers will come from. 
Azerbaijanis in Iran
The bulk of ethnic Azerbaijanis live in Iran. There are at least 15 million people in the area, if not more. The population of Azerbaijan is itself 10 million. 
This is the largest national minority in Iran – at least 16 percent of the total population. 
This situation arose because in the first half of the 19th century, the Russian Empire and Iran concluded two peace treaties which divided the territory on which Azerbaijanis lived. 
Iranian Azerbaijanis have long been demanding from the government to introduce instruction in the Azerbaijani language, or at least teach it at school. Many fighters against discrimination against the Azerbaijani national minority have been sentenced in Iran to prison sentences and exiles. 
Two hours a week
Students will study the Azerbaijani language for two hours a week. So far, this is a pilot project for which the Iranian Ministry of Education is preparing a special programme.
The Iranian Azerbaijanis themselves, although rejoicing at the news, have trouble believing the news, and have doubts about the efficacy of an Azerbaijani language programme, given there are no textbooks or teachers. 
Azerbaijani-Iranian relations
Azerbaijan and Iran officially call their relations friendly.
But Azerbaijan's economic ties with Iran are not as strong as, for example, with Turkey.
In addition, the policy of the Iranian and Azerbaijani authorities diverges on several important issues – for example, close cooperation and strong ties of Iran with Armenia and Azerbaijan with Israel – a country which Iran refuses to recognize. 
In addition, Azerbaijan is a secular state, where authorities harshly suppress any hints of radical Islam, and Iran is an Islamic republic, where religion and state are one.  For the same reason, Azerbaijanis in Iran are not officially considered a national minority (in contrast, for example, from Armenians). The fact is that in Iran, minorities are usually defined according to religion, and not according to nationality, and Azerbaijanis are also Shiite Muslims.
Where has the decision come from? 
Many in Azerbaijan were surprised that the Iranian authorities finally caved on the issue. 
The most obvious answer to why this happened is that the current Iranian president, Hassan Rouhani, promised to introduce the Azerbaijani language into the curriculum during his election campaign.
JAMnews political commentator Shahin Rzayev says other big changes shouldn't be expected: 
"This only means that now propaganda will be conducted in the Azerbaijani language in schools. Most likely, there will be no other changes", Rzayev says.