Husband of 16-year-old girl kills wife in Azerbaijan two weeks after wedding
A 16-year-old girl has been strangled in southern Azerbaijan, and her husband suspected of the murder, writes report.az.
This is not the first case of domestic murder in Azerbaijan in the past few months. 
Both domestic violence and early marriage are serious issues in Azerbaijan: such high-profile cases make their way into the media and the attention of rights advocates and gender activists, but the situation remains unchanged.
• Femicide in Georgia: a chronicle of tragedy
• Sexual assault in Armenia and those who break the taboo to speak out
• Azerbaijan: a wedding instead of a graduation
A two-week long underage marriage
Fatima Gambarova from the village of Khoshchobanly, Masalli region, married a fellow villager, 19-year-old Iman Mamedov, two weeks ago.
The reason for the murder are still unknown.
Early marriages are very common in this region of Azerbaijan, which often causes criticism and outrage among gender activists, women's rights advocates, and journalists.
The official age of marriage in Azerbaijan is 18 years. 
In this case, the permission for early marriage was issued by the Executive Power of the district, writes Oxu.az.
The reaction of social networks: "heavy load", terror, performance
There is already a wave of indignation in the media and social networks over the murder of Fatima.
Some comments:
"In the Masalli region, I saw a lot of disgusting things. Parents only want to get rid of the 'burden' of their daughters. They marry them with pomp and magnificent celebrations, completely not thinking about the opinions of the daughters themselves. Yes, these girls don't even go to school."
"In our country there is a real terror against women."
"Yes, they are both children, both he and she. At the wedding, they looked like high school students at a school play."
Frightening statistics 
Last year, at least a dozen brutal domestic killings took place in Azerbaijan. One of the most notorious cases was when a husband stabbed a young woman right on the street, in front of their children.
These statistics became the reason for a peaceful procession against violence against women. The gender activists who organized this procession demanded that the country's authorities adopt and ratify the Istanbul Convention, an international agreement of the Council of Europe against domestic violence and violence against women.
And in the middle of January 2020, the media wrote about a woman who ran away from home with her children, because her husband had brutally beat her for many years. 
---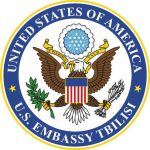 This project is funded through the Democracy Commission Small Grants Program, U.S. Embassy Tbilisi. The contents of this publication are those of the Author(s) and do not necessarily represent the views of the Department of State.