A brick, a cat and other means of heating up an apartment in Baku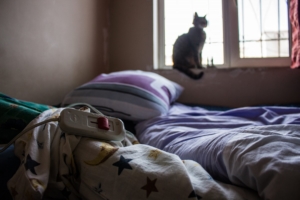 Sevda Hasanova moved to the capital from Ganja where her parents live. She has found a job as an office manager, with a salary amounting to AZN 500. She and her friend are renting a shared apartment in a very old house where the heating is nowhere near adequate.
"There is a split-system air conditioner, but it doesn't produce much heat. In addition, we had been receiving huge power bills long before the tariff increased from AZN 50 – 80. Therefore we decided not to use it anymore. We've bought electric blankets so that we could at least sleep; it's so cold in the apartment that we can't stop our teeth from chattering. All we do at home is basically sleep. I hope none of us will get seriously ill because a visit to the doctor will probably cost us more. I just can't afford heating," said Sevda sharing her story.
Another family who also lives in an old house is the Suleymanov family. The house had been heated by an ancient wall furnace from time immemorial. Until this winter.
"It was warm and cozy earlier. The entire apartment was thoroughly warmed up by this furnace. Its been this way my whole life. I remember my late parents turning it on every winter. However, now we rarely use it. We switch it on just for a few hours so as to survive the winter somehow. If we use it for heating as before, we will have to pay AZN 200 for gas per month," says Nigar Suleymanova.
In her words, in order not to turn the furnace on at night, they heat up a cast-iron pot on the gas stove and put a brick on it.
"Before going to bed, I take the pot with the heated brick to the bedroom so that children don't feel cold so that they can at least get warm under the blanket," says Nigar.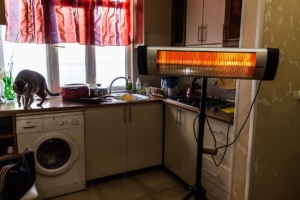 "We've bought an electric radiant heater and although we use it only in the evenings, we receive huge power bills," says Enver Quliyev.
While trying to figure out the most cost-efficient of heating the homes of Baku residents, it become clear that the owners who had an autonomous heating system, commonly referred to in Baku as a 'combi', were luckier than the rest. The main disadvantage of this system is that it requires both electricity and gas, but the advantage is that it turns out more cost-effective than an electric radiant heater or a gas heater.
"We turn on the radiators only in the rooms we stay in and the rest of the rooms aren't heated, so our gas bills are more manageable," says Nargiz Kyazimova.
The trouble is that the installation of this system is costly thus not everyone can afford it.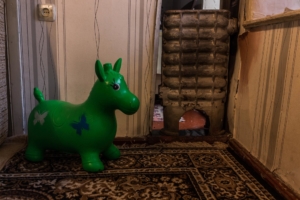 In a search for a Soviet-time cast-iron gas heater popularly referred to as a 'Ceyran' (Gazelle) because of a cast animal figure of the same name on its side, we headed to the old part of the city, one where part of the houses had already been demolished. We went there per suggestion of our friends, but we won't name the apartment dwellers because 'Ceyran' is banned nowadays. It is regarded to be dangerous, first of all, due to carbon monoxide gas.
"We don't have it turned on all the time, but the room warms up well. The only disadvantage is that we have to 'make a deal' with a supervisory agency, because for some reason these heaters are considered to be unsafe. So we make a deal. Since the house is going to be demolished, there is no point installing another heater now. As far as safety is concerned, I've been using it for 50 years already and there has never been any bad incident so far," said the apartment dweller.
In her words, the gasmen themselves assured them that the Ceyran is safer than those poor-quality heaters that have flooded the market.
"There have been so many tragic incidents involving those Iranian heaters. I'd prefer to use this one. It's been tested and proven through the decades," the hostess said laughing.
Let's take our mind off Baku and other cities and touch upon the rural areas, the majority of which generally aren't supplied with gas.People there have to cut down forests which is actually prohibited by the Environment Ministry. But what should they do if there's no other option?
People in some Azerbaijani villages are said to even plug old iron bed railings into the electricity mains to warm up.
The cheapest and simplest electric heater is the so-called 'radiator' with an open helix.
The luckiest in our heating rating are the happy owners who have apartments in newly developed buildings. Certainly not in all of them, but in those with autonomous boiler rooms.
"It's so hot at home that we often turn off the radiators," says Lala Zeynalova.
P.S. During our vox pop most of the residents named one uncommon method of heating – a cat. A warm cat is pleasant, good for health and cost-effective.