How Baku celebrates its main holiday
Nowruz is Azerbaijani New Year and, perhaps, the most important Azerbaijani holiday. It is certainly the ancient one, since Nowruz marks the beginning of a new natural cycle – the day of vernal equinox (this year it falls on March 20).
There are numerous traditions and legends associated with Nowruz and all of them symbolize renovation, getting rid of old and beginning of a new life. Most of these traditions have been preserved since Zoroastrism. Jumping over a bonfire, spring cleaning of house ahead of the holiday, great quantity of high caloric sweets that are specially baked to be shared with relatives – that's Nowruz.
There is the whole week of day-offs on the occasion of Nowruz in Azerbaijan. The holiday, itself, is usually marked on March 20-21; the festive table is laid late on March 19. Rice pilaf, khoncha (a tray with sprouted wheat and sweets) must be on the table by all means. Dyed eggs, as well as the candles by the number of family members are put into khoncha. The candles are lit in the festive evening, if they burn evenly, everybody will be healthy the next year.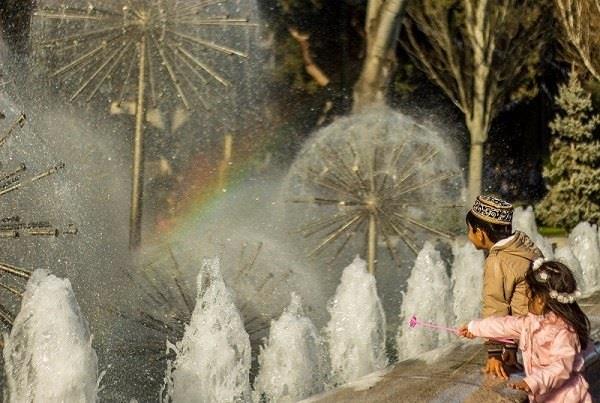 The engaged couple's parents have their hands full on this holiday. A groom's parents have to prepare khoncha for a bride. This khoncha differs from the one that is on the table. Different gifts, including chocolate sweets and cosmetics, cloths, perfumes, may be on a tray, or, to be more precise, on the trays, as one is hardly enough. Though, of course, there should be at least one tray with traditional sweets. With all those gifts the groom's relatives solemnly come to the bride's home.
Jumping over a bonfire is one of the main pagan rituals of Nowruz. Fires are made in every yard on this day. Traditionally, each person must jump over the bonfire at least three times, because this Zoroastrian purification rite is a kind of diseases prevention for year to come.
"Leaving hats is the second tradition as to its importance. Children ring at the neighbors' doors and hide, having left their hats at the door. The hats are to be filled with sweets. Usually, a good hostess always has some sweets, goghals and pakhlava for this occasion. By the way, if one doesn't open the door, they are likely to ring insistently.
Fairs and concerts are organized in Baku's central avenue on Nowruz holiday. The holiday's two foppish traditional characters – young men Kechal (a skinhead) and Kesa (thin-bearded) entertain the people.
Nowruz's most pleasant peculiarity is that it never causes disputes. The point is that Azerbaijani social networks react aggressively to the rest of Azerbaijani holidays: they are divided into holiday opponents and supporters. But Nowruz is sacred thing that no one would ever encroach upon.
19.03.2016, 17.00
19.03.2016
According to the ancient Zoroastrian tradition, four natural elements should be glorified before the day of the vernal equinox. Four Tuesday before Nowruz are dedicated to each element and each of them is a holiday.
Published 19.03.2016