Hijab or work: Muslim Azerbaijani women forced to choose
Azerbaijan is a secular state and government, though 93-96 per cent of the population consider themselves Muslim.
However, observant Muslim women often face difficulties when it comes to finding work and face discrimination.
"I've been wearing a hijab for nine years, and for nine years now I haven't been able to find a job," says 39-year-old Gulbeniz Imanova.
Gulbeniz' husband died nine years ago. Since then, she began to pray and cover her head. Now she is raising four children alone, the eldest being 19 and the youngest 8.
"I do not understand this attitude, what's wrong with me wearing a hijab? A woman in a hijab will be quiet and modest, and conscientiously do her job."
Indeed, in Islam, apart from requirements on clothing, there are also strict behavioral requirements, especially for women.
Gulbeniz Imanova only has a secondary education, so she is mainly looking for work related to cleaning:
"One restaurant was recently looking for a cleaner, and the salary was good. I went there, and they said that they cannot hire a woman in a hijab. Again, I came home with nothing. But I'm not a waitress, I don't see the clientele, and they don't see me – what difference does it make whether my head is covered or open?"
According to Imanova, her daughter, a school girl, also wears a hijab, but she says that she has no problems at the university — neither with her fellow students, nor with the teachers.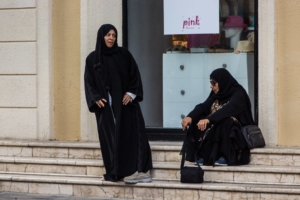 Fear and a lack of understanding at the root of the problem
Sociologist Sanubar Heydarova explains why Muslim practitioners have become a vulnerable group in Azerbaijani society:
"A religious person is one who observes religious rituals in his daily life, and lives in accordance with religious law. Most Azerbaijanis are not religious, traditional Muslims. That is, they call themselves Muslims just because they were born in this country.
"Religion for an average Azerbaijani does not differ from their passport data, and he is not aware of a responsibility of having chosen a religion. Moreover, one might even say that an Azerbaijani is afraid of 'real religion.'
"People are often afraid of what they do not understand. And the average Azerbaijani knows little about religion, or even knows nothing at all. And this fear is sometimes translated into a strange form of respect.
"Such a person, striving for meekness and not wanting to end up committing 'sins out of ignorance', agrees to have mullah at a funeral, quickly gives place to a woman in a hijab on the bus and, does not get married in the month of Muharram. All this is usually done not because of religious orders, but out of ignorance and fear.
"The same attitude is manifested to the 'truly religious' people. In a country where most of the population considers itself Muslim, a woman wearing a hijab causes anxiety and panic.
"She is not the same as most: she should be treated in a special way, not like everyone else, and we have neither the time nor the desire to take care of this during the work process. And if we take into account the subconscious fear, the causes of aggression become clear.
"An employer needs an employee to whom he can turn without any fear, calmly give instructions and criticize for failures, a problem-free employee who does not bring new rules with him or her to the workplace. And an employer is of the opinion that a woman in a hijab does not fit these criteria: if he yells at her, he will then feel guilty; if he forbids her from performing namaz during working hours, she will experience fear, and so on.
"Another factor aggravating this problem is the lack of public dialogue. If both religious and secular parts of society dared to openly talk about their beliefs and expectations, it would be easier for them to get along with each other."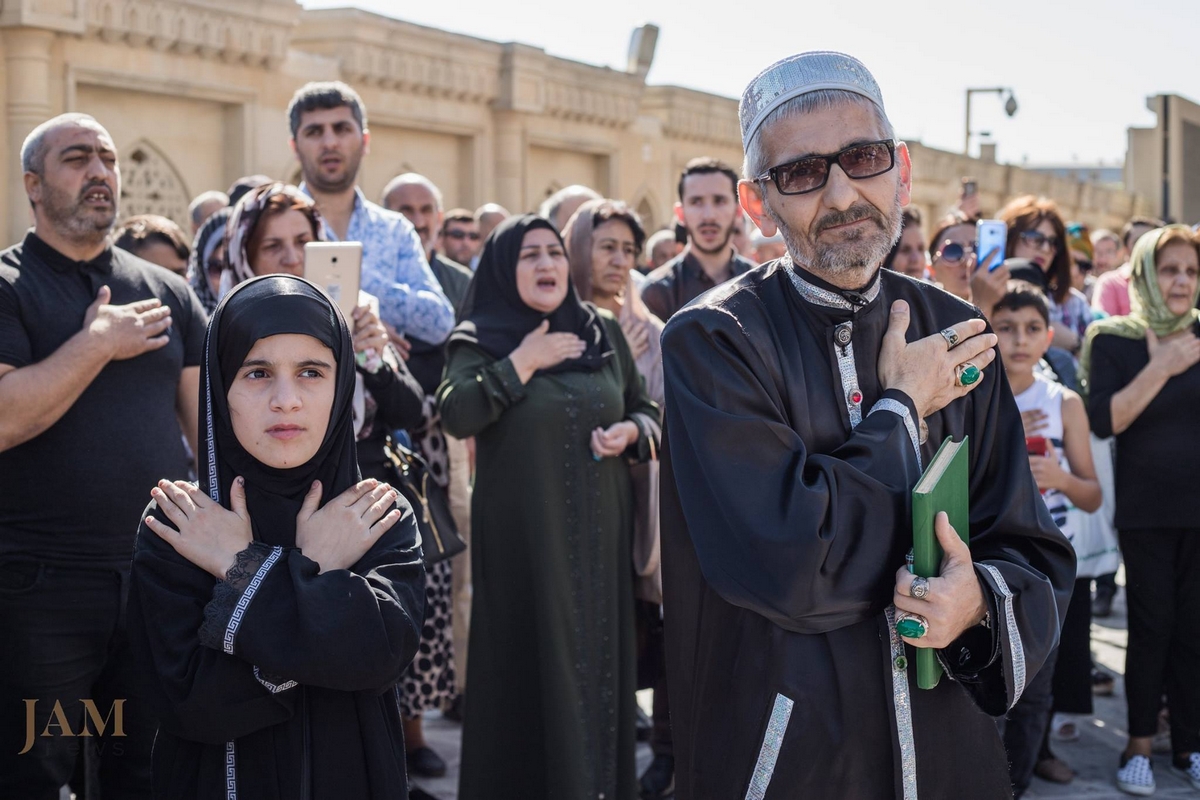 You choose: either religion or success 
Arzu [ed. name changed for purposes of anonymity], 28, had to give up wearing the hijab in order to find a job.
She says she graduated from high school as well as university with honors. In addition to her native language Azerbaijani, she speaks Russian and English, and has studied at various local and international educational institutions in her field. Still, she could not find a suitable job.
"I went for a job interview in a call centre for a mobile operator, but was refused due to the hijab. What, can subscribers on the phone see that I'm in a hijab? The job placement firms offered me, at best, the position of a saleswoman at a pharmacy."
She says that as soon as she took off the hijab, a well-paid job immediately appeared, fully in line with her qualifications.
"Our society is biased. I have never engaged in religious propaganda and, in general, I don't like to talk about my faith. But at work I always encountered strange questions, a strange prejudice. For example, when we were discussing news about radical Islamists, I was at the centre of attention every time. Many associate believers with radical Islamists and terrorists. This is unfair."
"For single women, a covered head can serve as protection."
The head of the Women Centre for Eurointegration Public Union, Nezakat Zeynalli, confirms that women in hijabs often face work-related problems – especially those who fall in the lower qualification spectrum:
"In trying to get a job as a cleaner or nanny, women constantly face discrimination. Some families fear that a nanny's religious beliefs will influence the child."
Zeynalli says the fact that women cover their heads is not necessarily related to their religious views. Some wear religious garments to protect themselves:
"Women cover their heads to avoid unpleasant situations. They say that when they go to work in such an outfit, they feel somehow insured against questions like "why are you returning late from work?" And so on.
"The fact is that, in the patriarchal circles of Azerbaijani society, there are still strict rules for women. For example, you can only have sex after marriage, you must be at home before dark, and so on. Violators are judged and may even be subject to violence. A hijab says to others: "I'm not coming home from a bar, but from work."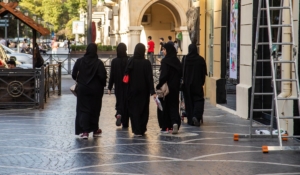 The fight for the hijab
A few years ago, the problem of the hijab in Azerbaijan was much more acute.
In early 2011, a single school uniform was introduced in Azerbaijani schools. In fact, wearing the hijab to school has never been allowed anywhere in Azerbaijan, except for the religious village of Nardaran.
Azerbaijan is a secular country, but there are no bans on the hijab and other religious headdresses in the legislation.
For the Ministry of Education, the introduction of a single uniform was a reason to categorically ban the hijab in schools – and for the Islamic Party of Azerbaijan to bring a thousand people into the street so as to start a fight to ensure that girls in hijabs can go to schools and universities.
The struggle ended in success: the hijab was allowed. However, the protest movement itself was severely suppressed, as 31 activists of the Islamic Party of Azerbaijan was convicted for different terms on different charges.
The remaining three protesters, who were convicted and sentenced to five and six years, were released in April 2018.
"I try to employ my Muslim brothers and sisters."
23-year-old Zamina wears a chador – a long black religious robe that covers the figure from head to toe. She has been luckier than others. She works as a saleswoman in a shop in the centre of Baku, and the salary, she says, is decent.
She works in a so-called Muslim shop, which are becoming ever more popular in the country.
"I am very comfortable working here, but other Muslim women have no opportunity to find such a job. After all, there aren't that many stores which could provide work for all. For example, my two older sisters with higher education have been unemployed for years."
The store owner says:
"A neighbor whispers: they are Wahhabis, terrorists. Another might not be accepted by their own family. A third is harassed at school or university. Some can't find a job for years. Therefore, as an entrepreneur – and a Muslim – I try to employ my Muslim brothers and sisters."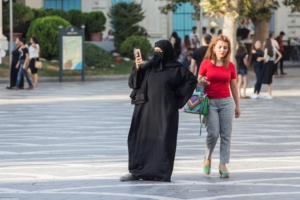 Photo: JAMnews, Baku