Georgian author: desire for revenge prevents Georgians from seeing Abkhaz as people
Georgian author in a t-shirt depicting the Abkhaz flag
Georgian writer Zurab Jishkariani was recently criticised for appearing at a public event with a t-shirt depicting the Abkhaz flag. He gave an interview to online media outlet Tabula and spoke about his reasons for wearing the shirt and shared his views on the Georgian-Abkhaz conflict.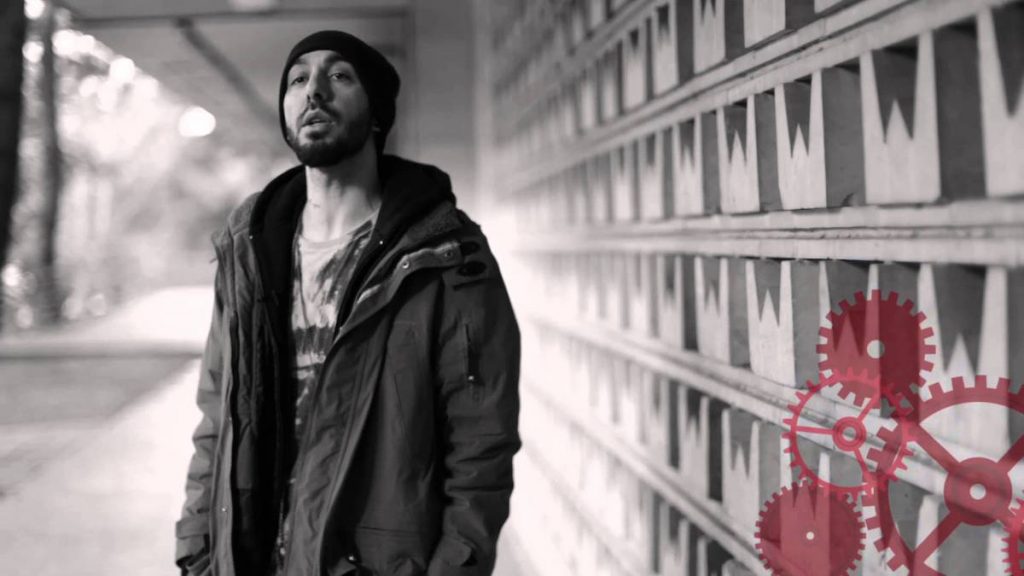 "I prefer peace to war, I've lived my entire life at war," Jishkariani said, adding that Georgians and Abkhaz have ended up at a dead end, and that if one of the sides doesn't make a compromise it will be difficult to emerge from the situation.
"They, the Abkhaz, have been locked in. They circle around Russia and have no access to the outside world. The only access they have could be through Georgia. Over the course of many years we have had the same policy – either we want to enter into war with the Abkhaz, which is just wrong at heart, or, as the other half says, we must come in peace. But as to how this is to be done they have no answer. I think that we must take the ball and play not on Russia's field but on our own. I believe that in the end the will of the nation, of free people means must more than the will of large states," Jishkariani said.
He further stated that the time has come for Georgians to see that 'the Abkhaz exist', and this means that both sides must forget about their conflict and the victims and enter into a new stage of mutual relations.
"We of course must honour the memory of those that fought both on this side and on that side. Perhaps they fought for the wrong reasons, but they believed in them. Maybe that's why we should forget our fallen, and they about theirs. 'Forgetting' does not mean throwing out, but it means saying: this happened and we must move forward. I know that it is difficult to forget the blood spilt back then. But this problem will not be solved on the principal of 'an eye for an eye'. We are blinded by the thirst for revenge and it does not allow us to see the Abkhaz as people," Jishkariani said.
In this photo taken on 27 June, Jishkariani is shown as the victor of a literary competition at Ilia University, and wearing a t-shirt with the Abkhaz flag on it. Some have been annoyed by his choice of clothing. Jishkariani says that the t-shirt is a present from his Abkhaz friends and that he wears it often, and that his Abkhaz friends wear t-shirts with the flag of Georgia. However, this has not convinced his critics. Social media users have written:
"We will probably soon reocgnise Abkhazia and so-called South Ossetia as separate states."
"Professors at Ilia University – the main incubator of liberalism – see Russian propaganda everywhere. But they award this 'writer' who, as a sign of solidarity, wears a t-shirt of Russian separatist Abkhazia."
"The Abkhaz hate us, and don't say that it's not so. From the point of view of today, I believe that the hand we've extended them is idiocy, taking into account their fundamental hatred."
"It is shameful to blame people who don't like your t-shirt and who are thirsting for the blood of the Abkhaz. The only scenario in which I can imagine the return of Abkhazia is a peaceful one. It's only together that I can imagine a life in Abkhazia, and any other option would not be right. But this flag is a symbol of separatist Abkhazia."
However, there were also social media users who supported Jishkariani.
"It is namely for that reason that it is impossible to end this war and turn a new page – nobody wants to look at the conflict from another angle, another perspective, or to hear another opinion that isn't based on nationalism. The war has still not ended and it will probably be a long time still until this mutual hatred can be forgotten."
Toponyms and terminology used in the article, and views, opinions and strategies expressed in it do not necessarily reflect the views and opinions of JAMnews or any employees thereof. JAMnews reserves the right to delete comments it considers to be offensive, inflammatory, threatening, or otherwise unacceptable