Georgia: were vehicle inspections worth it?
A year has passed since the start of mandatory vehicle inspections in Georgia.
This reform was meant to solve two main problems in the country: road safety and air pollution.
But a year later, there are still cars, minibuses and buses leaving black smoke in their wake.
Was the vehicle inspection worth it? What were its pitfalls?
________________________
In Georgia, mandatory periodic inspections were introduced in stages starting January 2018 – first for powerful engine vehicles, passenger vehicles and vehicles belonging to state agencies.  
rom January 1, 2019, it became mandatory for vehicles of all categories.
Drivers have to pay about 60 lari [about $20] for the service, while truck owners have to pay 100 lari, or $34.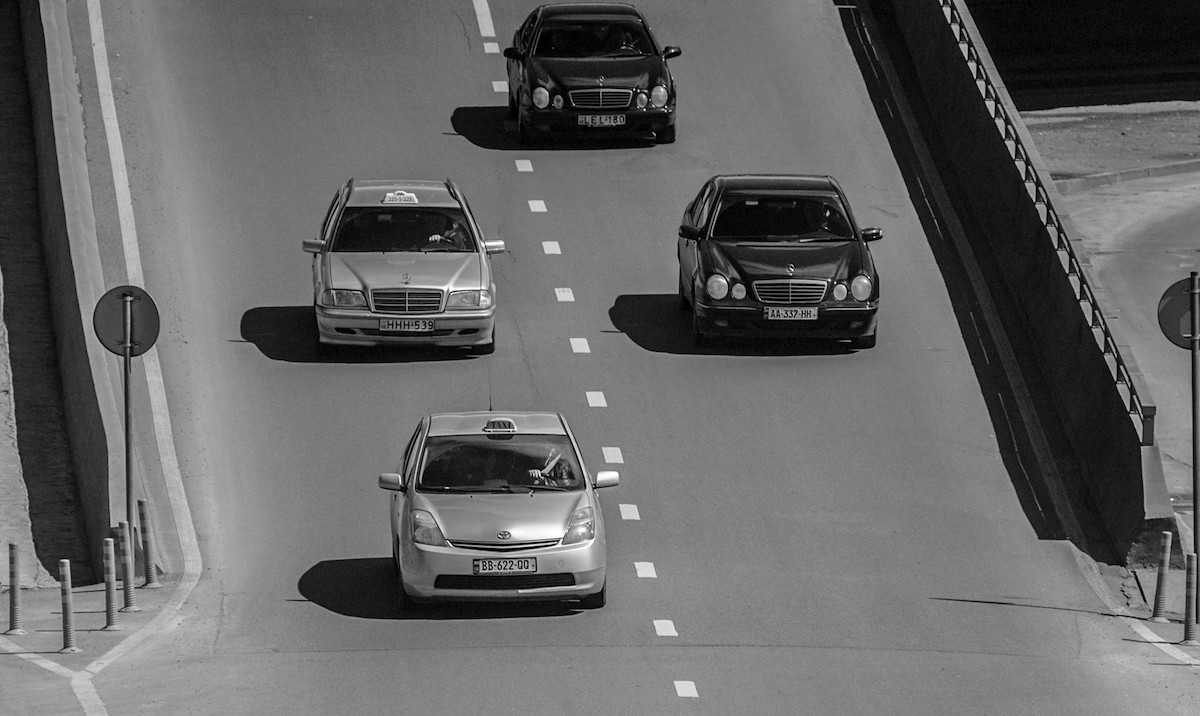 A study carried out by the Institute for Development of Freedom of Information shows that from January 2018 through February 2019, 232,470 vehicles were inspected.
Almost half of the vehicles – 114,830 – did not pass the technical inspection on the first try. The majority of these vehicles were released before 2009.
In order to pass the technical inspection, the vehicle must meet several criteria. It is necessary to have an intact windshield, whole tires, serviceable braking system, serviceable headlights, amongst other requirements. 
Given the fact that the Georgian vehicle fleet is the oldest in Europe, drivers have to put a fair bit of money into their vehicles to make them pass the test.
Tires for rent
After the publication of the law, drivers began to look for an easy way out.
One way to do this was to rent car parts in order to pass the inspection. This practice may significantly slow down the inspection reform.
There are even several closed groups on Facebook where drivers share tips on how to get through technical inspection, sharing addresses and contact information of where to rent parts. 
"The state has invented a new source of receiving money through technical inspection," says Emzar Kikacheishvili, a Tbilisi driver. 
"The air is polluted, and therefore they have introduced technical inspection. They reject everything except the catalytic converted [which filters the exhaust]". 
The technical inspections do not even check whether the car has a catalyst converted, therefore, it is not necessary to have it at this stage – although starting in 2020 it will become mandatory.
However, the tests do check the level of emissions, and cars that have no catalytic converter give off more smoke than others.
The purchase of a catalytic converter costs about two thousand lari [about $682], while to rent one for a day costs about 70 lari (about $24).
Tedo Gorgadze, an auto-mechanic, conducts inspections for one company.
He says that it is easy to deceive inspectors as to whether the catalytic converter, or any other part has been rented.
Gela Kvashilava, chairman of the Partnership for Road Safety organization and a UN expert on transport and road safety, says that a number of drivers try to deceive inspectors.
Kvashilava says that this practice is particularly prevalent in privately-owned public transport vehicles.
"We can still see smoky vehicles on the streets, especially public transport, which causes outrage among citizens. And this is at a time when public transport in Georgia has already passed technical inspection."
Drivers during technical inspection resort to various methods in order to reduce exhaust. 
They put in 'good fuel', or put in additives that briefly reduce Refuel with "good fuel", pour "some additives" that briefly reduce pollution indicators, Kvashilava says.
However, the catalytic converter is not the only part that is rented.
"I have a 2005 RAV 4, I needed small front headlight that costs 160 GEL [about $55] when they come used. At that moment I didn't have such money, so I rented a part for 40 GEL [about $14] and then returned it to the owner," says Dito Sulava, a distributor who needs a car every day, so he couldn't afford to do the inspection again. 
Experts say that renting car parts is one of the main drawbacks of the vehicle inspections. 
"We have information that they people are even renting out tires by the hour", says David Meskhishvili, chairman of the Association of Transport and Roads.
Meskhishvili says that to reduce exhaust emissions during inspection, there is another way: to add gasoline to the fuel for diesel engines. This method is also actively used by drivers.
"The corresponding state institutions are not ready for any of these fraudulent means," says Meskhishvili.
As Gela Kvashilava says, the way out of this situation is to institute a monitoring process, by which cars that have passed the inspection already will be checked on the roads from time to time. 
"This is the responsibility of the patrol police, although, unfortunately, it is not implemented properly. The experience of other states shows that there should be small mobile transport security oversight units that will only have a technical monitoring function", says Kvashilava.
Pollution
Georgia is ranked 70th in the world in terms of mortality due to air pollution, according to a World Health Organization (WHO) report for 2018.
Environmentalists and environmentalists agree that in the urban environment, car emissions are the main source of air pollution.
This was one of the main arguments for the introduction of the inspections.
Cars that are more than ten years old and older represent a particular danger in terms of air pollution, according to a report by the non-governmental organization Institute for  Development of Freedom of Information (IDFI).
Experts assumed that technical inspections would force the population to buy newer cars, but this has not happened at this stage.
Despite the fact that the number of cars in the country is growing year to year, the age of the fleet is not becoming younger. 
According to statistics from Galt and Taggart, out of 1.3 million cars traveling in Georgia, 45.5 percent were released in 1999 or earlier.
Experts say the fleet's renewal is hampered by the economic situation of the public  and the depreciation of the lari.
Also noteworthy is the fact that at this stage, the technical inspections do not check the car exhaust for the presence of the main air pollutants – mainly nitrogen dioxide and particulate matter.
Experts consider this a big minus of the programme. The same is said in the report of the Public Defender of Georgia.
75 percent of air pollution is attributable to automobile emissions, and the situation is much more alarming than the Ministry of the Environment says, says environmentalist Manana Kochladze.
Although she is doubtful that "inspections at this stage will bring relief…The issue is that up until 2020, the inspections will not check vehicles for their effect on the environment."
According to the existing regulations, when passing through periodic technical inspections, the presence of a catalytic converter will become mandatory starting from 2020. Although experts believe that this rule is doubtful:
"Given that in Georgia more than 50 percent of cars are over twenty years old, and cars brought from abroad do not have to have a catalytic converter, the introduction of this rule is doubtful. It is imperative to ban the importation of cars older than 15 years", says Gela Kvashilava.
Safe roads
Traffic accident statistics in Georgia are still alarming.
In April, May and June 2019, 1,427 traffic accidents occurred on the roads of Georgia, as a result of which 108 people died and 1929 were injured. 
Accident statistics due to vehicle failures need to be adjusted. The data says that the most common cause of accidents is speeding and improper maneuvering. However, the data does not say whether the brake system of the vehicle which exceeded the speed limit was in order. 
According to IDFI, car owners spent more than 16 million lari [about $5.5 million] on initial inspections.
In 2018, fines for failure to pass technical inspection amounted to one million lari [about $341,000].
Experts say that there should be a comprehensive consideration of the causes of accidents. Since Georgia has a very old fleet and vehicles have not been inspected for years, safety rules are violated everywhere.
This was one of the arguments of the need for vehicle inspection.
Although experts note that the lack of further monitoring and the tricks that drivers resort to when passing inspection call their efficacy into question.
"It is not yet possible to say that transportation has become safe in Georgia, since the process is accompanied by many shortcomings."
The way out, experts say, is monitoring, follow up technical inspections – especially in the case of public transport. 
"The system has many shortcomings, but it is necessary to demand corrections to, and not the elimination, of technical inspections, because in general the inspection system is a very important and mandatory reform, as a result of which we will have safer roads," says Kvashilava.