"It's hard to say where Europe will be after the war in Ukraine" - Georgian Prime Minister

Garibashvili on post-war Europe
It is difficult to say what will happen after the war in Ukraine and "time will tell where we, the region and Europe will be," Georgian Prime Minister Irakli Garibashvili said at the Munich Security Conference.
He met with European Commission President Ursula von der Leyen, who tweeted that Europe is "ready to continue working with Georgia to make progress on the twelve steps."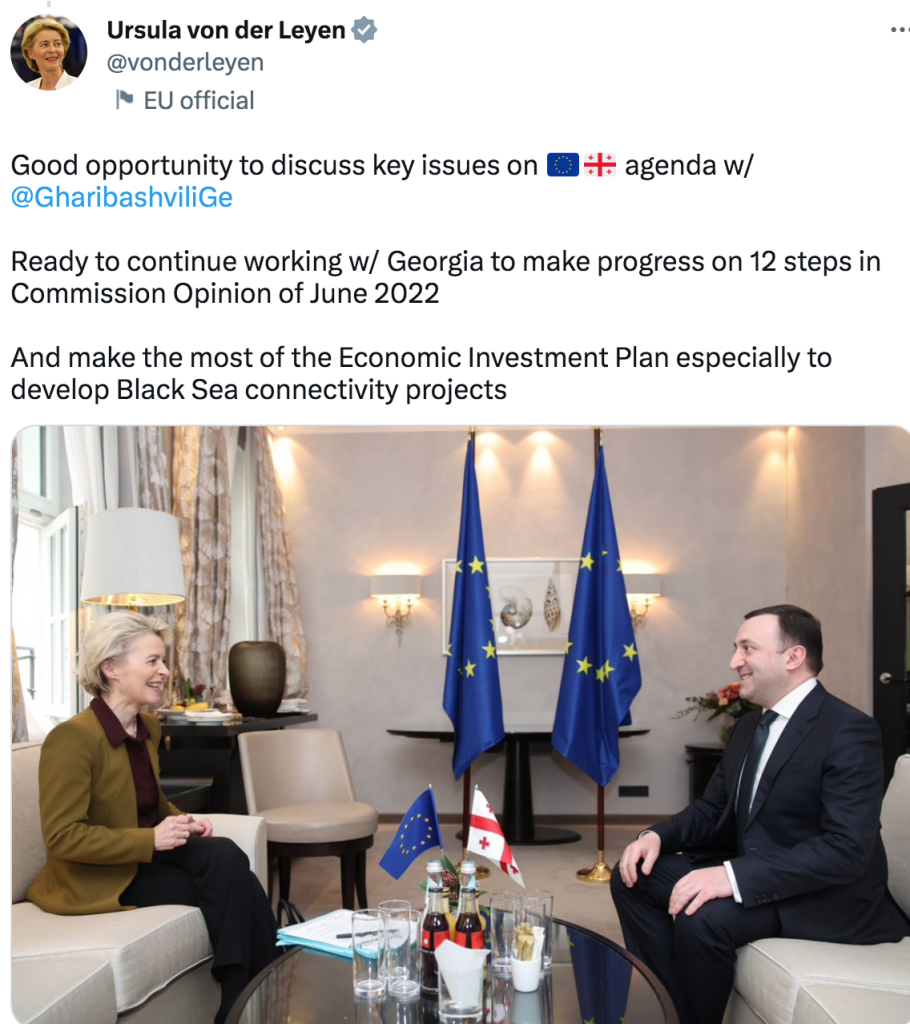 "I must repeat what I said from the very beginning: there is no alternative to peace negotiations, because we ourselves have seen that the rhetoric of nuclear war has returned not only to Ukraine, but also to Europe and the entire planet. So it should be expected that the United States, China, Russia, and the European Union will have the opportunity to sit down together to negotiate," Garibashvili said.
"We have our own problems, but over the past decade the ruling party has been able to make this the only peaceful period in the history of the country, we have ensured peace and stability. People need it. People need prosperity, stability, peace. By war we cannot achieve prosperity or stability."
Giga Bokeria, chairman of the European Georgia opposition party, said this about Irakli Garibashvili's statements:
"We have heard statements from a bad speaker. We haven't heard any reports about why Georgia is important to the West. We heard the words of a pro-Putin speaker. It can be called treason that such a tribune is not used in the interests of one's country."
---
---
On June 17, 2022, the European Commission prepared a report on granting Georgia, Ukraine and Moldova candidate status for EU membership. As a result, Ukraine and Moldova will receive the status of an EU candidate and will be required to fulfill certain obligations, and Georgia will first be obliged to fulfill the conditions of 12 points, and then get a chance to get the status of a candidate.
On October 13, 2022, the Parliamentary Assembly of the Council of Europe (PACE) declared the Russian regime a terrorist organization and became the first international organization to adopt a similar act. The ruling party of Georgia claims that it shares the general spirit of the PACE resolution, but did not support the document, because it does not agree with the protocol on the political conclusion of ex-president Mikheil Saakashvili.
Follow us – Twitter | Facebook | Instagram
On February 17, the Parliamentary Assembly of the Council of Europe (PACE) called on Georgia's political factions not to support the People's Power movement's bill on "foreign agents."