Gal: where goods come from
The Gal regional market is alike the one in Sukhum. It is big, energetic and picturesque. The prices make the only difference – they are much lower in Gal. And people are somewhat quieter here.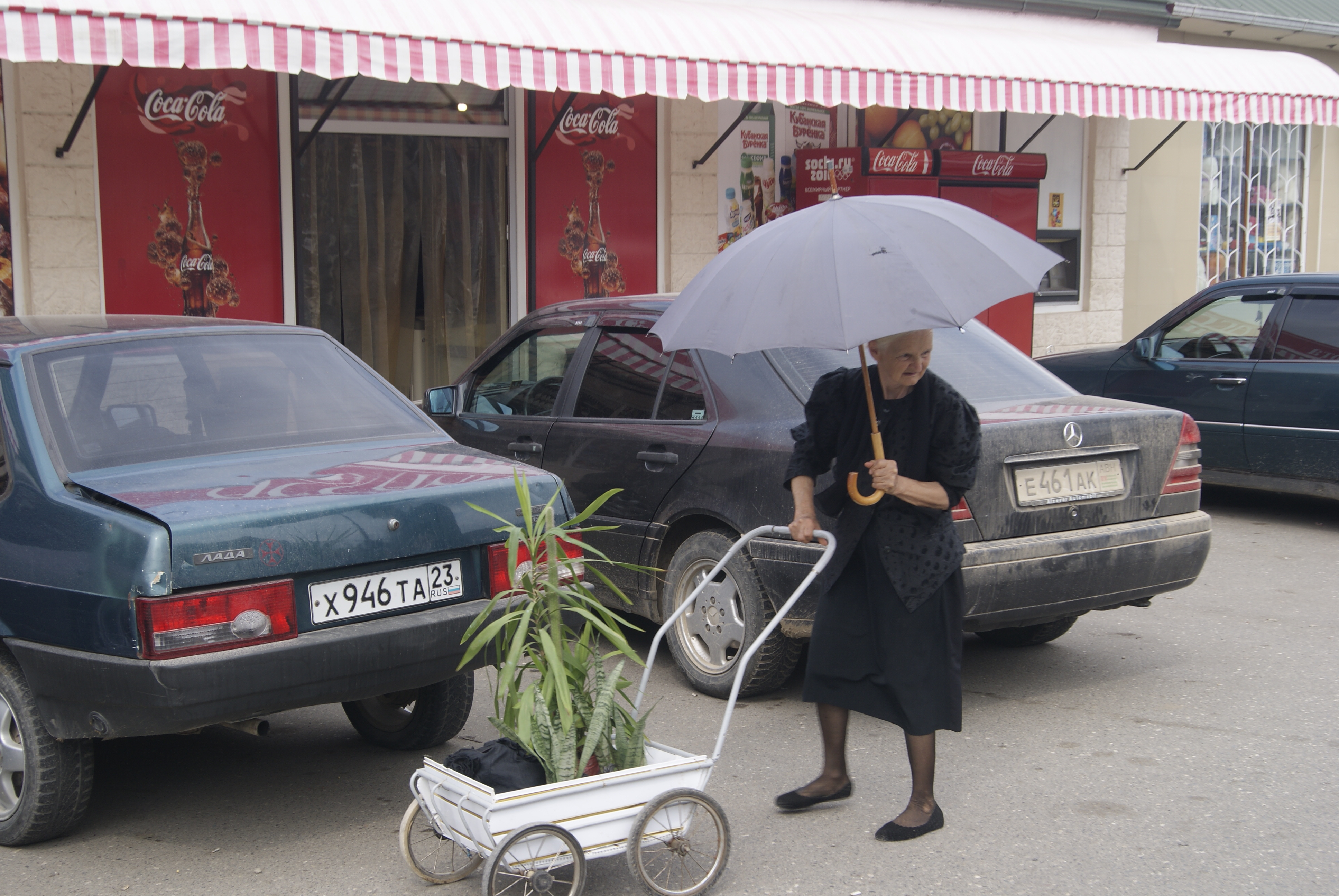 Few historic facts
The Gal market has a long history. According to its present director David Beridze, initially it was a small shop opened by Chonchor Marganiya (Maan), a minor seller, back in 1920. It stood at the venue, where now one would find the House of Culture.
Marganiya mainly sold corn, grain, homemade wooden spoons, nails and pig-iron pots. Others soon followed his example, the market began to grow.
In 1925 the Merchants Union was organized in Gal headed by a local resident Jerime Milorava. That year Gal became the city and the district administrative center and saw the beginning of the House of Culture construction. In 1930 a new venue was chosen for the marketplace.
The new Central Gal District Market was bigger and well planned. It has remained there since 1930.
 Gal racketeers and Einstein
Men are discussing something by a flour shop. One of them waves his hands trying to attract my attention.
– Make a photo of us, – he says. – We are the Gal flour racketeers gang. I am Abkhazian and he is Mingrelian.
After the photo is taken they keep on asking questions, keeping an eye on the customers at the same time.
They do business by selling flour. They used to buy it in Zugdidi, but stronger dollar and lari made the business less profitable. They now bring flour from Russia.
– The exchange rate has changed from 5 to 3 lari for hundred rubles, – the one who called himself an Abkhazian explains. – And the order will be delivered right here. As to Georgia, I will have to go there, order transportation, go into extra trouble and expenses.
– Have you met our Einstein? – the "Mingrelian interferes.
A man with gray hair, indeed looking like the great physicist, comes out of the shop pushing a cart with two bags of flour on it.
– This is our Einstein from Gal, – the seller says smiling. – Zugdidi lives on Gal. We buy everything they sell. But if the things don`t change, we will have to bring goods from Russia.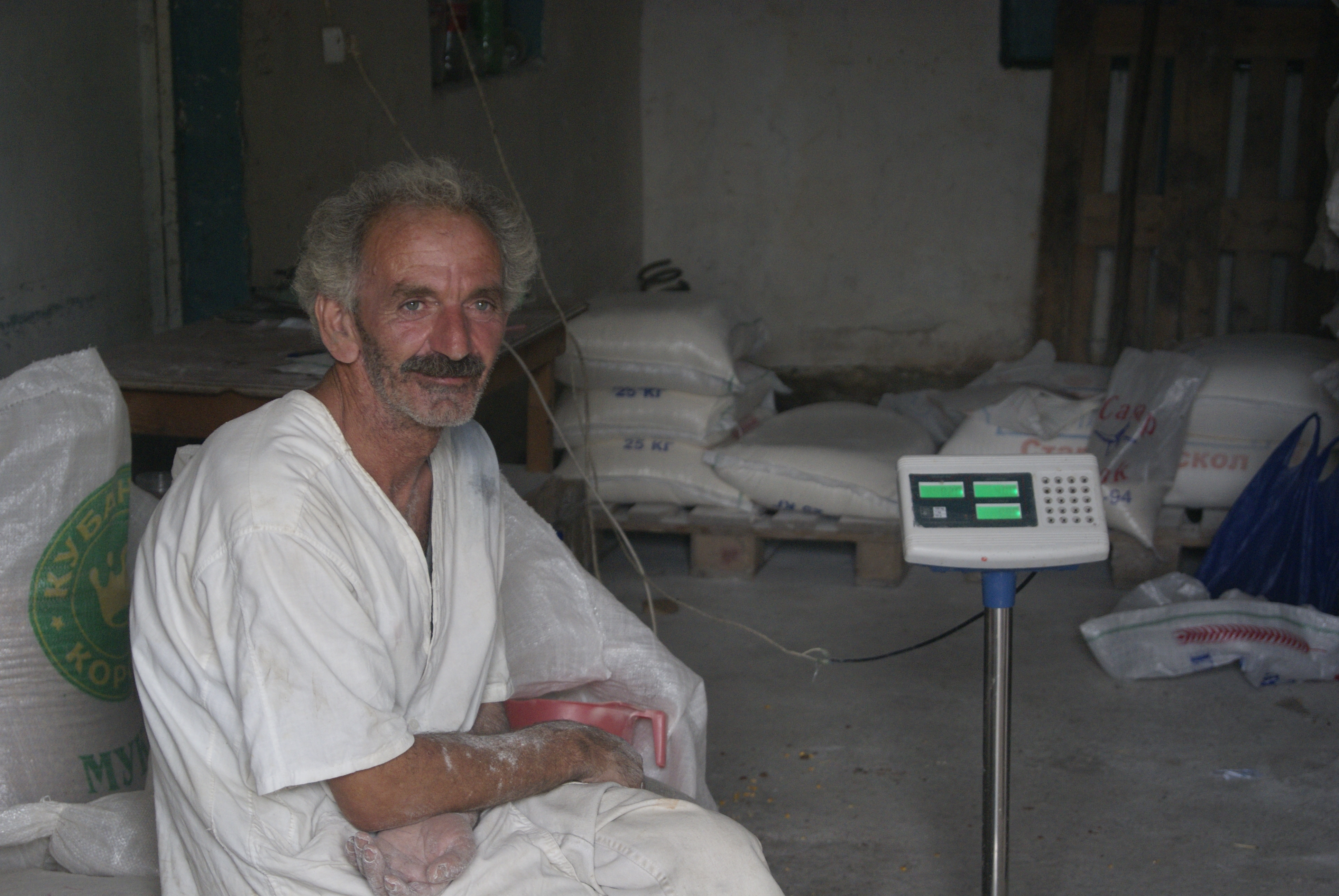 Market, turkeys and local pigs
The Gal market is open three days a week – Wednesday, Saturday and Sunday from 6 am till 3 pm. Occasionally it closes down even earlier with some goods, like meat, for instance, being bought within a couple of hours.
A local resident told us, that he once had come to the meat shop at 7.15 am to grab the last portion of good pork.
Other goods are easier to buy, but the experienced customers come early nevertheless.
The Gal market is less noisy, than the one in the capital. Deafening music does not play in local shops, and the sellers do not attract customers crying out loud. Even the workers seem to be pushing their carts trying not to bother the people around.
The Gal market is cleaner than the one in Sukhum, though the customers are more numerous here. But the local residents are suspicious of the strangers. If one looks unusual he can be approached and asked, who he is and why came here.
A local resident told us, that 15 years ago people used to run away once a strange car appeared, out of fear of a shootout. Things have changed, the fear is gone now. But the strangers are still a wonder here.
The sellers claim the customers come to the Gal market from all around Abkhazia – from Psou to Ingur. The most popular goods are hens, turkeys, pigs, goats and lambs.
Weddings, birthdays, holidays bring people to the Gal market to buy cheaper. A turkey costs about $25, a turkey poult for growing – just about $7. Locally grown pigs cost about $35, depending on weight. Lambs are delivered from Georgia and are being sold for about $10.
American military uniform and lambs from Zugdidi
Goods are being delivered to the Gal market from lots of places.
For instance:
·      American and German military uniform from Batumi;
·      Melons and water-melons from Primorsk;
·      Seasonings and adjika from Svaneti;
·      Tomatoes and cucumbers from Ochamchira;
Goods come to Gal mainly from Zugdidi, Kutaisi, Batumi.
Prices sometimes look unbelievable. Winter hunter`s uniform can be bought for about $40, while in Sochi it costs $160 minimum.
Not all at the Gal market come cheap. In some cases the prices here and in the capital compete.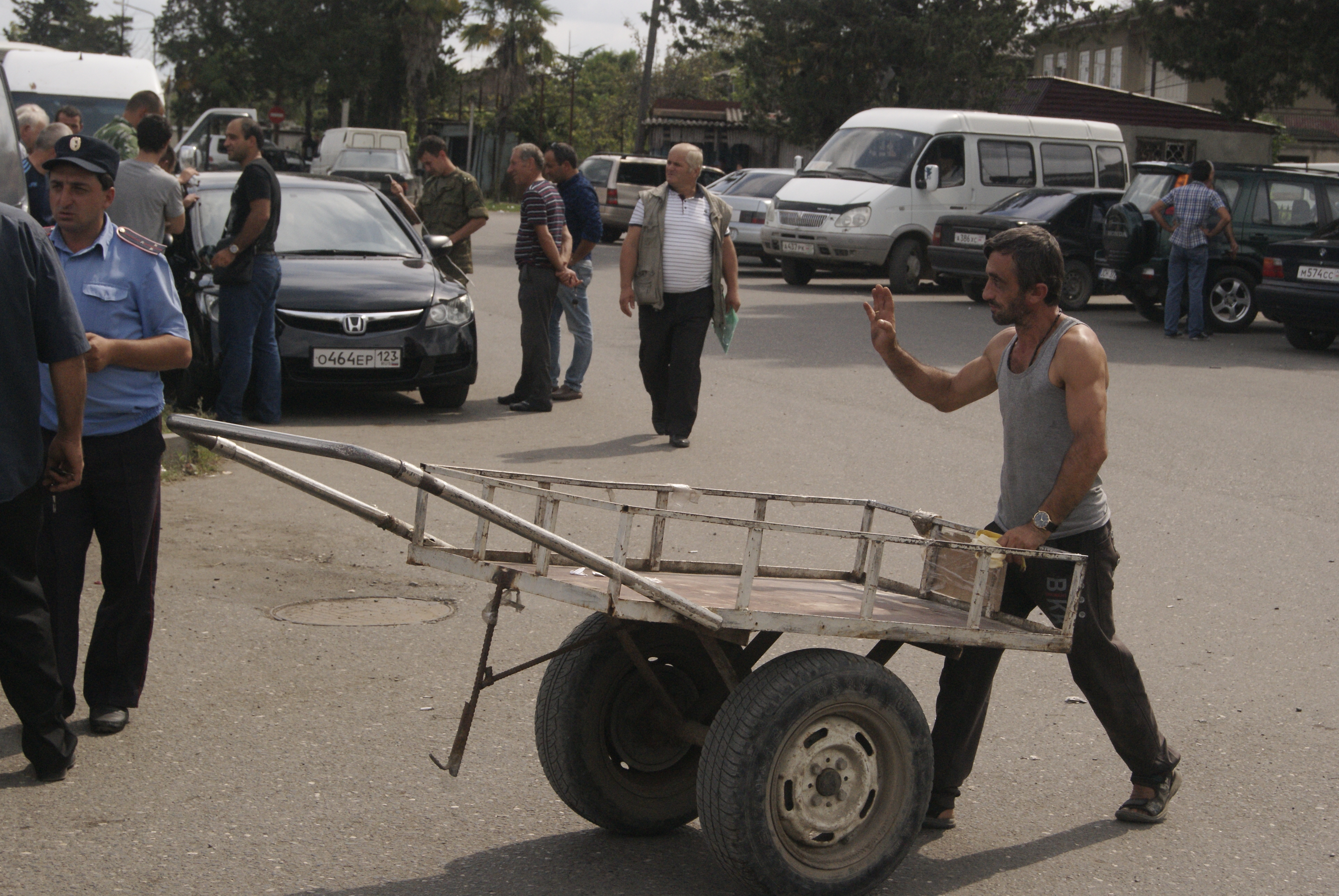 Toponyms and terminology used by the author, as well as views, opinions and strategies expressed by them are theirs alone and do not necessarily reflect the views and opinions of JAMnews or any employees thereof. JAMnews reserves the right to delete comments it considers to be offensive, inflammatory, threatening or otherwise unacceptable