Dagestani fighter lashes out at Moscow theatre for 'immoral play'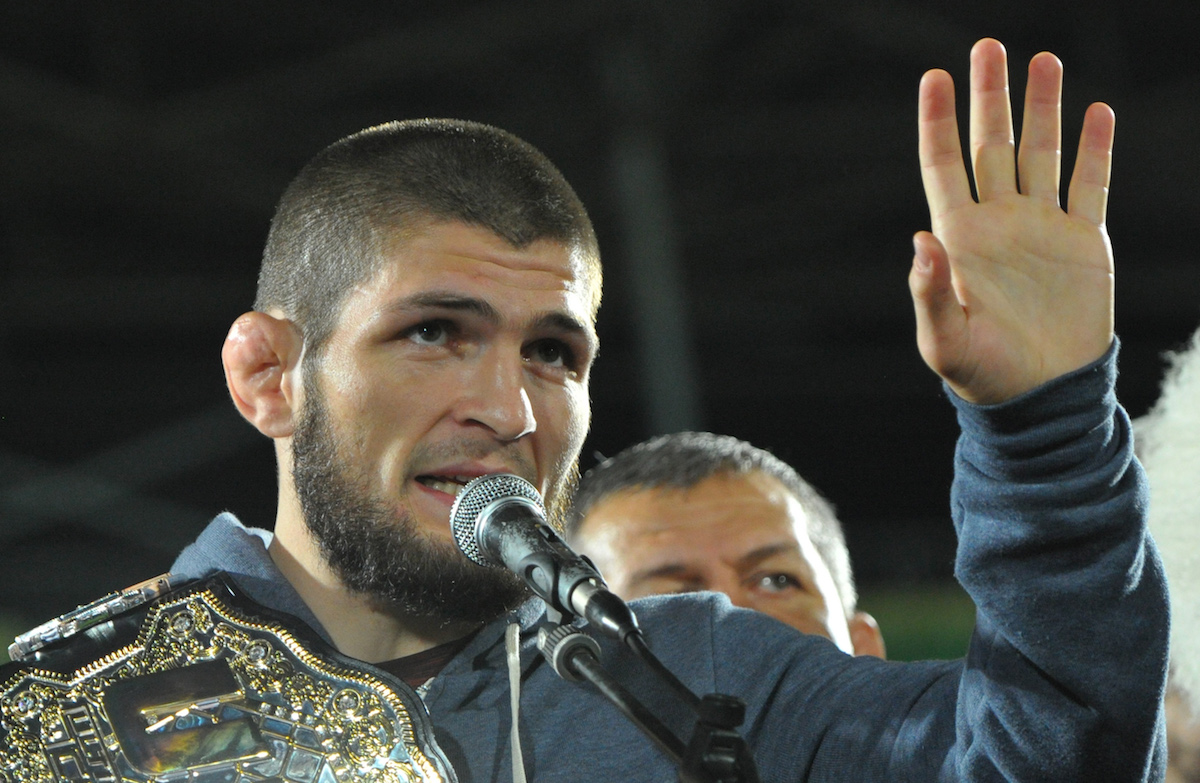 Dagestani mixed martial artist Khabib Nurmagomedov has lashed out at a Moscow-based theatre troupe for their performance in Dagestan of what he says is an "immoral play".
Nurmagomedov is currently the UFC world champion.
On 23 February Moscow director Vladimir Motashnev staged a play called Hunting Men, which is based on a classic Italian play, in the Dagestani capital of Makhachkala.
• Chechen land grab: Dagestan wary of losing territory to Kadyrov's territorial ambitions
• Russian grandmothers seek to return grandchildren from ISIS' hands
The performance was viewed by a a full house, and the audience reportedly left satisfied.
A few days after the performance a short clip surfaced on social media. In it, a scantily clad actress and shirtless actor metaphorically depict a sex scene before a nervous but giggling crowd.
The same day, Nurmagomedov took to Instagram to condemn the staging of the play in Dagestan.
"Dagestan is our land, and no one should be allowed to come and organize these kind of events here. I swear by Allah, our Dagestani men must wake up and put things in order or this situation will only get worse."
The next day Nurmagomedov again took to social media to vent his rage:
"It's a direct insult to us … Why is everybody silent and assenting to this porn in the city centre? Or do you want people to wake up and come out and protest? Don't provoke and humiliate us – there is a limit to everything."
He then demanded that an investigation be conducted so that the organizers would be punished according to the law and [be forced to] apologize to the people.
Social media exploded. An army of fans rallied behind Nurmagomedov in condemnation of the play. Pictures of both the theatre troupe and Dagestani officials involved in the "debauchery" were posted alongside threats.
Dagestani officials were quick to distance themselves from the event.
On social media they wrote "Dear Khabib" and that a private tour company organized the play without their knowledge, but that it "would not happen again".
Russia was forced to assent to the demands of the Dagestani fighter. Dmitry Peskov, press secretary to President Vladimir Putin, took to social media to write:
"Russia is a multiethnic country … different regions have their own traditions which cannot be ignored."
This is not the first time Nurmagomedov has acted as 'guardian' of Dagestani values. Six months ago, he took to Instagram to call for the cancellation of a rap concert.
Now some observers believe Nurmagomedov might be hoping to gain some political points through his social media activity.
"After all, an athlete's career isn't very long. Perhaps he's looking to snatch up a serious position in the government," commented Dagestani journalist Svetlana Anokhina.
Dagestanis who stood up for the play were also subject to a witch hunt on social media. Blogger Denis Kosyakov, who has himself written about the ongoing debate over moral values in Dagestan, also reported receiving threats along with his family.