Constitutional Court of Armenia sides with opposition for the first time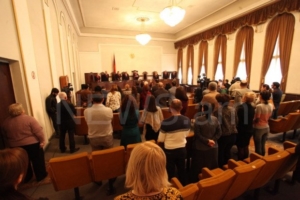 The Constitutional Court of Armenia has sided with the opposition in its lawsuit concerning a situation that emerged after last year's elections of the Council of Elders in the city of Vanadzor.
Fifteen council members from the ruling Republican Party and the Dashnaktsutyun Party, being in the minority, convened meetings and made decisions after the elections.
The other three parties – Bright Armenia, Armenian Renaissance and Prosperous Armenia, which were in the majority in the council, did not participate in the meetings. Thus, the opposition says that the meetings were held without a legitimate quorum.
They appealed to the Constitutional Court which sided with them and acknowledged that the decisions made during the mentioned meetings were unconstitutional.
Member of the Vanadzor Elders' Council from Bright Armenia, Krist Marukyan, says that the decision of the court is a victory for the opposition:
"When we appealed to the Constitutional Court, everyone asked what we were hoping for by bringing this action to court … because I can't remember a time when an opposition lawsuit was sided with by the court. But what happened, happened. And this is a precedent."
The head of the same party, Edmon Marukyan, said that after the decision of the Constitutional Court, either the Council of Elders of the city will be dismissed and new elections will be held, or the mayor of Vanadzor must resign after which the Council of Elders will elect a new mayor.
However, the mayor of Vanadzor, Mamikon Aslanyan, believes that the question of the dissolution of the council is not on the agenda, and the decision of the constitutional court does not mean that he has to leave his post.
"The Constitutional Court is a higher authority and we intend to carry out its decision by means of legislative changes," he said, but did not explain what he meant specifically.
Mamikon Aslanyan is a representative of the Republican Party of Armenia which is in the minority in the Council of Elders. His election to the position of mayor, the opposition believes, took place under mysterious circumstances and he cannot be considered a legitimate mayor:
The Council of Elders elected the mayor. Before the elections, three opposition forces, of which there were 18 votes, signed a memorandum and obligated themselves to vote for the representative of 'Bright Armenia', Krist Marukyan. However, on the day of the elections, Krist Marukyan received only 14 votes, and the other candidate, Mamikon Aslanyan, received four votes extra and was elected mayor. It has been more than a year that not a single one of the opposition representatives has admitted to violating the terms of the memorandum.