Constantinople Patriarchate officially grants autocephaly to Ukrainian church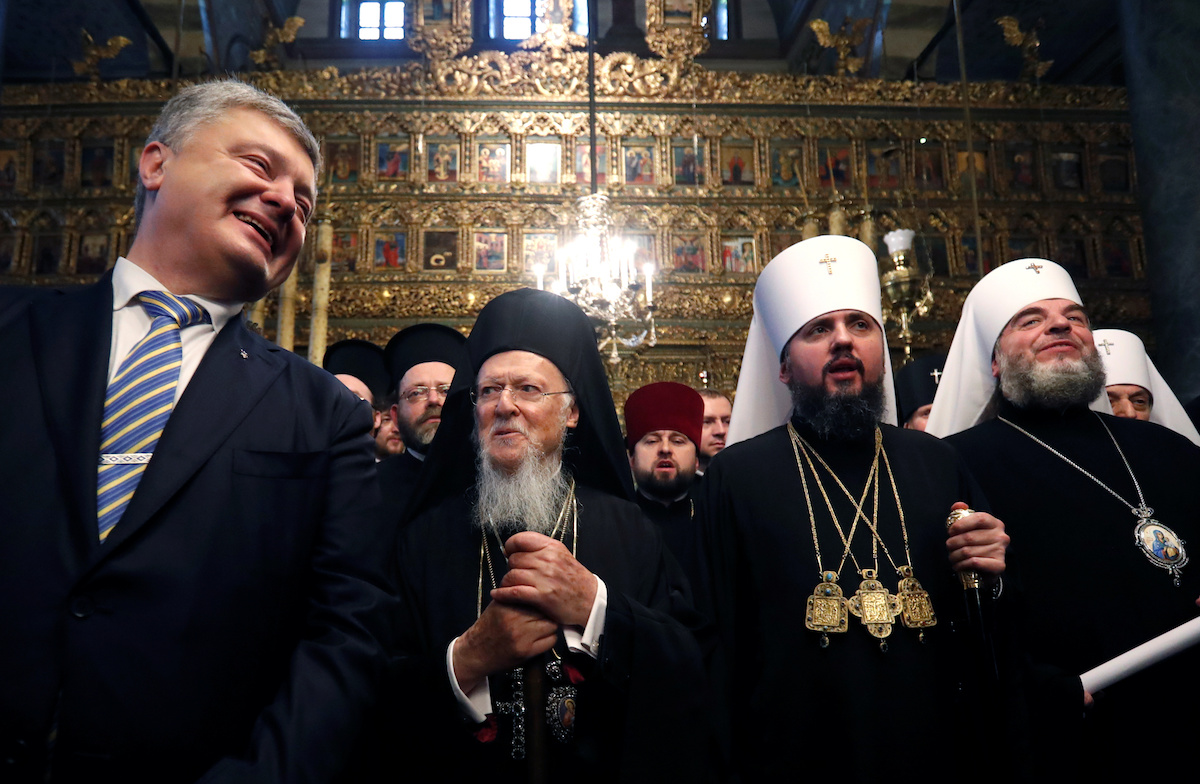 President of Ukraine Petro Poroshenko, Metropolitan Epiphanius, head of the Orthodox Church of Ukraine and Ecumenical Patriarch Bartholomew at the ceremony granting independence to the new Ukrainian Orthodox Church in the Cathedral of Saint George in Istanbul, Turkey. 5 January 2019. REUTERS / Murad Sezer
The Ecumenical Patriarch Bartholomew has officially granted the Ukrainian church autocephaly. The ceremony took place at the residence of the Constantinople Patriarchate.
The decree, known as the tomos, determines the status of the new Orthodox Church of Ukraine, recognizing and proclaiming its independence.
• Ukraine has created a single Ukrainian Orthodox Church and elected its head
• Why has the Georgian patriarchate not supported the idea of an independent Ukrainian church?
The ceremony in Istanbul was attended by the President of Ukraine Petro Poroshenko, the head of the Verkhovna Rada, Andrei Paruby, the head of the local church, Metropolitan Epiphanius, ex-President Viktor Yushchenko, and the Minister of Defense Stepan Poltorak.
With the signing of the tomos, the procedure for obtaining church independence is officially completed.
The tomos will be taken to St Sophia Cathedral in Kiev tomorrow where the public will be able to see it.
Earlier in Ukraine there were three Orthodox churches: the Ukrainian Orthodox Church of the Moscow Patriarchate, the Church of the Kiev Patriarchate and the Ukrainian Autocephalous Church. The last two were not officially recognized by any Orthodox church, and the Church of the Moscow Patriarchate was subordinate to Moscow.
The Ukrainian church gained its independence for the first time in 1686. Thereafter the Kiev Metropolis was part of the Ecumenical Patriarchate. It later became subordinate to the Russian Orthodox Church.
 The Orthodox Church of Ukraine was created on 15 December at the Unification Cathedral in Kiev. Metropolitan Epiphanius was elected the head of the Ukrainian Orthodox Church.
Petro Poroshenko said that the acquisition of independence for the Orthodox Church of Ukraine is a component of national identity and national security.