Baku Court sentences blogger Alexander Lapshin to 3 years in prison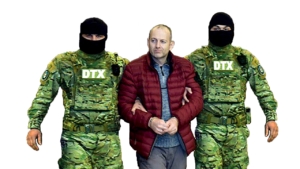 Blogger Lapshin has been sentenced to 3 years imprisonment in a general-security penal facility.

Alexander Lapshin, a citizen of Russia and Israel, was put on the wanted list in Azerbaijan for trespassing the state border. In December 2016, he was arrested by Belarusian law-enforcers in Minsk, and later, on 7 February 2017, was extradited to Azerbaijan.
After several months of investigations, Lapshin was sentenced under Article 318.2 of the Criminal Code of Azerbaijan for trespassing the Azerbaijani border. Initially, he had also been charged for making anti-state calls under Article 281.2, and if this article had been applied, he would have been sentenced at least to 6.5 years in prison. However, the court considered those charges unproven.
In his final plea, Lapshin regretted that he'd inflicted damage to the Azerbaijani nation, underlying the fact that his guilt was 'moral and, in no way of the legal plane'. "I realize the importance of Karabakh for Azerbaijan. I, under no circumstances, entered into a criminal relationship with the Armenian authorities," said Alexander Lapshin.
He also expressed hope for the settlement of the Nagorno-Karabakh conflict within Azerbaijan's territorial integrity framework. "I repent the deed and regret having traveled to Karabakh, I brought suffering to its residents, who are facing the hardships of occupation. I had no idea about the occupation. While I've been staying here, I've experienced only a positive attitude to me," the Interfax-Azerbaijan news agency correspondent cited Lapshin as saying during the trial.
In his speech before the hearing of sentence, Eduard Chernin, Lapshin's lawyer, requested to acquit the blogger. He claimed that the charges brought against his client were groundless, since 'in his publications, Lapshin had never called for violation of Azerbaijan's territorial integrity'. Lapshin's defense hasn't made any statements regarding their further actions.