Azerbaijani Irish crochet
When it became incommodious because of threads, seed beads, needles, crochets and other raw materials at Alena's home, her husband suggested taking a workshop on lease. Everyone, who knew Alena Salimova ("Which Alena? Irish crochet?'), was not surprised – the only way out if a hobby becomes a lifestyle is to turn it into business.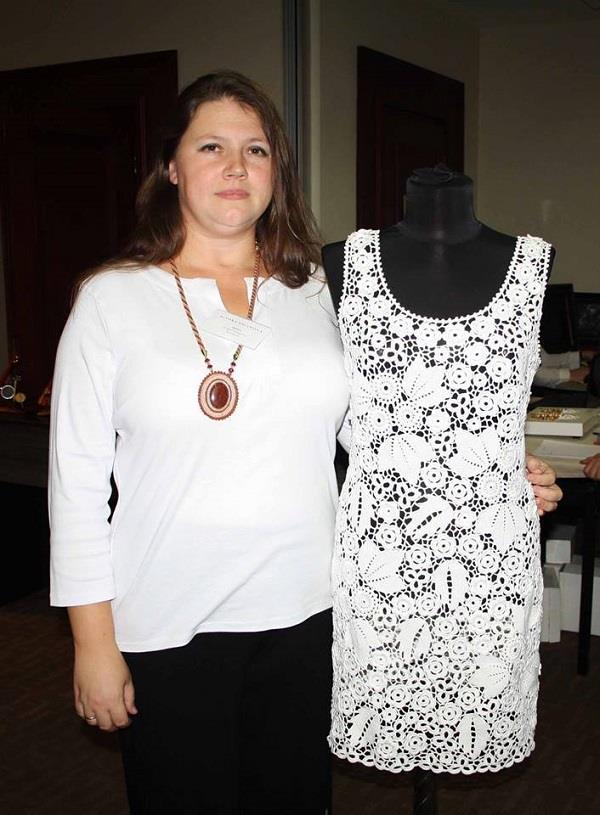 "Of course, I wanted to make lace enter a runway, to create a brand, my own business, Azerbaijani branch of the Irish lace. Alena studied Irish lacework in Clones, Ireland. In 2015 she was invited as a professional to the summer school of famous lace maker Máire Treanor. Alena Salimova's lace scarfs differ from the Irish "classic lace with a choice of yarn, pictures, color combinations because nobody else uses such tints.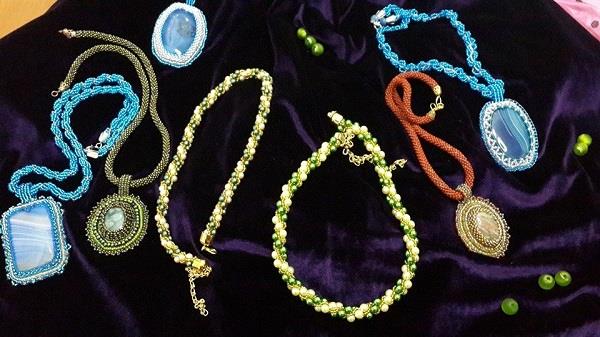 Photo: Alena Salimova's workshop
It takes 50 hours to knit a scarf, 4 months to make a lace dress. That's why one scarf costs AZN150 (US$100), a dress costs AZN1000 (approx.US$620). It is too expensive for a local middle-class people. In Azerbaijan, the label "handmade does not promote selling goods while in other countries well-off people buy things, not intended for the mass market. Alena managed to sell only one scarf out of eight, knitted during a year. The mentioned scarf was taken to Canada.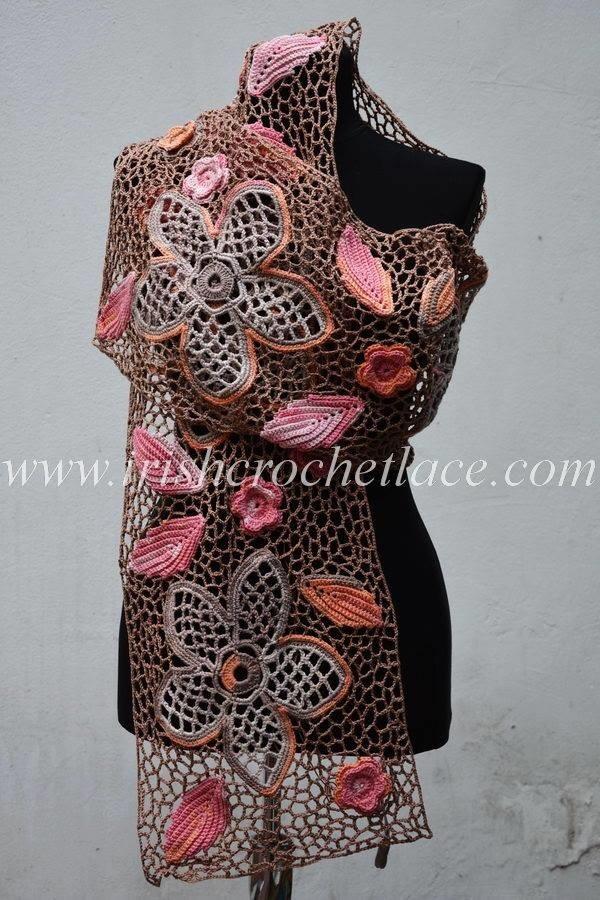 Besides, Alena is fond of making fashion jewelry from natural stones, knitting, carpet weaving and other kinds of handmade. But original bright earrings and necklaces are not sold like Banbury cakes to guarantee inspiring income.
The second wave of devaluation fully crashed the dreams about profitable business. There is no income because of low demand and it is hard to pay regularly a fixed sum to the Pension Fund. She had to get over with the workshop renting.
Exhibitions, fairs and charity sales of different articles – beginning from knitted hats and finishing with such exotics as Japanese balloons temari, are regularly held in Baku. There is no lack of handworkers and all tables are rented long before the next exhibition.
According to Ella Bagirova, an organizer of the handmade exhibitions, the best thing is to dedicate them to holidays, when people are in high spirits and want to buy gifts for their beloved ones. What might be better than a unique article for a gift? Many handworkers offer their goods not in the plastic packages as they used to do earlier, but they use gift boxes with the improvised logos to give their articles "a marketable style. Notwithstanding this, small awesome souvenirs that cost up to US$5 are more often in demand.
Sevil Gasanova, market expert, says that this problem has two "reflection sides: handworkers' inability to take due account for the clients' demand and the clients' unwillingness to value their work. "Our people are not eager to distinguish themselves from common people. They value a promoted brand, which can be shown off. That's why they are ready to pay trice more for a necklace from the Swarovski shop, but they will be astonished when at least one third of this sum will be asked for a unique necklace with the same Swarovski crystals. Our people like gold too much in jewelry, specially ordered to become a dress color. As for unique gifts, we are lagging behind and are at the level of a birthday person's photo on the glaze.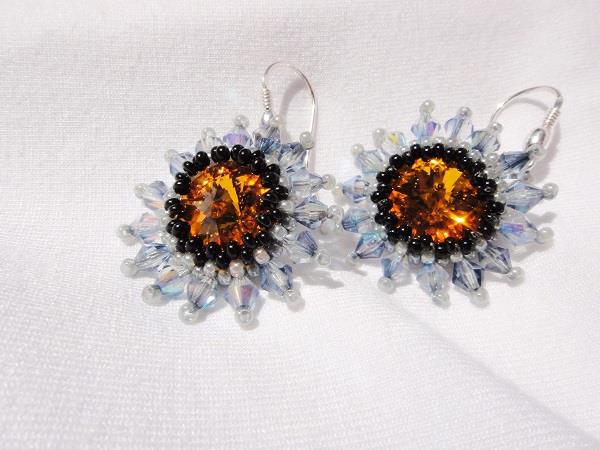 Earrings made of Swarovski crystals, Alena Salimova
Handmade is not cheap in Azerbaijan. High quality articles require high-quality "raw material, which is expensive. It is often imported from abroad or ordered through the Internet. As a result, the prime cost increases. Besides, production of many articles is time-consuming. Usually the handywomen set up a price for an article, taking into account time, necessary for spending with a family, for sleeping and a rest.
In Sevil Gasanova's opinion, there is another problem too. "The handywomen do not understand why a buyer refuses to pay for hundreds hours of work and a heart put into a striped hat. According to the market rules, an entrepreneur should not produce goods, requiring so much working time that the people do not consider necessary to pay for. An entrepreneur, knowing how to produce unique and necessary goods with low prime cost, will win. Of course, if handworkers unite, it would be possible to considerably reduce costs, properly organize a working process, but high tax rates and a current crisis are not better conditions for launching business projects.
Published on March 12, 2016