Azerbaijani activist Bayram Mammadov out of jail, serves term immediately after pardon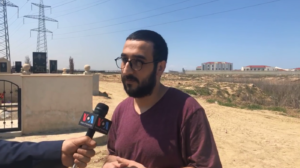 Azerbaijani activist Bayram Mammadov has been released after serving a 30 day term in prison.
He was accused of disobeying the police soon after being released on a presidential pardon.
Mammadov complained of being beaten immediately after his arrest.
Many consider the real reason for the arrest to be Mammadov sharply criticising the government on social media immediately after receiving amnesty.
• Azerbaijan: recently re-jailed prisoner of conscience says he's being tortured
• Police tell Azerbaijani activist he cannot be protected from 'president's admirers'
In 2016, activists Bayram Mammadov and Qiyas Ibrahimov were sentenced to 10 years each on charges of drug trafficking.
Immediately prior to their arrest, they wrote an anti-government slogan on the pedestal of a monument to Heydar Aliyev, the ex-president of Azerbaijan and the father of the current president.
Amnesty International has recognised them as prisoners of conscience.
Both were released on 16 March 2019 as part of a pardon of 399 people, among whom there were about 50 political prisoners.
On 30 March 2019 Mammadov was sentenced to 30 days of administrative arrest for 'insubordination to the police'.
Mammadov said that after his arrest, he was severely beaten while in police custody. His lawyer appealed twice to have his claims examined, but both were rejected.