An interview with the Secretary of the Security Council of Armenia on relations with Russia
Armenia's independence and relations with Russia
Novaya Gazeta Europe published the opinion of the Secretary of the Security Council of Armenia, Armen Grigoryan, on issues of concern to the country's society.Journalist Jan Shenkman asked Grigoryan questions about the problems between Armenia and Russia, the presence of the Russian military in Karabakh, "which is no longer a factor of stability", why the Pashinyan government is "so indecisive and cannot choose between Russia and the West", and how the confrontation in Karabakh will end.
---
---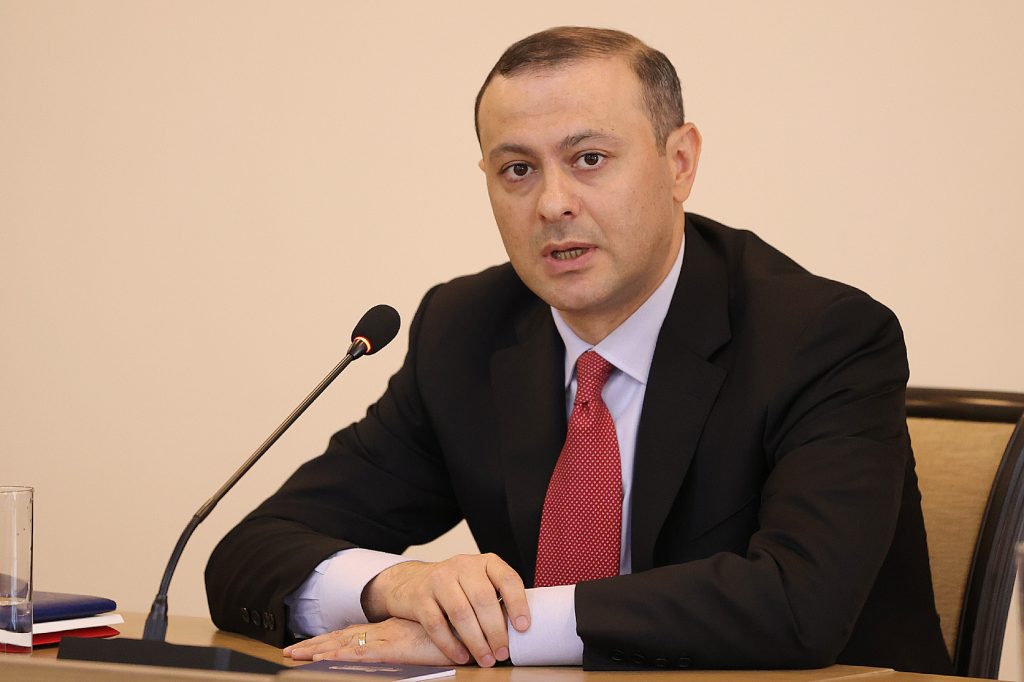 Why does Armenia need strange dances between Russia and the West, a step forward – a step back?
– There is nothing strange here. In recent years the security architecture in the world and in our region has changed dramatically. Before, everything was clear and understandable. We thought that it would be possible to call on the phone and say: "I have a problem." In response, they would say: "Okay, my friend, we will help." We have tried and seen that this mechanism does not work. Contractual obligations are not respected. Our whole security concept was built on this, but there is no new one yet.
The mechanisms that were supposed to ensure the security of Armenia have collapsed, new ones have not been created. This is the crisis.
We need to look for new mechanisms and arms supplies, because objectively we do not get what we ordered and paid Russia for. The 2021 contract for hundreds of millions of dollars, which is still not closed, is not the only one. There are several such contracts. And we also expected from the CSTO that it would work in September last year during the direct aggression of Azerbaijan on Armenian territory. It didn't work and so on.
Does Russia punish any contacts between Armenia and the West with provocations on the border?
– You are right in some ways, not in others. Shelling and provocations occur not only when we are negotiating with the West.
In 2018, when the revolution took place in Armenia, we said that this is an internal democratic process, it will not influence foreign policy. And we continued to work with Russia, but this did not guarantee us security: we got the war of 2020.
Another example. In 2013, President Serzh Sargsyan decided to join the Customs Union, which later became known as the EAEU. He was given to understand that if he did not do this, there would be problems in Nagorno-Karabakh. The main argument for joining the Union for Sargsyan was the security of Karabakh. After that we got two wars. April 2016 and September 2020.
Can Russia's pressure on Armenia's dependent economy lead to collapse?
– Yes, there is such a danger. In fact, there are many vulnerabilities. We need to diversify the economy, but we cannot do it overnight.
So far, there is only one way to preserve sovereignty and prevent interference in the internal affairs of Armenia – these are the democratic institutions that we have managed to build.
Yerevan is stuffed with Russian special services, and no one touches them. Armenia cannot interfere?
– A complete reform of the security structures is needed to curb any intelligence activity. We must ensure that our institutions serve only Armenia.
Right now we cannot interfere, but in the future we can and will do it. By the way, everyone remembers that until recently Russian border guards were sitting at the Zvartnots airport, and now Armenian border guards are also sitting. So, there is progress. But sovereignty is a long way to go. You can't wake up one day and be completely independent.
Even if you are in a hurry, it is impossible to change the sequence of actions. It has to e step by step.
We honestly admit that we do not yet have a solution, but we are looking for it. We have a chance, an opportunity. But there are no guarantees.
NK is confident that after the establishment of the Azerbaijani checkpoint in the Lachin corridor, the Armenians will be expelled. How will Armenia react?
– Since the beginning of December 2022, Armenia has been saying on all international platforms that Azerbaijan has plans for ethnic cleansing in Karabakh. Let's see who has the ability to prevent them. First, the peacekeeping forces of the Russian Federation, which are located in Nagorno-Karabakh. Moreover, under the 2020 agreements, they are obliged to do so. But they don't.
You understand the tragedy of the situation: Russian peacekeepers are in Karabakh, and people are talking about the threat of ethnic cleansing. They have no hope of being rescued.
The second chance is the international community. Armenia has long been lobbying to send an international observation mission to Karabakh. At least observant.
Karabakh is an unrecognized republic, so the international community is skeptical and does not intervene.
– Unrecognized, but the international community is committed to preventing genocide wherever it happens.
Is it true that Karabakh is a pro-Russian region?
– It was until recently. Now the mood has changed under the influence of circumstances. This is a very interesting topic. Russia began to treat Armenia worse because after the revolution a pro-Western party came to power.
Can such a huge country like Russia change its geopolitical plans and rebuild its strategy because of the changes in the leadership of Armenia?
There are no pro-Western sentiments in Nagorno-Karabakh. No Soros. Instead of NATO – the Russian peacekeeping contingent. And yet there are anti-Russian sentiments. Why do you think? Because of Russia itself, not because of the West. Russia shapes the attitude towards itself.
What is the goal of Russia? Help Aliyev break through the Zangezur corridor and, bypassing Western sanctions, sell Russian gas under the guise of Azerbaijani?
– But this is already happening, gas is already flowing within the framework of the existing infrastructures. I don't think that's the issue, or at least not only that.
In any case, Armenia will never agree to an extraterritorial corridor through its territory. For us, this is a red line.
– What if there is a war?
– Then there is a war.
Follow us – Twitter | Facebook | Instagram
Armenia's independence and relations with Russia