Live blog: Armenia opposition protests
Civil disobedience rallies have been underway in Yerevan for four days now, as thousands of people took to the streets to protest against ex-president Serzh Sarkissyan's bid to remain in power.
Armenia has shifted to a new system of governance known as "a parliamentary republic". There's an intricate context behind the transition. The now-former president – Serzh Sarkissyan – used to have a lot of power concentrated in his hands. The change to the parliamentary system has reduced the post to what is now a largely symbolic function. Sarkissyan is now tipped to become the prime minister, a position that will give him an almost absolute decision-making authority in the country.
The parliament is scheduled to vote on his appointment as PM on 17 April 2018. The protesters want to prevent the vote happening. JAMnews is reporting from Yerevan.
23.05, 16 April 2018
Nikol Pashinian has urged the protesters to back away from the barbed wires on the Bagramian Avenue. He's told them they must stop insulting the police, that theirs a peaceful protest and it is Serzh Sarkissian they should be targeting, not the police.
He's said that anyone who throws anything at policemen or humiliates them is a provocateur.
In another episode, he addressed the policemen, warning them there might be provocations seeking to discredit the protest movement. Pashinian told activists to catch provocateurs if they came across any, to twist their hands and force them to the ground and then call for him to handle them.
He urged everyone to keep calm and asked to give him an hour away from the streets so he could plan tomorrow's rally which he said would be decisive.
21.00, 16 April 2018
Reports came in that MPs had decided to stay the night in the parliament building and thus prevent the siege from thwarting the Sarkissian appointment vote scheduled for 12:00 on 17 April. The speech-making part of the rally ended with yet another call on the protesters to stay in the streets and keep on the fight.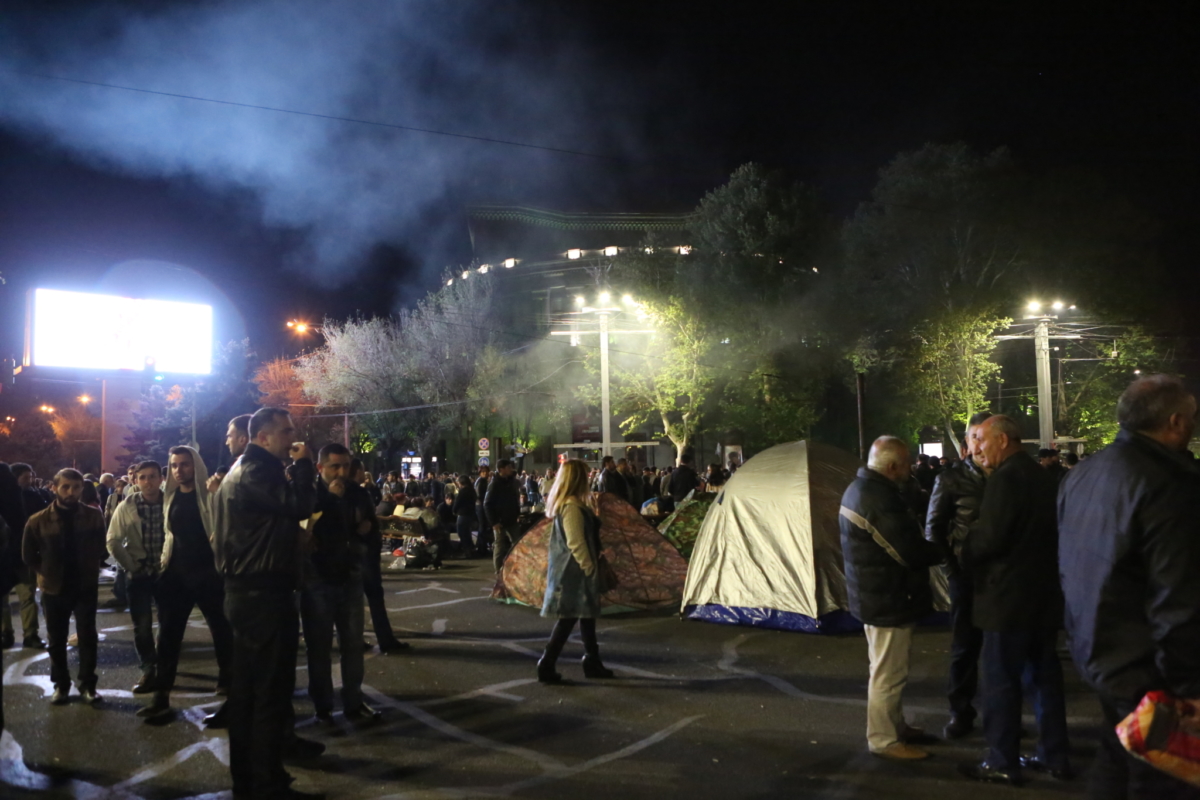 20:20, 16 April 2018
The movement leaders decided that their supporters should besiege the parliament building and block the streets nearby to stop parliamentarians entering the building and participating in the vote.
The parliamentary majority, made up by the Republican Party and its coalition partner Dashnaktsutyun, announced today they were putting forward Serzh Sarkissian, the Republican Party leader and former president, as their candidate for the post of prime minister.
19.47, 16 April 2018
Live from Yerevan
17.50, 16 April 2018
Pashinyan has been enthusiastically welcomed back by protesters from the hospital. One of them kissed his hand.
Pashinyan was approached by MPs from Yelk Party (Arm. exit, way out), but they did not agree to join the protest.
Journalists were unable to obtain an unequivocal response from the MPs whether they were join in the protests at some later point. Pashinyan spoke in front of protestors and called on them not to walk away, and that the protests would begin again at 19:00 near the parliament building.
17.15, 16 April 2018
Pashinyan gave an interview in the medical clinic from which he was recently released. He is again calling on the public to come out onto the streets. The parliamentary meeting to appoint a prime minister is scheduled for 12:00 tomorrow, which Pashinyan and his supporters will attempt to stop. However, Pashinyan says the struggle must be entirely peaceful and go on without violence or aggression against policemen.
He also said that the police have received injuries from the sound cannons they used on the public.
The head of Nairi Medical Centre Anatoli Gnuni says that surgeons sewed up an injury on Pashinyan's right wrist. Pashinyan himself thanked doctors for their quick and efficient medical attention.
Three policemen received serious injuries, one of which is currently being resuscitated.
11 protesters have been admitted to another clinic with various injuries.
[quote]Armenia's transition to the parliamentary system of governance – what are the changes and why have they caused mass protests in the country? JAMnews explains[/quote]
16:40, 16 April 2018
News from the hospital:
Activists say that Nikol Pashinyan's hand were seriously injured when he tried to get across the barbed wire fence and get past the police barricade. He is now being treated by doctors.
Pashinyan also has eye problems, the exact nature of which has not been identified though many suggest they are a result of tear gas used by police forces.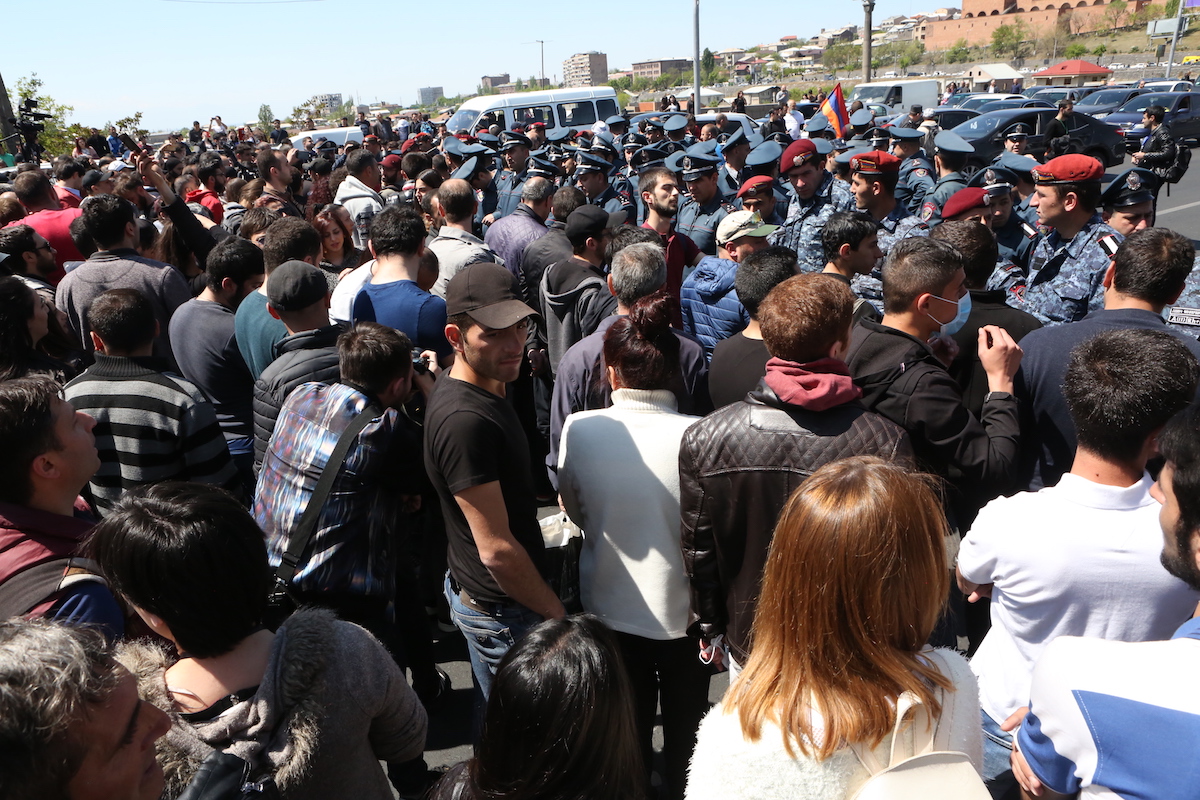 16:20, 16 April 2018
Pashinyan's wife has confirmed that he is in Nairi Medical Centre and reports that he intends to return to the police barricade by the Armenian parliament.
16:00, 16 April 2018
Armenian police forces have used gas against protestors, several of whom have been injured. Some activists say that Pashinyan was taken away by police while attempting to pass through a police barricade; others say he was taken to receive medical treatment for his injures.
Police have taken off gas masks and promised not to use gas again, after which they sang the Armenian national anthem in an attempt to reconcile with demonstrators.
The police have also announced that the demonstration has "overstepped the boundaries" and that if it is not cleared soon, means will be employed to disperse those gathered at the demonstration.
15:00, 16 April 2018
Thousands of people have accompanied opposition leader Nikol Pashinyan to a police cordon on Marshal Bahramyan avenue, which leads to the Armenian National Assembly. After an initial stand-off with police, Pashinyan, supported on the shoulders of his supporters, was able to make it across traffic barricades, after which the crowds behind him also rushed forwards.
Pashinyan himself has been injured, with footage from azatutyan.am showing he has sustained cuts to his face.
Tert.am reports he has been hospitalised. Now, protesters stand before barbed wire and special forces units who have geared up with gas masks. Tert.am has reported about the possible use of gas, though this has not yet been confirmed.
12.00, 16 April 2018
Another civil disobedience demonstration has begun in Yerevan.
Dozens of activists protesting against the transition of ex-president Serzh Sargsyan to power, most of them students, are shutting down central streets in downtown Yerevan with barricades and garbage cans. Drivers of municipal transport have been forced to take other routes.
The day before, leader of the opposition party "Civil Contract" Nikol Pashinyan presented his plan to cordon off areas in Yerevan. He announced that there would be a 'transport collapse' in the capital and called on people to empty their bank accounts and come out and join the demonstrations near the building of the National Assembly.
As for transport, the plan began as promised at 08:15 in the morning. Pashinyan was the first to lay down in front of a bus, while activists chanted the movement's slogan: "Take a step, reject Serzh!".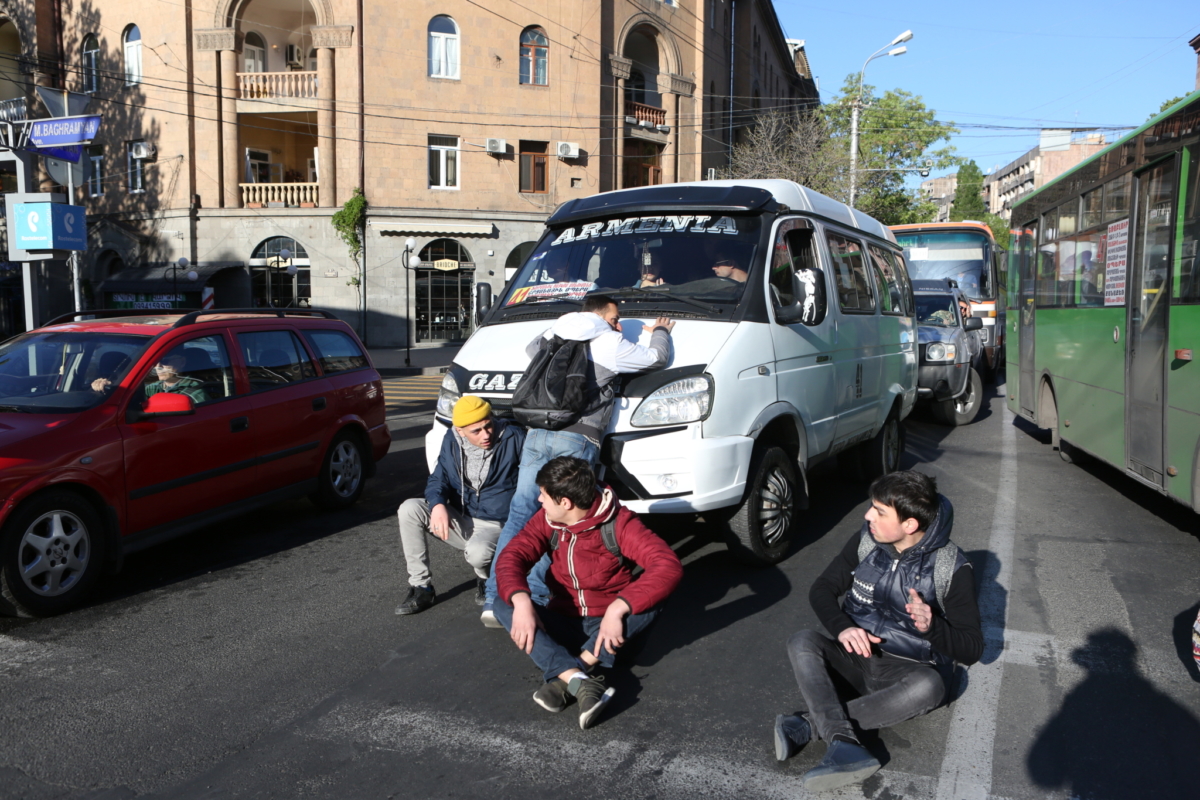 Police have set up a barricade on the Marshal Baghramyan Street in order to prevent protesters from making their way to the parliament building. Pashinyan has spoken on several occasions, apologising to Yerevan residents for the inconvenience, but he says that it is only in this way that the movement can free them from other 'unpleasant inconveniences'.
JAMnews has earlier reported on the details of the civil disobedience movement in Armenia, the aim of which is not to allow former president Serzh Sargsyan to become the prime minister of the country and continue to lead. This is why Pashinyan has called on people to come out onto the streets and join his movement, which wants about 100,000 people to join in in order to surround the parliament building to prevent the vote scheduled for 17 April which will elect the country's next prime minister.
According to the constitution, if elections for the prime minister fail to be held twice, the current parliament is dismissed and new parliamentary elections are scheduled. This is how the opposition hopes to change up the composition of the assembly and break the ruling party's majority.