"Moving mountains" - What did Pashinyan, Aliyev and Garibashvili discussed in Munich
Aliyev, Pashinyan and Gharibashvili in Munich
Azerbaijani President Ilham Aliyev, Armenian Prime Minister Nikol Pashinyan and Georgian Prime Minister Irakli Garibashvili participated in a February 18 panel discussion at the annual Munich Security Conference.
This was the first time all three leaders participated in a discussion.
The theme was "Moving Mountains: How to ensure security in the South Caucasus". OSCE Secretary General Helga Schmid also took part in the discussion.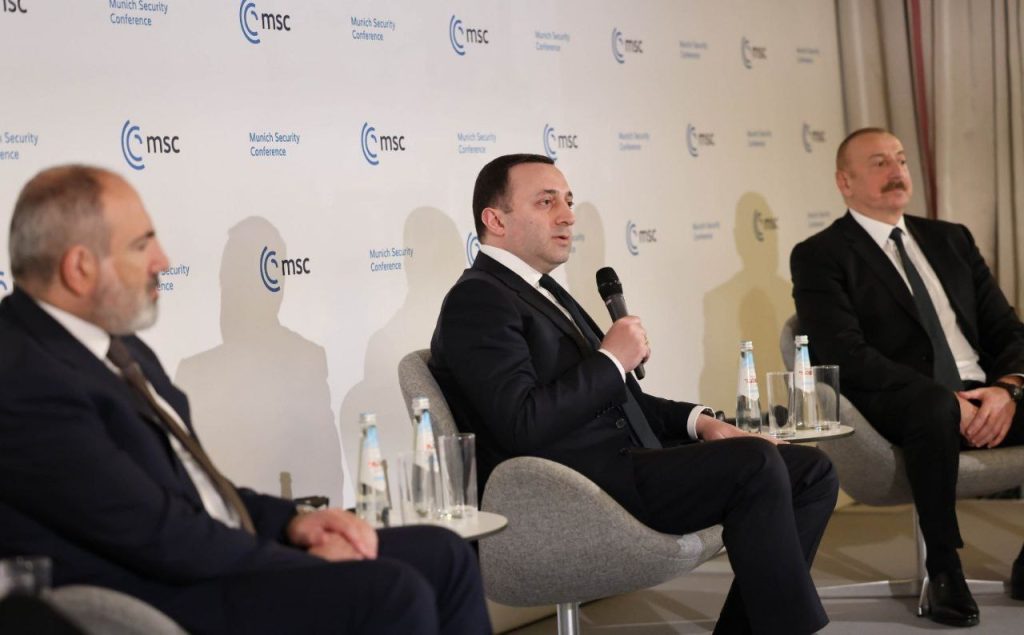 QUESTION. How has Russia's war on Ukraine affected your countries?

Ilham Aliyev: The war has no direct impact on Azerbaijan. But the whole geopolitical situation, of course, has changed, and is unlikely to return to what it was before the war. There have been changes in transit routes that create additional opportunities for Azerbaijan and the region.
We had our own war two years ago, which lasted 44 days. We know what tragedy war brings to people. Azerbaijan and Armenia must demonstrate how important peace is. We are currently working on a peace agreement. And this can be a good example of how making peace can end the grief and tragedies of conflicts.
Irakli Garibashvili: In 2008 Georgia had a war with Russia, and since then the latter has occupied about 20% of our territory, installing two military bases there. This is a big challenge for Georgia. Since [Georgian Dream] came to power in 2012, we have done a lot to de-escalate the situation. We have done a lot to advance the country towards Europe, signed an association agreement, and obtained a visa-free regime.
We must all do everything to stop the war in Ukraine. Georgia declares that it intends to restore its territorial integrity exclusively by peaceful means. In 2008 we did not seen the world impose sanctions on Russia. And that was a bad sign. The international community must decide how it moves on. If the war continues it means more death and destruction, so every effort must be made to stop this war.
Nikol Pashinyan: For a long time all international attention, for obvious reasons, has been focused on Ukraine. It is very important that our region also receive international attention, because I think there are many risks here.
We remain committed to our democratic reform agenda as we believe [they] will improve the situation in our region.
Aliyev, Pashinyan and Gharibashvili in Munich
---
---
QUESTION: We see photographs and hear stories about the terrible situation ex-president Mikheil Saakashvili is in in prison. At the same time, Georgia is being urged to reduce polarization and strive for unity in the country. Saakashvili was a frequent guest at the Munich Conference in previous years. Will he be allowed to seek treatment abroad?

Irakli Garibashvili: He arrived in Georgia on October 1, 2021. He wanted to organize a revolution and mass tragedy in the country, but was arrested and imprisoned. Now he is in a private clinic where the Georgian authorities have created the maximum possible comfort for him. You mentioned photos. I want to answer this — Saakashvili is a good actor. We suggested to the family that they bring any doctor from any country whom they consider necessary to provide him with treatment.
You have probably seen a lot of fake news that his family and supporters are spreading. I can confidently say that they spent a million dollars on this false advertising campaign around the world on social networks that does not reflect reality.
We are building a strong democracy in the country, and no one will be above the law. He committed crimes and must answer for them.
Aliyev, Pashinyan and Gharibashvili in Munich
---
---
QUESTION: Armenia is providing assistance to Turkey in connection with the terrible earthquake. In your opinion, are there prospects for improving relations between Armenia and Turkey? Is it possible that this catastrophe will become an occasion for changes in relations between the two countries?

Nikol Pashinyan: We sent humanitarian aid and rescuers to Turkey, and we had only humanitarian motives, because millions of people in our neighborhood suffered. And we have witnessed a very positive reaction from the Turkish government. If this step also has political consequences, so much the better.
As for the political dialogue, even before the earthquake we had already established a political dialogue through special representatives. We are ready to move forward and believe that the establishment of diplomatic relations with Turkey and the opening of the border will have a very positive impact on both the region and the international situation.
---
---
QUESTION: A war [between Armenia and Azerbaijan] took place two years ago but even now the situation remains critical. The international community is concerned about the situation in Nagorno-Karabakh, and everyone is following both the humanitarian situation in Turkey and the situation in the Lachin corridor. Of course we would like to see a decrease in tension, at least step by step.

Nikol Pashinyan: The Lachin corridor has been blocked for 70 days. There is not only a humanitarian but also an energy crisis in Nagorno-Karabakh. The power supply has been cut off. The gas supply was interrupted at least ten times during these 70 days.
The tripartite statement of November 9, 2020 has very specific points regarding the Lachin corridor. According to this statement, it is the duty of Azerbaijan and the Russian peacekeepers to keep the corridor open. But now the situation is completely different. We believe that international attention should be focused on this situation. The continuation of the crisis may cause irreversible humanitarian consequences for the Armenians of Nagorno-Karabakh.
Aliyev, Pashinyan and Gharibashvili in Munich
---
---
QUESTION: Can Azerbaijan make any humanitarian gestures so that the blockade in Nagorno-Karabakh is lifted?

Ilham Aliyev: For your information, the expression "Nagorno-Karabakh" is no longer valid. This is originally a word from the Russian language. "Nagorny" in Russian means "located in the mountains." There is no such administrative unit in Azerbaijan as Nagorno-Karabakh. And I would like to ask our partners to show respect for the sovereignty and the Constitution of Azerbaijan. There is the Karabakh region of Azerbaijan, where there is an Armenian population.
This is a separate thing, and has nothing to do with peace negotiations with Armenia.
It has been agreed with our international partners that the rights of the Armenian minority in Karabakh will be discussed. We are ready for it. But with those representatives of the Armenian community who were born in Karabakh and have lived there all their lives. And not with the person who was exported from Russia to take a leadership position in Karabakh [meaning Vardanyan].
Perhaps "exported" is not the right word. I would probably prefer the expression "smuggled in." Because no one knows how he ended up in Karabakh. Firsts in Yerevan, and from there he goes to Moscow, and then again to Yerevan and again to Karabakh.
And [these trips by Vardanyan] shows that there is no blockade. Another fact that proves it is that since December 12, when Azerbaijani activists started a protest on this road, more than 2,500 cars, including trucks, have passed through. More than 100 people were brought from Karabakh to Armenia for treatment. How can this be called a blockade? If Armenia or Karabakh want to use the road, I am sure that no one would stop them there.
For about 30 years our lands were under Armenian occupation. Prime Minister Garibashvili noted that in 2008, after the Russian-Georgian war, no sanctions were imposed on Russia. And I can also say that Armenia occupied 20% of the territory of Azerbaijan, violated international law, and did not comply with the resolutions of the UN Security Council for 27 years. And no sanctions were imposed on them.
We expected the UN Security Council to respect its own resolutions. But we saw that there was no progress. And there was a common understanding that this conflict was frozen. Thus, we proved [as a result of the second Karabakh war in 2020] that the conflict is not frozen. We were forced to fight. We had to sacrifice three thousand lives in order to restore our dignity, territorial integrity, justice and comply with the resolutions of the UN Security Council.
The discussion of the current situation in Karabakh cannot take place without this context also being on the agenda. Our lands, equal to the territory of Libya, were completely devastated. And this was done not by aliens, but by our neighbors, who occupied our lands and made a million Azerbaijanis refugees.
We liberated our lands, expelled the occupiers — but now they are complaining, talking about justice and occupation.
It is also necessary to understand that the trilateral agreement [which stopped the second Karabakh war] is in reality an act of capitulation of Armenia. The results of this war are accepted by the international community and society in Armenia. And the best evidence of this was that after the war [Pashinyan] received a mandate to remain prime minister. And it was a mandate for peace.
We must look to the future. Karabakh Armenians are citizens of Azerbaijan, it is a multinational country. And all minorities have the same rights to respect their rights, including in relation to culture.
And we are ready to start practical discussions with representatives of the Karabakh Armenian community. And I brought this position today to the US Secretary of State. But discussions will begin only after the citizen of Russia, the criminal oligarch involved in laundering dirty money in Europe, Vardanyan leaves our territory.
Aliyev, Pashinyan and Gharibashvili in Munich
QUESTION: We are not negotiating here, but I would like to give Prime Minister Pashinyan the opportunity to respond to President Aliyev.

Nikol Pashinyan: The name "Nagorno-Karabakh" is written in the tripartite statement, and this document bears the signature of the President of Azerbaijan.
According to the same document, the Lachin corridor should be outside the control of Azerbaijan, and this was also signed by the President of Azerbaijan.
Recently, a group of Armenian teenagers from Nagorno-Karabakh tried to pass through the Lachin corridor. They were stopped. Several masked Azerbaijanis burst into the bus. The children were scared and screaming. This was the last attempt by the Armenians of Nagorno-Karabakh to move freely along the Lachin corridor.
President Aliyev mentioned destroyed mosques. In 2017 several mosques were demolished in Azerbaijan in order to build new roads. During the Soviet era 1,560 mosques were destroyed in Azerbaijan, and this was a common thing in the Soviet Union. In Armenia churches and mosques were also destroyed at that time. The Armenians of Nagorno-Karabakh should not pay for the actions committed during the Soviet era.
This is a very dangerous discourse. It seems that Azerbaijan is trying to give this whole situation a religious context. But there is no religious context to this conflict. There is a Muslim minority in Armenia, and we have a functioning mosque.
What causes concern most of all is Azerbaijan's rhetoric. It seems that Azerbaijan is pursuing a policy of revenge.
We have a very complicated history. And this is also a historical meeting, but for what purpose do we want to use it? To stir up intolerance, hatred, aggressive rhetoric? Or, on the contrary, use this platform to improve the situation?
We can tell many stories of enmity. But what is the role of the leaders: to deepen this enmity or to use their opportunities, their mandates?
I am proud that even after the disastrous war, I, our government managed to hold free, democratic elections in our country, which were recognized by the whole world. From our point of view the solution lies in democracy, in transparency, in dialogue, in respect for all countries. And we are ready to work in this direction.
Aliyev, Pashinyan and Gharibashvili in Munich
QUESTION FROM AUDIENCE: Are you reconsidering relations with Russia? Can Armenia leave the CSTO? Does Georgia fear a [military] threat from Russia? Has Russia lost its role as mediator in the Nagorno-Karabakh conflict?

Nikol Pashinyan: There are certain difficulties in connection with the CSTO, and they were public. We raised these questions with our colleague and we are working on finding solutions.
Irakli Garibashvili: No one can say exactly what will happen in Ukraine. The results of this war will have consequences for Georgia and for the whole world. Russia is trying to change the world order. Experts say that in 2-3 months we will see what the situation is. In Georgia we have a hard experience of separatism, which was supported by Russia. We don't know what will happen next. But there is no alternative to peaceful negotiations. Nuclear threats are appearing again, and it would be a catastrophe not only for Ukraine but for the whole world. Everyone should sit down and talk about the world of the future. War is not an option. What Georgia has managed to achieve over the past decade is that we have managed to guarantee peace, stability and prosperity for our people. This cannot be achieved by war.
Ilham Aliyev: There are several platforms for [Armenian-Azerbaijani] resolution. We have repeatedly reaffirmed our commitment to the peace process, namely the Brussels process. Yesterday during a meeting with President of the European Council Shaloi Michel, today during a meeting with Secretary of State Blinken.
For 28 years OSCE Minsk Group has not managed to achieve anything, is already irrelevant and exists only on paper.
There are platforms supported by the US, Russia, the European Union. But France can no longer participate due to its one-sided pro-Armenian approach.
Peace negotiations sometimes take too long. Ours lasted 28 years. This suited Armenia and its supporters, who wanted to continue the occupation of our lands.
We fought on our territory. Our war was a war of liberation and so it was a just war. Our war was not a war of occupation. And so in our army, not a single person left the battlefield. For 44 days, when our cities and villages were fired upon by Iskander missiles, no one left the battlefield. And in Armenia there were 11,000 deserters.
Why? Not because they were losing on the battlefield. But because their war was a war of occupation. They had no motivation. And this is the most important thing you need to win.
Aliyev, Pashinyan and Gharibashvili in Munich