"We have no intention of starting a third war" - Ilham Aliyev
Aliyev interview with local TV
Azerbaijani President Ilham Aliyev said in an interview with local TV that Azerbaijan has no intention of starting a third war. The Azerbaijani president declared that "the Zangezur corridor is a historical necessity." "Whether Armenia wants it or not, it will happen," he added. Aliyev also raised the issue of the ongoing protest on the Lachin road and the fate of the Armenians living in Karabakh.
---
---
JAMnews relays the most interesting parts of Aliyev's conversation with correspondents from the country's five leading television channels.
About the Zangezur corridor
According to the Aliyiev, no one should doubt the economic necessity of the Zangezur corridor:
"Of course, for us this project is not only an economic and transport project, but also a strategic one. We are absolutely convinced that it is our natural right. In addition, this project was stipulated in the tripartite statement of November 10, 2020.
"True, there are no words "Zangezur corridor" because I introduced the term "Zangezur corridor", as they say, into the geopolitical lexicon later. However, it clearly states that there should be a transport connection between the western regions of Azerbaijan and the Nakhichevan Autonomous Republic, and Armenia should provide it.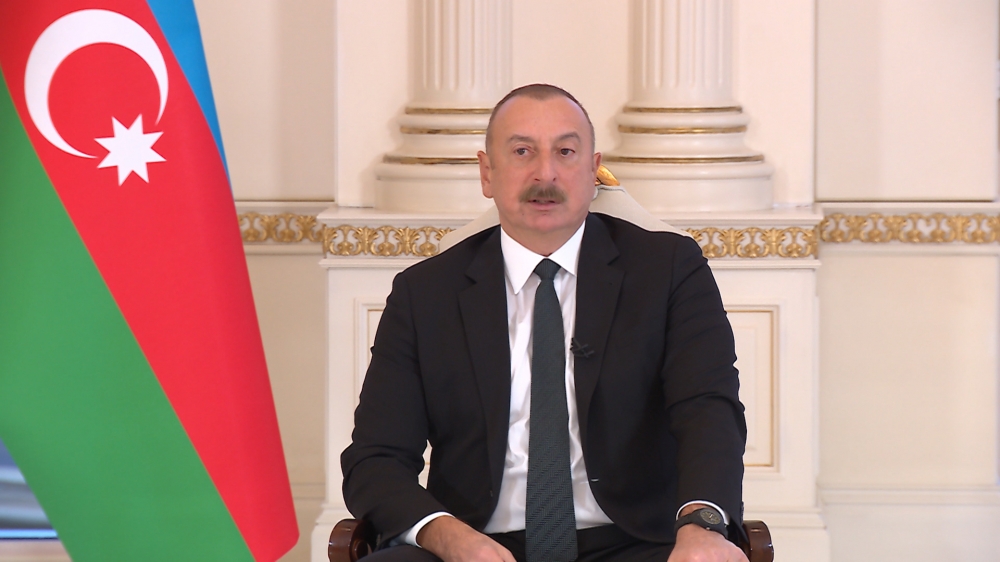 "Today, Armenia is trying to evade this. In fact, it has not been fulfilling its obligations for more than two years. But that won't stop us. This is a strategic project for us, and not only for us, but also for several neighboring countries and for a large geography.
Of course, the Zangezur corridor is a historical necessity. Therefore, I said that whether Armenia wants it or not, it will happen."
Aliyev noted that this is "perceived in Armenia as another threat".
On the cause of military operations in territory controlled by the RCC
Aliyev raised the issue of several military operations being carried out on territory controlled by the Russian peacekeeping contingent in Karabakh, and explained their cause:
"The main reason for the operation to take the Farrukh height was our army not controlling it.
Most of our territory remained under the threat of shelling from this height, and illegal Armenian units used this periodically.
Under such conditions, it was impossible to carry out repairs at the Khachinchay reservoir.
Taking control of the Farrukh height solved these problems."
"The Armenians believed that Azerbaijan would never dare launch military operations in this area, but we have destroyed this myth. This is our territory. We do not conduct military operations there not because we are afraid of someone, rather because we are trying to achieve this through political means," he added.
The Azerbaijani president also noted the second operation in the territory controlled by peacekeepers in Karabakh — the capture of the Sarybaba height:
"Before our eyes, on the heights of Sarybaba and Gyrkhgyz, as well as in other directions, mining was carried out.
After these places came under our control, all these mines were discovered. They were produced in Armenia in 2021, but how did they end up there? The Russians have not answered this question so far. What will they say?
We invited them there, also invited the employees of the Turkish-Russian monitoring center in Karabakh, showed them what we found and asked who brought it there.
But this did not become a lesson for Armenia, and the September clash took place."
"We have no intention of starting a third war"
"Over the past year we have shown three times that no one can resist us. We achieve everything we want, and the patrons of Yerevan cannot help them. This is first.
Second, the heights on the Azerbaijani-Armenian border provide us with a great strategic advantage. They make it possible to detect any potential danger and stop it in time.
I hope that Armenia, which suffered military and political defeat three times in a short time, already understands that a peace treaty is inevitable. The sooner they understand this and find the strength to agree, the better it will be for our region," Aliyev said.
According to him, Azerbaijan has no intention of starting a third war:
"We have no such intentions. I believe that 2023 will be the real end of the second Karabakh war and such events will not happen again."
Aliyev interview with local TV
About the protest on the Lachin road
Speaking of the protest being held by Azerbaijani activists on the Lachin road, Aliyev said that "there is no question of any blockade":
"During this month, about 400 vehicles of peacekeepers passed through this place.
Of course, even before that all traffic along the Lachin road was under our control. How else could we find out about Iranian cars and twenty Iranian citizens who entered Karabakh? So far we have not received an explanation on this issue.
We know that the cars of the Russian peacekeepers are transporting food and medicines to the Armenian population, among other things. We are not against it, because blockade is not our goal.
Employees of the Red Cross appealed, we allowed them to pass.
You just need to understand that this is another anti-Azerbaijani show, that's all. The Armenians and their patrons think they will achieve something with this, but they will achieve nothing. Everyone knows about our fair demands.
This protest will continue until we have access to the deposits. Our demands are extremely fair. We will achieve monitoring, reporting and the end of illegal mining. Therefore, to call these events a blockade is simply shameless."
On the fate of the Karabakh Armenians
Aliyev also talked about the Armenians living in Karabakh:
"I have talked about this, and I want to repeat it: conditions will be created for those who wish to live under the Azerbaijani flag. Like other citizens of Azerbaijan, they will have rights and security.
A recent incident is proof of that. One person was returned, and not just like that, with full hands. He came to ask our servicemen for cigarettes, they gave him two packs. We will not only ensure their rights and security, but they will live even better.
Of course, what does it cost us? Nothing. If they had not started a separatist movement, they would live in all of Azerbaijan now.
Whoever does not want to become a citizen of our country, the road is not closed, they can leave. Nobody will interfere. They can leave in the cargo compartment of peacekeepers' trucks, on buses. The road is open."
On the delimitation of borders
"If the Armenians do not want the delimitation of borders, then there is no need. This means that the border will go where we want it to. I am forced to use this phrasing.
We can live like this for a long time. There will be no peace treaty, and there is no need. What will happen next? We'll see. I think they will hear me and come to the right decision.
I don't want to appear as the pressure party. Never, under any circumstances, was I disrespectful even to someone who does not deserve respect. But I have to say this.
In my opinion, 2023 will be the last chance. Because then 2024 will come, and in 2025 the mission of Russian peacekeepers will end. They should see at least a little further than the tip of their nose," Aliyev concluded.
Aliyev interview with local TV