May 9 in Tbilisi's Vake Park. Only a handful of them remain today
On May 9, the day of victory over fascism, flame lights up at the Memorial of Unknown Soldier in Tbilisi. This flame is not eternal, only awakening once a year, on May 9th.
This year's celebration spirit was slightly frustrated by the rain.
Year after year, the number of veterans congregating in Vake Park dressed in military uniforms strewn with medals grows smaller. Nowadays one would rarely meet them in the streets- very advanced in age and crouched, leaning on their walking sticks, and walking meekly and unnoticeably, as if trying not to disturb other pedestrians.
In spite of the unsuitable weather and good old days far behind the shoulders, they had still managed to dance waltz in Vake Park to the accompaniment of military songs.
They were trying to find old friends and remember old stories with them, which they did with great enthusiasm, enjoying their time, and stopping for a moment to ask if they had bored you with the narrative. 72 years has passed since, yet their eyes still filling with tears.
According to the press service of the State Department of Veterans Affairs, 922 veterans of World War II live in Georgia today. 301 of them in Tbilisi. On May 9, they will receive a one-time assistance to the sum of 600GEL
Georgia sent 700,000 troops to the front during World War II, which is almost a third of the population. 35 of them became general, and 300 thousand did not return from war. The figure is considered the highest among the former USSR countries.
Mikheil Mkheidze, 94
"I was 17 at the time I went to war. I used to live in Khoni. I fought at the third Ukrainian front, our units passed round Dnepri, Dnepropetrovsk, and Krivoy Rog. I served as an artillerist. As you can see, several fingers are missing on my right palm. We defeated the fascism and became victors. May 9 is a day of monumental importance. "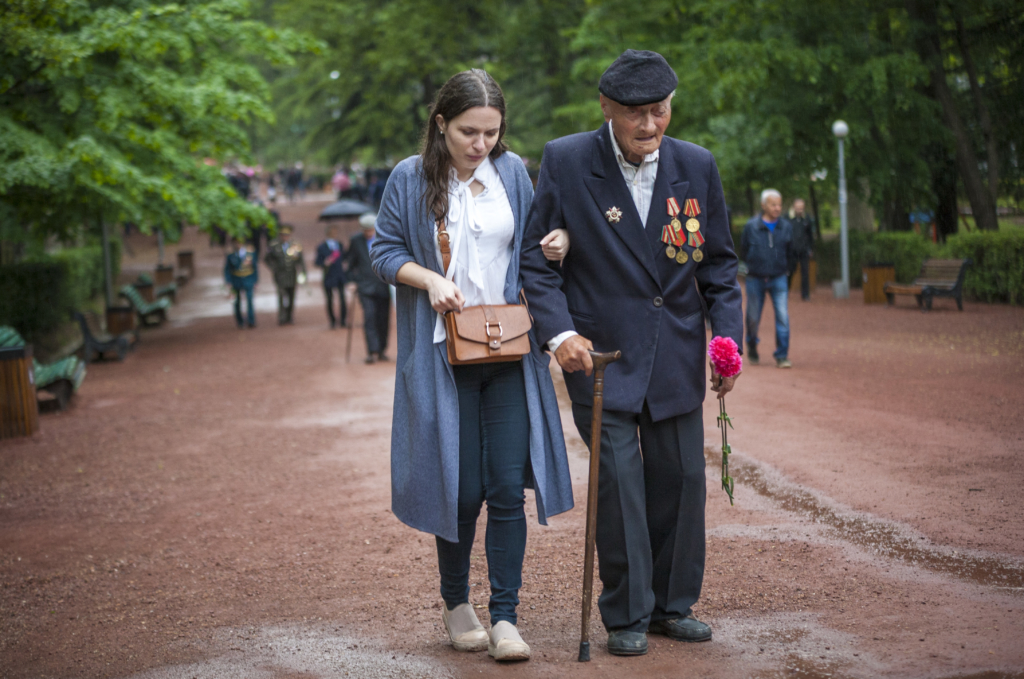 Ivlita Kuchaidze, 96
I was sent to war in the capacity of nurse at the age of 19. Our hospital adjoined the frontline. We went through Ukraine, Belarus, and Poland. In the year of 44, I was in hospital with severe typhoid fever. The bombing had started. I barely managed to get under the bed. I could no longer move when the silence came, with debris scattered all around. I became numb below the waist, buried in ruins. Three men died that night. A female hospital cleaner was mortally hit by a piece of iron, her death was terrible. I remember everything as if it happened today.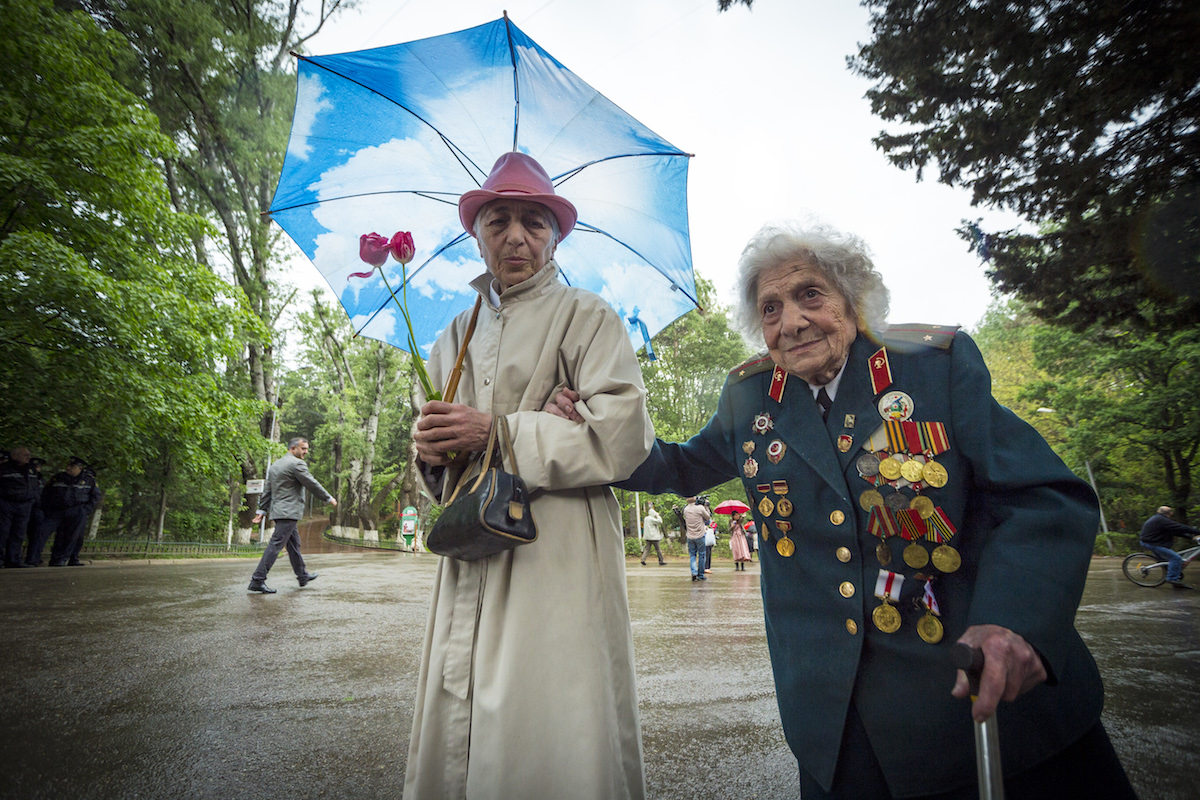 Vakhtang Tavshavadze, 92
I was barely 17 when I went to war. I was born and raised in Nakhalovka district. All my elder friend had been called up for military service. I saw them off to war. We were at Plekhanov's Club when a lieutenant-colonel asked others about me. Who's that? He said. I wasn't part of the draft. The boys regarded me as a friend of theirs. The serviceman liked me apparently, calling me a nice boy, and that's how I was taken together with the rest.
We took the Caucasus, the Chechen-Ingush ASSR. I crossed half the Europe, down from the Caucasian city of Kizlyar. We went through the whole Ukraine, Russia, Moldova, Romania, Hungary, then Yugoslavia, then Hungary again, Czechoslovakia, and finally Austria- Hitler's homeland. We learned about the victory 40 kilometers short of Vienna. "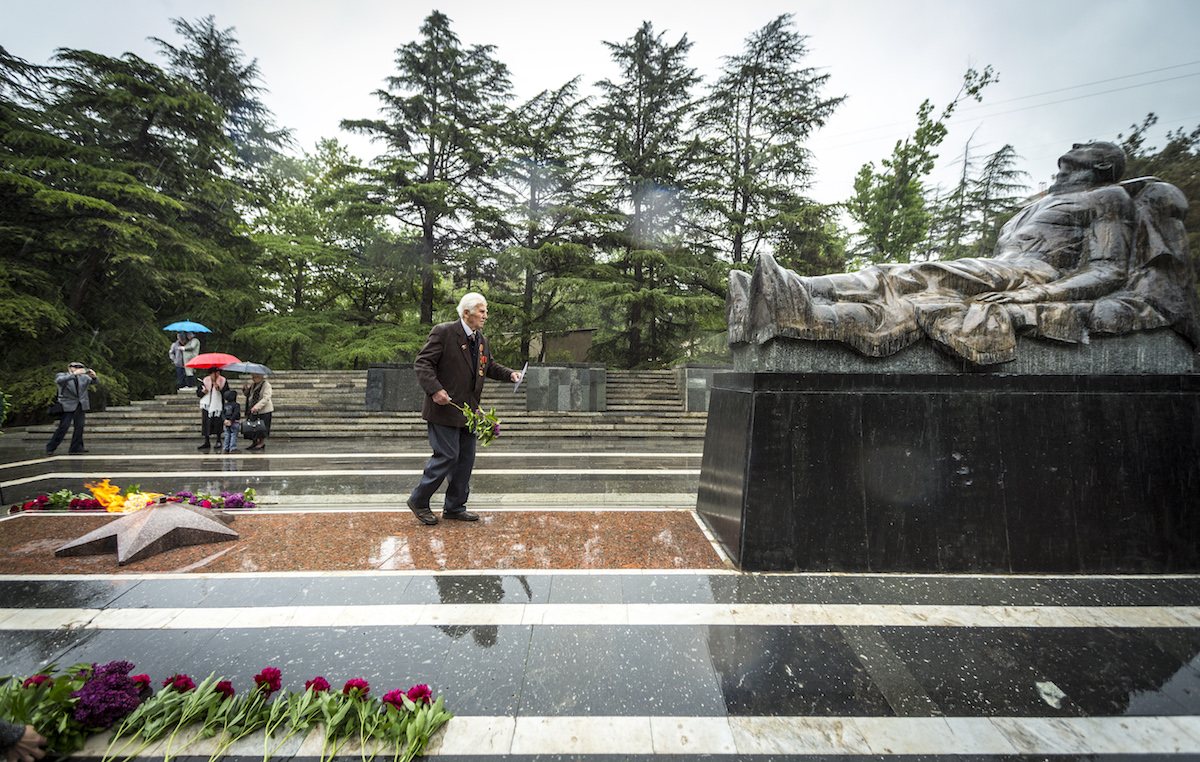 Grigory Panasyan, 92
I went to war as a volunteer. I was 17. It was the year of 43. I decided to join other people as I didn't want to stay alone. From the early childhood I took to collectivism and opted for joining the people. I ended up in a Georgian division. It was a sheer nightmare in Sevastopol, every memory of it is terrifying. My whole life I've been wondering how I managed to stay alive".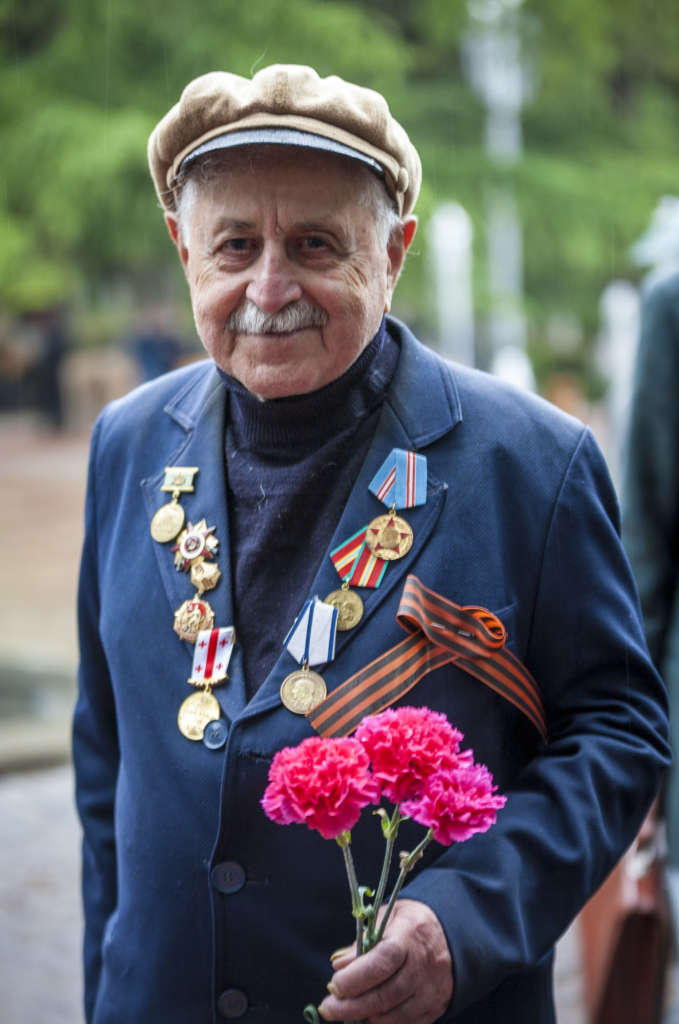 Ophelia Karapetyan, 91
I was 16 when I was taken. I worked in an armoury as a nurse, looking after the wounded. I liked serving our people, and I loved Stalin with all my heart, it was a true love. We heard the news of victory in 1945, which lit our hearts with happiness. I was treating a wounded person at the news broke.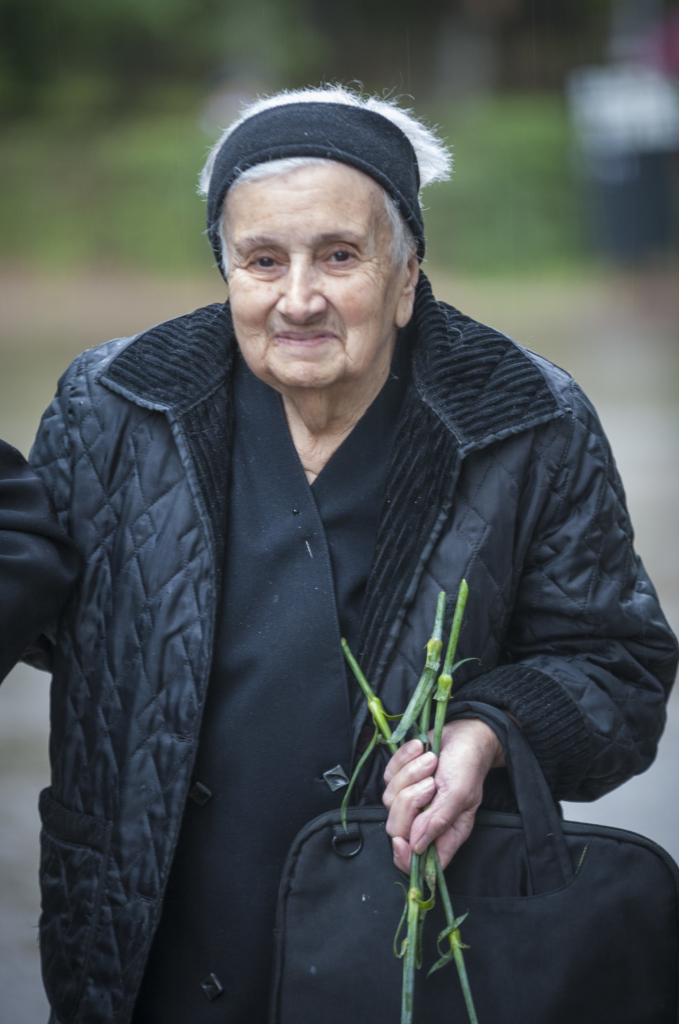 Nikoloz Charashvili, 96
A Tbilisi resident from Nakhalovka district, I went to the front at 18 or 17 as a volunteer. The reason behind my decision was the grave state of my homeland-the USSR. I was taken directly from school. I fought my way from Stalingrad down to Berlin. We walked for nearly 4 years. The day I remember best is the victory over fascism. The day of May 4, we all were by the Elba River in Germany, and had just realized that everything was over.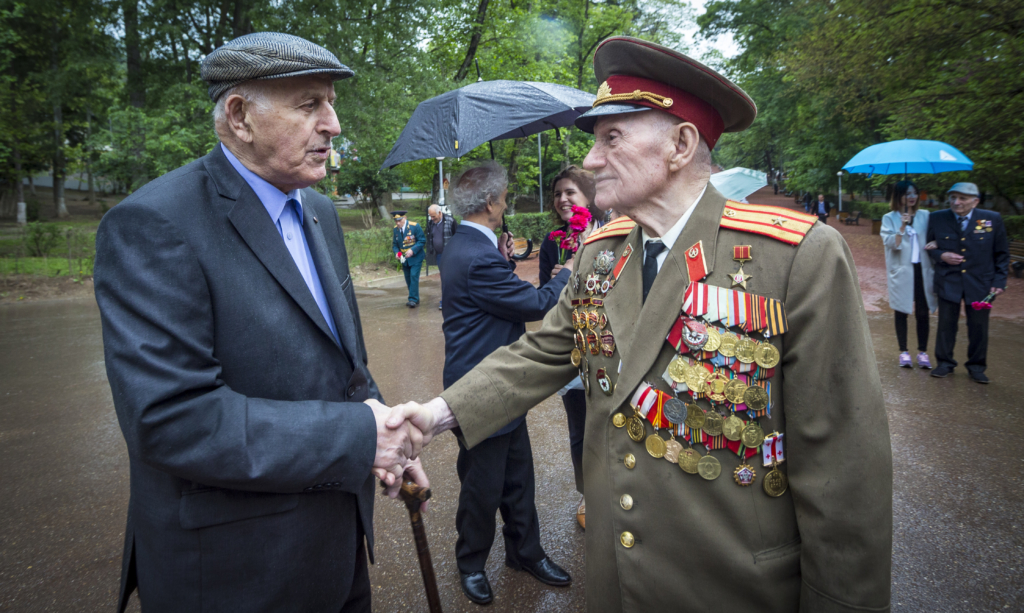 Communists and Stalinists traditionally joined the celebration.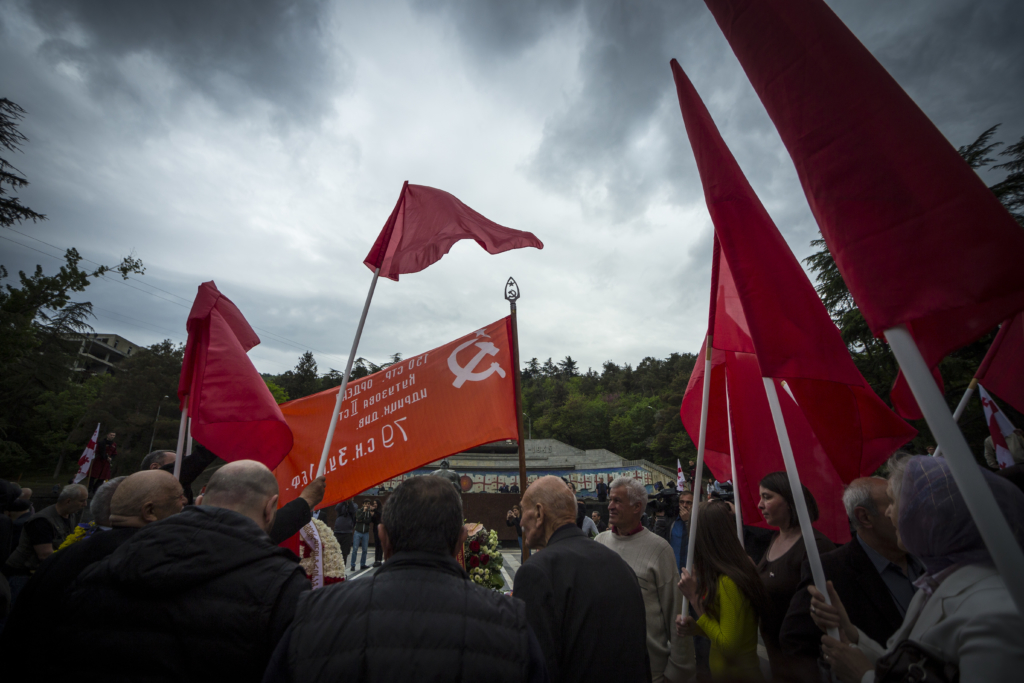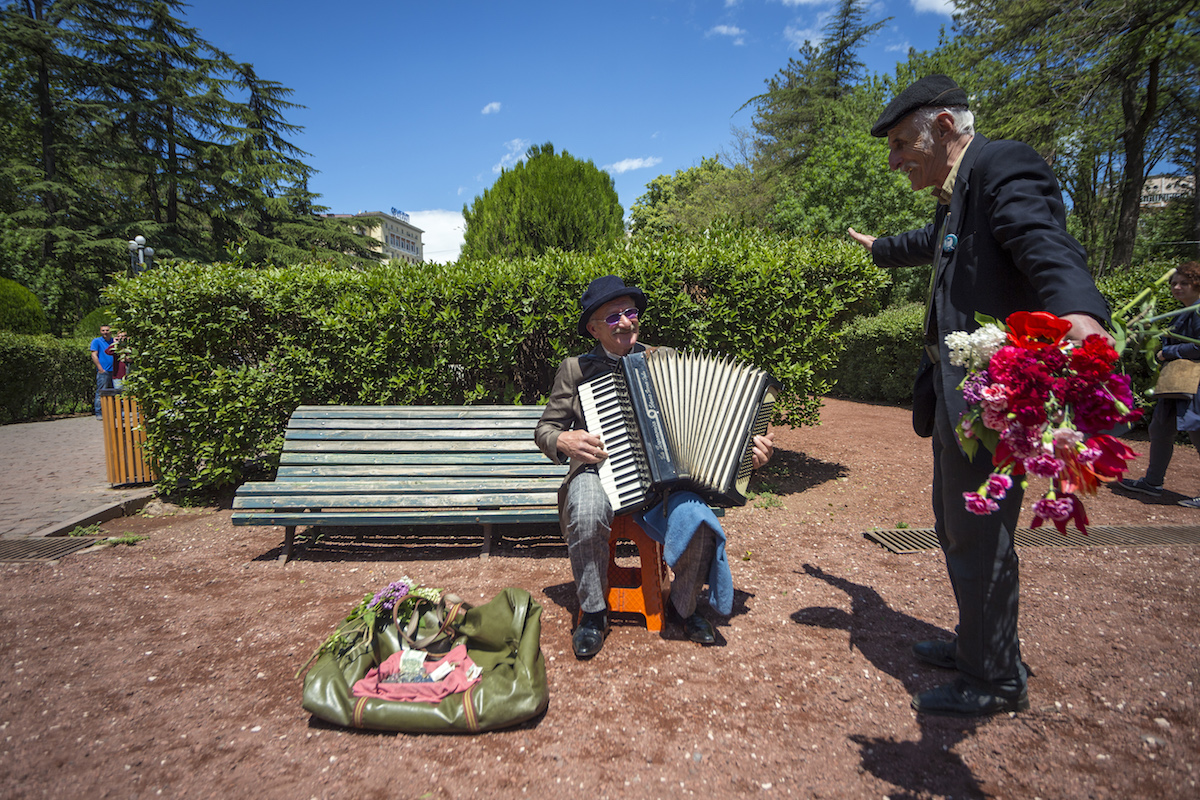 Also, a concert dedicated to the veterans was put on in Vake Park.