Women who crossed the border
A housewife (a mother and a wife) could be found on average in 2 out of 10 families in Jandari village, Marneuli district. Whereas in the rest of the families there are only: a husband, children, a grandfather and oftentimes a grandmother. And all of them live at the expense of a mother, who works abroad, usually in Turkey.
Women leave their families for quite long. For years. It's a stroke of luck if they can travel home for a couple of days a year during that time. And once they return, they find themselves in the thick of the family problems, whereas some of them eventuallydon't return at all.
Jealousy
Sevda Namazova has been living in Jandari village all her life. Jandari is located not far from Marneuli district center; it's about 10 minutes' drive by bus. Sevda is 50. She got married at the age of 21 and she has 4 children now.
She says, she wanted to enroll in the university, but her father didn't allow her to do that. Apparently that's reason, she sold the family's only cow, when her elder daughter decided to enroll in the institute. She wanted to help her daughter fulfill her intentions.
There is a huge land plot attached to the Namazov house. Sevda and her husband used to work a lot, cultivating their land. As their children grew up, the money they earned from vegetable gardening was hardly enough. So, in 2004, Sevda Namazova decided to leave for Turkey to work.
In her words, she was the first woman in the village, who travelled for work abroad. "There was no other way out. I had to leave," she says.
However, her decision was taken quite negatively by both, her family and the fellow villagers. Whereas her husband became jealous and was suspicious of Sevda.
"Later I learned about the rumors that the men were spreading about me in a teahouse, that I was allegedly a promiscuous woman. Whereas a few years later, their wives followed my suit, I met them in Turkey," says Sevda Namazova.
Unemployment
Even a single glance at the families of one's acquaintances and their acquaintances in various towns and villages of Kvemo Kartli is quite enough to realize that it is really so- it'sa woman who goes abroad to work for a long time, leaving at home her children, husband and a normal lifestyle.
Anna Arganashvili, an economist, says that the main reason for this process, that is taking a tragic swing, is an aggravated socio-economic condition of people and the problems with finding jobs that will allow them to provide for their families and raise their children.
According to the Georgian National Statistics Office, over 8,000 men and about 4,000 women left the country as of 2015. The majority of them went abroad to find jobs. Those who left are mostly aged 25-29.
However, Ida Bakhturidze, a sociologist, says that those official data hardly reflect the actual situation. According to unofficial data, summarized from various studies, about 1,5million people left the country in search of jobs in 2015-2016 and 65% of them were women.
"Women aren't eager to go abroad for work and they don't do it voluntarily. It's a hard forced step, made in a no-way-out situation. They often have to support their needy elderly parents, to provide for their children. Mothers can't tolerate their children's miserable lot. But it has quite a strange outcome in this region: although they provide for their families, they are often attributed some evil doing and blamed by the local community," says Ana Arganashvili.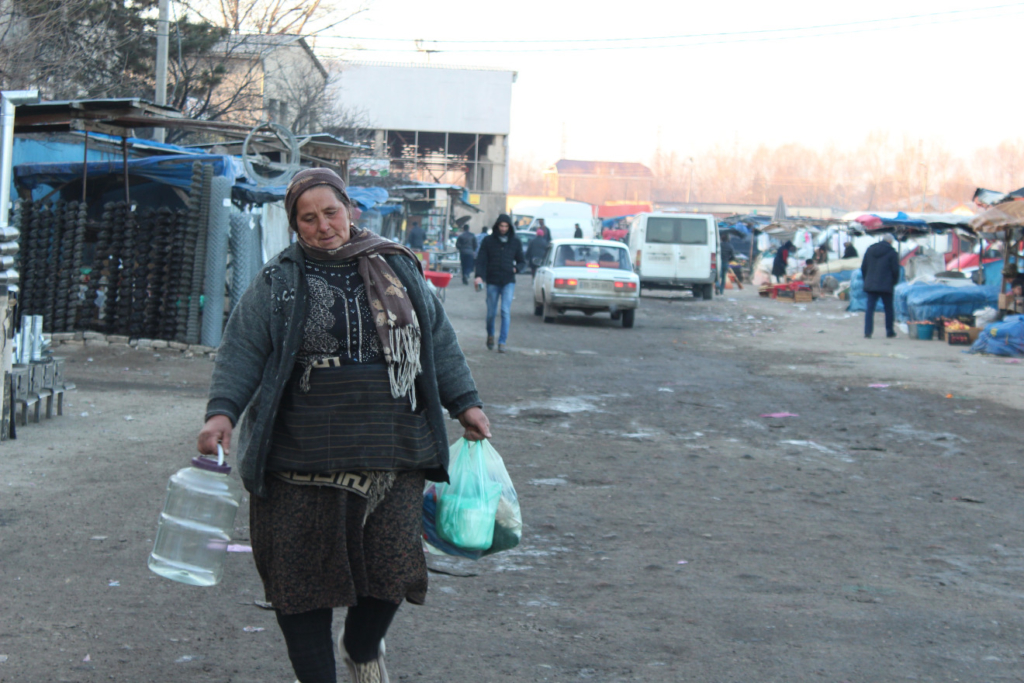 Loneliness
Sakhila Mansurova lives in Marneuli, but that's only based on a tentative registration. She is one of those women, who work abroad for months and come to see their families from time to time.
Sakhila has been working in Turkey for 6 years already. She is 29 and she has two underage children. The whole family opposed her decision to go to Turkey for work. Her husband was particularly against it.
A year later she decided to divorce her husband. She struggled for custody of her children in court for quite long. What she has finally achieved is that her children live with her parents now, whereas she herself looks after the elderly in Turkish families. She says, she has neither days off nor any leisure time. "I have to earn money for an individual dwelling for me and my children. I want to build my own new house," says Sakhila.
She is a tall, lean woman wearing a beautiful red-tone head scarf. Sakhila says, everything could have been fine in her relationship with the husband and she wouldn't have divorced him, if she hasn't had to go abroad to work and live far from her family.
"I have to leave my children with my grandmother, because my mother also goes to Turkey for work and is away for several months. I come home for a couple of days once in 6-7 months, as soon as I'm given a leave from work," says Sakhila.
She still believes that it won't be so all her life and the employment situation in Georgia will improve. Therefore, she has recently managed to complete partly extramural studies at the Faculty of Economy in Marneuli-based vocational school with a degree in technical education.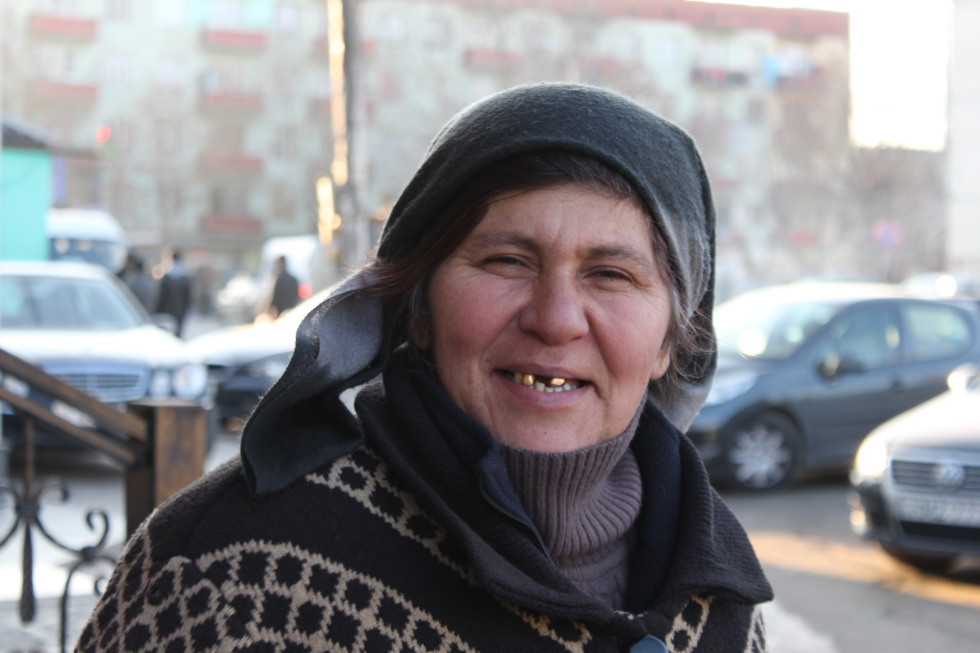 Accusations
"This tendency has been maintained for many years. Mostly the women travel abroad to take up hard work and provide for their families," says Ida Bakhturidze, a sociologist.
"Of course, the men also leave to find jobs, but statistical data show that the women send more money home, whereas the men mostly spend the money they earn in the countries they work."
Nona Samkharadze lives in Marneuli district. She is an expert on gender issues and she is well-aware of the region's specifics, at least because she is 33 and she is the mother of 2 children.
"The problem is that when a woman provides for her family, the rest of the family members soon get accustomed to it and don't bother themselves working to earn the living. And the children also get used to the mother's money," she says.
"Afterwards, upon return, a woman oftentimes encounters a lukewarm attitude towards her on part of her husband, children and parents. And that's because there are certain stereotypes with regard to the women, who left for work, that she was allegedly doing some indecent things abroad.
Alaverdi Ibrahimov is 56. His wife also works abroad like many others. But, to a certain extent, he seems to be an exception. Alaverdi is trying to challenge the stereotype with regard to the women working abroad, both, in his own and his neighbors' perception.
"A man finds it hard to deal with everything when there is no woman in the family: to cook meals for children, help them do the lessons and bring them up, as well as to do the household chores. However, it's easier for women to find a job abroad– they usually look after the elderly or work as housemaids, since they can live right in the family and economize on house rental. Men are not accepted for such work," says Alaverdi Ibrahimov.
"When my wife left, at first I was even embarrassed to go outside. All the neighbours were gossiping, saying women were allegedly going abroad for some indecent purposes. And it's hard to withstand it."
Bringing mom back
Gyular was 12, when her mother left for Turkey to work. Now Gyular is already a student. She is going to become a lawyer and that's through her mother's support. She is particularly interested in the issues related to the women's rights.
"I was a child when my mother left. It was hard without her. But we realised that there were no jobs here and there was no other way out. My concern is that years have passed, I have grown up, but it's all the same: women go abroad for work and they aren't protected by law," says Gyular.
Women travelling abroad for work are facing great risks. They are usually employed unofficially, so the female workers' rights are not protected in any way.
"Women usually work in the families. There is always a risk that they will be urged to work more than it was initially agreed, and this is actually slavery. There is also a risk of violence. They may also become the victims of trafficking. However, even if women become the victims of the aforesaid, they often conceal this information, because they are staying in the country of destination illegally. There is nothing and no one to protect their rights," says Ida Bakhturidze, a sociologist.
When asked, whether any real positive changes could be expected at the Georgian labor market over the next 5 years, many experts gloomily responded: 'no, there are no such expectations'.
"I perform well. I expect to get a diploma and find a good job with my knowledge. Then I will be able to bring my mom back home," says Gyular.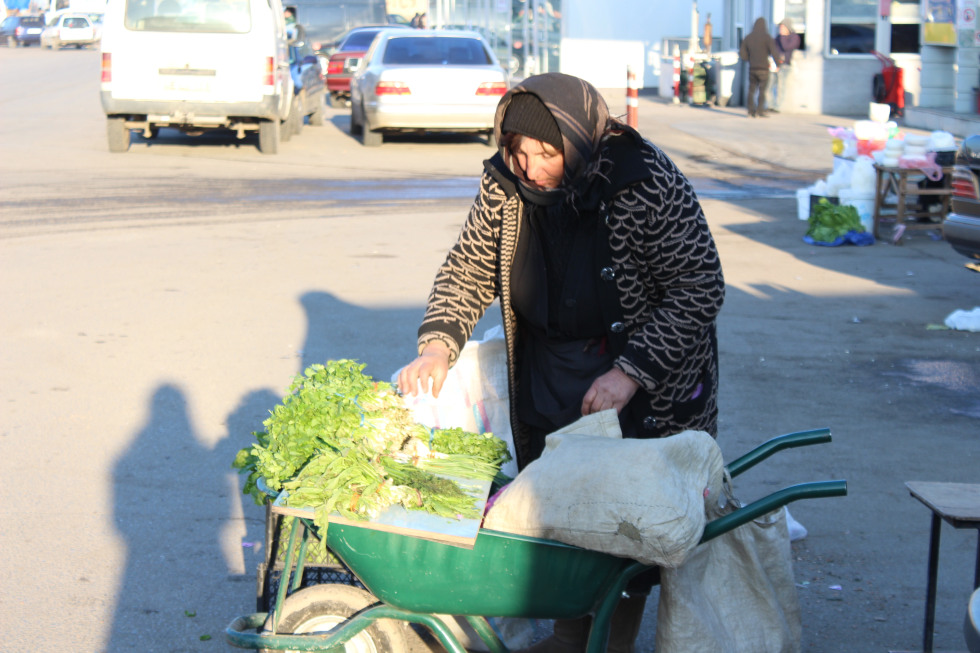 All photos were taken at Marneuli market