What is to be expected from RF President Navalny?
For three days now, 1,750 people have been held in re-trial detention in 182 cities across Russia.
Those are 'new' detainees, who were arrested during the countrywide mass protest rallies on Sunday, 11 June.
People protested against a policy pursued by the incumbent president Vladimir Putin. The protest rally, just as many previous ones, were orchestrated by Alexander Navalny, the President of the Russian Anti-Corruption Foundation and one of the most prominent figures in Russia and also worldwide.
Six months ago, Navalny voiced his intention to stand in the 2018 presidential election, while a few years ago, this person was known just to a few people in Moscow's liberal circles. He is said to be a complex person, a liberal man with nationalistic views.
Who is Alexei Navalny? JAMnews's correspondent in Moscow reports: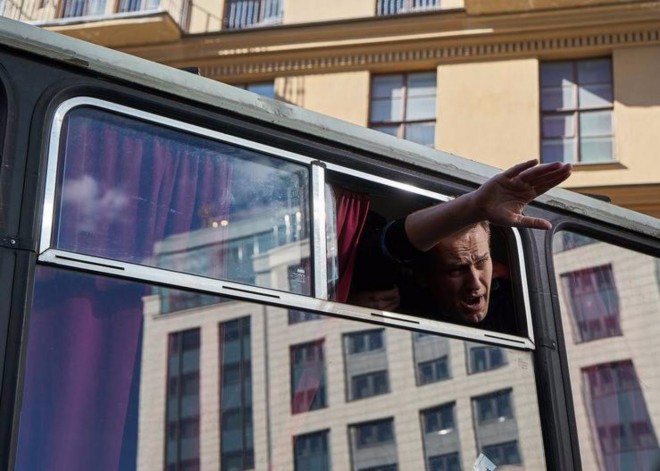 Alexei Navalny following the arrest at the protest rally on 26 March. Photo: Alexei Abanin, RTVi
Background information
Alexei Navalny was born to a military serviceman's family, on 4 June 1976, in Butyn village, Moscow district. Navalny's parents are now engaged in business and own the Kobyakovo willow weaving plant. Navalny holds two academic degrees: in jurisprudence and economics. He lives in a two-bedroom apartment, in Maryino, a remote district in Moscow, together with his wife and two children.
His brother, Oleg, is serving a term of imprisonment for involvement in a money embezzlement case, in which he was convicted along with Alexei Navalny. The latter was put on probation. Many experts and foreign mass media regard the case as a frame-up and politically motivated.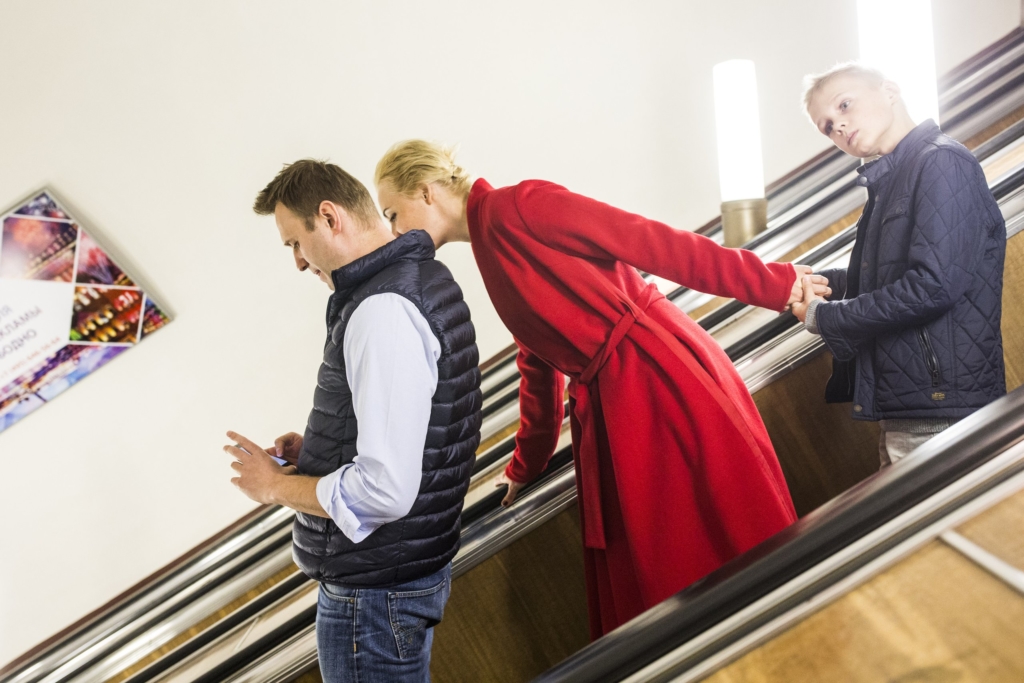 Alexei Navalny with his wife, Yulia, and son, Zakhar. Photo: Evgeny Feldman
Navalny as a nationalist
Alexei Navalny came into politics in 2000, after joining the Yabloko party. However, he was expelled from the party in 2007 allegedly for 'inflicting political damage to the party, namely, for nationalistic activity'.
In 2006, and later in 2008, Alexei Navalny participated in the nationalistic 'Russian marches'. 'A normal Russian nationalist'- that's how he often referred to himself at that time.
The following statements about the North Caucasus people could be found among his blog records of that period:
"We can't live normally with the nations, provided that those nations themselves declare their intention to live like animals."
With regard to the Chechen leadership's request to postpone the Motherland Defenders' Day and not to celebrate it on 23 February (the day on which deportation of the Chechens and Ingushs began in 1944, resulting in the death of thousands of people), Navalny wrote as follows:
"Frankly speaking, we are already sick and tired of those representatives of the [Chechen] community. First they demand all oil revenues, then an increase in transfers, or they hold it against certain firms. Let's take, for example, the Tatars. They have more rights to put claims, but they behave decently."
In June 2007, six months before his expulsion from the Yabloko party, Alexei Navalny became a co-chair of the Russian National Liberation Movement 'NAROD' (PEOPLE). The second out of three co-chairs was Zakhar Prilepin, a Russian writer, who is currently an adviser to the head of the self-proclaimed Donetsk People's Republic in Ukraine (supported by the international community, Ukraine insists that this region is an integral part of Ukraine; the hostilities regularly continue there).
The 'NAROD' movement released a manifesto which, among others, included the following provision: "Russia should recognize the sovereignty and the right to self-determination of the countries that are our historical allies, in particular, Transnistria, Abkhazia and South Ossetia." As Navalny stated in the interview to 'Dozhd' (Rain) TV on 9 June, 2017, 'Abkhazia was independent of Georgia for many years and it still remains independent today'.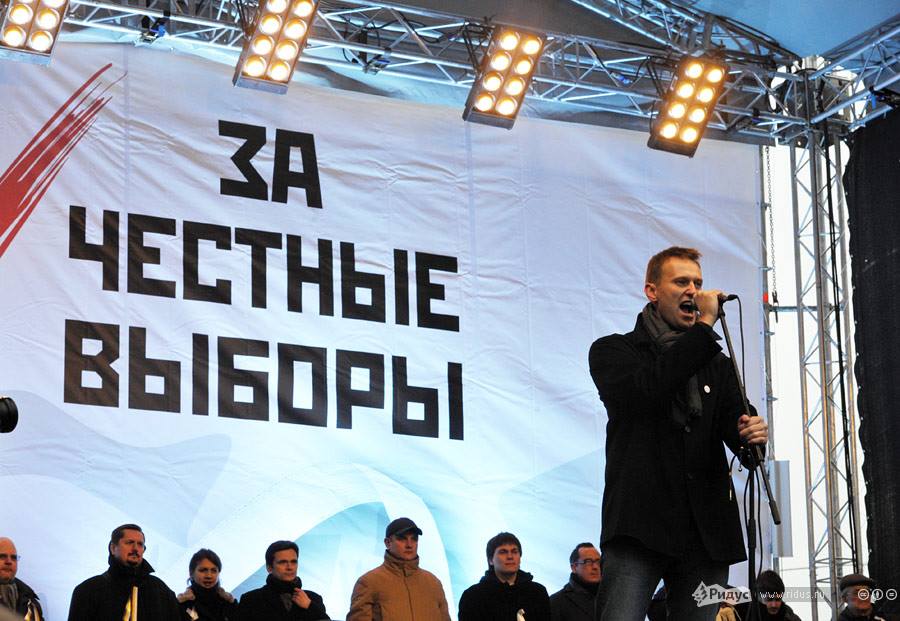 Navalny at the rally 'For Fair Election'. Photo: Anton Tushin/Ridus.ru
Navalny is a key fighter against corruption in Russia. In 2008, Alexei Navalny filed lawsuits against Russia's huge state-run companies, Transneft and Rosneft.
Navalny purposefully purchased the aforesaid companies' shares, as well as those of some other companies, so as to have access to their accounting records and monitor spending of funds.
The politician started publicizing his investigation findings on his LifeJournal blog. In 2011, Navalny was one of those who led protests against rigging the parliamentary elections.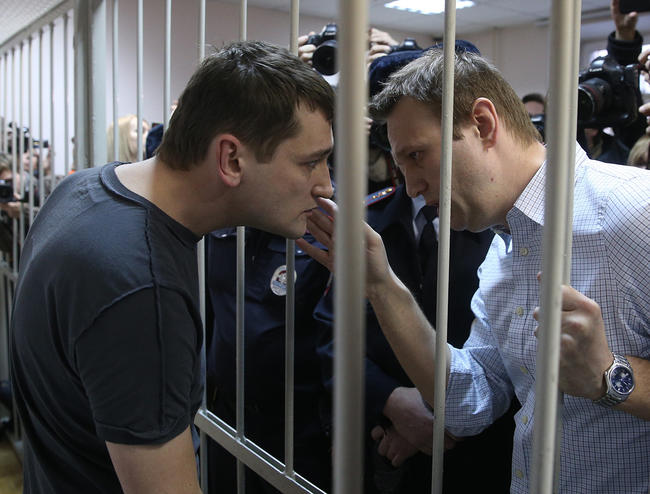 Oleg and Alexei Navalny after annoncement of conviction judgment. Photo: Artem Korotayev/ ТАSS / Scanpix / LETA
Navalny as a politician
Novalny rapidly gained popularity following the 2011-2013 protests in Moscow, organized through his active involvement.
According to the Russian 'Levada-Center', Navalny's recognition in Russia grew by 25% within a year (from 6% in spring 2011 to 55% in 2012). It was then, in 2011, that the Anti-Corruption Foundation was set up, which later shaped into Navalny's most large-scale project. In 2013, Alexei Navalny stood as a candidate for the post of mayor of Moscow.
He launched a large election campaign, holding daily meetings with people from various regions, attracting volunteers, distributing leaflets and stickers and putting up promo posters.
As a result, he came in second, with 27% of votes, losing to the incumbent Mayor of Moscow, Sergey Sobyanin, whose financial and promotional opportunities were considerably bigger. On 13 December, 2016, almost a year and a half before the election, Alexei Navalny stated his intention to run for RF President.
Following a video address, where he voiced his intention, a large-scale campaign was launched to collect 300,000 signatures, which were necessary for standing in the election as a non-party candidate. By April, the number of people who were ready to put their signature for Navalny's nomination reached 300,000. Throughout that period, the Anti-Corruption Foundation churned out investigations into the public officials' corruption deals.
The Two of them that were of highest-profile were the investigative documentaries 'Chayka' (Seagull) and 'He is not Dimon to You'. These films expose the corruption schemes, masterminded by the RF General Prosecutor, Yuri Chayka and RF Premier, Dmitry Medvedev, respectively.
Since there was no reaction to his film 'He is not Dimon to You' on the part of the authorities, Navalny called on the people to hit the streets and demand Premier Medvedev's resignation.
According to the organizers, about 25 000 – 30 000 people joined the protest rally in Tverskaya street on 26 March 2017. Those were mostly young people: students and senior-grade pupils, who had never appeared at such rallies before.
About 1 000 people were arrested by the police that day. The protesters' march turned out to be the most large-scale unsanctioned protest rally in Russia's modern history. Apart from Moscow, the protest rallies and marches were also organized in 81 cities across Russia.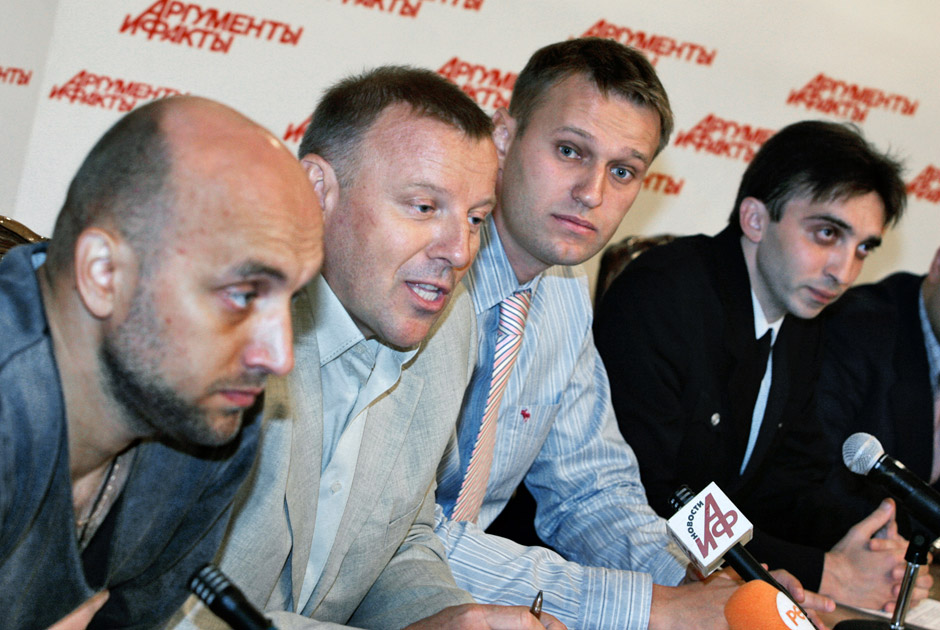 Zakhar Prilepin and Alexei Navalny at the 'NAROD' movement's news conference. Photo: Grigory Sobchenko / The Kommersant 
Alexei Navalny's campaign program hasn't been made public yet. It will be published when, and if, Navalny is registered as a candidate for the presidency. Only its basic theses are available on his website so far.
One of them reads as follows: "Russia needs a visa regime with the countries of Central Asia and South Caucasus. Labor migrants should travel to Russia based on working visas, rather than in an uncontrolled manner, as they do now."
Navalny also claims that 'political and economic rapprochement with well-endowed countries' is beneficial for Russia.