"We'll build a bridge and live" – how people live near the dividing line in eastern Ukraine
The new authorities of Ukraine declared the cessation of hostilities in the east of the country as one of their top priorities.  Since 2014, the conflict between government forces and pro-Russian forces supported by Moscow has claimed the lives of more than 10,000 people.
The parties began to take the first steps to establish peace: exchanged prisoners and began the withdrawal of troops in separate areas. And on the ninth of December in Paris, the leaders of Ukraine, Russia, Germany and France will discuss the settlement of the conflict in the so-called Normandy format.
Journalists of the Ukrainian television company Hromadske visited the demarcation line to find out how the process affected local residents and what their expectations were.
The bridge 
"Let's build a bridge and live", said the proud new president of Ukraine, Volodymyr Zelensky, addressing the residents of the village of Stanytsia Luhanska, a settlement on the dividing line between the territory controlled by Kiev and the unrecognized so-called Luhansk People's Republic.
•Ukraine: dying in lines waiting for pension payouts on the front
•Russian-Ukrainian border: fence of the 'friendship of nations'
•Life behind the barbed wire along Georgia's line of demarcation
In 2015, a local bridge was destroyed by bombs. People moved across it with makeshift stairs – in this way up to 10,000 people crossed the dividing line.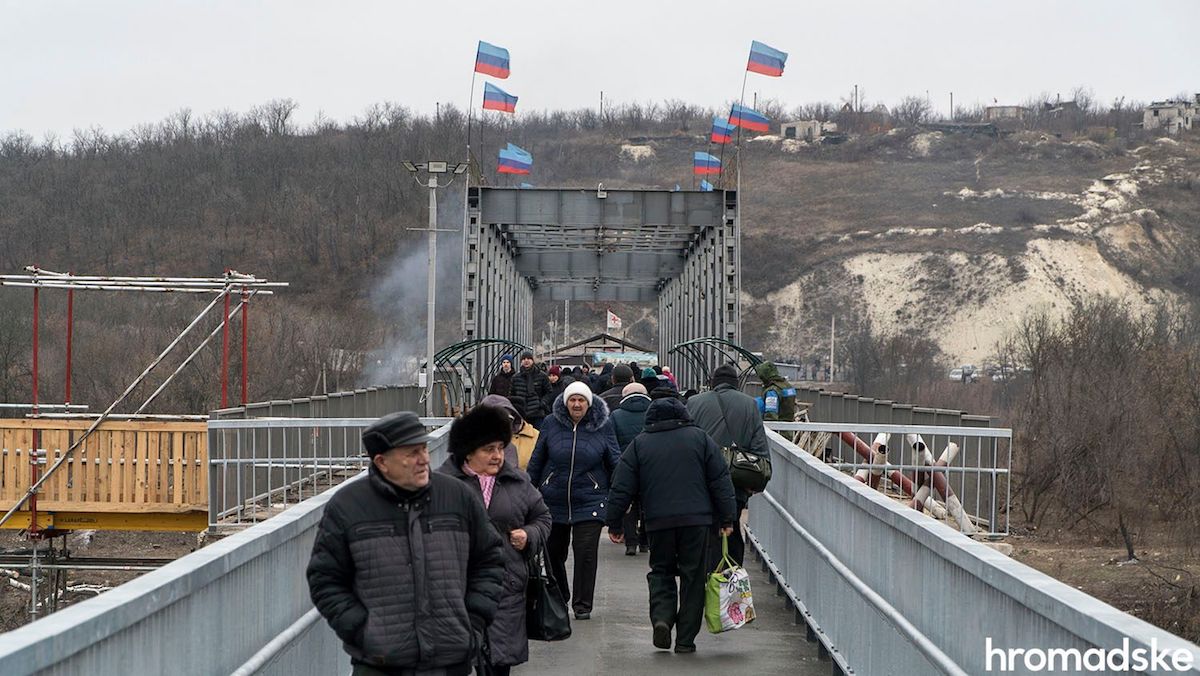 On November 20, the restored bridge was opened – but only for pedestrians and ambulances.
In order to restore the bridge over Seversky Donets, troops were withdrawn from the river for a kilometer on both sides. Since mid-summer, no shots have been heard in Stanytsia Luhanska.
People are brought to the bridge from the Ukrainian side by free buses. There are two electric cars that carry people with disabilities and those over 75.
Pensions and trade
Around the bridge in recent years there have been several specific types of business.
Already 13,000 people pass through the repaired bridge every day. 80 percent of them are pensioners [ed. according to Ukrainian laws, residents of uncontrolled territories cannot receive Ukrainian pensions. Therefore, pensioners "on the other side" periodically cross the border in order to register as "settlers" and receive a pension].
Previously, a kilometer from a checkpoint to a destroyed bridge with a wheelchair cost 150 hryvnias [about $6.3] one way.  Now there is a free bus and an electric car. But a few people with cars are still waiting for customers.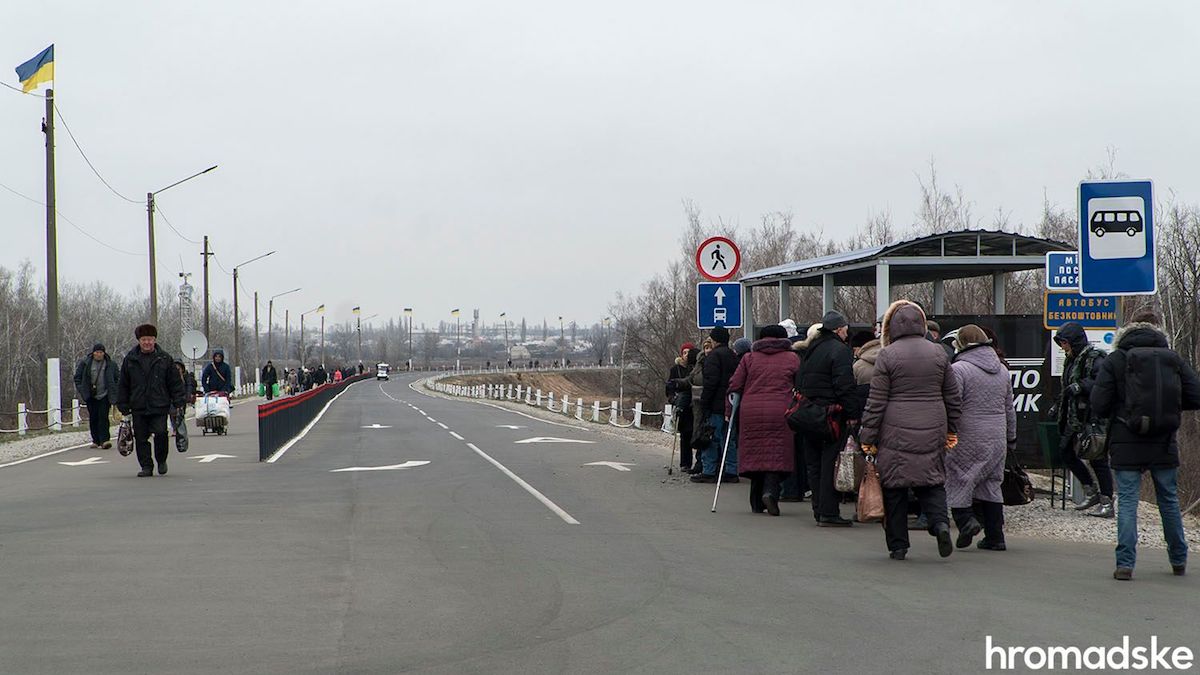 We met one woman on the bridge three times. She does not go for her pension, but carries goods "across the border for sale".
– What do you mainly carry?
– Cheese, sausage.
– Is it cheaper here?"
– Ours is cheaper and tastier in Ukraine.
– And what's cheaper there?
– Cigarettes and bread. Bread, for example, costs 12 rubles [about $0.19].
You can transfer up to 50 kilograms of goods at a time. But there is a list of permitted and prohibited. For example, recently border guards did not allow us to transfer a batch of fur coats and jeans to Luhansk."
 Another type of earnings in Stanytsia is taxi services. For 100 hryvnias [about $4.2] they transport pensioners from the nearest ATMs to the checkpoint, which always have a queue, to remote ones. There you can withdraw your pension by standing in line not three hours, but only one. Before the war, there were two ATMs in Stanytsia, now there are 14. And they plan to open more.
If you don't have time to stand in two lines a day – one at the Pension Fund to check in and one for the ATM – you will have to spend the night in Stanytsia. A bed costs 100 hryvnias. If you want one with a heater, it costs 150 [about $6].
"And if peace comes, then where will this whole business go? We make money for them, here even the kiosks are closed when we are not there," women who came from the other side of the bridge are talking in line at the ATM.
Withdrawal- what do locals think?
Galina Barabashova is a local activist. In 2016, when they first tried to withdraw troops, she opposed the initiative. Now Galina is for withdrawal. 
[ed. The withdrawal of troops of the warring parties in eastern Ukraine is provided for by the 2015 Minsk ceasefire agreements.  However, the actual withdrawal began after the change of power in Ukraine this summer]
"Well then, in 2016, they still shot, we could be captured every day.  And now it's quiet, the police patrol the village, it's calmer," says Barabashova.
Her son's house burned down in 2016. He went to Russia, a woman looks after what remains.  With Galina, we're going to look at this house. But the plot after the withdrawal of troops was in the "gray zone".  On the way to it – there is a barrier with the sign 'stop'. This is a checkpoint of the Ukrainian military – nobody passes without a pass.
Natalya Zhurbenko is also a local activist.  She is a migrant from Luhansk. She is against the withdrawal of troops.
"I believe only in the Ukrainian army.  It's calmer with them. But I don't believe in the police," says Zhurbenko.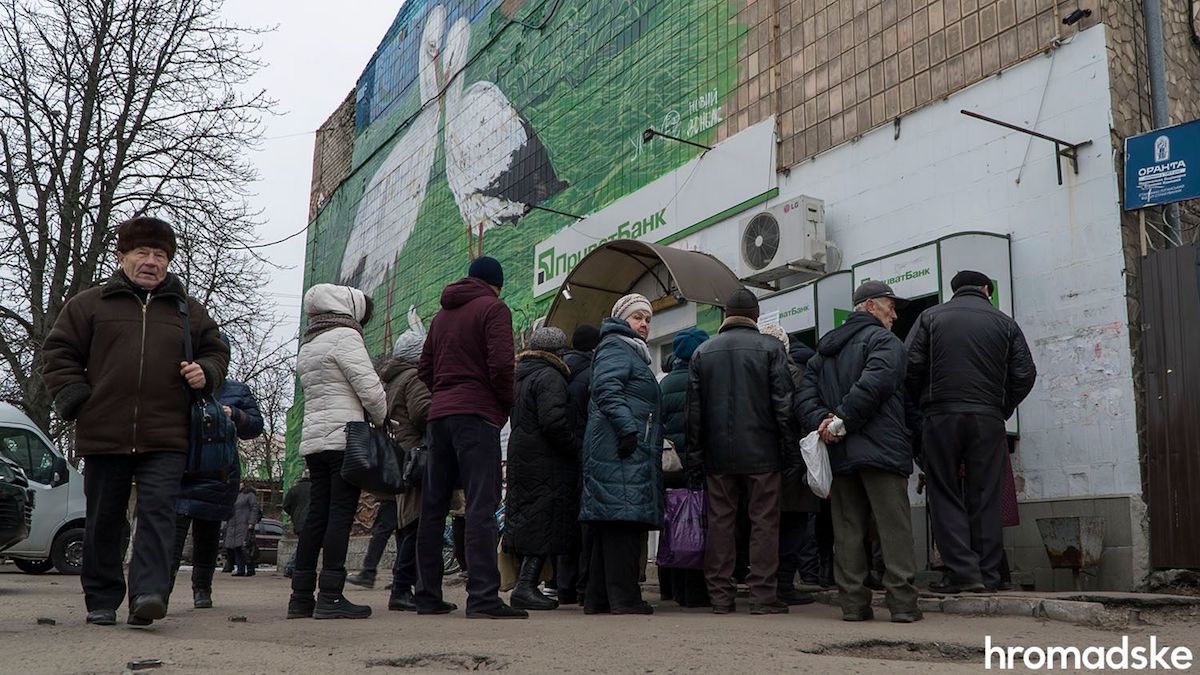 "It would be better to freeze the conflict"
All the conversations in Stanytsia at ATMs, on the bus to the bridge – about prices, queues, and, of course, about the upcoming negotiations in Paris.
 "He is still young, inexperienced.  That's what I'm worried about", says one woman from Luhansk describing President Vladimir Zelensky.  
"He of course wants peace, but that's hard."
What do activists Zhurbenko and Barabashova expect from the meeting in Paris?
"I'm not expecting anything good. It's better for us to freeze this conflict," says Barabashova.
And she explains that she does not like the idea of ​​elections in the "LPR" and the possible activation of separatists in her village.
"I just hope this meeting does not take place. I don't believe Putin, and I have a lot of reasons for this," says Zhurbenko.
On the bridge, we ask the same question to those who are moving from controlled territory to occupied territory.
"I hope that we will finally receive a pension in Luhansk.  How many times can you go back and forth," says an elderly woman.
"We are waiting for Ukraine to come [to the place] where it should be," one man replies.