Six Ukrainians living on the Georgian-Russian border for a week: Georgia won't let them in, they are afraid to go to Russia
Ukrainians at the Georgian-Russian border
On the night of 16-17 August, Georgian border guards did not let six Ukrainians into Georgia. Each of them was officially refused entry into the country.`
Five of the six are former prisoners from the Kherson region, who were taken to Russia by Russian security forces during the retreat to finish their sentences. And another is a Ukrainian who entered Russia and was put in a filtration camp, but has now been released and is trying to leave the country.
According to Novaya Gazeta Europa, while human rights activists are helping the men stuck between the borders to get out, a thriller is unfolding in the three kilometres of the neutral zone between the Russian and Georgian checkpoints – Russian security forces are trying to kidnap the Ukrainians.
The men have been in the buffer zone for more than four days, they have not been allowed into Georgia and categorically refuse to return to Russia, Aidana Fedosik, head of the Unmode organisation helping Kherson prisoners, told reporters.
According to Fedosik, this is the first time this has happened: previously, Georgia always let Ukrainians through so that they could return to their homeland from there. 
Appeals to the Georgian ombudsman and to Ukrainian diplomats have come to nothing, Fedosik said.
The mother of one of those stranded in Upper Lars tells reporters that on the evening of 22 August, Russian security forces entered the buffer zone and tried to take one of them away. "But they fought back.
Georgian border guards came running in. There was just a shift there that was good to our guys. They helped fight this guy off and told him to stay close to their point, where Russian border guards have no right to enter."
This incident is confirmed by Aidana Fedosik:
"FSB officers approached the Ukrainians in a civilian car, they were also dressed in civilian clothes. They tried to drag one of the Ukrainians into the car, but the others did not allow them to do so. Georgian border guards rushed to their aid. Now they are hiding all the guys in their terminal."
A comment on the Upper Lars Telegram channel:
"Six people of Ukrainians are stuck on the border of Georgia, Georgia does not let them in. Perhaps someone is returning from Georgia to the Russian Federation and has an unwanted Georgian SIM card – please give them a gift to keep them in touch, as they have to run to the border of the Russian Federation to catch a connection.
They also need warm clothes and food, water and cigarettes. They are sitting in the terminal (exit to Georgia) where repairs are underway,"
As the human rights activist says, the men sleep outside. At night it's cold there – 11 degrees Celsius, and during the day the exhausting hot sun shines.
People are stronger than states, stronger than the system, Aydana Fedosik believes. "There are chat rooms for those crossing the border, we wrote there about our guys, and people help with food and water, someone brought them plaids. We were able to give the guys pens and paper to write statements and SIM cards for communication."
Fedosik says that among the former prisoners there is a man who is HIV-positive. He has already run out of pills four days ago. Every day his physical and mental condition is visibly deteriorating.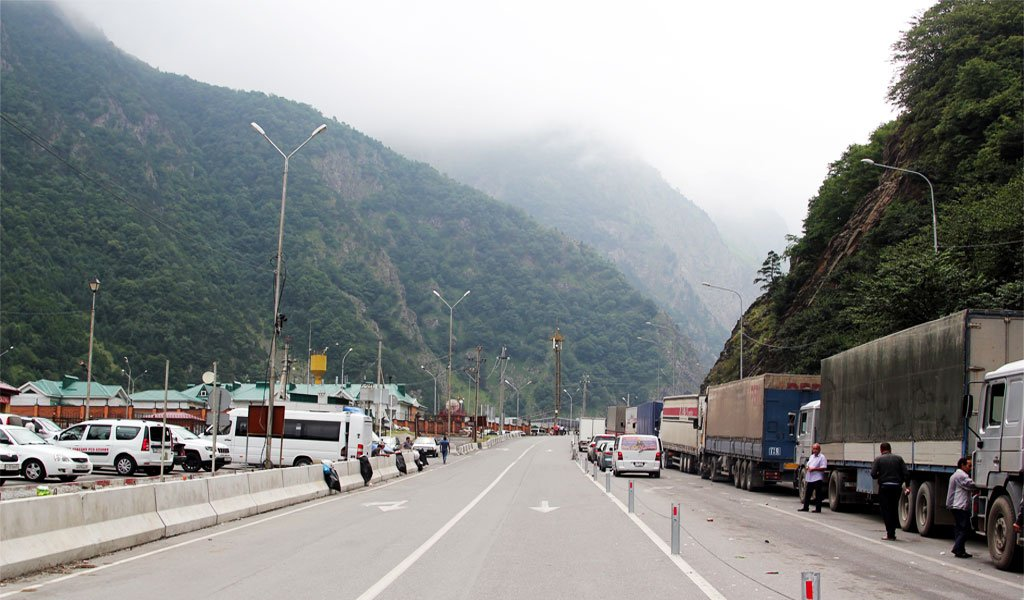 In autumn 2022, Russia, retreating from the right-bank part of the Kherson region, transported more than a thousand convicts through Crimea. In most cases, these people were then sent to colonies in Krasnodar Krai, Rostov and Volgograd regions, where they served sentences imposed by Ukrainian courts. Ukraine considers this an illegal deportation, while in the Russian Federation prisoners are prosecuted for illegally crossing the border.
After the end of their sentences, Ukrainians are often sent to courts, where they are found to be in Russia illegally and placed in centres for the temporary detention of foreign citizens, where they can stay for months – it depends on what documents they have with them.
If they have at least an internal Ukrainian passport, the convicts can be escorted to the border with Georgia – Fedosik says that in the past, Russian border guards could cause difficulties, but the Georgian service has always let her prisoners through.
I think this is due to tougher requirements for the Georgian security service," the human rights defender argues. – Georgian border guards know that we meet these people in Georgia, but it is not always possible to make quick exit documents to Ukraine.
Recently the Ministry of Foreign Affairs of Ukraine decided that such categories of citizens (former prisoners) are not issued foreign passports. Only the so-called "white passport" to return home and not to any other country. But the problem is that even white passports now take a long time to make.
Therefore, when Ukrainians say that we are transiting here, Georgians already think: we know your transits. A critical mass of people is accumulating here waiting for documents for departure. Besides, the background of former prisoners also plays a role for the security service".
All six of those stuck at the border claim that they are travelling through Georgia in transit. When they were refused, they applied for asylum.
"But nobody wanted to accept it, pushing Ukrainians to take the desperate step of returning to the Russian Federation. But they are definitely not allowed back," Fedosik said.
Since Friday evening, the men have been hunted by Russian migration officials. They have received phone calls, threats and persuasion demanded that they return to the Russian checkpoint, as if they had to sign a paper there, after which the Georgians would let them in.
They say that the border guards had agreed on everything among themselves. But Ukrainians did not believe the Russians, fearing provocations.
According to Aidana, depending on the shift, they are sometimes allowed into the hall of the Georgian customs. It is quite a spacious room, but there are not even benches there. Sometimes they are not kicked out and they can wait out the intense heat or the cold of the night. Often they hear some of the officers say, "Go back to where you came from."
According to Fedosik, both the Ukrainian ombudsman and the Ukrainian embassy in Georgia have become involved in resolving the issue. We informed everyone that there is a risk of provocation against Ukrainian citizens. And all this against the background of total ignorance by many other agencies.
The Ukrainian Ombudsman replied two days ago that the case had been referred to the authorized bodies.
"What these bodies are, it is not quite clear, but there is hope that something at the top is also being done," she says.
According to Fedosik, given what is happening in other countries, Georgia was the last hope for such people.
"One can only speculate as to why it happened this time. Partly it depended on the shift that was on duty that night. But partly it was because the attitude upstairs had changed from one of unequivocal acceptance to 'why is it that they can be let through without question?"
"They had been questioned before, but, as a rule, we had already met them on Georgian territory, and that was enough," the human rights activist continues. – It was enough to clarify at the Ukrainian embassy whether they were aware of the arrival of such citizens, and the diplomats confirmed it.
What has changed today in Ukrainian-Georgian interaction inside Georgia? What has changed inside Ukraine itself in relation to such category of citizens? We do not know all this, but now we see the result of this initiative".