UK ready to support reforms in Armenia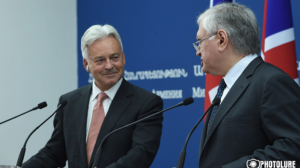 Alan Duncan, the UK Minister of State for Europe and the Americas at the Foreign Affairs and Commonwealth Office, reiterated his country's readiness to further intensify bilateral relations with Armenia, as well as to assist the Armenian government in developing priority economic trends.
"We are ready to include Armenia in the Good Governance Fund's program, so as to render it the financial assistance for implantation of the reforms in the public administration, justice and economy spheres…
"We would also like to increase bilateral trade. Firstly, we look forward to working with the Armenian government to increase the trade flows to the country, to improve the business climate, which can attract investors. We seek to intensify the trade turnover, but to do that the country's investment environment needs to be reliable and transparent," said Alan Duncan.
The Armenian Premier, Karen Karapetyan, made a proposal to the UK State Minister to organize a joint business forum, so that UK businessmen could learn more about a favorable investment environment in Armenia.
"Armenia should be viewed as a bridge for entering the EAEU (Eurasian Economic Union), EU and Iranian markets. I believe that despite the size of our country, we can be of interest for international businesses. We are interested in British businesses expanding its presence in our country not only in terms of investments, but also from the point of view of introduction of its business-culture," the Armenian PM emphasized.
The UK State Minister also touched upon the Karabakh conflict: "The UK actively supports the OSCE Minsk Group Co-Chairs' efforts for the peaceful settlement of the Nagorno-Karabakh conflict. We encourage the conflicting sides to be actively involved in the negotiation process. This can lead to tangible economic progress and stability in the region," said the UK State Minister.
Toponyms and terminology used in the publication, as well as views, opinions and strategies they contain, do not necessarily reflect the opinions of JAMnews or any of employees thereof. JAMnews reserves the right to delete comments it considers to be offensive, inflammatory, threatening or otherwise ethically unacceptable.