The right to feel sorry for the victims
Paris terrorist attacks caused Azerbaijani social network users' emotional reaction.
Like after all other accidents, Azerbaijani Internet immediately split into two camps: those who mourn and those, who condemn the mourners.
Those, who condemned, produced a great variety of arguments.
France – not a Muslim country
'Hundreds and thousands of peaceful people (including elderly, children and women) are daily killed in Muslim countries, and you don't care much about it. Whereas now, you are uploading a photo of the French flag to your profiles. You don't have any conscience, do you? Man up!'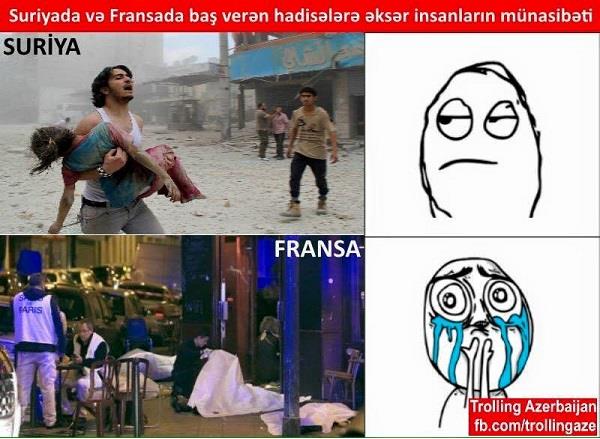 It's their fault
'When Western hegemony 'stirred up that "ISIL trouble (it's an open secret), they should have understood that it would boil, expand and finally flood their own people'.
'The words and actions of Sarkozy, Hollande and others is the voice of France. All of them are 'the voice of the majority.' The French population's fault is that their chosen one pursues such a policy. That's what they are killed for.'
What about Khojaly
'I wonder, when did French people lay flowers at the Azerbaijani Embassy? Maybe during the Armenian terror against hundreds of Azerbaijanis in Khojaly? Or maybe when there was a fire in the building, that took the lives of innocent people? When?'
The opponents' comments are less versatile
'Don't enter Facebook today, don't read those comments – don't pollute yourself.
It seems, I have a feed with adequate and like-minded people, but still some stupid posts will pop up.
"Terror has no religion
'All that aims to vilify Muslims'
'It served the French right, what else have they expected'
128
128 people killed.
"Shut up already!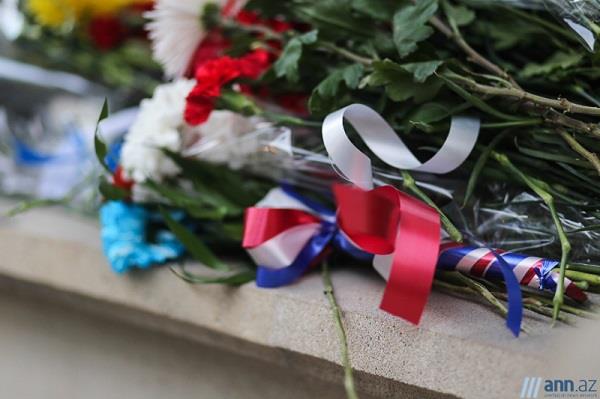 Flowers at the French Embassy in Baku