The girl they told me not to be
Married against her wishes
I was a rowdy kid. When I used to do something wrong, my family members would instantly tell me that I was acting like Nutsa. They compared me to her and clearly, it was not a compliment.
Nutsa was my grandmother's sister.
She lived in my grandparents' house, because she had no home of her own. Every time she was absent, our other family members would enthusiastically praise somebody named Datiko.
They did not understand why Nutsa divorced Datiko. I could not understand it either. All I knew was that Datiko was the best man in the world and all the stuff about the divorce was Nutsa's fault.
If I have to describe her in one word, it would be proud. She was tall and thin, with dark hair and clear brown eyes. She was 80 years old. Her face was full of folds. But her wrinkles could not hide her beauty and pride.
She did not like talking much. Once when I was 15, I stayed with her for a while and asked her about the divorce. The story I heard made me grow up quicker, I think.
---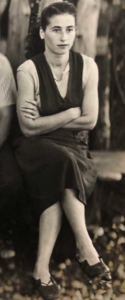 She was born in a Georgian village. Her parents had seven children. Nutsa was the oldest one. When she turned 14, her parents decided it was time for her to get married. The groom was 30: 16 years older than Nutsa.
She did not know what marriage was. Then her mum said that she should follow Datiko to Batumi, far from her home.
The day of the white dress was the worst day of her life. Everyone was waiting for the bride. Nutsa was nowhere to be seen. They looked for her for two hours. She was hiding under the table. Her eyes were full of tears.
"I was not scared. I just wanted to live with my family. I was not ready to leave home and follow an unknown man", she said.
During this whole story, she never called her ex-husband by name. For her, he always stayed as the 'unknown man.'
She got married. She moved to Batumi, far from her village and family. Her husband was a wealthy man. This was the reason why her parents chose him.
"He really loved me. He took care of me. He bought me everything. Every day started with flowers and a letter. I have never read his letters", she said.
She was married for 10 years. During these years, the only dream she had was to not get pregnant.
"I knew that one day I was going to leave this stranger, and I knew that child would ruin everything," she said.
Her husband took her from doctor to doctor. Everyone said that she was healthy and ready for pregnancy. But Nutsa has never had a child.
During these 10 years, she studied lots of things. At the age of 24, she found a job. And she left her husband.
"My husband was at work; I put my clothes on, which I had bought by myself; took my little bag and left the house, forever. I did not take a single thing from his house. I did not want anything he bought me." she said.
Her dream was to return to her childhood, but it was impossible. Her parents went against her divorce and asked her to hide it from the villagers. Then they lied that Nutsa was abroad, so she did not meet her parents until her father's funeral.
Dato begged her to come back home for more than 15 years. She never did. She lived alone in Batumi. Then in Tbilisi. She never got married again. After this story, I was sad. But when I looked at her, I felt that she was proud. Proud of what she did. Proud of keeping the promise which she gave to herself when she was 14.
I told her story to other family members. They already knew it. But they continued to blame Nutsa for the divorce.
Nutsa died four years later after she told me her story. She was sick, and still had the same dream. She wanted to be with her parents again. So we buried her next to her parents' graves. And I felt like her whole life dream came true.