Son of Armenian ex-president charged with money laundering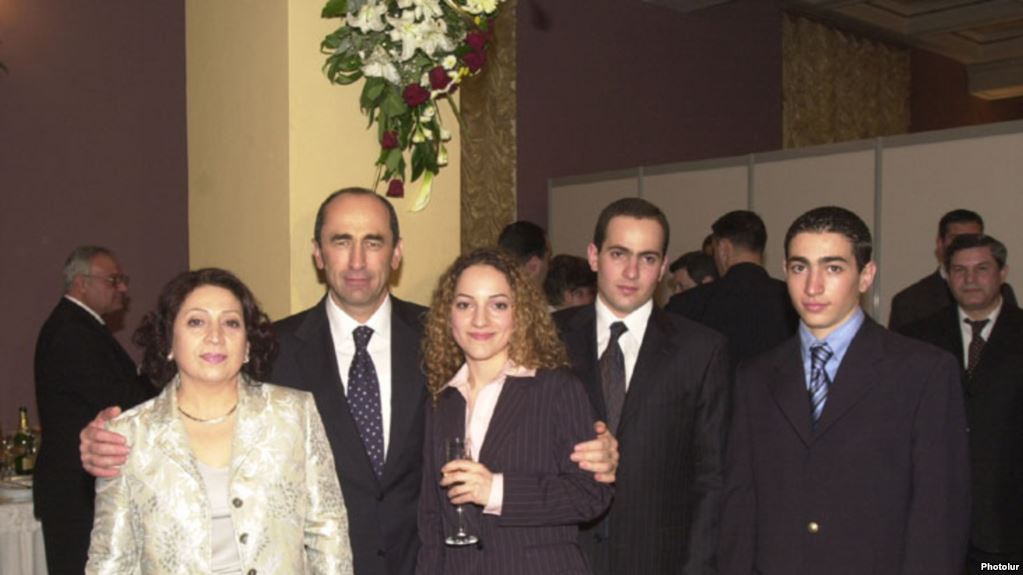 The National Security Service of Armenia has indicted Sedrak Kocharyan, the eldest son of the second president of Armenia, Robert Kocharyan.
Sedrak has been accused of tax evasion and money laundering.
He has been banned from leaving the country as the investigation continues.
• Separating business from state: a look at Armenia's economy during Pashinyan's first 100 days
• Former president of Armenia remanded for 'overthrowing the constitutional order'
• Armenia: ex-president Kocharyan faces further charges – this time bribery 
What exactly does Sedrak Kocharyan stand accused of?
The Armenian National Security Service report says that during its investigation it uncovered evidence that Sedrak Kocharyan had avoided paying taxes for one of his businesses. Later, he supposedly laundered the saved funds through a series of shady banking operations.
In particular, in one of his companies, Sedrak Kocharyan declared a payment made by a third party to the amount of $5.3 million as a debt repayment.
With the help of two payments, he transferred this money to his accounts as compensation for debt obligations.
By falsifying his income, he avoided paying around 915 million AMD ($1.9 million) in taxes.
Sedrak Kocharyan is also accused of having legalized large incomes by organizing intra-family companies. He used some of them to purchase a Best Western Congress Hotel.
The Kocharyans say the investigation is the government's 'revenge' 
Sedrak Kochayan, responding to questions posed by 2rd.am, called all the accusations fabricated.
He says the accusations are groundless attacks on his family by the authorities and in particular, Prime Minister Pashinyan.
"Nikol Pashinyan long ago focused on our family, since the days of his journalistic activities … When he was an MP, he did not miss a chance and constantly tried to slander and denigrate the good name of our family and honour, even when my father had long been out of office … The spreading of false and false rumors about our family, directed by Nikol and his companions, is extremely primitive."
Ex-President Robert Kocharyan himself also considers his arrest politically motivated.
Since December 2018, Kocharyan has been imprisoned for his involvement in the 1 March case of 2008:
After the presidential elections of February 2008, protests organized by supporters of the first president of Armenia, Levon Ter-Petrosyan, took place. Ter-Petrosyan is believed to have won, not Serzh Sargsyan as the Central Election Commission announced.
During the dispersal of the demonstration, military-grade weapons were used and 10 people were killed.
The president of the country at that time was still Robert Kocharyan.
The investigation into the 1 March case did not continue until the Armenian Velvet Revolution of Spring 2018, when revolutionary leader Nikol Pashinyan and his government resumed the case.
As a result, Robert Kocharyan was charged in July 2018 with overthrowing the constitutional order in the 1 March 2008 case.
The current Prime Minister of Armenia, Nikol Pashinyan, represented the interests of presidential candidate Levon Ter-Petrosyan at the presidential elections of 2008.
He actively participated in the protests that began after the announcement of the election results. After the events of 1 March, the opposition leader went into hiding for four months because of accusations of organizing mass riots.
On 1 July 2010, Pashinyan voluntarily went to the prosecutor's office, was arrested and sentenced to seven years.
After one year and 11 months, he was released under amnesty timed to coincide with the 20th anniversary of the independence of Armenia. Human rights activists believe that the authorities were forced to take this step due to pressure from international structures.
In February of this year, the Special Investigation Service of Armenia brought new charges against the second president, Robert Kocharyan, who now stand accused of taking large bribes.
Kocharyan does not admit to any of the charges against him.