Russian propaganda and Georgia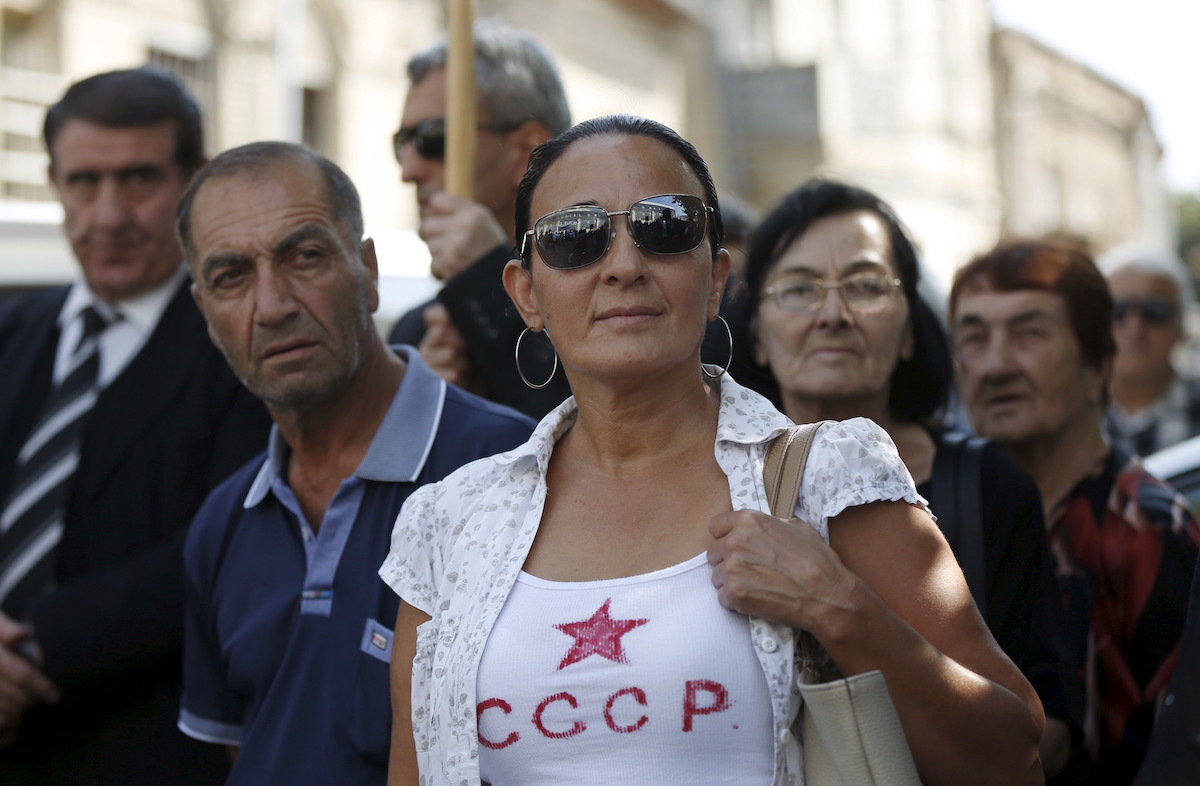 Claim 
Russia controls Georgian media space, using local media outlets, as well as its own media projects.
Conclusion 
Partly true. In Georgia, there is at least one TV company, a couple of Internet-televisions, several websites and at least two print media outlets that have persistently purveyed negative view of the West. They have relied on Russian sources to substantiate their coverage, therewith contributing to spreading indirect Russian propaganda.
Analysis
Web
In Georgia, there is only one Georgian-language media outlet that is owned by the Russian government – Sputnik-Georgia. Sputnik is the centerpiece of the Kremlin's propaganda machine, an international multimedia news service that was launched in November 2014 and has since undergone a massive global expansion. It replaces RIA Novosti, Russia's state-run international news conglomerate, and has TV anchor Dmitry Kiselev, an ardent Putin supporter, as its director general.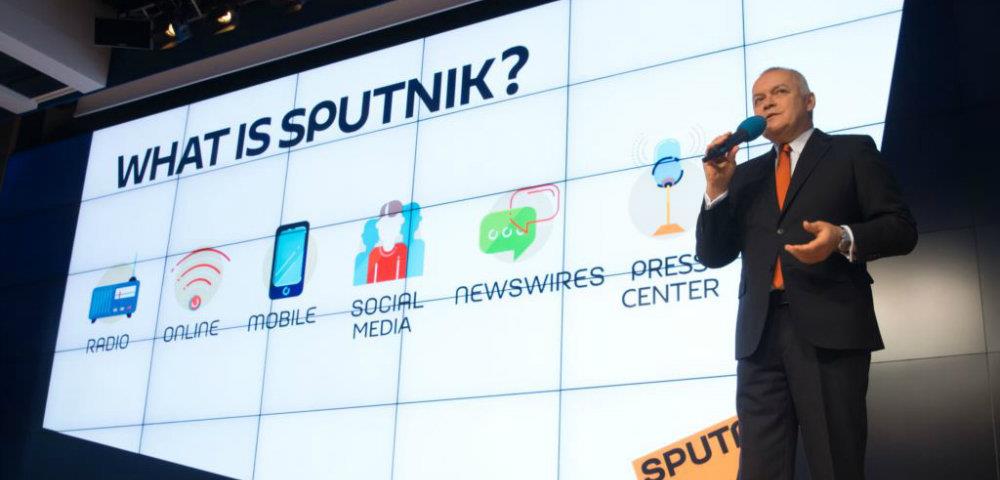 After Georgia's national communications commission refused to grant it a radio broadcasting license, Sputnik shifted its activities to the Web. Today, Sputnik-Georgia's website is a regular news service running text, video and radio reports on a daily basis. It also provides access to live broadcasts of the Russian-language radio Sputnik.
Sputnik has its own press-centre in Tbilisi, of which local pro-Russian NGOs that have stirred to action in the past three years – such as the Eurasian Institute and Eurasian Choice – have regularly availed themselves.
Besides Sputnik, there are several local web portals that have contributed to spreading the pro-Russian vision of the world. These are Sakinformi, Sakartvelo da Msoplio and Iverioni. They are all media partners of the Eurasian Institute, one of Georgia's most active pro-Russian NGOs. The Institute's website makes no mention of where its funding comes from, but another organization – the International Eurasian Movement run by Kremlin-connected ideologue Alexander Dugin – has been explicit on its own website that the Eurasian Institute is its partner in Georgia.
The websites of Sakinformi, Sakartvelo da Msoplio and Iverioni feature not only daily news, but also analysis which more often than not echoes views expressed by Russian propagandist media. These outlets tend to use Russian sources to substantiate their publications, and those are often less than perfectly credible.
So, in April 2014, Sakinformi reported that a political prison camp was being built in Ukraine by a Turkish company, citing a Russian media source, politikus.ru, as it did so. The report included a photo fake combining images of a Nazi concentration camp and those of a modern-day building site described as Zhdanovka's future Auschwitz. The websites have 400 to 4000 unique visitors per week.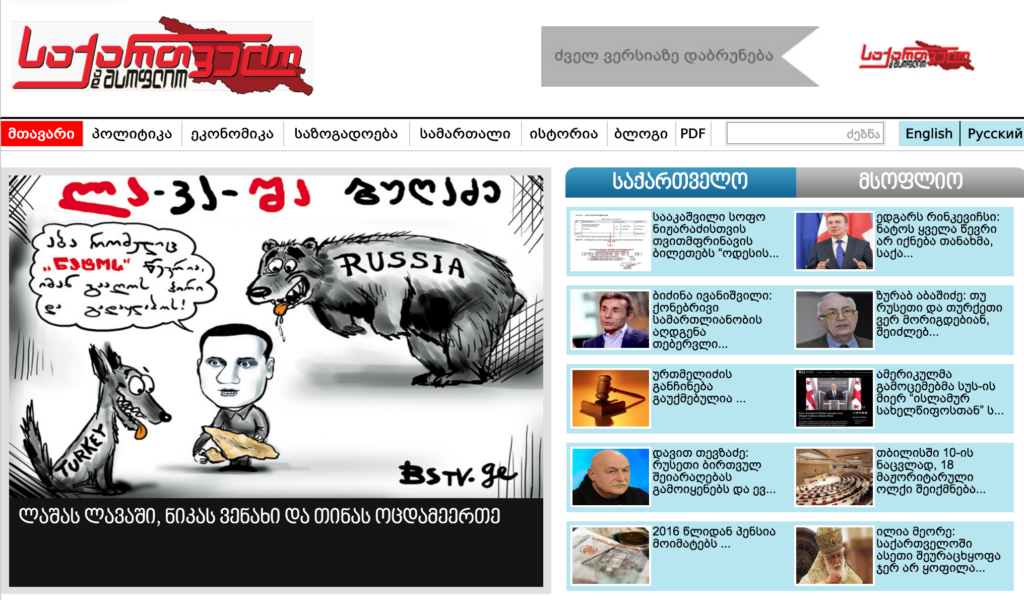 Press
Among the local print media, newspaper Asaval Dasavali is the most aggressive denouncer of all things Western. Newspapers Alia and Kviris Palitra, too, have promoted anti-Western attitudes, as have the less popular Russian-language monthly Svobodnaia Gruzia and the English-language weekly Georgian Times.
Asaval Dasavali has published anti-gay and xenophobic stories, as well as derogatory content on Europe and the USA. Its anti-Western narrative has run as follows: the West seeks to force homosexuality on Georgia, to undermine the country's Orthodox Christian tradition, to compromise Georgian values. It has repeatedly aired a view that NATO integration would spell irrevocable loss of the disputed Abkhazia and South Ossetia for Georgia. It has painted the West as a ringleader and initiator of crises worldwide, including in Ukraine.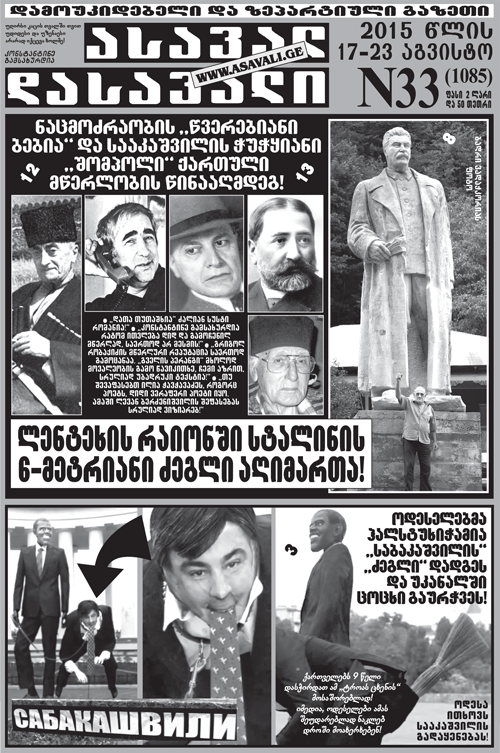 Asaval Dasavali is the second largest newspaper in Georgia, with a circulation of two to ten thousand (according to different data) copies per week.
Television
The International Republican Institute's latest findings show that television remains number one source of news (international, as well as local) for 97 percent of Georgians. The most-watched are TV-channels Rustavi-2, Imedi, and Public Broadcaster. Only nine percent of the survey respondents said they watched Russian TV channels.
The mainstream televisions – the outlets with largest audiences – have commonly shown no signs of slant against the West. Though, a recent research report by the Media Development Foundation, a local NGO, states that some anti-Western bias did slip into coverage by televisions Imedi and Maestro on several occasions.
On television, the greatest detractor of the West is Objective TV.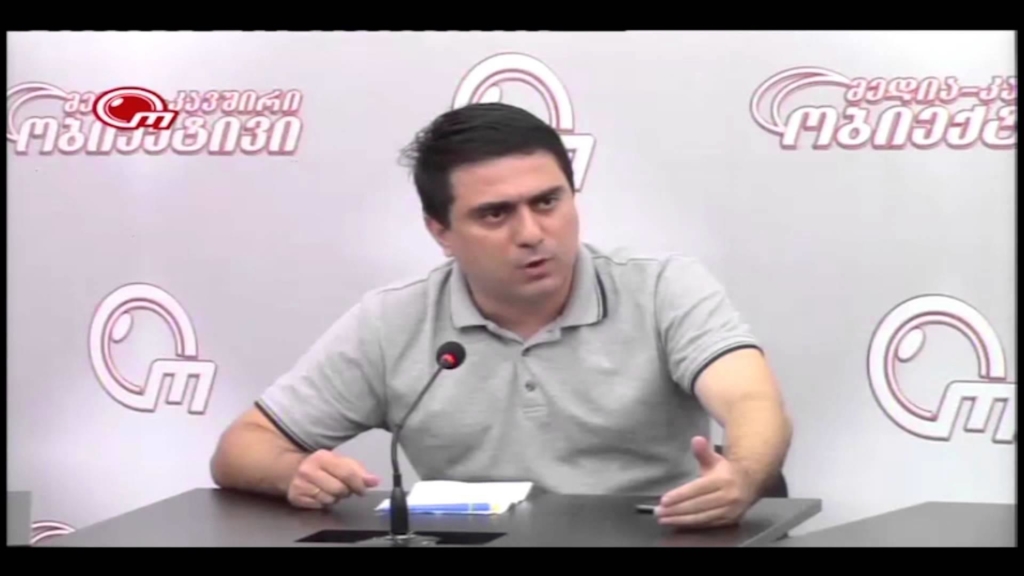 Objective officially came into being in 2010. Initially, it was led by journalist Irma Inashvili, who broke formal ties with it after she moved into politics. It has employed dozens of program presenters who have the discretion to choose the themes and format of their programs.
On Objective, negative views of the West have been routinely voiced by both the program hosts and their invited respondents, and by viewers during phone-ins. In addition to promoting anti-Western attitudes, this TV company has also effectively served as a mouthpiece for anti-Turkish sentiments and Islamophobia.
Objective's popularity is anyone's guess, because it won't cooperate with the company responsible for measuring ratings of Georgian televisions. But if its total coverage area is any indication, its audience should be quite impressive. One sign it might be enjoying some popularity is that its founder Irma Inashvili, the journalist-turned-politician, passed the electoral threshold in the latest local election in 2014. By the way, it was on Objective that she had carried out most of her election campaign.
Objective holds a general broadcasting license and engages with its audiences in the capital, Tbilisi, and outside it via cable networks. So, in one of the Georgia regions, Ajara, Objective has bought an eight-hour daily time slot from a local TV channel. It is integrated into offerings of every cable television there is. It has secured presence on radio frequencies and maintains a website where its TV programs can be watched live.
Technically, Objective is poorly equipped, and its live programs are, mostly, little more than a presenter-guest dialogue.

Besides Objective, there are also a cable television Dro and Internet television Patriot TV. They are less popular than Objective, but as persistent as it is in spreading anti-Western rhetoric. 


Summary
Thus, summing it all up, we can say that anti-Western narratives are a shared characteristic of quite a number of media outlets in Georgia. They rarely, if ever, publish alternative views, and have made a point of only choosing respondents who view things through the prism of aversion to the West.
According to the latest research conducted by the Media Development Foundation, they portray the West as an external enemy threatening the Orthodox Georgian identity with all too liberal values, and Russia as a natural ally sharing the same religion and following traditions that are similar to Georgia's.
Presently, it is impossible to say exactly how many Georgians watch and read the media that have anti-Western bias, as no research has been conducted on that score.
At the same time, the latest NDI polls showed that while support for Euro-Atlantic integration among ordinary Georgians is still strong, there's also a growing sympathy (from around 11 percent in 2013 to 19 in 2015) for joining the Eurasian Economic Union, the Moscow-led EU 'alternative'.
Since Russia-based and Russian-language media are not particularly popular in Georgia, it is indirect pro-Russian propaganda we are dealing with, propaganda that uses anti-Western rhetoric and is spread by a number of Georgian-language media outlets.