Russian military resumes 'borderisation' process in South Ossetian conflict zone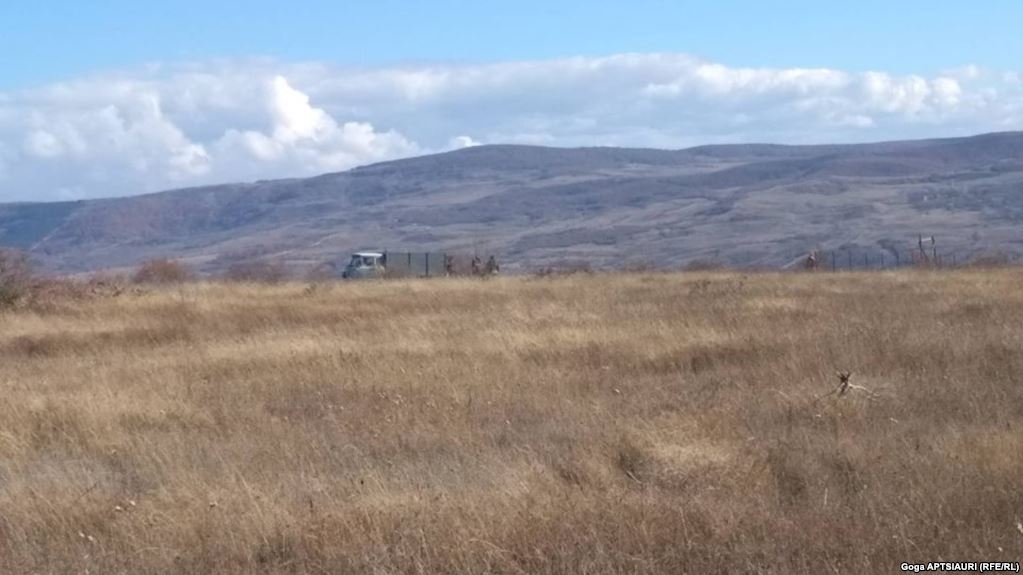 The Russian military has resumed its "borderisation" activities near Atotsi village in Kareli municipality, close to the zone of the South Ossetian conflict.
Metal structures and barbed wire have already been delivered to the site.
Barbed wire fences have so far been erected for a one kilometre stretch, reports Radio Free Europe/Radio Liberty (RFE/RL). Russian servicemen have dug holes for the installation of stakes, between which the barbed wire will be stretched.
• Georgian PM addresses Abkhaz, Ossetians in UN speech
• Georgian woman detained in Tskhinvali allegedly beaten
• Ex reconciliation minister: eventually the authorities will have to listen to my ideas
After that the Minister for the Reconciliation of Civil Equality of Georgia, Ketevan Tsihelashvili, went to Atotsi on the morning of 7 November.
A RFE/RL video shows how the minister approached the work site of the Russian military and met with the local population.
Gulo Karapetov, a resident of Atotsi, told reporters that after the barb wire is installed, his plot of land will be on the other side of the wire fence in occupied territory.
Atotsi village falls under the Karelian municipality and is bordered by Balta, an Ossetian village located in the occupied Tskhinvali region. The Georgian police are approximately 50-70 metres from the place where the barbed wire is to be installed.
When and how did the Russian military install the barbed wire?
• After the August War of 2008 the Russian military, who are present along the entire perimeter of the South Ossetian conflict zone, began erecting white and green signs along the so-called state border with the words "State Border" and "South Ossetia".
• The barbed wire demarcates the so-called border. The Russian and Ossetian parties call this process "borderisation".
• They say that when marking the border, they are guided by old, pre-war Soviet maps. The "state border" along the Akhalgori district is laid so that all the villages in the Akhalgori district fall in the territory of South Ossetia.
• The Georgian side calls this process a "creeping annexation" and states that the Russian side is slowly taking over new territories in this manner.
• Barbed wire is often erected in Georgian villages so that the villages are divided in half. As a result, pastures, cemeteries and other areas belonging to dozens of families end up on the other side of the so-called border.
Toponyms and terminology used in the publication, and views, opinions and strategies expressed in it do not necessarily reflect the views and opinions of JAMnews or any employees thereof. JAMnews reserves the right to delete comments it considers to be offensive, inflammatory, threatening, or otherwise unacceptable