Russia or the West? South Caucasian arguments
A group of experts in Baku, Yerevan, Sukhum/i, Tbilisi and Tskhinval/I were asked two questions:
What will membership in the Eurasian Economic Union give your region (and, by extension, the entire South Caucasus)?
What will integration into the European Union give your region (and the entire South Caucasus)?
The experts were asked to only name expected benefits.
Turning out almost identical, their answers were grouped into two lists. You can read them now and choose which of the lists you identify with. Alas, you can only choose one of them, there is no way combining the two and picking what you may think is the best in either option.
10 arguments in favour of joining the Eurasian Economic Union: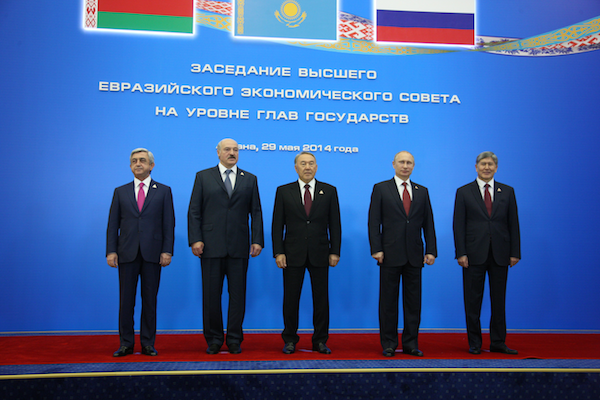 1. Access to the Russian market (a population of about 145 million) will be obtained. Advantageously, Russia and other countries of the Eurasian Union are already familiar with the products the South Caucasus has to sell. Besides, unlike Europe, they don't impose any specific quality standards on products they buy.
2. Gas and electricity will become available at cheaper prices.
3. The importance of the South Caucasus as a transit hub will increase, as movement across borders within the region, now restricted, will be eased. Old transport communications will be restored, and new ones – seaports, railways and airports – may be built.
4. The region will become an altogether safer place. With Russia in control of the situation across the entire South Caucasus, new wars will become less likely.
5. Tbilisi: chances to reclaim Abkhazia and South Ossetia will increase.
6. Sukhum/i and Tskhinval/i: the EEU membership might mean a greater recognition for Abkhazia and South Ossetia as independent states.
7. There is no need for the South Caucasus to change its traditions and mentality, because they are close to the Russian (or, rather, post-soviet) mindset as they are. A salient example of this is aversion to same-sex marriages shared by the South Caucasus and Russia.
8. Russia will stop its repressions against migrants from the South Caucasus, and remittances to the region will increase.
9. Greater numbers of tourists will come from Russia and other post-soviet countries.
10. Russia won't have to try to instigate internal unrest in the South Caucasus, as the region's governments will be staffed with people loyal to it.
10 arguments in favour of becoming part of the European Union:

1. Products from the South Caucasus will access the European market (a total population of about 500 million).
2. The quality of the local products will improve, as a new set of sanitary and other norms will have been imposed on them.
3. The business climate will get better in the region, as a result of curtailment of monopolistic controls over its markets; operating conditions for private business will improve; corrupt practices will be reduced; European investments will increase.
4. Visa-free access to the European countries will be obtained.
5. Economic, political and social spheres will be reformed; the quality of healthcare and education will improve.
6. Governments will come and go democratically.
7. Once a part of Europe, the region will get new opportunities for solving its ethno-territorial conflicts.
8. The situation in the region will become safer and more secure, as Russia will be less likely to launch military campaigns against what will then be a part of the European Union.
9. Greater numbers of tourists will come from EU countries.
10. Independence of justice will be ensured; minorities' rights and human rights as a whole will be protected the way they are protected in Europe.