Revenge and winning
Review of developments in the conflict zone from April 9 till April 11, 2016
Photo: by Nuran Mamedov, Baku. A son of killed Tebriz Musazade paying last respects to his father.
Reports from Baku
News updates from verified sources
As the Azerbaijani Defense Ministry reported today, Armenia armed forces have violated the ceasefire 117 times during 24 hours.
Yesterday, on April 10, with the help of the International Committee of the Red Cross (ICRC), the parties involved in the conflict completed the process of removing the bodies of the killed servicemen. 
According to official data, the number of killed military men remains unchanged and is 31 in total. 
Contrarily, the "Khazar Institute of Military Studies reports another figure–93 people.  
Meydan TV has published its list comprising of 87 killed servicemen. 
President Ilkham Alyev reported to the media that new alternatives for cooperation have been created in the region. "Trilateral formats Azerbaijan-Iran-Russia and Azerbaijan-Georgia-Turkey promote
regional security and intensification of cooperation.
Germany has offered its seven-point plan for resolving the Nagorno-Karabakh conflict.
According to an APA news agency report, the German Foreign Ministry responded to agency's inquiry
as follows: "Germany has offered a plan which emphasizes on the maintenance of the ceasefire regime, the establishment of communication, as well as its confidence in conflict resolution through negotiation. The plan also envisages the intensification of the OSCE Minsk Group's activity and the beginning of negotiation talks with the aim of instilling long-term peace.'
According to APA, Seyyid Hasan Amili, a representative of Iran's Supreme Spiritual Leader for the Ardebil region expressed support for Azerbaijan's territorial integrity. He noted that Iranians were ready to fight for Karabakh:
"This is a part of Islamic world which must be returned to Azerbaijan. I am personally ready to go to Karabakh at the earliest available opportunity to fulfill my duty.
A protest rally was organized outside the Armenian Embassy in Paris on April 9. As the APA reports, 20 masked extremists attacked the protestors. Police repelled the attack.  Those injured were given assistance.
Review of social media
Trend One: The victims are in vain.
"Only special task forces are ordered to infiltrate up to 100/150 km deep into the enemy-controlled territory. This outcome of this assignment will in 100% of cases be lethal. We have not even made it 10 kilometers in and already the names of 93 dead people have been made public. Our soldiers are likely have been sent into an ambush. What kind of disgrace is this? What kind of cruelty is this? Who needs these 3-4 hills, won at expense of 93 Şehîd's blood? At least one district might have been liberated at expense of these 93 people's life. Still, a desirable goal has been reached, having organized the mourning for the victims and having avoided a scandal. All of you including President Ilkham Alyev at the top and all high ranking officials must be sentenced to life in prison. Be damned.
Bloggers' articles on this theme have appeared on the Radio Liberty and BBC Azerbaijan service websites.
"Think it over once more. Who needs this war over land? What do people like me and you, working12 hours a day for a piece of bread, need this war for? Excuse me, but I want to die in a warm bed, not in a war.
Trend Two: No to 'Flowers' Day'
'Flowers' Day,' which occurs on May 10, is proudly celebrated in Azerbaijan. Huge sculptures made of flowers are erected, public festivities are held.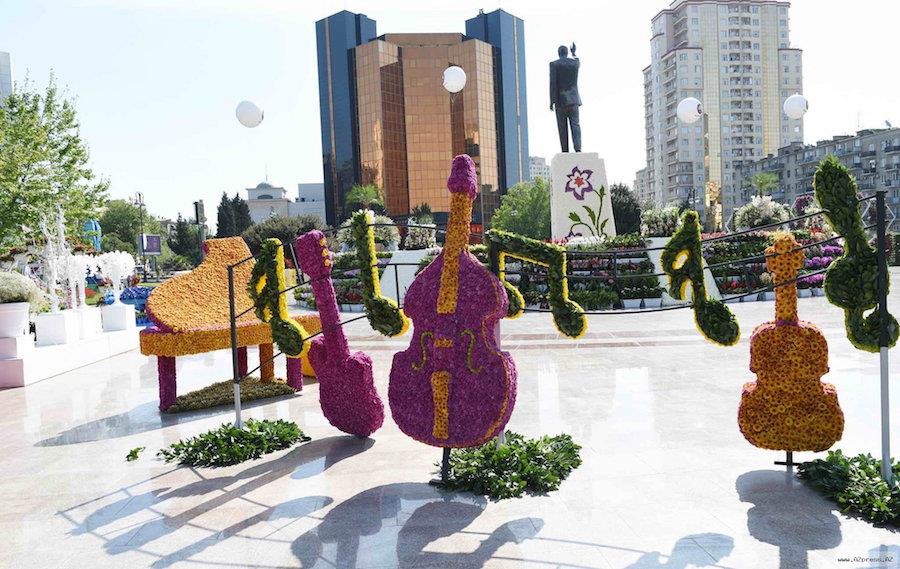 May 10 is also Heidar Aliyev's birthday. Facebook users drew attention to the preparations for this holiday in spite of the mourning over the killed soldiers. They organized a protest movement. The organizers called for boycotting the holiday and joining a protest rally.
11 thousand people signed the petition at the event, but this issue lost hype, as it was announced on April 9 that the Flowers' Day would not be held this year. 
Trend Three: We have won, we will avenge our dead.
"The main thing that America and Russia should understand is that Azerbaijan is stronger than Armenia. We will fight against them as long as it is required.
Expert assessment
Nujat Melikov, a political analyst, Meydan TV interview:
'We should not forget that Russia is an inadequate state; we saw it during the days of the czar and the Soviet Union. We have become witness to Russia's readiness in support of the political elite's state ideology to deliver a blow against economic interests. We have seen of the ecstasy of political elites, public-political organizations, and Russian TV networks during the events in Ukraine, specifically the developments around Crimea. We can recall the Russian President's deliberated actions, and that's why it is difficult to say what will happen tomorrow.
In addition, we shouldn't leave the question of Iran unattended. Recently Tehran has been pursuing a more pragmatic policy from an economical point of view, but we should not forget that our southern neighbor is a theocratic-ideological state. The concern should be South Azerbaijan, which borders Iran, I watched shots being fired during a support in Tebriz on April 2-5, as did people in Tehran.
One more thing–a projectile fell on Iranian territory during these events. Tehran warned Yerevan that if similar behavior continued, the political tides between the countries would change. A new geopolitical situation has been created, some success has been achieved. It is another question whether we will be able to take advantage of it and whether are allowed to do it.
Rovhsan Ibrahimov, Associated Professor at Hankuk University of Foreign Studies (South Korea):
"The receipt of unplanned dividends since the last operation has continued to increase.
First of all, the world's perception of Azerbaijan has changed. The rhetoric regarding Azerbaijan has greatly changed. The statements were made from Azerbaijan's point of perception that, until a balanced approach existed and the difference between the occupant and occupied state was not acknowledged, couldn't have been made.
As for the countries of the region, Russia merely stated its concern and Iran kept silent. Noteworthily, the heads of Belarus, Georgia, and Kazakhstan contacted the President of Azerbaijan and expressed their solidarity. Pakistan, Turkey and Saudi Arabia also supported Azerbaijan. Israel also came out with an expression of solidarity to Azerbaijan. PACE leadership urged the occupants to withdraw troops from Nagorno-Karabakh.
And what is more, leaders from the Eurasian Union member states, Kazakhstan, Belarus and Kyrgyzstan, refused to attend a summit in Yerevan.
As might be expected, Russia did not cancel visits with the Foreign Minister Lavrov and Prime Minister Medvedev in Baku. However, the negotiations mainly focused on economic cooperation.
Reports from Yerevan
News updates from verified sources
According to reports concerning the Armenian Defence Ministry press service, there was a random shooting at the north-eastern section of the Armenian border during the night and into the morning. As it was reported, the Azerbajani side fired 17 times, using rifles, some of which were large-caliber rifles, as well as mortars. As it is pointed out in the report, the Armenian armed forces "exercised restraint.
No incidents of note were reported on the contact line with Nagorno-Karabakh. According to the Nagorno-Karabakh Defence Ministry press service, Azerbaijani troops violated the ceasefire in some sections of the Line of Contact, using firearms and mortars. The Azerbaijani troops shelled Armenian posts in the south and north, using 60mm mortars (with a two-shot capacity) and AN-17 grenade launchers (with 14-shot capacity). Nagorno-Karabakh defense army units "mainly refrained from retaliating and continued carrying out their military duties, reads the report.
The Nagorno-Karabakh Defence Ministry press service also reported that "under the ceasefire agreement reached by the parties involved, the Azerbaijani side will be allowed to continue the search for the bodies of killed soldiers on the contact line for one more day.
The fate of one of the NK defence army servicemen is still unknown. The International Committee of the Red Cross (ICRC) is assisting the Armenian side in conducting the search.
A march of silence was organized in Yerevan late on April 10. The participants in the event marched with lit candles and flowers from the center of Yerevan to the city outskirts – Yerabluru – the place of burial for Armenian heroes killed in Nagorno-Karabakh war. 
The participants such way expressed their condolences to the victims' families, as well as sympathize to the wounded and their families and support the next-of-kin of those who are missing. 
Following talks in Stepanakert and Baku, the OSCE Minsk Group Co-chairs visited Yerevan on April 9-10.
A large group of people who protested for unity with Artsakh and holding posters condemning Azerbaijani authorities and demanding recognition of Nagorno-Karabakh, awaited foreign diplomats outside the Foreign Ministry building. 
A news conference was held following the talks of the OSCE Minsk Group Co-Chairs with the Armenian leadership. Yerevan expected the group to criticize Azerbaijan for its military actions on the contact line. However, that did not happen.
OSCE Minsk Group Co-Chair from the Russian side, Igor Popov, stated that it was not within their mandate "to investigate into who initiated these actions and who is responsible for these developments. Their task, as he put it, was to help the parties stabilize the situation and take actions to maintain peace and "bring the parties back to the negotiation table.
When speaking about the conflict resolution, the Co-chairs stated that there was no new document at the negotiation table, and they were discussing the very same proposals that had been discussed for the past few years.
Popov reminded everyone that the proposals were based on three key principles:
• Non-use of force;
• Peoples' right to self-determination;
• Territorial integrity.
In Popov's words, two out of six parts of the plan still remain in tact: how to return the territories and what decision should be made on the status of Karabakh. The diplomat stressed that "these two principles should not be put one against another, they should be considered as an integral whole.
When answering the reporters' questions, the Co-chairs confirmed that at a certain stage of the negotiation process Nagorno-Karabakh should be returned to the bargaining table.
The Co-chairs expressed concern over the recent cases of human rights' violations in the conflict zone: "We have seen the photos and requested that Red Cross officials study these cases in detail. This issue is at the focus of our attention, said James Warlick, U.S. Co-chair of the OSCE Minsk Group.
As the mediators reported, they would continue discussions in their capitals and would meet again presumably in a week. Afterwards, if necessary, they would travel to the region again.
A protest rally was held in the center of Yerevan after the news conference. The protesters demanded that the international organizations, in particular, from the OSCE Minsk Group Co-Chairs, not put the conflicting parties under the same boat.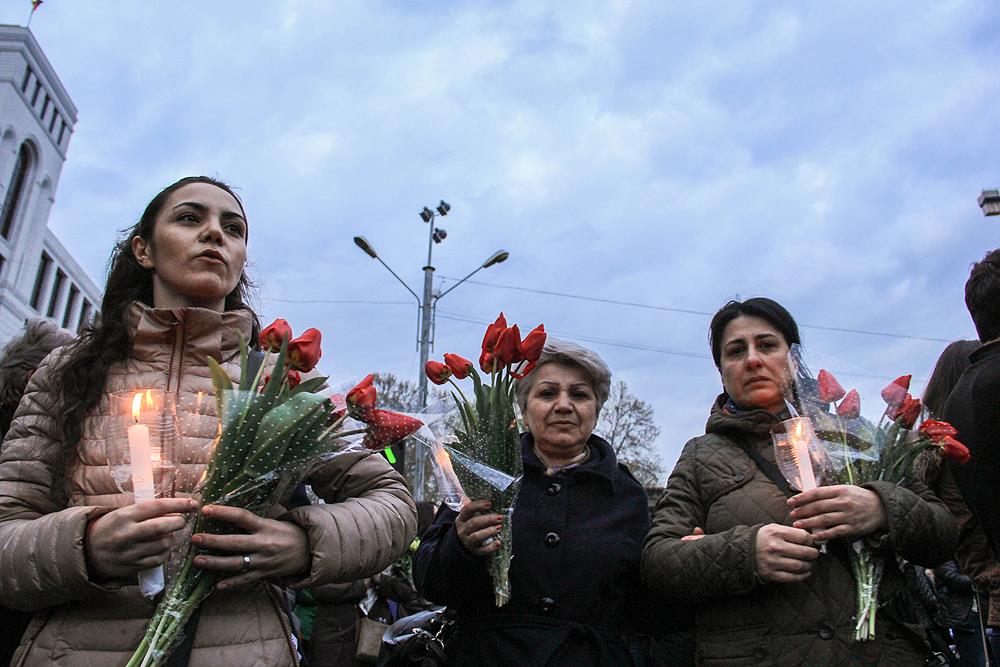 Photo: Gevorg Kazaryan
One more meeting was held in Yerevan late on April 9. Armenian President, Serzh Sargsyan met with Armenia's first President, Levon Ter-Petrossian. As it was reported on the Armenian President's official website, the meeting, initiated by Levon Ter-Petrossian, took place at his residence and lasted for one hour. The discussion focused exclusively on the recent developments at the NK-Azerbaijani contact line, upcoming developments in the NK peace negotiations and the need to unify internally in the face of these challenges. 
A charity concert "With my soldier was held in the center of Yerevan. The National Philharmonic Orchestra of Armenia, the National Academic Choir and Ara Gevorgyan's folk instruments ensemble took part in the concert. The funds raised during the 1 and a hour concert will be used for civilian assistance, those affected by the hostilities, wounded servicemen, as well for reconstruction of the damaged areas. 
On social media
Trend One: Russia is giving an unfair deal.
Armenian Facebook users have been discussing RF Premier Dmitry Medvedev's statement that Russia's refusal to sell weapons to Azerbaijan would not ease tensions, but would further aggravate the situation, since "this place will not stay dormant-they will buy weapons in other countries, and they won't become any less deadly.
'Rogozin wrote tha' both Azerbaijan and Armenia are our strategic partners.' In principle, he is right, just that Azerbaijan is a strategic partner of an offensive nature and Armenia of a defensive one.'
'Just sell a nuclear bomb to Azerbaijan. They will pay you well for it. Moreover, they will pay in cash.'
Trend Two: Armenia has no allies.
'There is one simple truth–we don't have true friends. We should not rely on anyone, should not pin our hopes on anyone. We are on our own and that's our advantage. It means that we will decide what to do by ourselves.
Тrend Three: The Azerbaijani Mass Media are purposefully and methodically misleading their citizens.
"Azerbaijani printed media continues to delight the nation with stories of more victories. They have now occupied Fizuli. We are looking forward to the photos from Leningrad in siege, liberated by the Azerbaijani army and the Krakatoa volcano, extinguished by special task forces.'
Armenian Facebook users' discussions concerned this, as it is so believed, fake photo: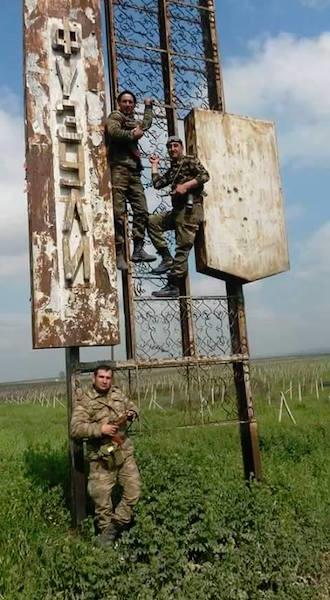 In addition to this, Armenian Facebook users have also discussed an article in the Azerbaijani printed media, where a well-known TV anchor, Nazeni Hovhannisyan, is presented as a 'sniper'.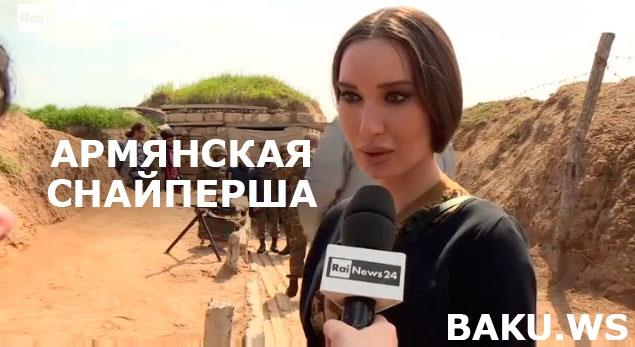 «How could a well-known journalist, Nazeni Hovhannisyan, be passed off as a sniper in today's world, since it is so easy to verify any piece of information with the Internet? Azerbaijani propaganda is focused on 'Stone Age' users.
Trend Four: Armenian social network users need to be protected from Azerbaijani websites disseminating misleading information.
«Of course, I understand that it's not quite legal, but if those websites really do harm, maybe it is reasonable to raise awareness to this issue and request all providers on Armenian soil to block them?»
Trend Five: Documentary footages – the most valuable information from on location
Facebook users have been sharing a film by Bars Media Studio.
«That's how the situation at the battle front should be presented, how one should be told about the army and the hostilities. To re-create reality, one must show the people the real actors.
Trend Six: "Henrikh is with us.
Football fans have been sharing the Facebook post, made by Henrikh Mkhitaryan, German Borussia Dortmund midfielder, following the match with Liverpool. "Today, during the game, all my thoughts go to my homeland #Armenia». Football fans noticed that Mkhitaryan went on the football field with a bandage, an Armenian flag on his sleeve.
Expert opinion
From Akop Badalyan's article, published on Lragir.am:
'One week ago, Russian printed media released a list of armament to be supplied [to Armenia]. In this regard, Azerbaijan released a note of protest, demanding from Russia the guarantee that those weapons would not be used against Azerbaijan.
Russian remained silent for a couple of days until Putin spoke twice with Aliyev on the phone. Then, the RF Foreign Ministry official spokesperson, Maria Zakharova said that she hoped for a 'understanding' on the part of Baku, since Russia, as an ally, needs to fulfill its obligations to Armenia. Zakharova also said that when supplying ammunition they had the task of maintaining balance in the region in mind.
It was a clear guarantee for Baku. In fact, Russia supplied billions of dollars worth of weapons to Azerbaijan without issuing any guarantees to Armenia, but it expected an understanding from Azerbaijan.
Russia clearly told Azerbaijan that there was nothing it should worry about because the agreement on supplying weaponry to Armenia was not something that Baku should be concerned about.
Baku perfectly understood Russia's message.  It realized that ammunition was not supplied to Armenia, and that Russia had no intention of supplying it at all. The Russian Deputy Prime Minister, Rogozin, reported about that during his visit to Baku, Azerbaijan received guarantees from Russia that it would not provide Armenia with modern weaponry and, consequently, it started preparing for an attack.
The Russian side made a guarantee to Azerbaijan that Armenia would not be able to organize military-technical resistance alone, that it would not receive weapons from Russia. Accordingly, Moscow gave Baku the 'green light' for a blitzkrieg.
Russia's next actions prove that it was a co-planned campaign, aimed at implementing the so-called 'territories in exchange for peacekeepers' plan, that could undermine the U.S. plan to deploy monitoring instruments in the conflict zone.
The only thing that Russia and Azerbaijan failed to take into account was Armenia's human resource. It seems that for many years, the Russian anti-Armenian propaganda with its minions used experts assurance that the society's ability resist had been reduced to zero.
Russian propaganda has actually 'missed' the target, failing the Russian-Azerbaijani campaign, at least its 'lightning'.
Under the Russian-Azerbaijani plan, the blitzkrieg was to break through Artsakh defense, but as a result, Azerbaijan killed several dozens of Armenian soldiers using Russian weapons, thus making Russia's posts in Armenia vulnerable.
From the article by Vahram Ter-Matevosyan, Senior Research Fellow, Institute for Oriental Studies, National Academy of Sciences of Armenia:
«It is necessary to formulate a new ceasefire agreement. The 1994 ceasefire has become an anachronism. It was signed 22 years ago, in absolutely different conditions and encompassed different goals. It become null and void and its own after a while, although the conflicting parties did not want to admit it.
It became null and void the moment when the first soldiers were killed following the truce, when there were subversive raids, when the snipers' could not be stopped. Those giving aid pinned all their hopes on the parties' common sense.
'Stepanakert should sit at the negotiating table.' This is not a requirement for the integrity of the Armenian side, but rather a classical theory of conflict resolution. Otherwise, the entire logic of negotiations would be shaky. Armenian and Azebrayjani leaders met each other once over the course of the year, exchanged ungracious looks, confirmed the obvious and returned to their capitals without any results. They delegated the Minsk Group Co-chairs the task of finding a solution, The Minsk Group considers the presidents' meeting alone to be an achievement. There is an obvious imbalance between their expectations.
Furthermore, the Armenian Embassy in Russia, public organizations, cultural associations, famous people of Armenian descent, and all Armenians, in general, should day and night condemn the sale of weapons to Azerbaijan. A policy that accounts for the provision of modern weapons to Azerbaijan under the pretext of a business transaction does not fit into any logical framework for partnership.'
JAMnews Dossier
• JAMnews review of what has happened in the conflict zone since April 9.
• Information provided by the official sources of the conflicting parties is controversial and does not allow an answer to the questions: Who started the military actions, and who responded? International sources also cannot answer this question yet.
• The armed conflict between Azerbaijan and Armenia over Nagorno-Karabakh took place in 1991-1994. Since entering into a truce, Nagorno-Karabakh Republic has existed as a de facto independent republic, unrecognized by any country in the world, including Armenia. Azerbaijan considers Karabakh and the adjacent areas, acquired during the war, as occupied territories and demands their return.
• The OSCE Minsk Group – a group of OSCE member-states, which headed the process of seeking peaceful solutions to the Karabakh conflict, was set up in 1992. As of the beginning of 2016, the OSCE Co-chairs are: Igor Popov (Russian Federation); Pierre Andre (France), since 2014; James Warlick (USA). Since August 6, 2013. The OSCE Minsk Group comprises Belarus, Germany, Italy, Germany, Sweden, Finland and Turkey, as well as Armenia and Azerbaijan.
The opinions expressed in the article, convey the author's views and terminology and do not necessarily reflect the position of the editorial staff.
Published 11.04.2016