Over the Ingur/i Bridge to the other side of the conflict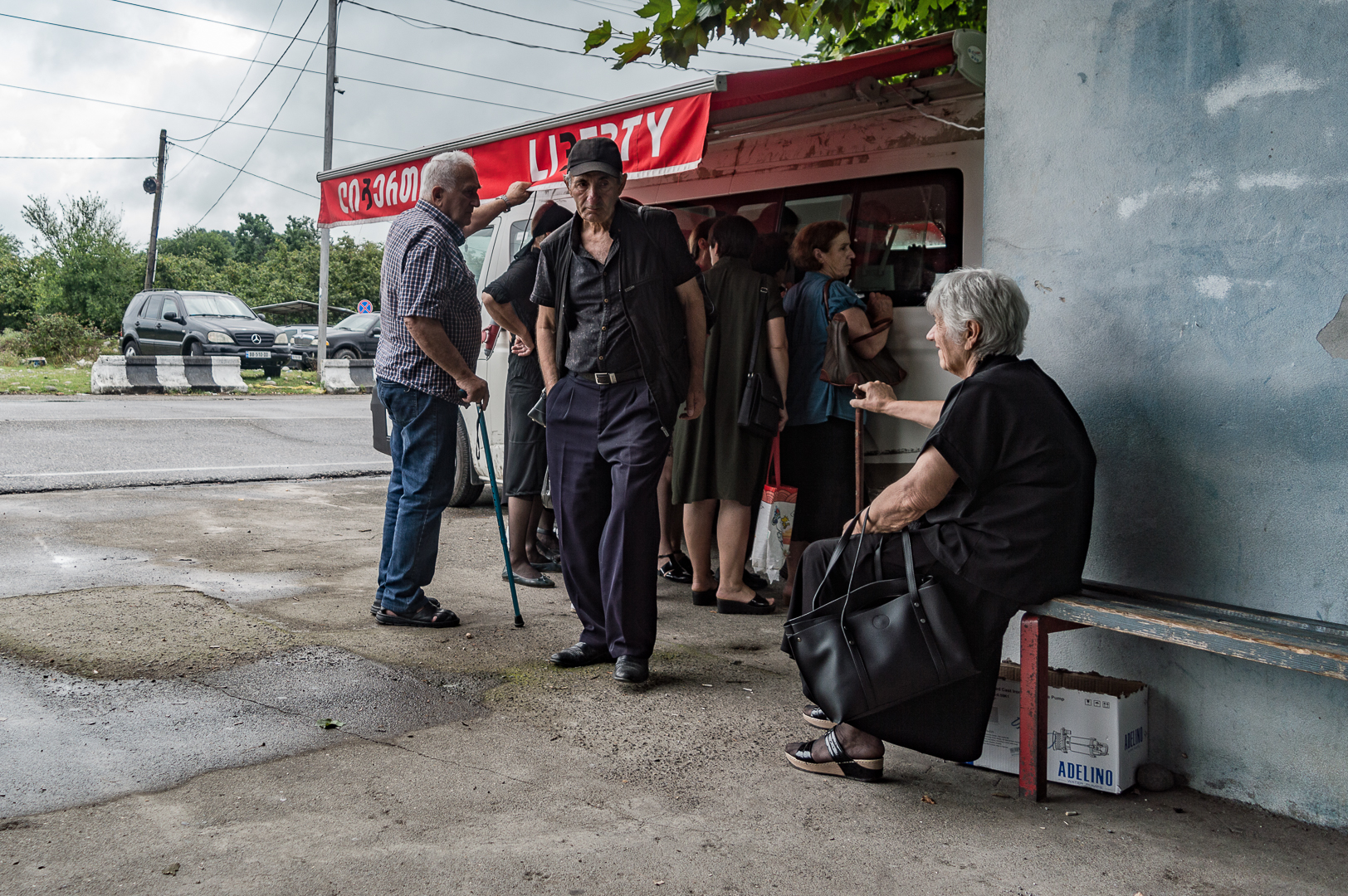 Over the Ingur/i Bridge to the other side of the conflict
The bridge over the Ingur/i River has separated the Abkhaz and Georgian sides since the conflict of the 1990s. It runs between the Zugdidi district of Georgia and the Gali district of Abkhazia. To cross the bridge, you need to go through three control points — Georgian, Abkhaz, as well as a point where Russian border guards are stationed. After the 2008 August War, Russia and a handful of other countries recognised the independence of Abkhazia. Georgia, supported by the West and the majority of the international community, considers Abkhazia its territory.
Mostly Georgians live in the Gali district, and their lives are closely connected with the other side. There are always a lot of people at the Georgian checkpoint. Minibuses go one after another, but for many the final stop is right behind the bridge. Passengers jump off the steps and hurry to get in line, which leads to the door of another, more modern route. This is a mobile bank. "We stand here to receive our pensions. Georgia pays us – it is a very small amount, but it is better than nothing," an elderly woman tells us.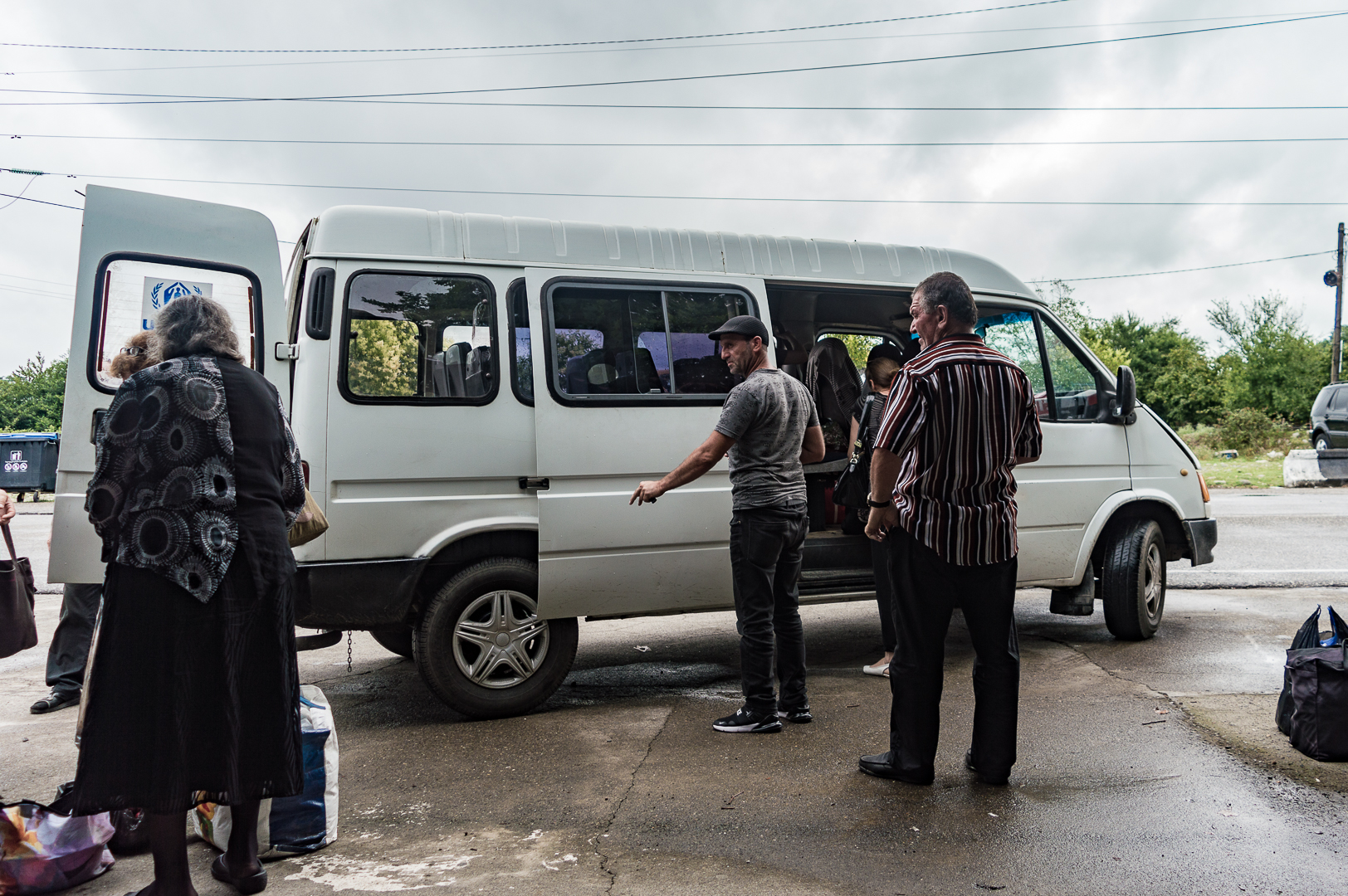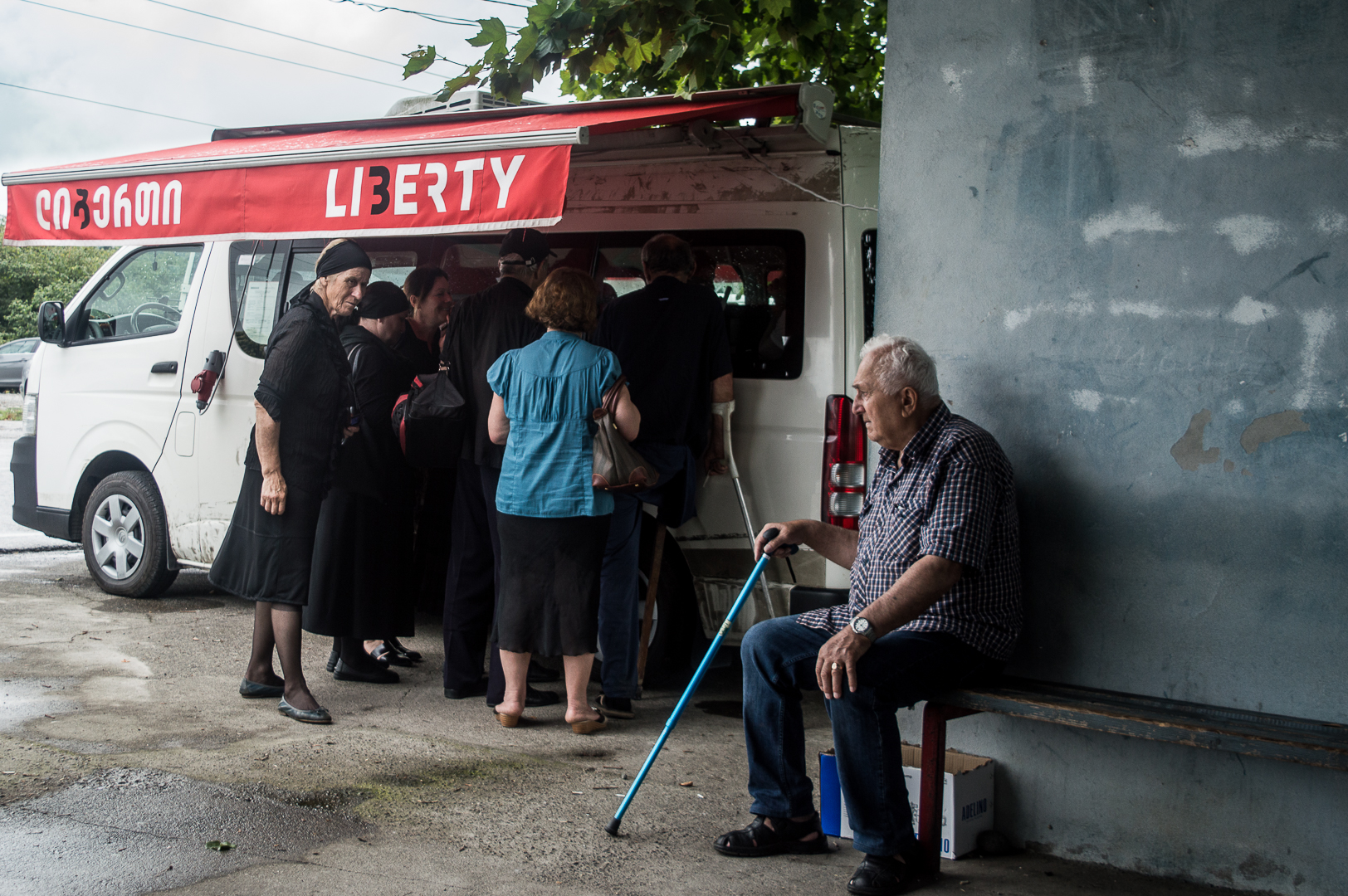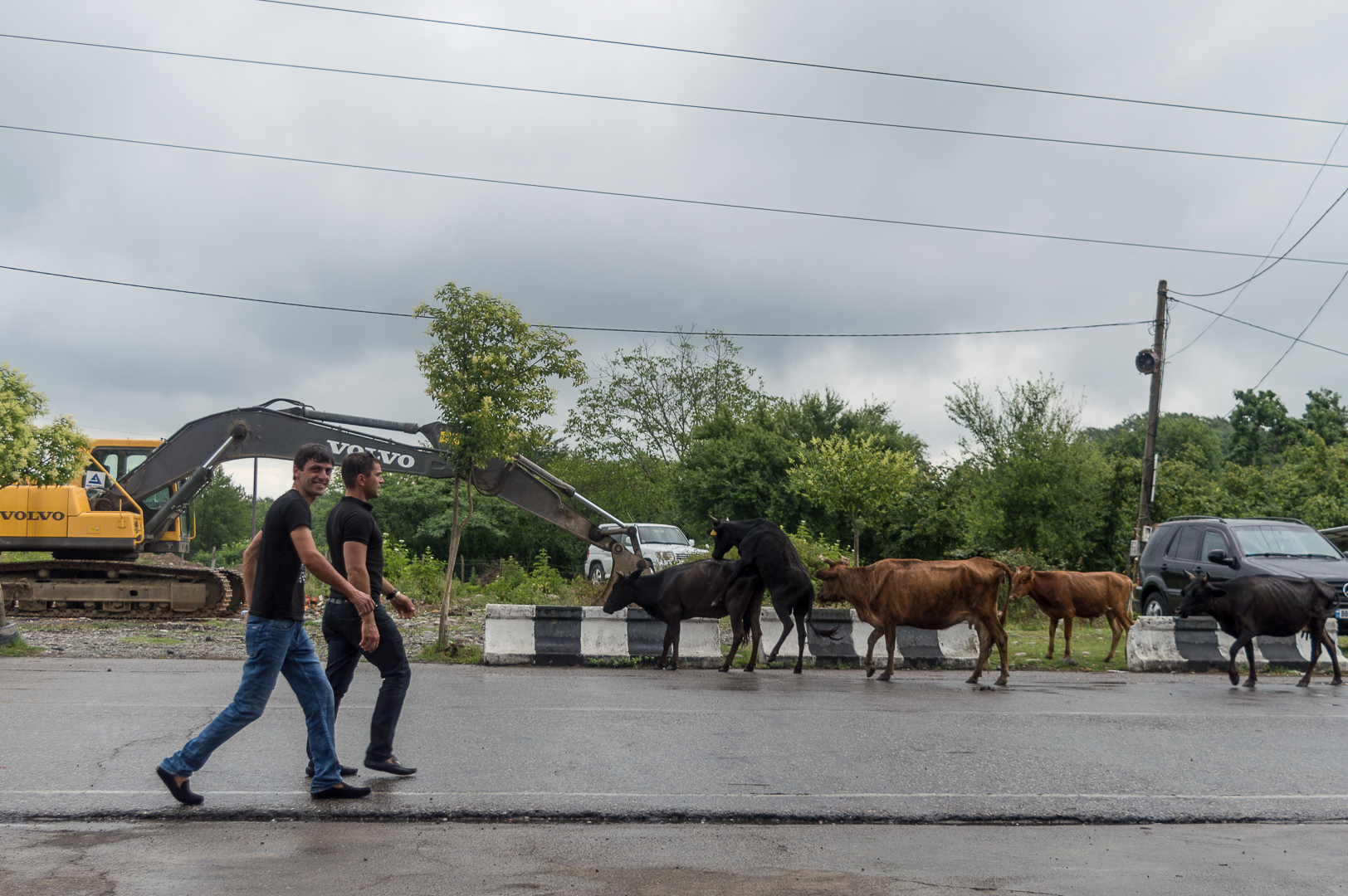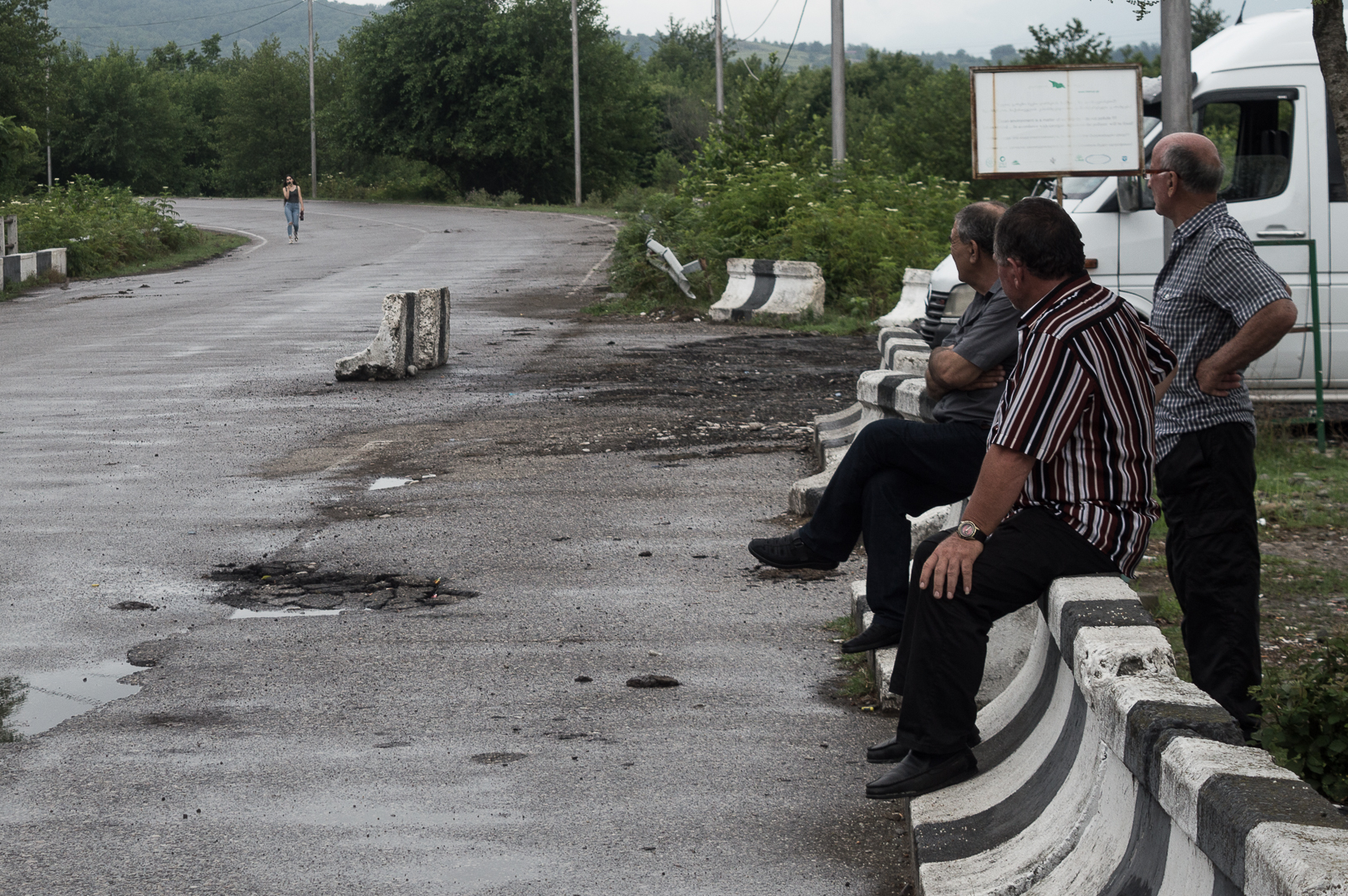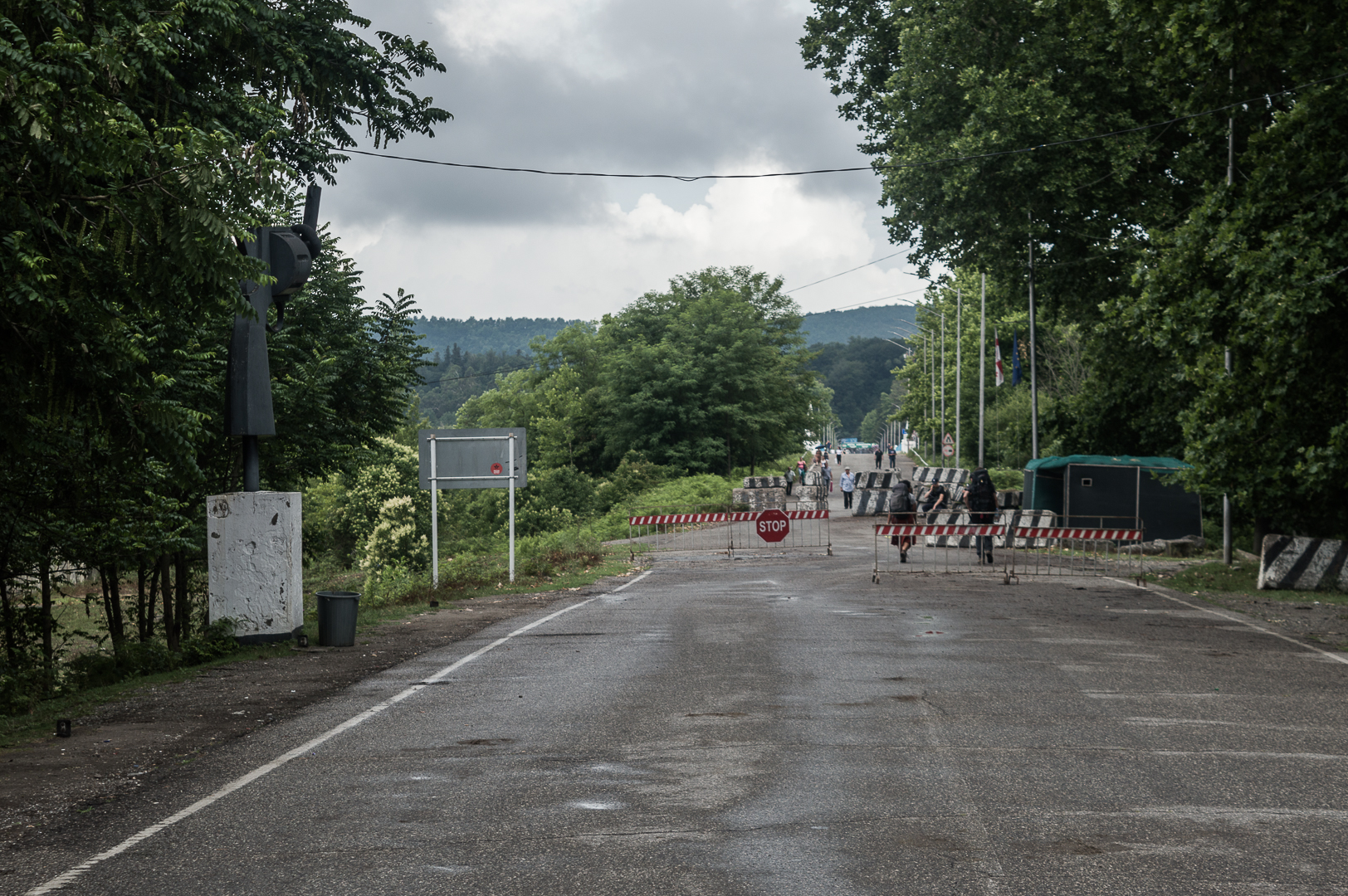 A few days earlier we had crossed the Inguri/i bridge from the Zugdidi district, heading for Abkhazia. Many locals came with us, returning home with bags filled to the brim with goods and products from Georgia. People justified their trip with the unavailability of certain products in Abkhazia. One man carried with him only three bottles of Borjomi, a type of Georgian mineral water.
"I live in Zugdidi, but I have family in Sukhumi. I visit them from time to time," said a Georgian woman of about 50 years old, who had been waiting with us at the Abkhaz checkpoint.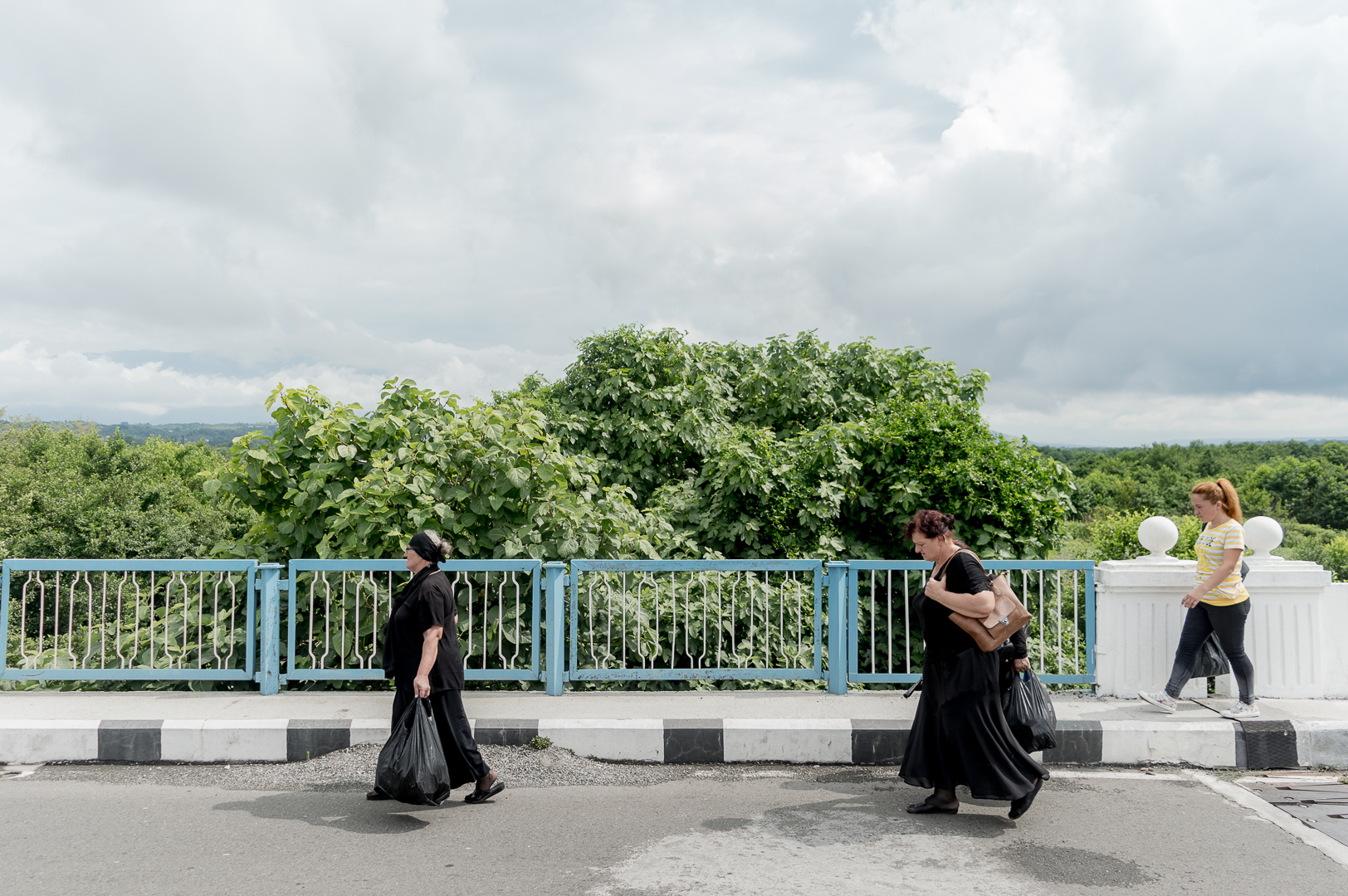 Soon we were joined by another woman, who was also going to visit her family. Her youngest daughter was arguing with her in Georgian about what language we were speaking — English or Spanish. "This is English," we tell the girl in broken Georgian.
"I would prefer to go to America now with my family. But we need a visa, and who would give us one?" her mother replies.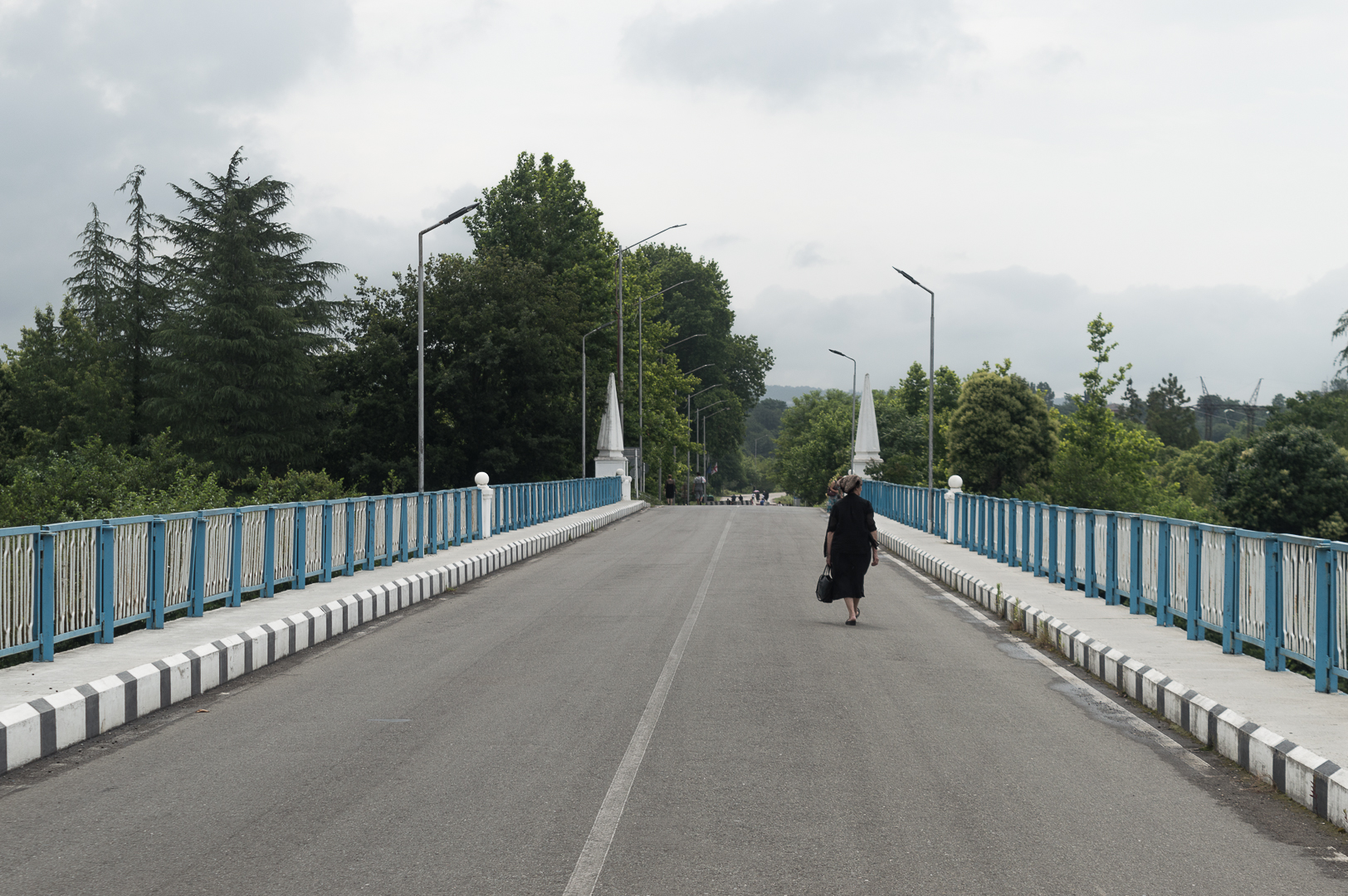 In the shadow of a big tree just before the Abkhaz checkpoint, several people stayed on the road arguing over how many packs of cigarettes they would be allowed to carry with them. The conversation became so heated that a border guard had to intervene and ask them to keep it down.
Half an hour later, finally, our turn approached the checkpoint where Russian border guards were waiting for us. The man with the Borjomi bottles, who was ahead of us, was still waiting for his turn, but the Russians quickly identified us as Westerners and were only too happy to take us to the front of the line. It was only 10am but they were clearly bored.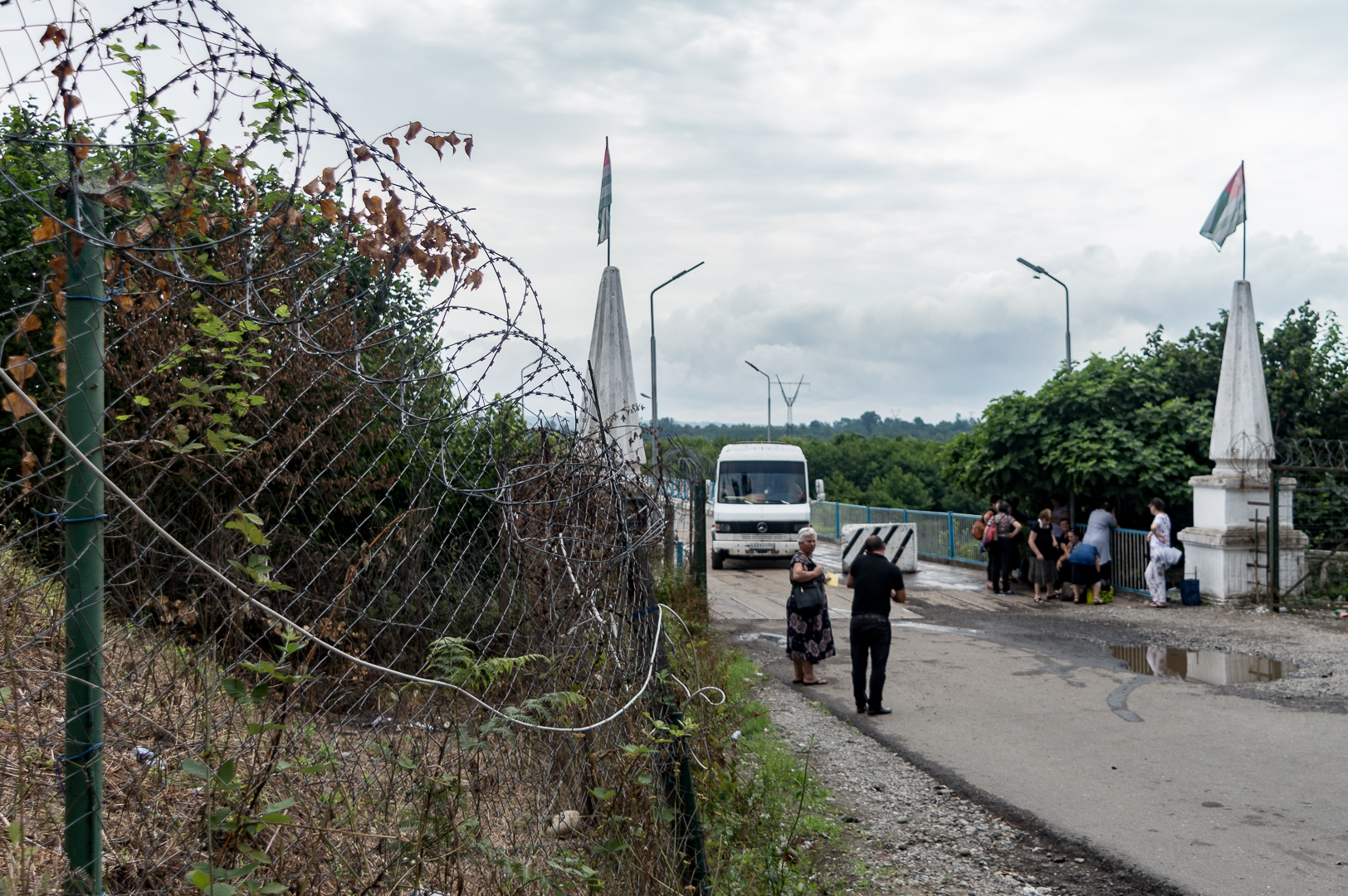 Our passports were given a final check at another Abkhaz checkpoint. Three border guards were lounging on a bench, smoking, when one of them got up, crushed his cigarette with a heavy black military boot, and took our documents.
"See, if your governments would just recognize us [the independence of Abkhazia], you wouldn't have to go through all of this," he said, returning the passports.

At last, we were in — and we set off.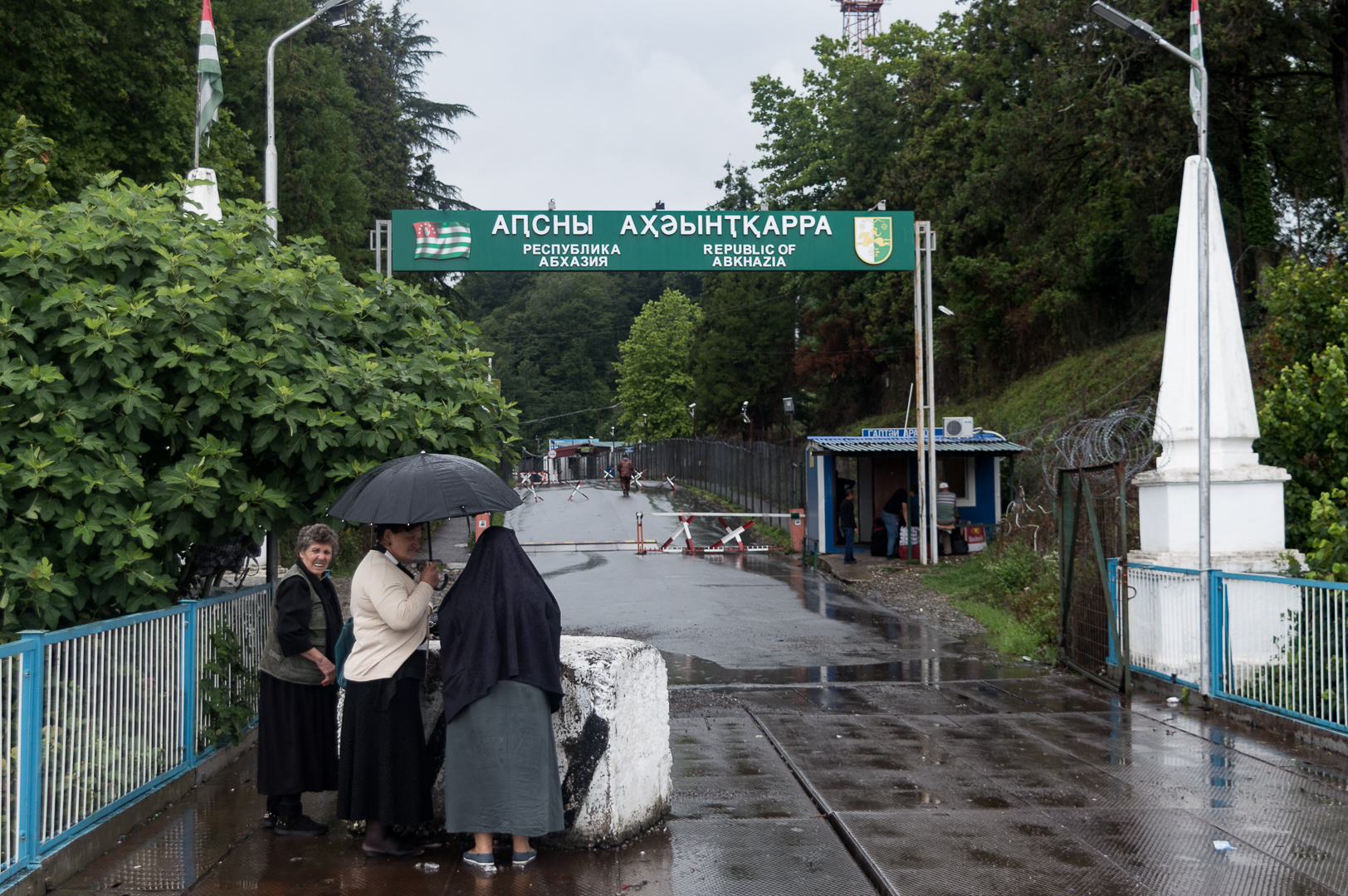 Toponyms, terminology, views and opinions expressed by the author are theirs alone and do not necessarily reflect the views and opinions of JAMnews or any employees thereof. JAMnews reserves the right to delete comments it considers to be offensive, inflammatory, threatening or otherwise unacceptable