Georgian PM: "Occupation always was and will be top priority on our agenda"
The Georgian PM, Giorgi Kvirikashvili, said that occupation has always been and will always remain the most important issue for the Georgian government. He addressed the statement to journalists, following the news regarding the occupation line in the Tskhinvali region. The opposition accused the government of neglecting the issue.
According to Giorgi Kvirikashvili, the government will take steps to recover Georgia's territorial integrity.
"I'm trying to avoid emotions when hearing accusations addressed at our government, but that is gradually becoming more and more difficult. The government has constantly had the issue [regarding the occupational line -ed] on its agenda,"- Kvirikashvili said.
The PM also said that the occupation issue was the main item for talks with the US Vice President, adding that he had communicated to the American VP that the issue of territorial integrity is of greatest concern for the Georgian people.
"During the course of the talks with the US Vice President, I stressed that all the studies suggesting the issue of the country's occupation and territorial integrity being an inferior item on the agenda should be dismissed as a lie."
"Irrespective of any successful event that may transpire in Georgia, the issue in question will always remain top priority in the minds of our citizens,"- clarified Kvirikashvili.
According to the Prime Minister, Georgian Dream (the ruling party in Georgia) has inherited the tough legacy of occupation; Georgia hadn't lost 135 villages as a result of a creeping occupation as the opposition suggests, but rather due to occupation.
"Occupation is a hereditary legacy that our political force received when we came to power. We will do our best to free our future generation from this heavy heritage," – Kvirikashvili added.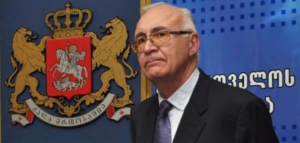 The Special Representative of the Prime Minister of Georgia for Relations with Russia, Zurab Abashidze, made a statement at a press-conference held on 10 July regarding the raising of a sign at the occupation line in the Tskhinvali region.
"Erecting signs, as well as other actions taking place at the occupation line, has the sole purpose of forcing the Georgian government to initiate talks with the de-facto Ossetian government on the so-called border demarcation – that's completely unacceptable,"- said Abashidze.
According to him, the Georgian side will not negotiate on these issues, and will only try to stop this process by pressuring the international community and it's western partners.
Toponyms and terminology used in the publication, as well as views, opinions and strategies expressed in it do not necessarily reflect the views and opinions of JAMnews or any employees thereof. JAMnews reserves the right to remove comments it considers to be offensive, inflammatory, threatening, or otherwise unacceptable.