No smell of cotton candy here for 20 years
The town of Ochamchira turned out to not be a focus of development in Abkhazia. It's a pity because it's a nice town and a potentially perfect resort.
The beach
Upon entering the town, my attention was drawn by a man, who was fishing by his lonesome on the deserted shore. Once I exited my car, I headed towards him, but the fisherman turned out to be a fisherwoman.
– How do you do? Do you sell fish?
– No, there are no fish. I'm just sitting here; it's the way I make the time pass.
Lyudmila does not come to the sea to fish, but rather to forget about her grief. She buried her husband in September and cannot stay at home alone. Therefore, she comes with a fishing rod to sit on the shore. I asked her how she earned her living. Lyudmila said she received Russian pension, and it was enough for her.
– Are there many tourists on the beach in summer?
– Where are the tourists supposed to come from? Nobody but cows go to the beach.
And no wonder, because the beaches in this part of the district are in tatters, to say the least of it. There are neither stalls with souvenirs and ice cream nor music and laughter. There hasn't been the smell of cotton candy here for 20 years, and a deathly silence is prevails.
Though there are no people here, there is still much waste on the beach. There are huge holes, hills of sand mixed with stones all around here. There have probably been some cleaning projects, but they have been put off for an undetermined amount of time.
No money
According to Khrips Jopua, the Head of Ochamchira district, despite the lack of funds in the district budget, they will be improving the condition of the town by their own efforts. "4,000 tourists spent their vacation in our town in 2015. In total, 20,000 tourists came to the town for sightseeing. But that did not replenish the district budget, said Jopua.
To cut a long story short, there is always free space on this beach. Furthermore, traffic jams are not likely to appear on Ochamchira roads soon, so the sea air is fresh and clean. The best way to get here is to take a taxi, though buses also run in this direction. One can make an arrangement with a taxi driver in Sukhum, and he will drive one right to the hotel here for 1,500 RUB (approx. $20 US), though there are buses as well.
Some 20 years ago, this railway station welcomed vacationers.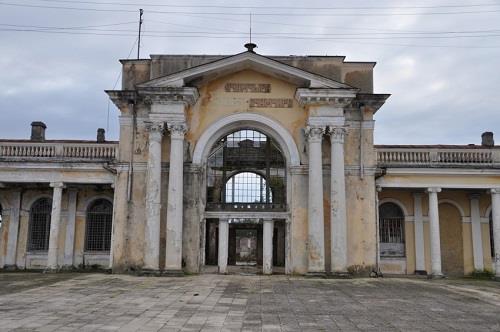 Ochamchira railway station is located on Psou-Ingur line and it's a railway junction, with a branch leading to Tkuarchal. At present there is no passenger transit, just the loading of coal, transported from Tkuarchal onto ships.
The Sukhum-Ochamchira railway section was restored by Russian military railmen back in 2008. However, passenger transit has not recommenced. Quite strange, but the station operatoring office is still functioning at present, while the rest of the facilities have been neglected.
Cafés and canteens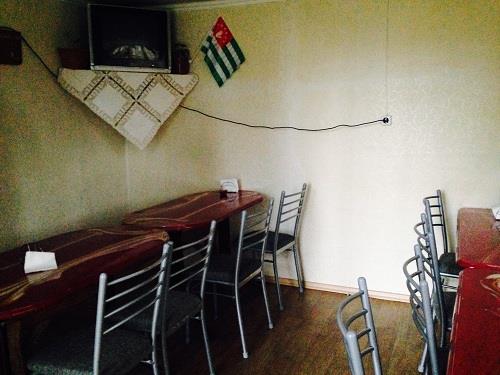 A small canteen opposite the administrative building attracted my attention. It was getting dark and I desperately wanted some food and warmth. Having approached the canteen, I saw the owner, who exclaimed: "Welcome! But we have no electricity here.
The beginning left much to be desired, but I still entered it with the hope to get at least something to eat. And that's when the surprises began.
– We have dumplings, soup, mashed potatoes, solyanka and chicken in white sauce, just like satsivi.
– And what's the serving size?
– Oh, it will be enough for you.
The prices in Ochamchira café make one feel delighted–I paid just 90 RUB (approx. $1 US) for a serving of dumplings and a cup of tea. One can get a big portion of soup for even less–80 RUB; a cutlet with mashed potatoes and delicious topping costs 70 RUB. In addition, they also cook grits, but it should be ordered in advance. Adjika sauce is served here free of charge and its taste and aroma are excellent.
There are a lot of perfect places in Ochamchira, where one can get hearty and tasty meals for a petty amount cash.
"I leased this booth and decided to turn it into a small canteen. Now, my wife and I are working here. If anyone wants to rent a room, we provide them with accommodation. In summer, we usually rent out a room to vacationers for 250 RUB (approx. $4 US) per person. I don't charge much because things are not in the best of shape. I could have created the most accomadating place in the world if I just had enough money, says Beslan.
"But we live well. No one is going to die here of hunger. I haven't got a farm, but my brother has a huge one. So, when I need some meat, I go there and just take it, not even asking him. I do the same thing with my father-in-law, but if he refuses, I tell him not to be greedy with regard to his daughter. And that's it. That's how, well, we live.
Hotels and private traders
It was 2 p.m. I entered a roadside shop by chance. It was a usual wooden booth. The ceiling hung down and was falling in some places. Souvenirs were available there along with food. Medications were also sold there. The prices were rather high, for example, aspirin cost 30 RUB (approx.$0.50 US).
A saleswoman said, she rented out a room in her house for 450 RUB (approx. $7 US) in high season. According to her, this is the average price in the town, provided that there are all the necessary accommodations in the house.
– How do you live? – I asked Merab, a local resident, who asked us to give him a lift to the center in our car.
– We live normally, though the houses have been ruined.
– Why aren't they repaired?
– First they were occupied and then abandoned. Now, the government has put the obligation on the owners reconstruct all the buildings within six months, otherwise they will be seized.
– Are there people who want to buy these houses?
– Yes, Russians buy these houses and live normally. Although there are some problems with registration, they say this issue is being settled.
Merab said there were few tourists in summer in the town, to say nothing of the winter period. When asked how the local people earned the money, he responded surprisingly: "In summer they earn it from tourism; they rent out rooms to the vacationers, take them sightseeing. Whereas in winter they pour themselves wine, drink and relax, said Merab.
There are two private hotels and a guest house, "At Khajimba, in Ochamchiri. One hotel is being repaired, so I headed to the other one named "Boxwood 555.
A standard room in this hotel costs 1,250 RUB (approx. $20 US); a suite is more expensive, starting from 3,000 RUB (approx. $45 US).
But we could not get inside. Two Staffordshire Terriers were running in the yard and the guard did not let us in, because the rennovations are in progress there too. "We will finish by summer, so you can come then, he said.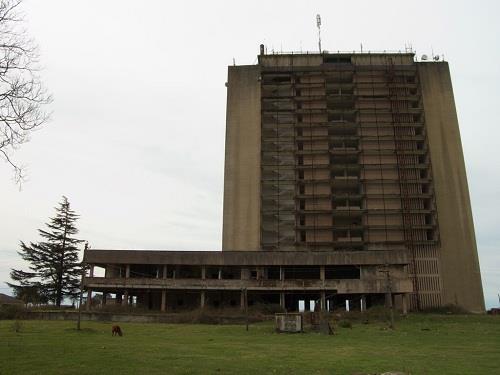 The opinions expressed in this article convey the author's views and terminology do not necessarily reflect the views or opinions of the editorial staff