Nephew of former Armenian President suspected of attempted murder
Armenia is re-investigating an attempted murder case from 11 years ago, with Hayk Sargsyan, the nephew of the third president of Armenia Serzh Sargsyan, as the prime suspect.
The country's Investigative Committee provided details on the incident. On 1 April 2007 the police department received a message regarding the hospitalization of Yerevan resident David Simonyan. On the same day another Yerevan resident, Arthur Ghevondyan, handed himself and his weapon in at a police station. He stated that he had found the weapon, and  accidentally shot his friend David Simonyan due to careless use.
A criminal case was opened at the time, but was soon closed as no formal complaint was made by the victim and the parties reconciled.
The Prosecutor General of Armenia decided to reopen the criminal case 11 years later as new, previously unknown details were revealed. In particular, the authorities say that Arthur Ghevondyan was not the shooter and that it was in fact Hayk Sargsyan, the son of the brother of Serzh Sargsyan. Hayk Sargsyan became the prime suspect in the case after a cross-examination was conducted by law enforcement.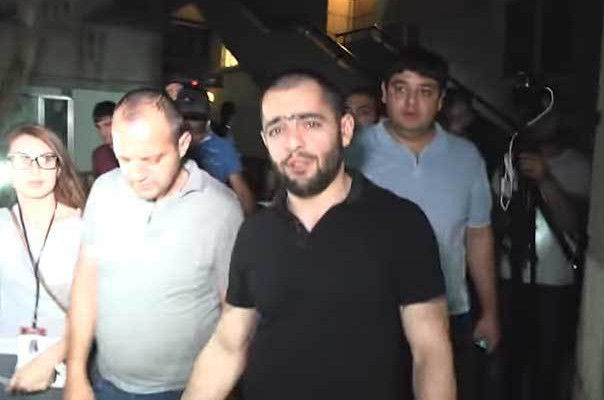 Relatives and associates of former President Serzh Sargsyan have been embroiled in a growing number of corruption and criminal investigations since the recent change of power and the election of Prime Minister Nikol Pashinyan.
The most prominent was the case of a MP, General Manvel Grigoryan. He was found to have amassed dozens of expensive cars, real estate, weapons as well as rations intended for the army and even had a personal zoo.
The National Security Service spent an entire day in the house of former President Sargsyan's brother. No reports have been made on what actions were carried out by the law-enforcement officials or whether Alexander Sargsyan left with the officials as a free man.
One of Serzh Sargsyan's party members, former Minister of Justice David Harutyunyan, said that the authorities are targeting specific people and are violating the constitution. In his opinion, the new government should not devalue the important steps it has taken by acting against the law.
Davit Harutyunyan noted in particular that personal enrichment, whether unexplained and / or not declared, was not a crime until 1 June 2017, and that under Article 72 of the Constitution an individual may not be punished in retrospect for what was not a crime at the point in time when it was committed.