MPs like good cars
A 'contest' for getting into Parliament, which has reached an unprecedented scale for the local reality, could be observed in Abkhazia. There are on average 5 candidates running for 1 MP seat in the legislative body.
People have been en masse nominating themselves for the parliamentary elections and among those potential candidates have turned out to be quite disreputable people. The initiators of the protest have feared that the majority of those aspiring to get seats in Parliament are not doing it in order to address the issues of national importance, but rather to settle their own problems and get certain privileges.
Such a stir made the public take countermeasures. The protest that emerged on social media later shaped into an initiative of the citizens' group, demanding among others to strip MPs of their immunity, as well as deprive them of certain material comforts, set in the Law on the Status of the Member of Parliament of the Republic of Abkhazia.
 No concessions to MPs: what's the essence of the initiat
Izida Chania, a renowned Abkhazian journalist and editor of the Nuzhnaya Gazeta newspaper, put forward this initiative.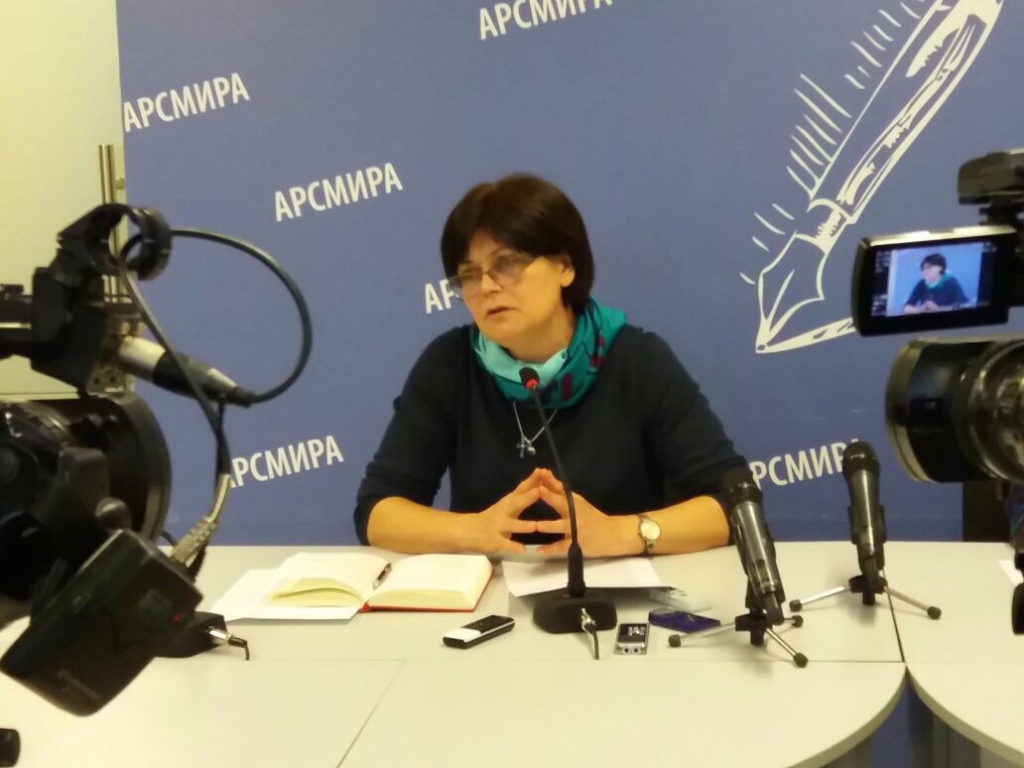 Her call on social media finally materialized into the citizens' official appeal to Parliament, suggesting that available law on MP status should be amended within the shortest time possible.
The requirements set forth in this 12-point proposal are so stringent that they are worth being cited here utterly and completely:
[yes_list]
To remove the following articles of the Law on Status of the Member of National Assembly- Parliament of the Republic of Abkhazia: Article 19- 'Immunity of the National Assembly Member'; Article 20- 'A procedure for obtaining consent to lifting the immunity of the National Assembly Member; and Article 21- "The National Assembly Member's right to refusal to testify."
 … To set … clear work day limits, mandatory presence at the Parliament sessions, an annual leaver amounting to 24 work days, as well as liability for disciplinary violation.
 To annul MP pension and other benefits, that the ordinary citizens of our country are deprived of. To publicize MPs' credit records.
 To give up on the practice of procurement of individual transport for MPs. To replace office vehicles by minibuses that will daily deliver the people's chosen ones from all regions of the country to work and then back home.
 To abolish the practice of allocating funds for procurement of fuel and lubricant materials and MPs' individual transport servicing.
 To enshrine in the legislation the MPs' annual public reporting to the electorate through mass media and provide for liability for non-compliance with this commitment.
 To set 35-70 year age limits for MPs and inscribe into the law a mandatory employee tenure of at least 5 years.
 To make it obligatory to produce and publish an annual declaration on incomes and expenses of each MP and his/her family members.
 To ensure live TV broadcast of the Parliament's sessions.
To write down in the law an imperative mandate, a right to recall MPs by the electorate, clearly setting the rules and procedure for MP recall.
 To exclude … MPs right to be engaged in privatization of facilities and ensure public control over the privatization process.
 To restrict MPs' stay in Parliament to 2 terms
[/yes_list]
Izida Chania 
"We've tried to make our demands more specific and we don't seek inclusion of our proposals in the law exactly in the given wording. MPs can make their own adjustments and adopt some other proposals that are still being submitted," 
The key message is to strip MPs of their immunity. With such a Parliament composition we have outlived the biggest disgrace in the history of Abkhazian parliament system: an incumbent MP, Nodik Kvitsinia, committed a serious crime, he orchestrated 2murders. Now he is at large, hiding in Georgia."
The opposition supports it
About 500 signatures to the document were collected within a week. The latter has been already officially registered by the Parliament's Chancellery and accepted for review.
Aslan Bzhania, a leader of the Abkhaz opposition, also supported the initiative to revise a package of MP benefits. In his opinion, this bill should be elaborated and brought to the Parliament session for consideration within 2 months.
But it's not supported by many in public. The arguments
"It will be far more efficient to strengthen militia, prosecutor's office and courts"
It has turned out that this idea has quite a lot of opponents.
Alkhas Aslandzia, a lawyer:
"I don't quite understand, what's the problem with the immunity? Could it be so that those public officials, who don't enjoy this immunity, have been already dealt with?"
Akhra Smyr, a blogger, has termed this initiative as 'an ordinary populism.
"There is nothing good about this initiative: some individual cases of the use of MP immunity for lucrative purposes shouldn't offer the executive government an all-out opportunity to press upon the MPs. Amidst the present-day state of our militia, prosecutor's office and courts, any limitation of immunity is unacceptable. It will be far more efficient to strengthen militia, prosecutor's office and courts, but there is no such initiative or corresponding signatures in sight."
Lana Tsaava, a lawyer, one of the MP candidates:
"

All branched of power should be equal and independent. Then both, the judges and the President should be also lifted their immunity. They want to strike a blow against legal principles through social media."
Parliament Speaker, Valeriy Bganba, is also skeptical about lifting of MP immunity:
"Lifting of immunity allows exerting pressure on the MPs from all sides. I purposefully studied the experience of other parliaments and I found out that there is an MP immunity principle almost in each and every parliament around the world."
However, the opponent's arguments have in no way influenced the position of the initiators of the appeal.
In the event the proposals are ignored, the initiative group reserves the right to call for voters' non-participation in elections and put forward these issue to referendum.
Parliamentary elections in Abkhazia are scheduled for March 12.
On February 10, the Central Election Commission (CEC) completed registration of the initiative groups and political parties, who are nominating their candidates. Overall 135 persons, nominated by the initiative groups, are going to run for Parliament through the majoritarian system.
In addition, 4 political parties that are entitled to nominate their MP candidates have also decided on their lists. Aynar and Matsakhara parties have nominated 8 candidates each; Forum for the National Unity of Abkhazia – 7 candidates; People's Front for Justice and Development – 3 candidates.
The CEC is expected to consider a package of documents submitted by each contender within 10 days and afterwards decide on his/her registration as a candidate.
Under the parliamentary election procedure, each candidate should undergo narcological checkup, a psychiatric interview and produce a no criminal record certificate authenticated by the Interior Ministry.
The opinions, expressed in the article, reproduce the author's terminology and views and not necessarily reflect the position of the editorial staff