Op-ed: The Mkhitaryan football phenomenon
A few years ago when Henrikh Mkhitaryan played for FC Shakhtar Donetsk, many thought it a resounding success. When Mkhitaryan's talent shook the entire post-soviet area, experts started to wonder where his future will take him. At first it led him to Borussia Dortmund, and in 2016 to Manchester United FC.
Mkhitaryan's professional football career started with the capital's FC Pyunik, where it progressed to him playing in the starting lineup of the world's most profitable clubs alongside world celebrities.
He is an envoy of everything Armenian, essentially representing Armenia and Armenian football in not only Europe but all around the globe. The Mkhitaryan phenomenon can be witnessed when foreign reporters are seen on what is otherwise almost empty bleachers during Armenia's championship matches.
The leading football clubs reckon that if Mkhitaryan came from this country, then there may be some other talent as well. His peers certainly have had a stroke of good fortune. Edgar Manucharyan, a former AFC Ajax player, was one such individual who was seen playing in European grand football for a brief period of time. However, he failed to achieve major success.
But his place didn't remain vacant – he was replaced by Mkhitaryan. Meanwhile, another Armenian national team player, Gevorg Ghazaryan, also started to appear in European football clubs. Now, through his stellar performances, he is trying to secure a place for CS Maritimo at the European Cup.
However, the time has come for the next generation who currently play in Armenia's junior and youth teams to step up, and the Mkhitaryan factor is just the thing that could help them.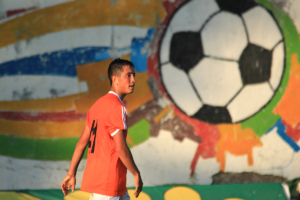 The junior and youth scene is also garnering some attention. Since last year, the Armenian sports press has been trying to figure out just how the future will unfold for 17-year-old Bichakhchyan, a young football player with Shirak SC who passed a probation period at PFC CSKA Moscow (Central Sport Club of the Army), KAA Gent and ACF Fiorentina last year. What he needs to figure out now is where life will take him when he turns 18. Interest in him arose the moment he left the substitute bench in the UEFA Europa League and helped Shirak SC overcome Georgia's FC Dila Gori.
For a country with such a modest football history as Armenia, the Mkhitaryan factor is hard to overestimate. To have such a phenomenon means to guarantee interest in one's country, something Armenian football sorely needs.