MH-17 crash over Donbass: what has become known in 3 years
Photo by AnastasiyaVlasova, published by Bird-in-flight
On 17 July 2017, a Malaysian Airlines' Boeing-777 was shot down over Eastern Ukraine, resulting in the deaths of 298 passengers and crew. An international investigation has come to the conclusion that the plane had been hit from land.
Bellingcat, an international investigative group of experts and journalists, published a report claiming the involvement of pro-Russian separatists, with the report being recognized by the international community.
BBC has studied the document. Here is the gist of it:
[yes_list]
The surface-to-air missile system – BUK №332 , which shot down MH-17, belonged to a regiment based in Kursk;
Servicemen of the anti-aircraft brigade №53 transported it to the Russian-Ukranian border between 23 and 25 June, 2014;
Early morning on 17 July 2014, the system was seen in Donetsk, from where it was brought by truck to the east through territories which were under separatist's control. The BUK board number was painted over, but Bellingcat identified it by the paint and dents;
Retired Russian officer Sergey Dubinsky was in charge of the transportation;
At midday, the BUK system was brought to Snizhne, 80 km from Donetsk, from where it moved further south unaccompanied;
At around 4.20 pm, the BUK system shot down the Malaysian Airways MH-17 flight from Amsterdam to Kuala-Lumpur with 298 people on board, mostly Dutch citizens. Nobody survived.
[/yes_list]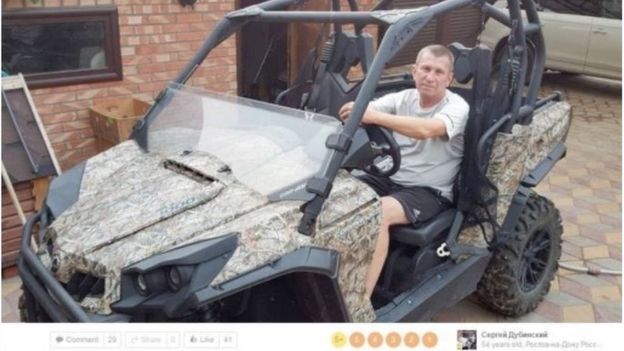 Sergey Dubinsky aka 'Gloomy', returned home after fighting in Donbass. According to the BBC, the photo was published in social media in August 2016.
The Russian authorities never took responsibility for the incident. Russia vetoed an attempt to establish an international court in the Security Council.
A joint investigation team was established by the countries whose citizens had been flying with MH-17 – Netherlands, Malaysia, Belgium, Australia and Ukraine. Last week, the team announced that the process regarding MH-17 is to start in the Netherlands at the end of 2017.
Earlier, the Russian Foreign Ministry called the proof amassed by Bellingcat "falsified". In March 2016, Maria Zakharova, the ministry spokeswoman, said:
"The nonsense from Bellingcat was produced by dozens of bloggers for money, who have no data and know nothing about the real circumstances surrounding the incident."
The BUK system was brought from Russia, and the plane was targeted. Six facts established in the preliminary investigation. JAMnews, 30 September, 2016