Mercenaries
Azerbaijan pays particular attention to sports, annually allocating millions for its developments. At the 2016 Rio Olympics, Azerbaijan was represented by 56 athletes, including 33 mercenaries.
Neither the Ministry of Youth and Sports, nor the National Olympic Committee regard them as mercenaries. But they can't be referred to as homegrown athletes either.
Does Azerbaijani sport need mercenaries and where has this fashion for naturalized athletes come from?
The mass involvement of naturalized athletes started following the Olympic Games in Beijing in 2008. There were 10 foreign athletes in the Olympic team then. However, 4 years later, in London, their number more than doubled and made 23. But it was in Rio, that the number of local athletes exceeded that of the mercenaries.
Chingiz Huseynzadeh, Vice-President of the National Olympic Committee of Azerbaijan, flatly disagrees with a wording 'mercenary' itself.
'A concept- 'mercenary' refers more to the football, when a club is being enhanced by foreign players. It's incorrect to refer to Maria Stadnik or Khetag Gazyumov as 'mercenaries', the National Olympic Committee Vice-President stated at a news conference, summarizing the results of Azerbaijan's performance at the Rio Olympics.
In Chingiz Huseynzadeh's words, foreign athletes had been invited to Azerbaijani national teams at the young age and it was there that they made their top achievements.
"Mercenaries are invited to the disciplines with scarce reserves. Then they work jointly with our athletes and that produces positive results, said Chingiz Huseynzadeh.
But that could be argued.
Wrestlers are from the same place the Vice President comes from
Wrestling is the most traditional type of sport for Azerbaijan. Namik Abdullayev, a free-style wrestler, won independent Azerbaijan's first medal at the 1996 Atlanta Olympics. 4 years later, it was he who won the Olympic gold in Sydney.
16 years later, at the Olympic Games in Rio, 8 out of 14 Azerbaijani wrestlers were the mercenaries. 5 out of the total 9 medals were won by naturalized athletes.
Why is it so that there is mass involvement of mercenaries in the country, where kids who go in for wrestling could be found nearly in every yard?
Sarkhan Musali, a sports columnist, says that different age-group free-style wrestling national teams of Azerbaijan are packed with Dagestani wrestlers and that is due to Magomed Aliomarov, a native of Dagestan.
"Azerbaijan has been always famous for its strong free-style wrestlers, be it Khazar Isayev or Namik Abdullayev. Aliomarov started working in the Federation in 2008. Since that time the national team has been staffed with Dagestani wrestlers. 
In early 2016, the Azerbaijani Wrestling Federation Secretary General, Ajar Jafarov, was dismissed from his post. He was then accused of embezzlement on a grand scale. Since that time, he has disappeared from sights. As 'AzPolitika' media outlet reported, considerable amounts intended for 'compensation' for transfer of Dagestani wrestlers, were settled in the Federation Secretary General's pockets.    
Sarhan Musali notes that the situation has reached such a critical point that today, Dagestanis perform in each and every weight category during the country's championship. 'It's due to Aliomarov that our young wrestlers' careers are ruined and finished.
Cuban fights Cuban and Azerbaijan wins
The eyes of Azerbaijani of Cuban origin, Lorenzo Sotomayor, are filled with tears. A few minutes earlier, on the referee's controversial decision, he lost the Olympics final to an Uzbek boxer.
Mixing Azerbaijani, Spanish and English languages, he finally finds the strength to utter a few words: "Azerbaijan will be always in my heart, it's my home. I wanted very much to win the gold, but you've seen everything yourselves.
Lorenzo Sotomayor has been performing for Azerbaijan since 2013. He won the first European Games in 2015 and a year later, he was the 2nd at the Rio Olympics. On September 1, 2016, on Azerbaijani President's decree, he was awarded the 3rd-degree Order 'For Service to the Motherland'.
Sotomayor defeated Cuban Yasnier Toledo in the Olympics' quarter-final, giving occasion to a joke that appeared within the boundlessness of the Internet –'Cuban fights Cuban and Azerbaijan wins'.
Azad Ragimov, the Minister of Youth and Sports of Azerbaijan, stands in defence of mercenaries. "They are the citizens of Azerbaijan, they bring here their families. It's ridiculous to use a term 'mercenary' in the present-day modern sport. They are needed and important for Azerbaijani sports.
Why do locals leave?
Maria Stadnik is the world's most titular woman wrestler. She's been the citizen of Azerbaijan for 10 years already. Maria has won everything except for the gold medal. At 2012 and 2016 Olympics, she was a step close to winning the gold medal.   
Being a stoic wrestler, she held on to the last, but as she got on the winners' stand for her second Olympic silver, she burst into tears.
People in Azerbaijan love and worship Maria Stadnik. She is an idol to thousands of amateur wrestlers. She is recognized in the street, people admire her. They admire a female wrestler in Muslim Azerbaijan and they take close to their hearts her rare defeats, as if being their own.
Azerbaijan needs such athletes. World sports needs such athletes. And no one will ever divide them into 'insiders and outsiders'.
But!
At those same 2016 Rio Olympics, Azerbaijani weightlifter, Nijat Rahimov, won the gold medal, but it was for Kazakhstan national team.
Azerbaijan took it with great dissatisfaction. Especially in view of the fact that Azerbaijan's entire weightlifting team was disqualified for doping.
Nijat Rahimov moved under Kazakhstan banner in 2014, following a conflict with the chief coach, Bulgarian national Zlatan Vanev. According to the athlete's father, Vanev was actively inviting Bulgarian athletes to the national team. Azerbaijan splurged as much as US$400,000 only on transfer of Valentin Hristov and Boyanka Kostova.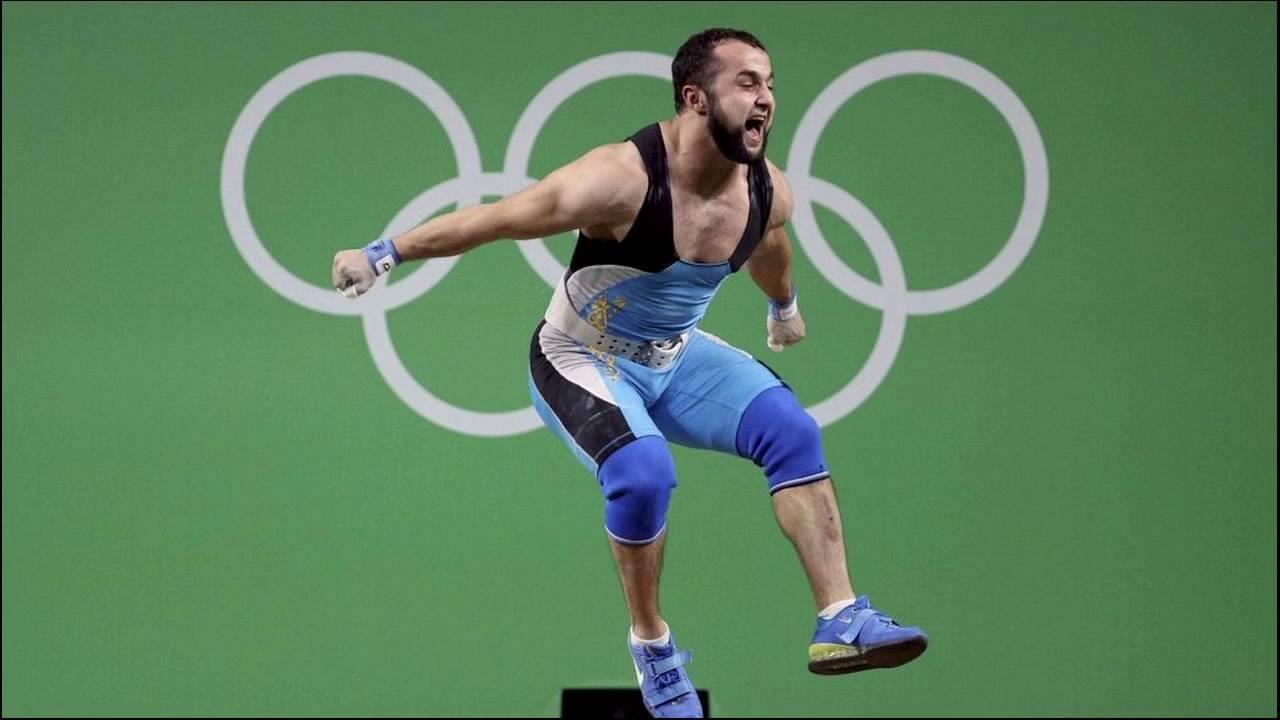 Sports in Azerbaijan is very profitable, in general. An athlete receives AZN600,000 (approx. US$370,000) per Olympic gold medal from the Azerbaijani National Olympic Committee alone. Isn't it an incentive for moving under Azerbaijan's banner?
However, there is no logical explanation for the Azerbaijani Weightlifting Federation's indifferent attitude towards Nijat Rahimov, same as why Zlatan Vanev has been managing Azerbaijan's national team for so many years.
"I will be just visiting Azerbaijan, but I will be performing for Kazakhstan, says Nijat Rahimov.
What are the pros?
Azerbaijan was ranked the 1st as to the number of medals won per athlete at the Rio Olympics, thus emerging as the most efficient team.
Azerbaijan won the total of 18 medals at the Rio Olympics and was ranked 39th in the overall medal standings, and 15th – by the number of medals.
18 Olympic medals is a great achievement for such a small country like Azerbaijan. However, they could have been won by country's own athletes, provided that they had been timely grown up.