Loneliness – hard lot of the elderly from province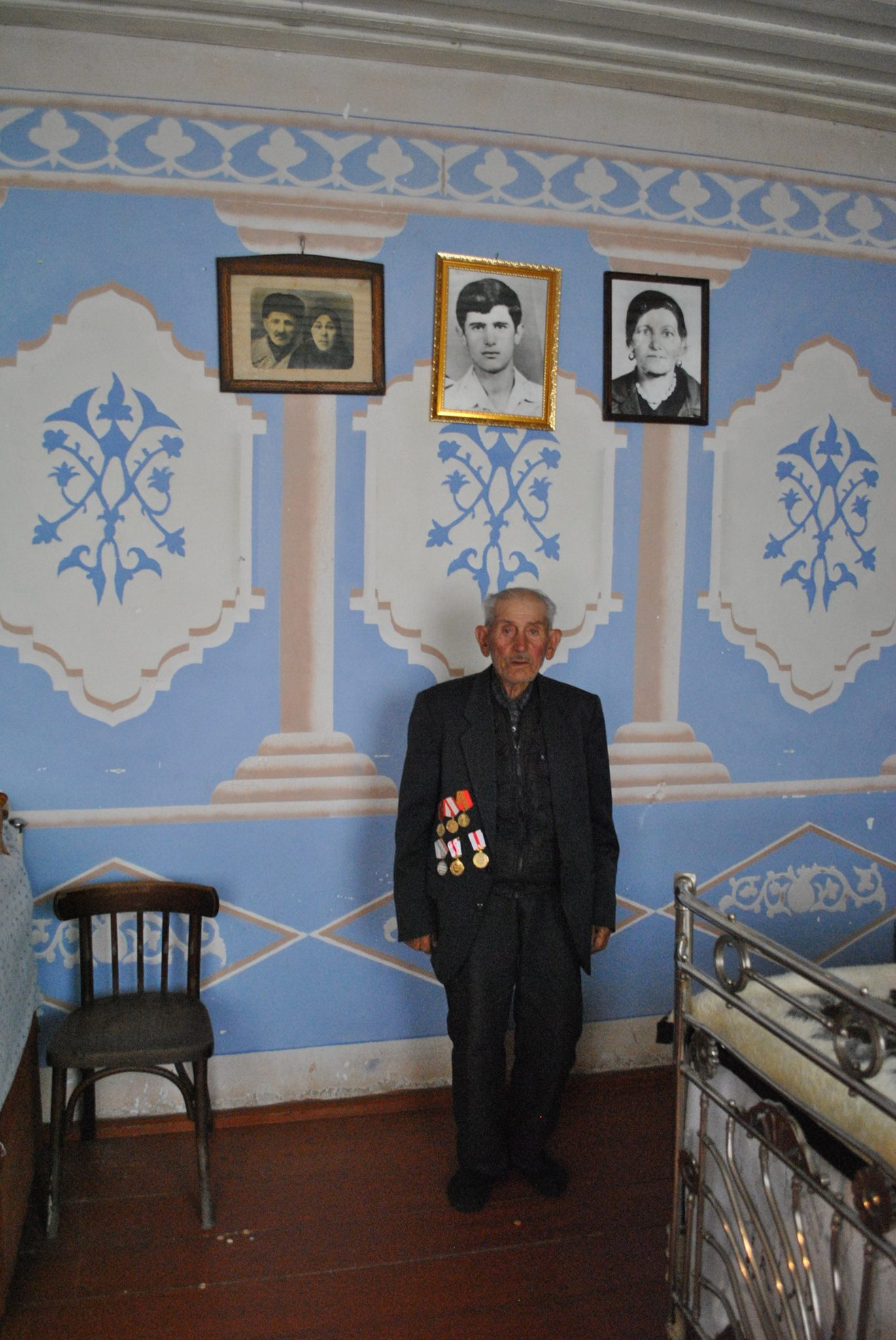 ***
Gazar Khanoyan is living 91st year of his life in Gubmurdo village, in Javakheti. He has seen quite a lot in his life – the exile, the war and the death of his sons.
During the World War II, he fought in the Bagramyan Army, but he doesn't really like to talk much about the war and is even less reluctant to show his medals: 'The war brings destruction and death … the war levels with the ground in a day everything that one has been building for years,' – he says.
We met Grandpa Gazar at the gaming place, in the village center, where he was playing dominoes with his peers. In Gumburdo, people call him modern Khorenatsi, noting that no one knows the history of his native village better than him.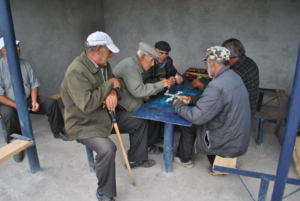 The living room in his house is clean and tidy and it's hard to imagine that a lonely man has been living here for 16 years.
There is a bottle of vodka with glasses, a vessel full of water and a string of beads on the table. On the opposite side there is a neatly made up bed and above there is a photo of his beloved daughter, whom he has not seen for 5 years.
Lonely grandpa Gazar has a big family – 4 sons, 2 daughters, 16 grandchildren and 5 great-grandchildren. Everyone is in the city. Two of his sons died young.
He has been living alone for already 16 years since the death of his wife – Magdalene.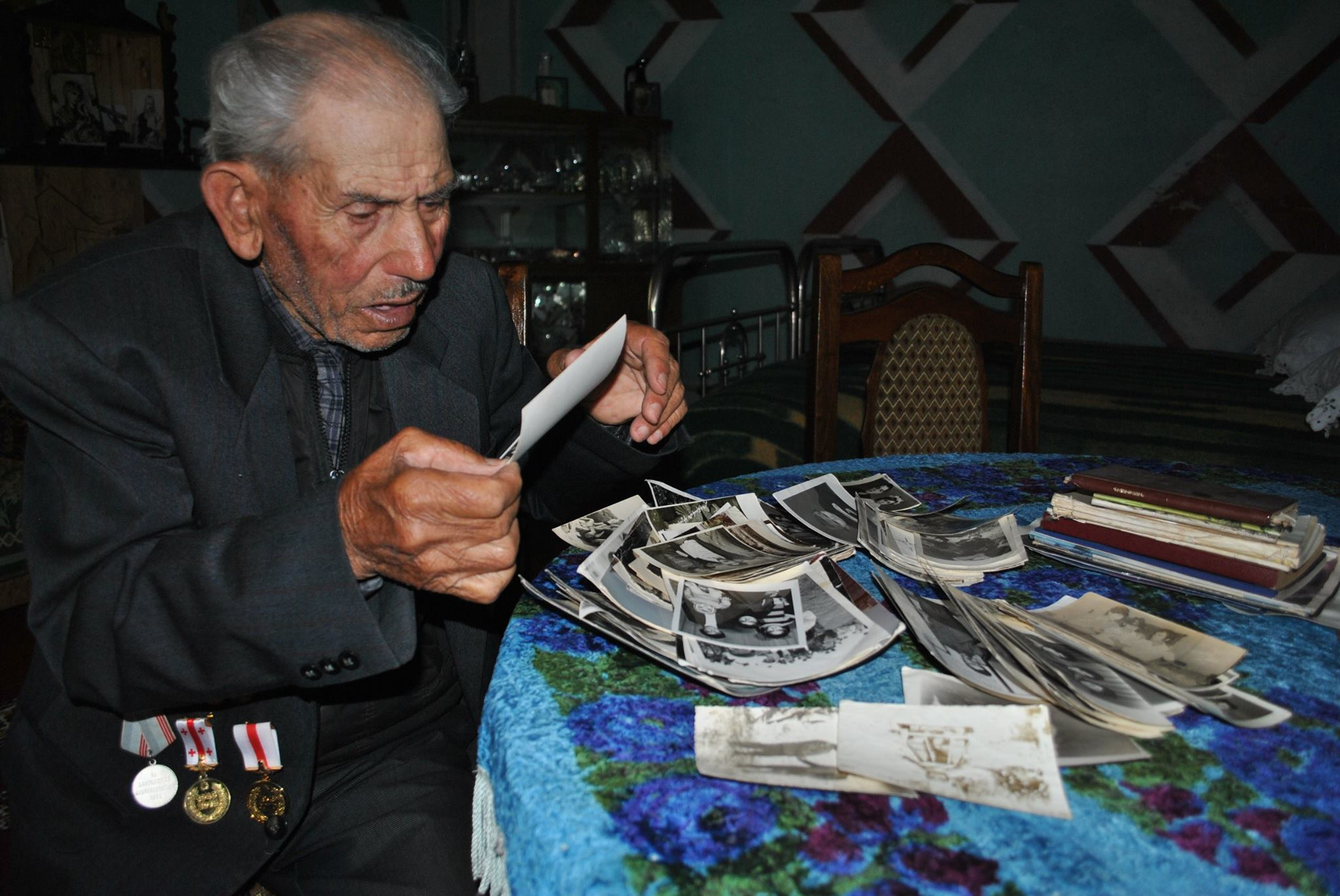 'TV-set is my only friend, since nobody's home – no children, no grandchildren, I am a lonely man.'
Speaking about his life, he concludes: 'One does not need wealth, the most important is to be surrounded by children, grandchildren and next of kin. There is nothing sweeter in life than this. There was a time, when there was nothing to eat but greens, but we were together and we were happy…. '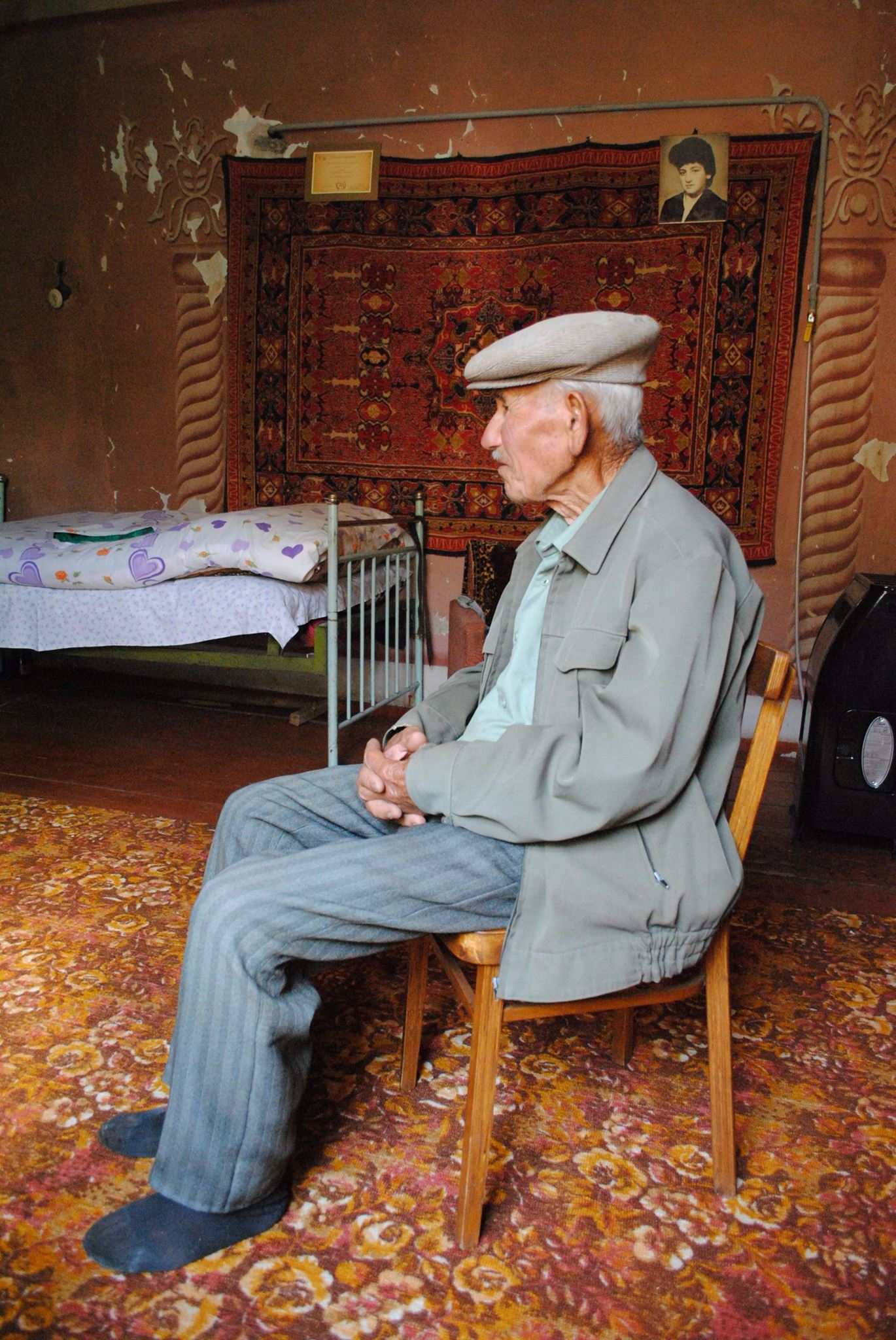 ***
30 years have passed since the death of her mother and brother. She has no family of her own and her health doesn't allow to work as before. Marusya Keshinyan, 81, is living alone in a dilapidated house with no water, gas and electricity, in Vachian village, Akhalkalaki municipality. The only people, she can rely on, are her neighbors, who go to the city and bring her some medicines and products.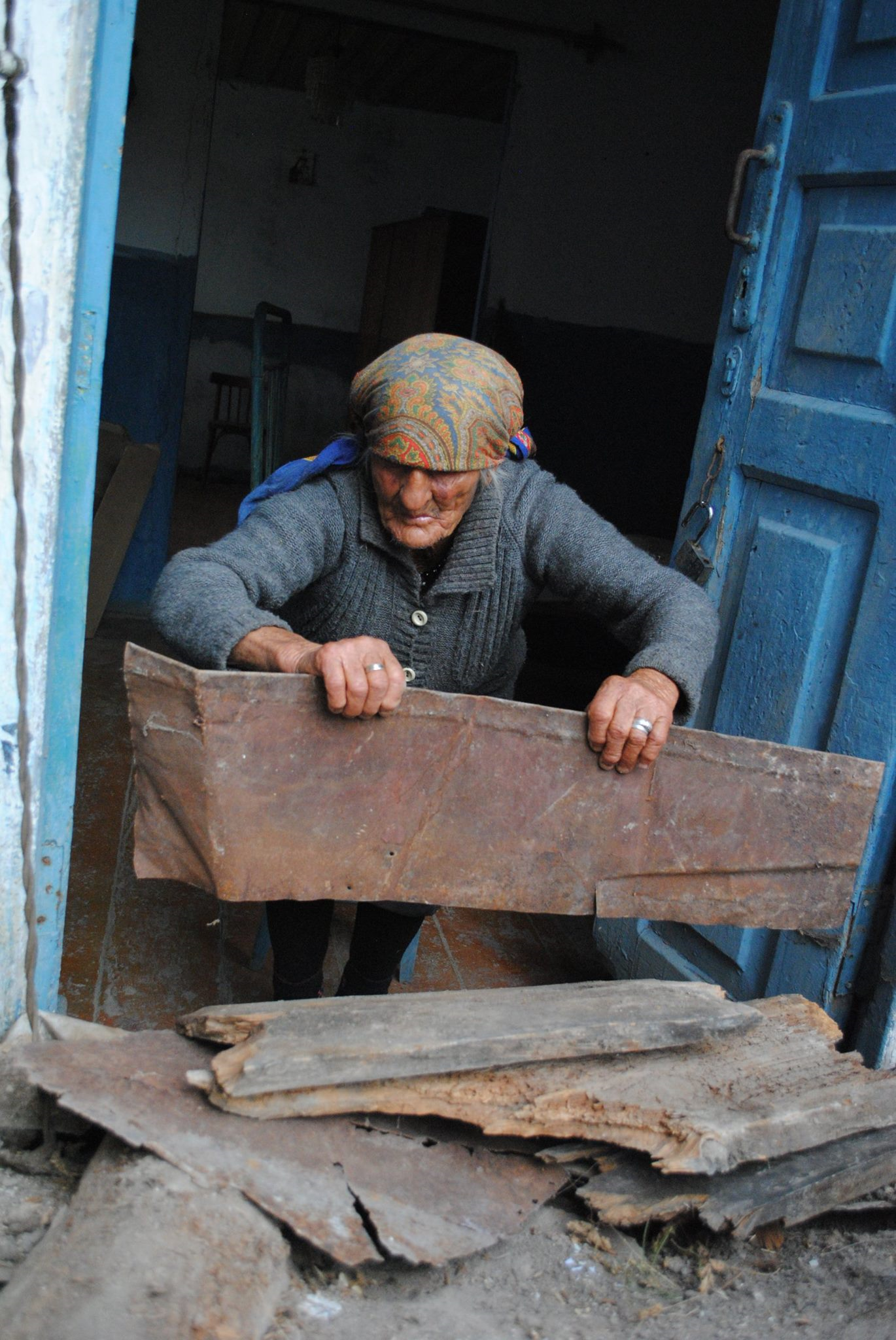 She used to work as a milkmaid on the farm for 30 years. She was even awarded certificates of honor for good performance. 'I worked in many places, doing all kind of job … But I can't work now, my bones have been worn out from work.' A pension amounting to GEL160 and GEL60 social aid (the total of US$90) – that's everything she has to live on. In warm weather, grandma Marusya goes outside to collect some pinecones and dung to heat her house in winter.
She is telling about her life with tears in her eyes: 'I have neither sisters nor brothers or nephews, everyone got ill and died. I don't know what to do and where to go. Please, do something, take me to a nursing home, '- she requests. There are no nursing facilities for elderly in Akhalkalaki and it is actually a shame to put elderly into state nursing care.
According to Akhalkalaki municipality administration, only one person had applied for nursing care in recent years and then the application was withdrawn, since an applicant thought, he would not be able to live with Georgians without knowing Georgian language.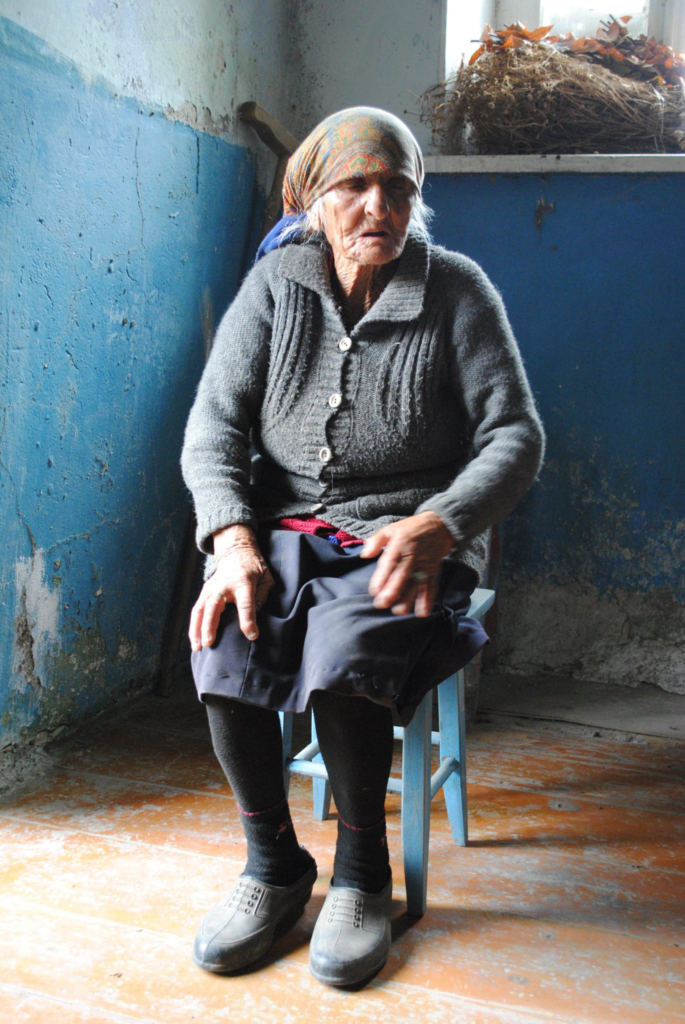 Grandma Marusya does not know Georgian either. Therefore, she is a little bit afraid of looking for a nursing home somewhere in another part of Georgia. 'I'd rather go to Armenia, I don't know Georgian,' she says. She could hardly hear and suffers from rheumatism. 'When you are old, nobody wants even to talks to you. Where should I go, what should I do? ' – she says.
***
Gurgen Koroglyan, a lonely man, who is also referred to as grandpa Karo, is living in a two-room house in the vicinity of Surb Gevorg church, in Aragva village.
Books have become loyal friends and companions to a 83 year-old man in his days of loneliness. When he was young, he used to work hard and had no time for reading, whereas now, as he says, he has read about thousand books over the past 10 years.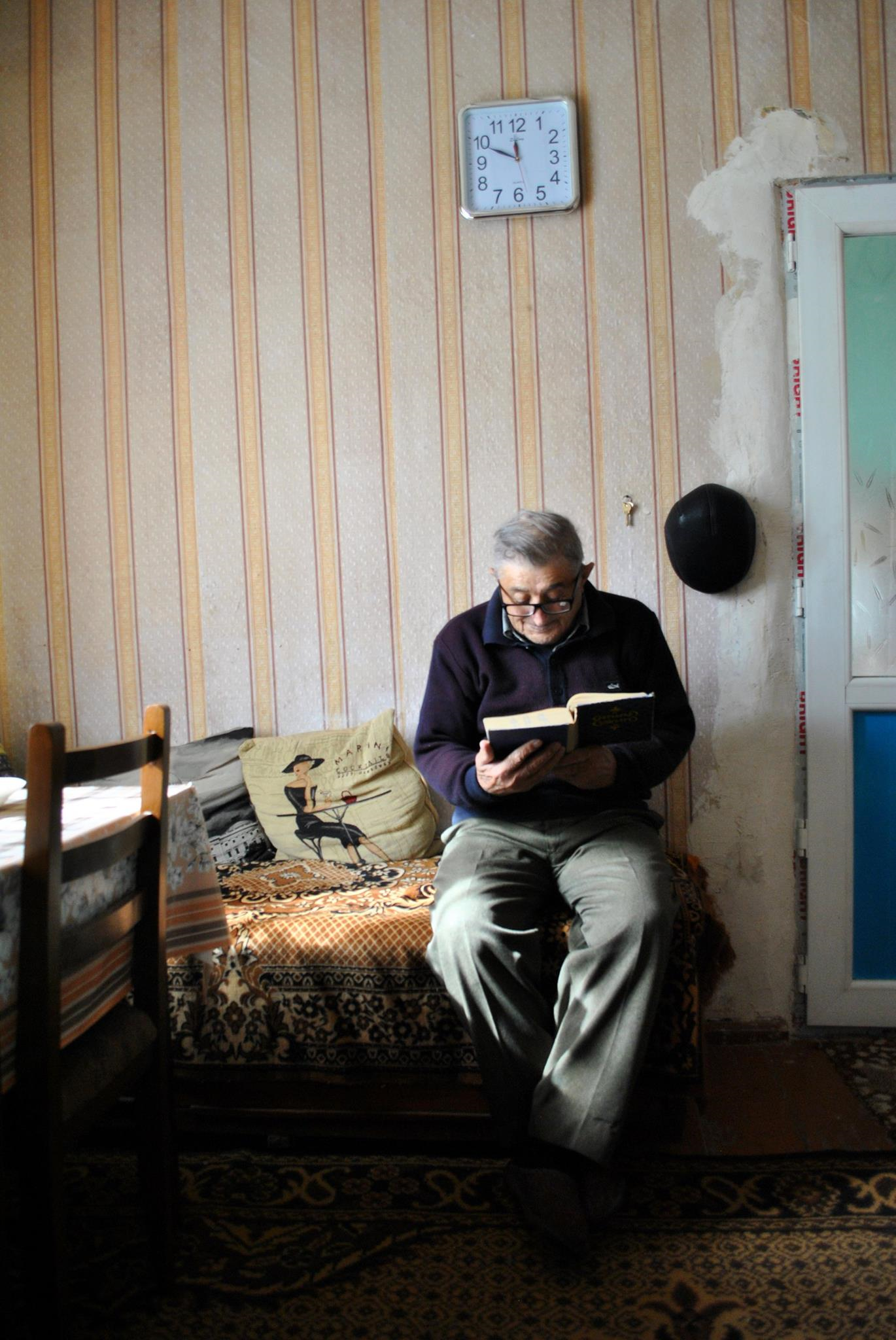 Taking lurchy steps, the elderly man ushers us into his house. There are two beds, an old chest of drawers and a photo of his wife – Rosa, in an ample room. He talks to his wife's photo almost all the time; he prays for his son and grandchildren, who live in Russia, so they do not get into trouble.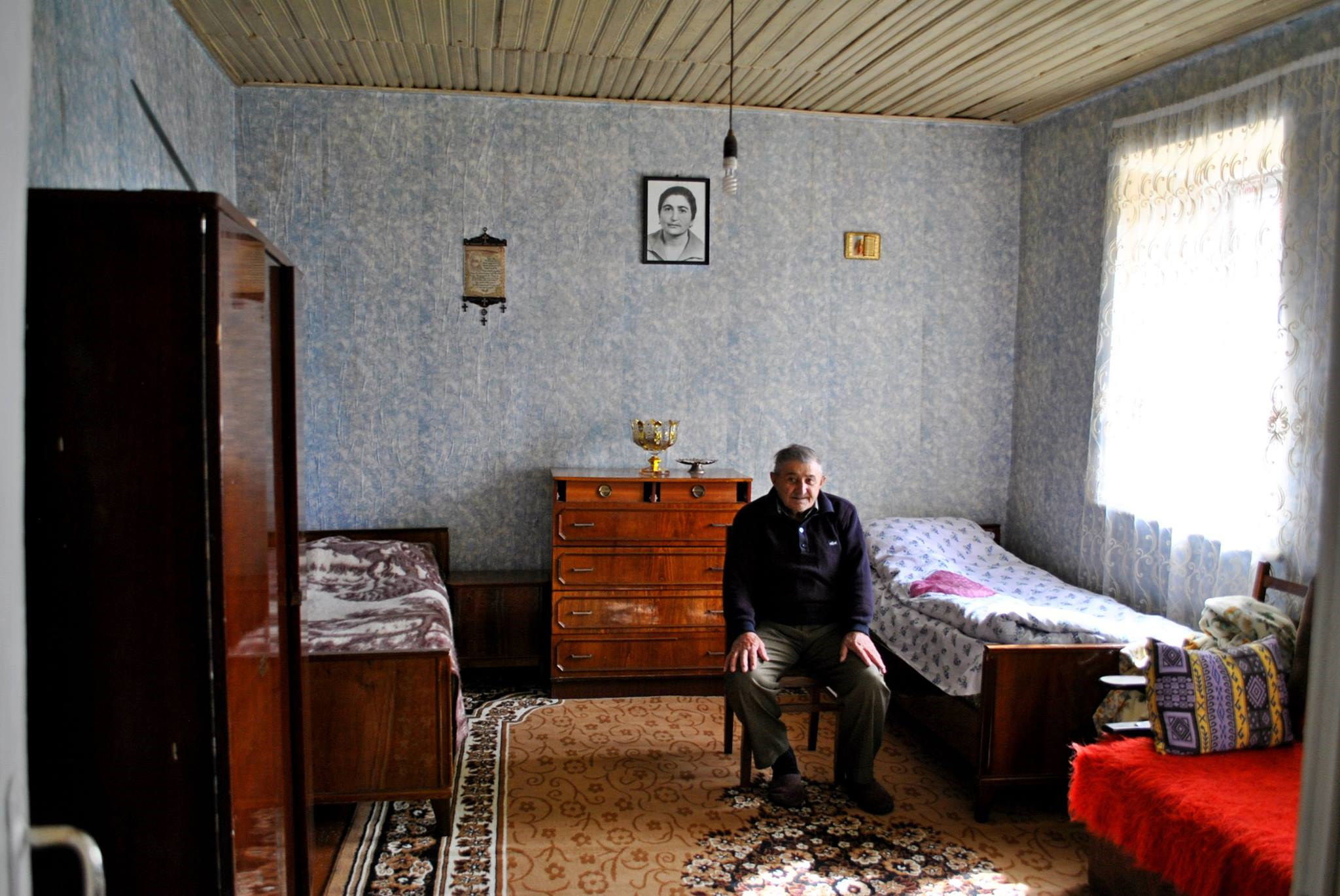 'They want to take me to their place in Moscow. They ask and beg, but I don't want to be a burden to them. I am alive today, but I will not be tomorrow. They are visiting me, sending money… I am grateful to my children. I am a sick man and I will not live much longer than 2-3 years. '
***
Unlike Gurgen Koroglyan, Tsolak Hunanyan had tried to live with his son's family in Russian, but he returned home in a year.
'You are cooped up indoors and once you go out, everything is so strange and unfamiliar. You miss your house, built with your own hands, where you have spent the major part of your life, good and bad times,- he says.
Grandpa Tsolak, 90, has been engaged in farming alone for already 7 years. He is not short of money – his children help him from Moscow. Besides, despite his age, he has a good vegetable garden. He is cultivating plenty of things: sunflower seeds, tomatoes, cucumbers, pepper, onions, garlic, beets, potatoes…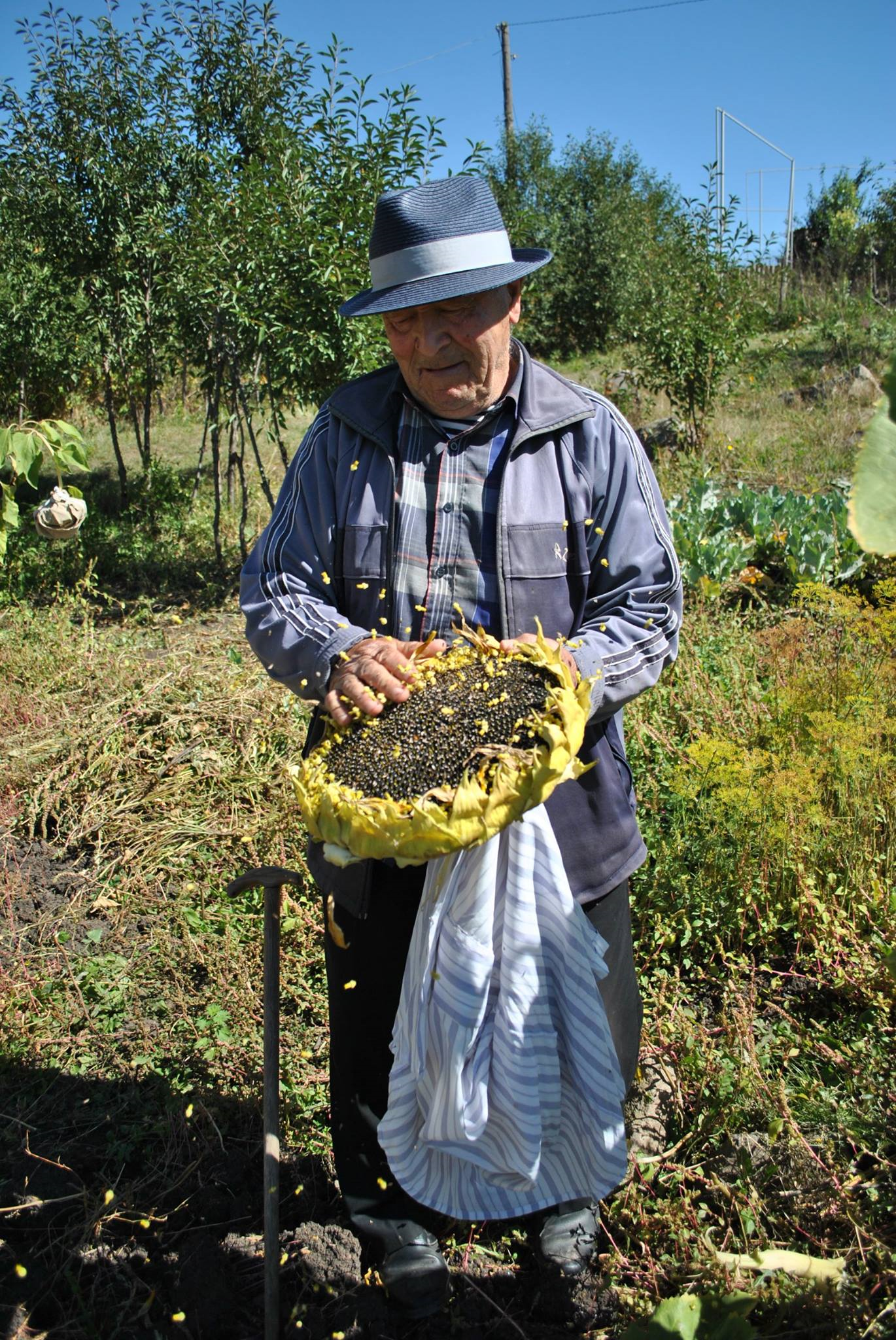 Loneliness is the only problem that grandpa Tsolak is facing. The ample house rooms suggest pleasant memories. Like before, there is his wife's bed next to his one. The room is furnished the same way she did it, having gone from his life 7 years ago.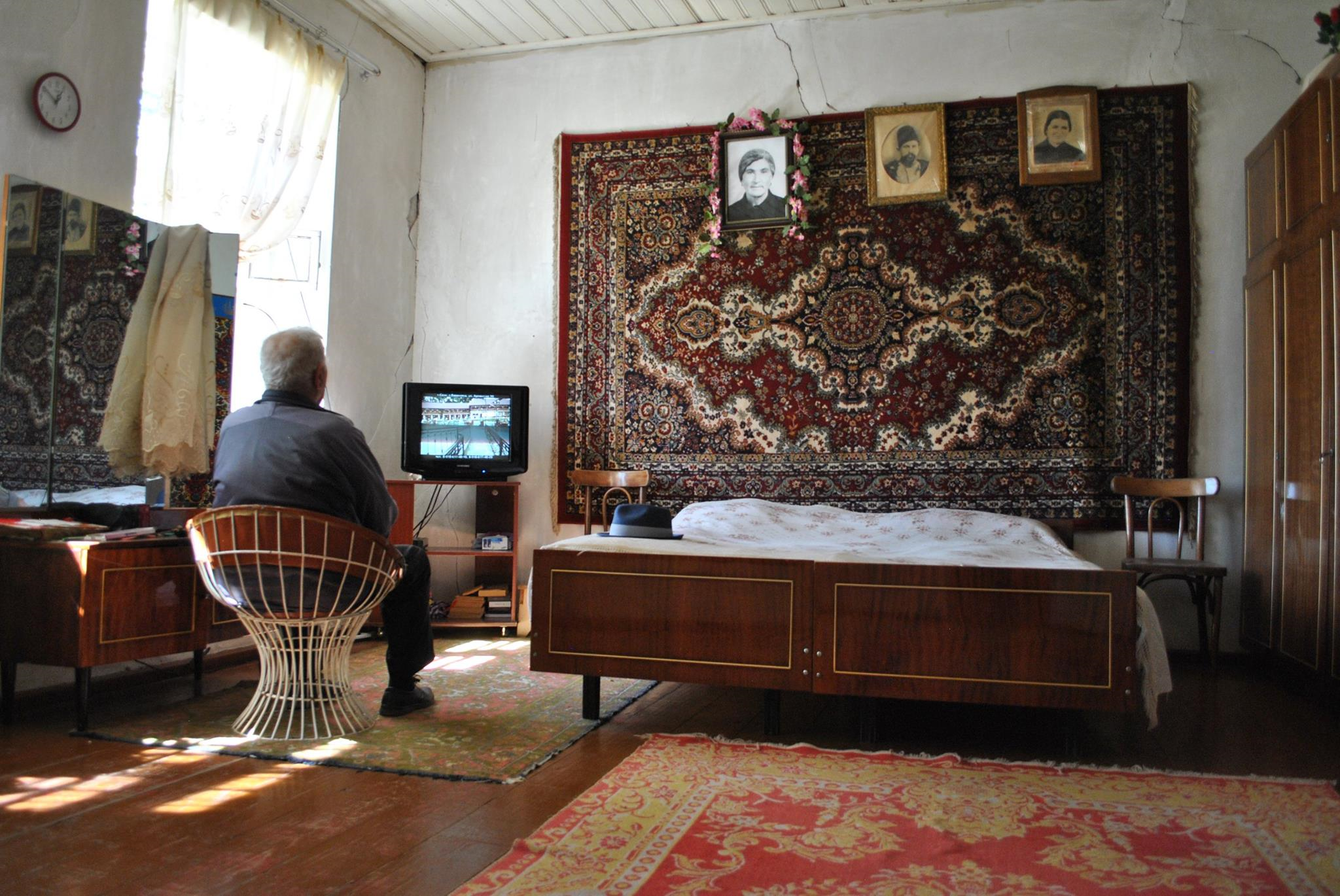 Grandpa Tsolak is the oldest resident of the village. Every day he watches news in the village center, where everyone gathers to haggle over politics with others. Grandpa Tsolak jokingly calls this place an old folks' home, because mostly the elderly people of the village gather there.
'Loneliness? Of course, that's not easy. But what should one do…That is Lord's will that we are all lonely.