Karabakh truce, protests in Armenia, chronicle of events, November 10-11, 2020
On the night of November 10, an agreement was signed between Azerbaijan, Armenia and Russia on the cessation of hostilities in Karabakh, which had been ongoing since September 27, 2020. Regions adjacent to Karabakh are returned to Azerbaijan, Azerbaijani refugees are returning there, Russian peacekeeping forces have arrived in the region.
The signing of such an agreement caused a strong protest in Yerevan, the opposition announced "an actual transfer of Karabakh to Azerbaijan", the crowd damaged the government house and parliament.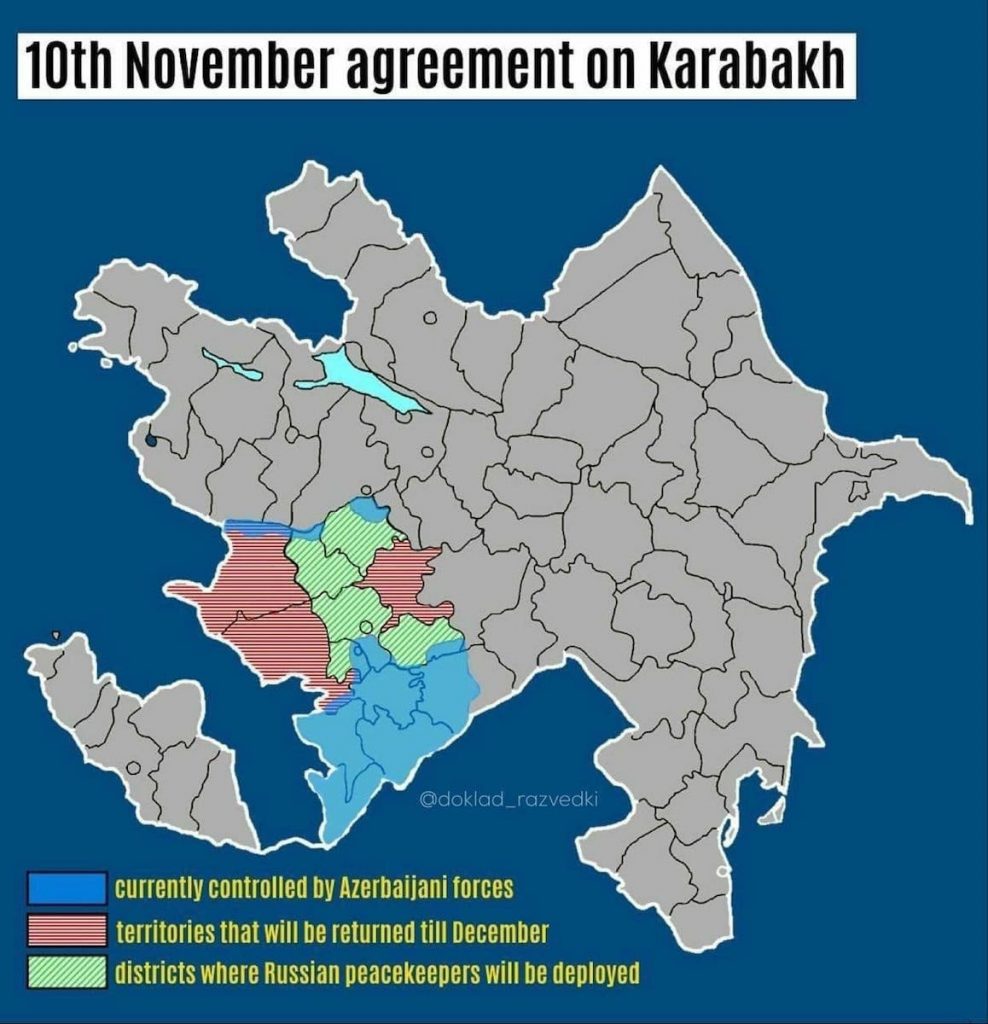 "The ceasefire was concluded because the soldiers were threatened to be surrounded" - President of Karabakh

Arayik Harutyunyan, live on his Facebook page, appealed to the people not to look for the guilty. He stated that he had repeatedly warned about an acute shortage of human resources. The President urged "not to look for traitors":

"We did not have defenders of Stepanakert, because the military was on the front line. Where were the volunteers, the militia, where are my dear Stepanakert people who are now looking for the guilty? There were several dozen, maximum 100-200 people. We should have stopped the 60,000-strong army? […] 18-20-year-old [conscripts] could not fight against 6, 7, 8 states ".

The President called on all Karabakh people to return home. According to him, the issue of infrastructures, water, electricity and gas will be resolved in the coming days:

"Today we promise that there will be no social problems … We do not have a final decision on what to do. But we want to assure that the roads will be safe. You will be convinced that we will live in Artsakh, and we will live even better than in another place, because we are not expected anywhere, in any country ".

Internet access restrictions lifted in Azerbaijan

Temporary restrictions on Internet access introduced in Azerbaijan will be lifted on November 12, 2020, with the exception of the liberated and former front-line territories.

Minister of Transport, Communications and High Technologies Ramin Guluzade stated this on his page on the social network.

Smoke bomb exploded in the courtyard of the National Assembly in Armenia

A smoke bomb was thrown in the direction of the police. Who exactly threw her is still unknown

Extraordinary session to be held in Armenian parliament

The required number of signatures for convening a meeting has already been collected and submitted to the parliamentary secretariat.
The agenda is already known: the deputies demand denunciation of the trilateral agreement on Nagorno-Karabakh.
The meeting will take place at 20.00.

Protesters in Yerevan give prime minister until midnight for voluntary resignation

The protesters are still at the parliament building. The number of protesters is not decreasing.
Dashnaktsutyun representative Ishkhan Saghatelyan stated that the next step would be to convene an extraordinary session of the parliament.
"All the deputies of My Step have a time until 00:00. If they do not come to the National Assembly at this time, we will give a press conference at 00:30 and present our next steps, "he said.

In Yerevan, protesters came to the parliament building

Baghramyan Avenue, on which the parliament building is located, is blocked. Cars with barbed wire and water cannons stand outside the National Assembly. Policemen stand in three rows directly at the gates of the parliament.

Photos – Telegram/ Vozni


Opposition MPs want to launch the process of impeachment of the prime minister.

MP of the Prosperous Armenia parliamentary party Naira Zohrabyan told the audience that she was a member of the National Assembly.
"Our colleagues from" My Step "(the ruling bloc), who spoke with me in personal conversations – you start the process of overthrowing Pashinyan, we will join at the last minute. There is no need to wait for the last minute. We are waiting for you all in the building of the National Assembly, "Zohrabyan said.

"It was not the army that lost the war, but the state" - ex-head of the Armenian Defense Ministry

The decision to cease fire in Karabakh was correct, said former Armenian Defense Minister Seyran Ohanyan.

In his words, "a rather complicated military-political situation around Armenia and Artsakh has emerged."

However, Ohanian considers the signed trilateral statement on Karabakh to be an "unfavorable document".

"It was not the army that lost the war, but the state … The current leadership of Armenia should bear responsibility."

Additional police forces deployed to the Armenian government building

Thousands of protesters gathered outside the government building. They shout out "Nikol, go away!"

Leaders of opposition parties take turns. Some of them urge not to break or destroy anything, since "this belongs to the state, not to Pashinyan."

Policemen lined up along the wall of the government building in several rows to block the entrance.

In Yerevan, protesters from Freedom Square went to the building of the Government of Armenia

The protesters demand to convene an urgent meeting of the National Assembly, which will consider the issue of lifting martial law and declaring a vote of no confidence in Armenian Prime Minister Nikol Pashinyan.

129 people have already been delivered to various police departments in Armenia

This data is at 14.30.

Now the police are not arresting anyone else. Most of the representatives of the opposition parties were taken away from Freedom Square even before the rally began.

Former President of Armenia Serzh Sargsyan invited to the National Security Service

The information has already been confirmed in the president's office. Today at 4 pm Sargsyan will go to the SNB.

Earlier it became known that in Yerevan the SNB officers detained the leader of the Prosperous Armenia opposition party Gagik Tsarukyan, who together with other opposition leaders convened a rally in the center of Yerevan against the background of a joint statement on Karabakh.

Four parties of Nagorno-Karabakh joined the opposition's demand for the resignation of the Prime Minister of Armenia

These are "Democratic Party of Artsakh", "Party of Justice of Artsakh", "United Motherland" and "Dashnaktsutyun", MP of "Prosperous Armenia" Mikael Melkumyan said at a rally in Yerevan.

According to him, representatives of the Karabakh parties also demand the resignation of the President of Nagorno Karabakh Araik Harutyunyan.


Opposition parties presented their actions at a rally in Yerevan

In order to save Artsakh, three steps must be taken, said Ishkhan Saghatelyan, a representative of the Supreme Body of the Dashnaktsutyun Party.

"The first is to create a Committee for the Salvation of the Motherland, which we have already done. The second is to immediately demand the resignation of Nikol Pashinyan and the authorities. The third is to save our lands sold by treachery ".

In Yerevan, protesters beat a policeman

The incident took place on Freedom Square, where a rally is being held against the decision of Prime Minister Nikol Pashinyan to accept the terms of a trilateral statement on a ceasefire in Karabakh.

The beaten bloody police officer was taken away by police officers.

Police in Yerevan forcibly take people away from the rally

The police put people in cars and take them to different departments.

Leaders of opposition parties make calls, protesters shout "Nikol, go away!", "Nikol is a traitor!"

The number of protesters is increasing. The police brought in internal troops.

Opposition rally in Yerevan protesting against truce agreement in Karabakh

Several hundred people gathered for an opposition rally in the central square in Yerevan, protesting against the agreement to end the armed conflict in Nagorno-Karabakh, which was signed on November 10 by Armenia, Azerbaijan and Russia.

"A treacherous agreement was signed behind the backs of the soldiers defending the land and statehood with their blood at the front, and all of us. We must unite and exclude internal unrest and provocations, "the joint statement of the Council of 17 opposition parties, published today, reads.

The police warned that under martial law, which is still in force in Armenia, the holding of rallies is prohibited. "For participation in strikes and rallies during martial law, a fine of four hundred to seven hundred minimum wages (ie 400-700 thousand drams, or about 800-1500 dollars) is envisaged," the prosecutor's statement said.

Protesters in Yerevan have ransacked the office of the Soros Foundation

The  video shows how the rioters broke down the doors of the office of the Open Society Institute – Assistance Fund (Soros Foundation), calling "to break everything."

The night before, those opposed to the "policy of defeat" of the Pashinyan government, referring to the truce in Karabakh, also attacked the office of the editorial office of Radio Liberty in Yerevan.

"Agreement on Karabakh was signed according to the army's recommendation" – Prime Minister of Armenia

The Armenian military proposed to stop the fighting, as "we have problems for which there are no prospects for their solution," Nikol Pashinyan explained.

He said during a Facebook live that those who fought on the front lines had no replacement and couldn't have a rest for a month. As a result, the leaderships of Armenia and Karabakh made a decision to end the war as soon as possible, otherwise the consequences would be more severe.

"I made a difficult, extremely difficult decision for myself and for the entire Armenian people," Pashinyan said. He explained that in the beginning of the hostilities a ceasefire was not because "it assumed the transfer of seven regions around Nagorno-Karabakh":

"And we could not take such a step because we believed that we could reach a situation when we would not be interested in a ceasefire and would impose it on the enemy instead. Unfortunately, this did not happen".

Aliyev's night address to the people

Immediately after the signing of the trilateral statement on a ceasefire in Karabakh, President of Azerbaijan Ilham Aliyev addressed the people.

"This statement is of historical significance. This statement was signed via a videoconference, at first the heads of the three countries were supposed to sign the statement via videoconference. However, at the last moment, the Prime Minister of Armenia was refusing to do so. This is understandable to an extent, since this statement factually means Armenia's military surrender," Aliyev said.

"This statement allows us to liberate without bloodshed our other regions still under occupation – Agdam, Lachin, Kelbajar. A short period has been agreed on – these areas will be returned by the end of this month," the President of Azerbaijan added.

"You probably noticed that this statement does not contain a single word about the status of Nagorno-Karabakh! Where are the demands of the Armenian side that Nagorno-Karabakh should be granted independence? When I offered them autonomy, they refused saying this is an "independent state". They have been living for many years as an "independent state" and must gain independence from Azerbaijan … The status has gone to hell, failed, scattered to pieces, there is and will be no status. As long as I am President, there will be no status," he stressed.

"Fighting was taking place on the outskirts of Stepanakert" – President of Nagorno-Karabakh

Arayik Harutyunyan made addressed the people stating that in 43 days of the war the Armenian side lost Fizuli, Jabrayil, Kubatly, Zangelan, the main part of the Hadrut region, part of the Martuni and Askeran regions, and most importantly – the city of Shushi. The fighting took place on the outskirts of Stepanakert, the president said, at a distance of two to three kilometers from the city:
"The UAV's inflicted heavy losses on the Karabakh defense army. The question is why the Armenian army did not create similar weapons."
|Everyone who has held positions in recent decades will be held responsible for this, Harutyunyan noted.

A convoy of Russian peacekeepers has already left the Armenian city of Goris for Karabakh

The Russian TV channel Russia Today published a video of a convoy of Russian peacekeepers leaving the Armenian city of Goris for Karabakh. The entry of Russian peacekeepers into the conflict zone is one of the conditions of the agreement that Azerbaijan, Armenia and Russia signed overnight. Among the conditions are the transfer of the adjacent regions to Azerbaijan and the return of Azerbaijani refugees.

The President of Armenia did not know about the signing of an agreement on Karabakh with Russia and Azerbaijan

Armenian President Armen Sargsyan says that he learned from the media about the agreement on Karabakh signed with Russia and Azerbaijan at night and about the conditions for ending the war. The President stated that nothing was discussed with him and he did not participate in any negotiations. Therefore, Armen Sargsyan started political consultations "in order to quickly agree on decisions and protect national interests."

"The war is not over, but it's time to stop the bloodshed" – statement of the Ministry of Defense and the General Staff of the Armed Forces of Armenia

"The war is not over yet, the fighting in Karabakh continues, but it's time to stop the bloodshed." The statement of the Ministry of Defense and the General Staff of the Armed Forces of Armenia was made this morning, after an agreement was signed with Azerbaijan and Russia on a ceasefire in Karabakh at night.

The Armenian military stated that "they did everything in their hands in the fight against the enemy", that "the Armenian army opposed the Azerbaijani armed forces who are superior in numbers and assisted by Turkey and several thousand hired terrorists":

"We call to refrain from actions that can undermine the foundations of statehood and, drawing lessons from all the mistakes made, create an incomparably stronger and more efficient army."

Agreement on Karabakh signed between Azerbaijan, Armenia and Russia

Agreement on Karabakh signed between Azerbaijan, Armenia and Russia

On the night of November 10, an agreement was signed between Azerbaijan, Armenia and Russia on the cessation of hostilities in Karabakh, the return of adjacent regions under the control of Azerbaijan and the return of Azerbaijani refugees to Karabakh. The agreement provoked a strong protest in Yerevan, the opposition called the agreement "an actual transfer of Karabakh to Azerbaijan."

Karabakh truce: return of outlying regions, Azerbaijani refugees, introduction of Russian peacekeepers