Interview with Anna Hakobyan, wife of Armenia's Velvet Revolution leader
Before the Velvet Revolution took place in Armenia earlier this year, Anna Hakobyan was better known more by her fellow journalists.
However, Armenian citizens came to know her in the days of the protests as the wife of opposition leader Nikol Pashinyan because she was always with him.
Since Pashinyan's election as prime minister of the country, not a single social media post of Anna Hakobyan has gone unnoticed.People buzz about her hair, style of clothing, and the fact that she is a mother of four.
Anna Hakobyan spoke to JAMnews about all of this, and more, in an exclusive interview.
• Op-ed: EU-Armenia relations after Velvet Revolution – why has no breakthrough occurred?
In July 2018, Anna Hakobyan announced a Women for Peace initiative in Moscow. She presented her idea to well-known Russian women and invited them to join her campaign
– What is at the heart of the initiative?
There is a very specific message. You can't even call it making peace. The aim is to avoid all casualties until the Karabakh conflict is resolved, until a settlement option is found that will be acceptable to all parties.
This is a difficult issue, and we all understand that resolving it may take many years. I think this is logical.
If it were possible to resolve the issue by military means by killing several young people a year at the border, we would have achieved some kind of result – we would already have achieved this aim.
• Karabakh: Photos featuring war and life in times of conflict
• How the game of war is played in Armenia and Azerbaijan
– How did you come up with the idea?
It is directly related to the April 2016 war and with what I have experienced at the time, covering events as a journalist. This left such a deep impression on me that I could not help but take advantage of this status and not declare publicly, that this should not happen again.
– What do you expect?
Most of all, I would like to ensure that a large-scale war such as that of 2016 does not reoccur.
– Is it just an idea, or do you have concrete steps as well?
There are no special levers in our hands. When I say ours, I mean everyone who shares this idea. We understand that political decision-makers are in other places, and that the best format that can work is to call upon mothers, on women.
Who, if not mothers, can influence decision makers? If women unite and say 'do not kill our children – no matter what nationality they are, try your strength at the negotiating table instead'. Why are you hiding and looking for solutions at the cost of children's lives?
I have ideas for specific steps, but for now I will not talk about them. So far, something is stopping me. I have not yet found the strength and courage to translate them into action. But I will, without a doubt.
– Who joined the Women for Peace initiative?
These were mostly women who attended the meeting at the Tretyakov Gallery in Moscow. Events evolved more on the principle of chance. I did not plan in advance to talk about it. I just decided to combine this visit and talk about this initiative and then to assess what the reaction would be like.
The initiative was joined by writer Lyudmila Ulitskaya, State Duma MP Svetlana Zhurova, leader of the Women's Dialogue party Elena Semerikova, president of the Volunteers to Help Orphans Foundation Elena Alshanskaya, public figure Anna Federmesser, film and television producer Ekaterina Gordeeva and producer and film director Keira Altman Arzumanova.
Had there been other women present at the meeting, they might have participated in the visit to Karabakh
Women who have joined the Women for Peace initiative have already visited Nagorno-Karabakh where they have already voiced their call for peace.
I also emphasized that it does not matter which point of view you share.
Therefore, I stated that after the draft, it is desirable for the group of women who joined the initiative to also go to Azerbaijan and to preserve the importance of parity in diplomacy. Nobody should consider this an Armenian lobbying position.
But so far this has not worked.
The Azerbaijani side has rushed to resort to its well-known methods and added [the initiative participants] to their blacklist [for visiting Karabakh]. These women in particular will therefore no longer be able to make a peace appeal in Azerbaijan.
The Ministry of Foreign Affairs of Azerbaijan has a blacklist of people who enter Nagorno-Karabakh from Armenia. Those who are on this blacklist can no longer enter Azerbaijan.
– When addressing the issue through negotiations, both parties need to make compromises. Is society ready for them?
My husband also talked about this recently and I fully share his point of view. We should not be talking about whether our society is ready for a compromise or not – it isn't.
And I don't think they will be ready until we receive a message that they, too, are ready. Society will never be ready for unilateral compromise. No one is going to prepare for this, to be honest.
To prepare two societies at the same time, in the same time frame, and for the same outcomes, is a very difficult task. Therefore, there is little optimism about the resolution of the conflict.
"I'd like to return to the paper"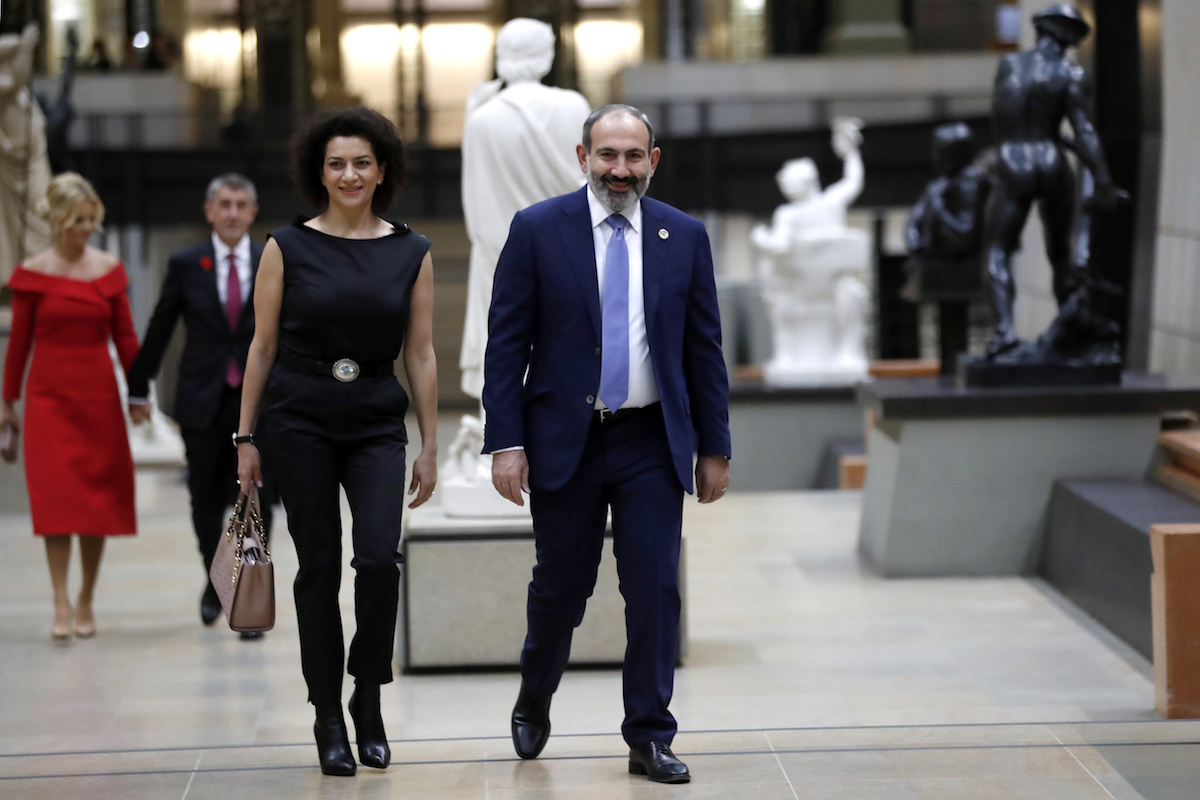 Anna Hakobyan and her husband Nikol Pashinyan are journalists. Since March 2008, Anna has replaced her husband as the chief editor of the Haykakan Zhamanak (Armenian Times) newspaper. On 1 March 2008, the opposition leader went into hiding for a year and four months after accusations of organizing mass riots.
In the 2008 presidential election, Pashinyan represented the interests of presidential candidate Levon Ter-Petrosyan. According to data published by the Central Election Commission, the ex-president was defeated in these elections. But his supporters, confident of his victory took to the streets demanding an investigation into the election results. These events were regarded as riots.
In 2010 Pashinyan voluntarily went to the prosecutor's office, was arrested, and sentenced to seven years in prison. After a year and 11 months he was released under amnesty which coincided with the 20th anniversary of the independence of Armenia.
He briefly returned to editing the newspaper. In 2012 he was elected a deputy of the parliament, and the publication was again headed by Anna Akopyan.
• Armenian PM Nikol Pashinyan reports on his first 100 days in office
• Former president of Armenia leaves home near revolutionary leader who ousted him
– Was Nikol Pashinyan pleased with the work of the newspaper afterwards?
He is never satisfied. Every time he came across a newspaper issue in the underground or in prison, he sent letters to us. From the first word to the last – everything was subjected to sharp and harsh criticism.
– Is it possible that the Haykakan Zhamanak newspaper will change its perspective from opposition to pro-government?
The transition to pro-government status, I hope, will never happen. But for all journalists, the situation is unusual now. It is obvious that journalists should report on a variety of problems, human rights issues and corruption. But when the authorities themselves have already begun a fight with all of this, it is difficult for journalists to find the right target for criticism and to remain as free and opposition media.
About Nikol Pashinyan and his family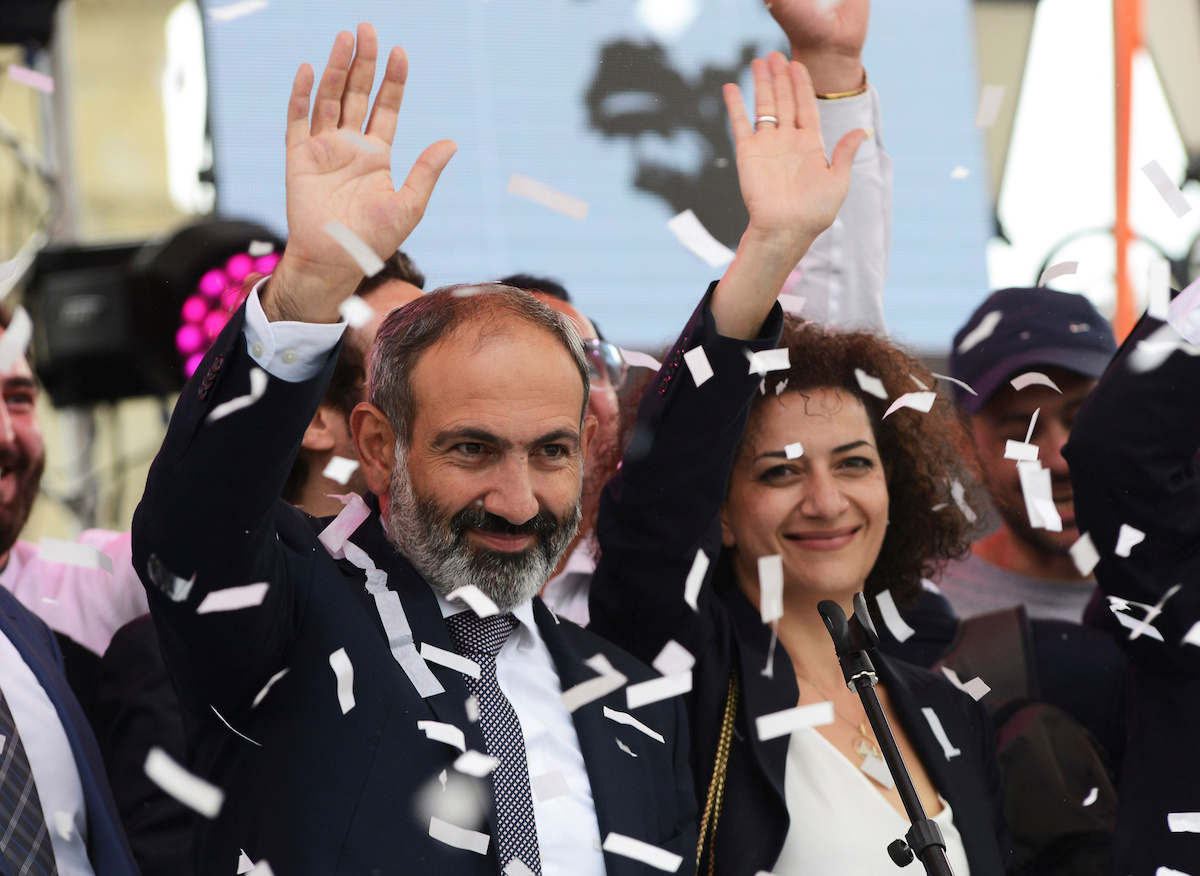 – What are the positive and negative traits of Nikol Pashinyan?
In my opinion, he is so open and sincere in his activities that his character is obvious to everyone. I can only say he is the same at home.
– Will you two continue to wear Armenian clothing brands?
Different designers work with me to create clothes especially for me, and I wear them with great pride. I will say everything publicly which designer or design studio created this or that outfit. The same applies to Nikol – he wears what is produced in the country with great pride.
– What has changed in the attitude of society towards your family since Nikol Pashinyan was an oppositionist and political prisoner?
[We were] never treated badly. I do not remember a single case. The most difficult period was that of the repression after 2008. But my children and I were as far away from all of it as possible. I cannot say that we suffered very much at the time, although the atmosphere in general was depressing.
After my husband was elected as prime minister there might have been a change in attitude, as is usually the case with people in power. But I am doing everything to prevent this attitude.