Imprisoned Azerbaijani in Karabakh released, refuses to return home
Azerbaijani soldier Elnur Elmanoglu Huseynzade has been released from prison after being sentenced on 1 February 2017 to two years for "illegally crossing the border of Nagorno-Karabakh".
Huseynzade was released on 2 February 2019 after completing his sentence.
What was he arrested for?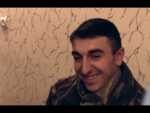 Huseynzade, an employee of the reconnaissance company of the 157th motorized rifle brigade of the Armed Forces of Azerbaijan,  illegally crossed the border of Karabakh on 1 February 2017 near the village of Talish in the Martakert region.
The soldier was found in the trenches of the Armenian military position and was arrested.
Statements from Karabakh
David Babayan, a spokesman for the president of Nagorno-Karabakh, commented on the situation.
He stressed that Huseynzade had served his sentence and was released – as it should be in a state governed by law:
"It's quite natural for us to release a citizen of Azerbaijan in full accordance with the law and the norms of international law. In Karabakh, they will never keep a person behind bars only because of his nationality, as is done in Azerbaijan."
The press secretary also explained how the situation might develop:
"I recall that he [Huseynzade] at the time refused to return to Azerbaijan, knowing full well what was waiting for him there. Usually in such cases, people choose a third country. I think the international practice adopted in such cases will also be applied to him."
• Karabakh: what is the status quo
• Armenian and Azerbaijani FMs discuss Karabakh problem
The reaction from Azerbaijan 
The Ministry of Defense of Azerbaijan says Elnur Huseynzade was not serving in the Azerbaijani army when he was captured.
The Caucasian Knot, citing a statement by the Ministry of Defense of Azerbaijan, reported that Huseynzade was fired before the incident occurred.
On 5 February 2019, the Azerbaijani military prosecutor's office stated that a criminal case was initiated two years ago against Elnur Huseynzade for desertion and that he was a wanted person.
The statement also says that during his military service, Huseynzade exhibited undisciplined behavior and repeatedly left his unit without permission.
The Azerbaijani side considers Elnur Huseynzade a defector. He is still on the international wanted list and faces a term for treason.
Toponyms and terminology used in the publication, and views, opinions and strategies expressed in it do not necessarily reflect the views and opinions of JAMnews or any employees thereof. JAMnews reserves the right to delete comments it considers to be offensive, inflammatory, threatening, or otherwise unacceptable