How an Armenian city in Georgia voted for the ex-president whose name wasn't on the voting ballot
Twenty-five candidates ran in the first round of the Georgian presidential elections, many of whom were either completely unknown to voters or became internet memes due to their stubborn participation.
The 28 October presidential elections did not result in a victor, which means that a second round of voting will take place sometime before 2 December.
The votes of the main contenders were almost equally divided in the first round – Salome Zourabichvili (the government-supported candidate) received 38.4 per cent of the vote, while opposition candidate Grigol Vashadze took home 37.73 per cent.
However, a number of voters from the Ninotsminda municipality in Javakheti, a region predominantly inhabited by Armenians, voted for a candidate that never even visited their region – Mikhail Saluashvili – and who came in 12th in the race as a whole.
• Presidential elections in Georgia – why is the ruling party talking about civil war?
•  Who do ethnic minorities in Georgia vote for?
• 25 photos from Javakheti, Georgia: villages, lakes and birds
• Corridor – a JAMnews project on migratory birds in Javakheti
In this polling district, the leader of the Union for Restoration of Justice-Voice of the Nation: the Lord is Our Truth group, Mikhail Saluashvili, received 87 votes – about one per cent of local voters. Saluashvili did not receive as many votes anywhere else in the country.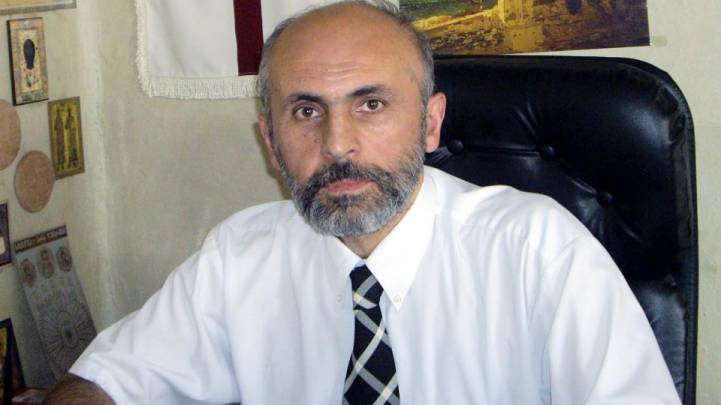 Journalists and Saluashvili himself have wondered how he could receive such high numbers in a region that he didn't even visit during his election campaign. Local radio station Nor has offered one solution:
Many residents of Ninotsminda do not speak Georgian – the language in which the ballots were printed. Some may have read Mikhail Saluashvili's name as Mikheil Saakashvili, and in doing so, voted for the former president who was not even participating in the elections.
Radio station Nor came to this conclusion after speaking with several local residents who 'voted' for Saluashvili. They admitted that they had heard his name for the first time, and that when they cast their vote, they did so for Saakashvili.
During the election campaign, Saluashvili reminded voters that the second coming of Our Lord Jesus Christ was imminent, and that it is necessary for the country to be ruled by an agent of God's will on earth – that is, himself. Such was the election platform of Mikhail Saluashvili.
_______________
Ninotsminda is located in Southern Georgia, in the Javakheti region. Javakheti is bordered by Turkey and is predominantly populated by ethnic Armenians.
According to the 2014 census, 168,000 Armenians live in Georgia and most of them live in the Javakheti region.
Due to a lack of knowledge of the Georgian language, the Armenian community in Georgia has traditionally been politically passive. Locals mostly receive information through Russian-language media.
The region demonstrated low voter turnout, and citizens who did come out to the polls mostly did so to vote for the ruling political force – a long-established tradition in Georgia.
•  Armenian language in Georgia – pros and cons of official language status
•  A textbook as a means of evoking disgust for knowledge
 •  The 4 main problems with Armenian schools in Georgia
Many in the region cannot even name the current prime minister of the country.
Here, as well as in the rest of Georgia, the unemployment rate is high. Most men from this region regularly travel to Russia for seasonal work in order to feed their families.
The population of Javakheti is largely engaged in cattle breeding, as well as growing potatoes and other vegetables. The local cheese, potatoes and honey of the region are famous throughout Georgia.
Javakheti is one of the most picturesque regions of Georgia, known for its unique lakes and nature.