Bazaar in Abkhazia
* Agneshka Zielonka is a Polish journalist living in Tbilisi who collaborates with JAMnews.
At first glance, the Sukhum/i Bazaar isn't any different from the thousands of other bazaars in the Caucasus. Life here begins at 5am. Sleepy sellers put counters in order, add to the products and goods left over from yesterday, and prepare for the day in hopes that it will turn out to be a successful one.
The bazaar is open for twelve hours and closes at 5pm. Sellers leave their goods on the shelves, counting on the conscientious work of the guards.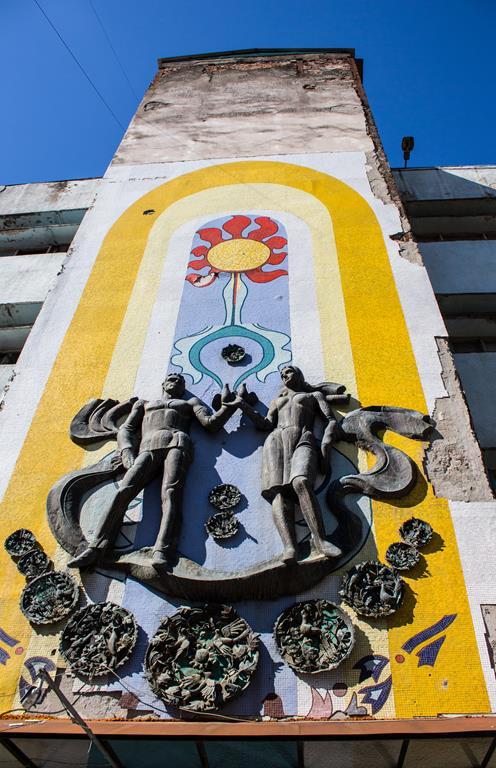 The Sukhumi Bazaar covers a rather large area, covered with blue tarps which are clamped to the sides of two Soviet era buildings. These buildings are also part of the bazaar however. In one building they sell clothing, and groceries in the other. There is a preserved 'piece of art' here, characteristic of the 'light era' of communism.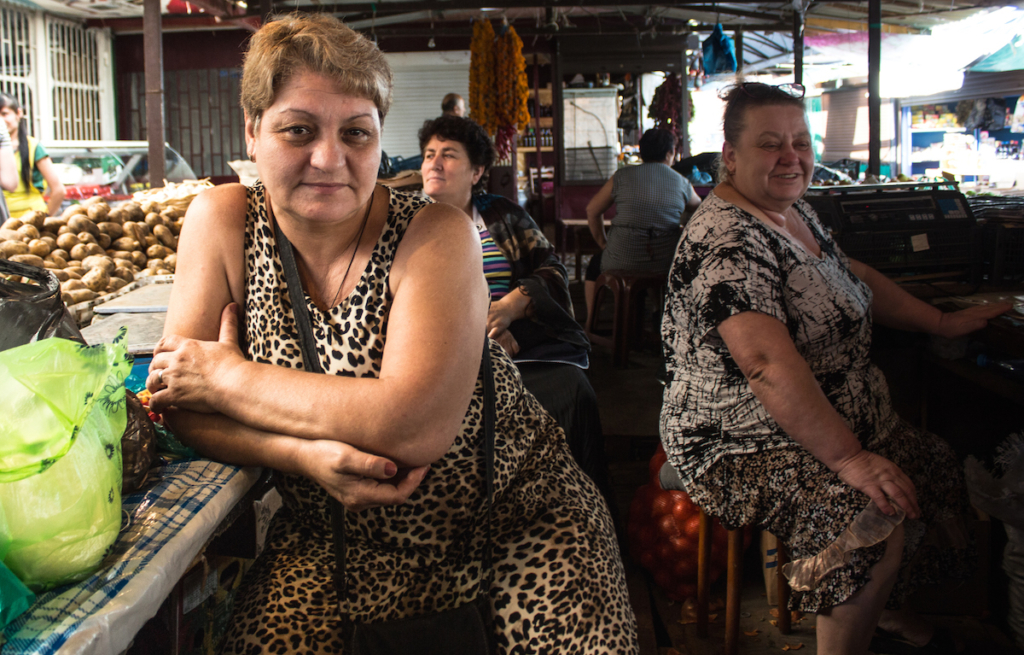 Yulia sells vegetables. She lives in a small village on the outskirts of the city, and sells the vegetables that she grows herself in her garden.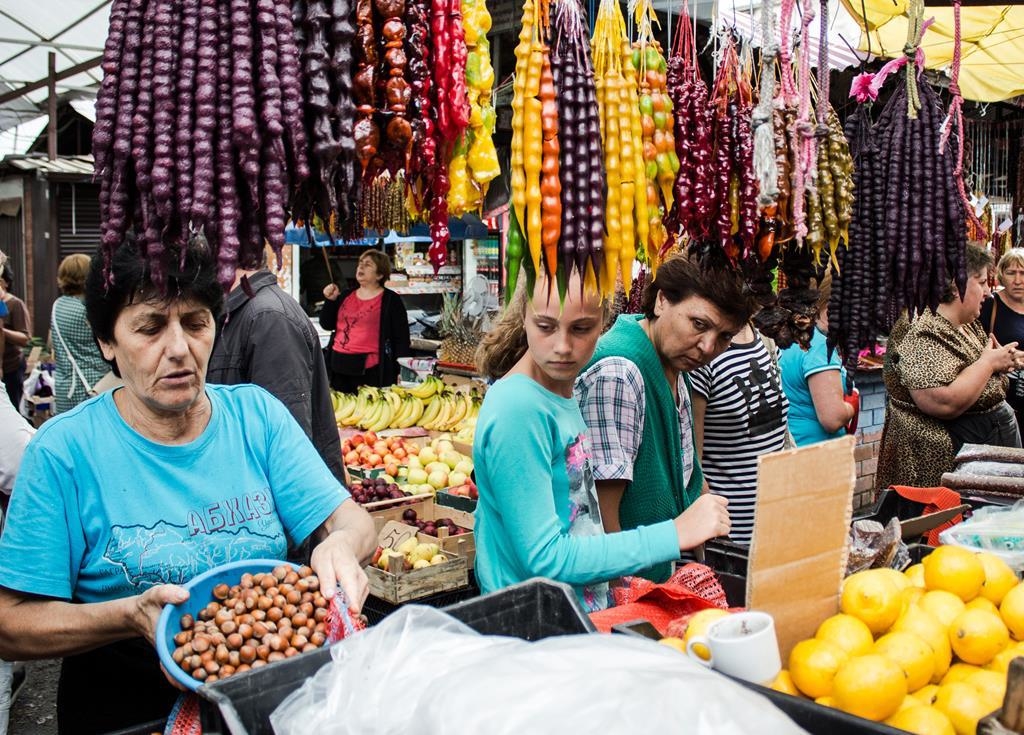 Exactly the same items are sold at the Sukhumi bazaar as are sold in Tbilisi. Abkhazians just remove the last letter '-i' from the names of the goods, such as khatchapur instead of the Georgian khatchapuri (pastry filled with cheese).
Inhabitants of Abkhazia are very proud of their mandarins, which are extremely tasty and fragrant indeed.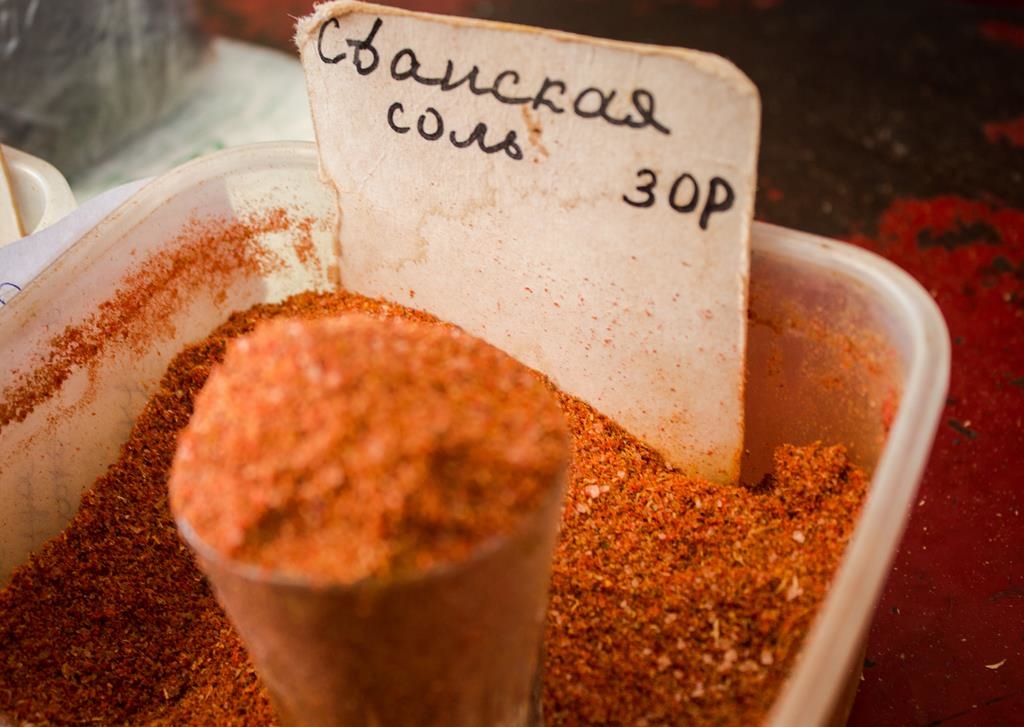 'Seasonings without borders'. This is Svanetian salt, sold in the Sukhumi bazaar.
It is hard to find good quality wine at the Sukhumi bazaar. In order to make better sales, this seller came up with an promotional incentive: buy wine and receive a bottle of chacha (vodka made from grapes) flavored with very sweet fruit, honey, and sugar. There's a large variety: pomegranate, grape, pear, etc.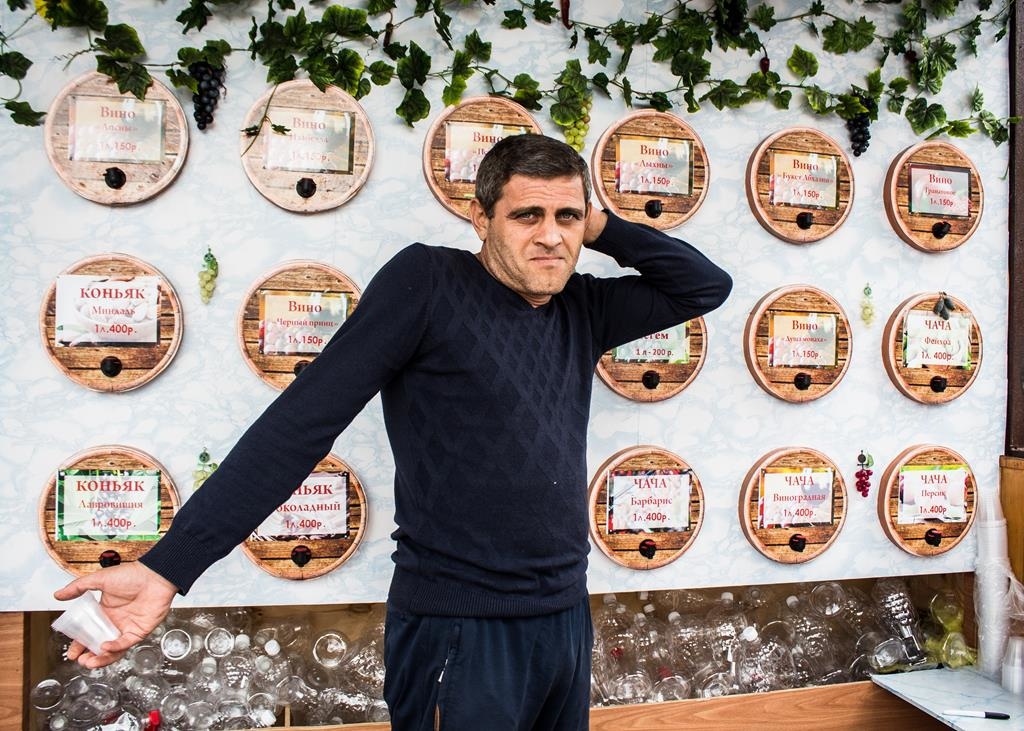 Koba is passionate about photography, but oddly enough, he doesn't like taking photographs. He helps his family sell bread at the bazaar. He has managed to travel a bit, and said that his favorite cities are St Petersburg and Baku.
"Sukhumi probably resembles how other European cities looked thirty years ago. Buildings such as we have here cannot be seen in Europe," he said.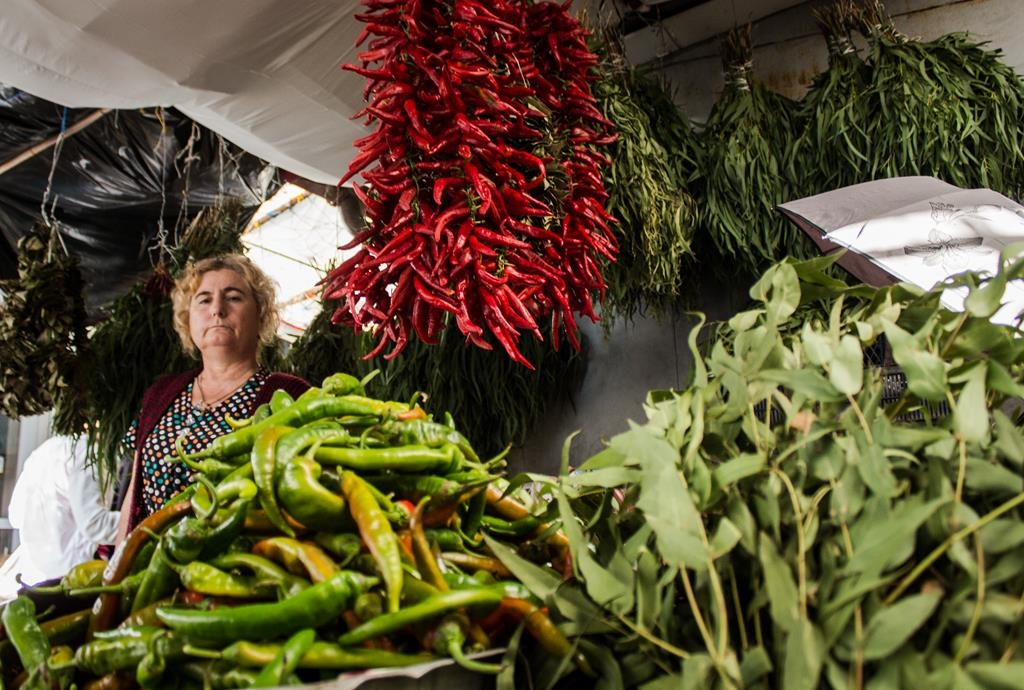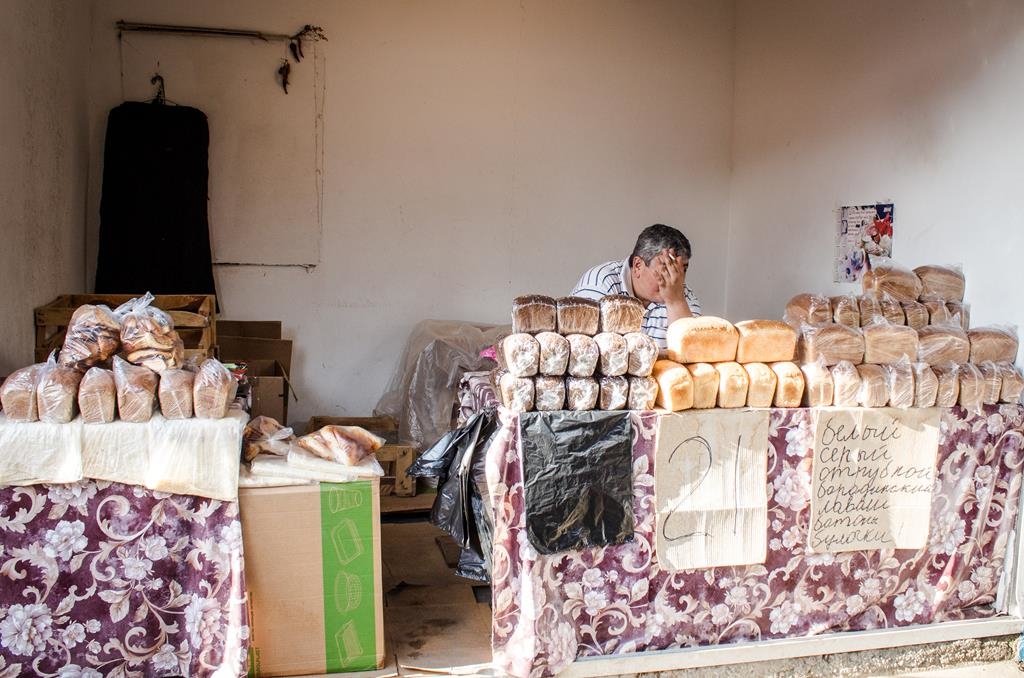 Koba's 'ambavi'.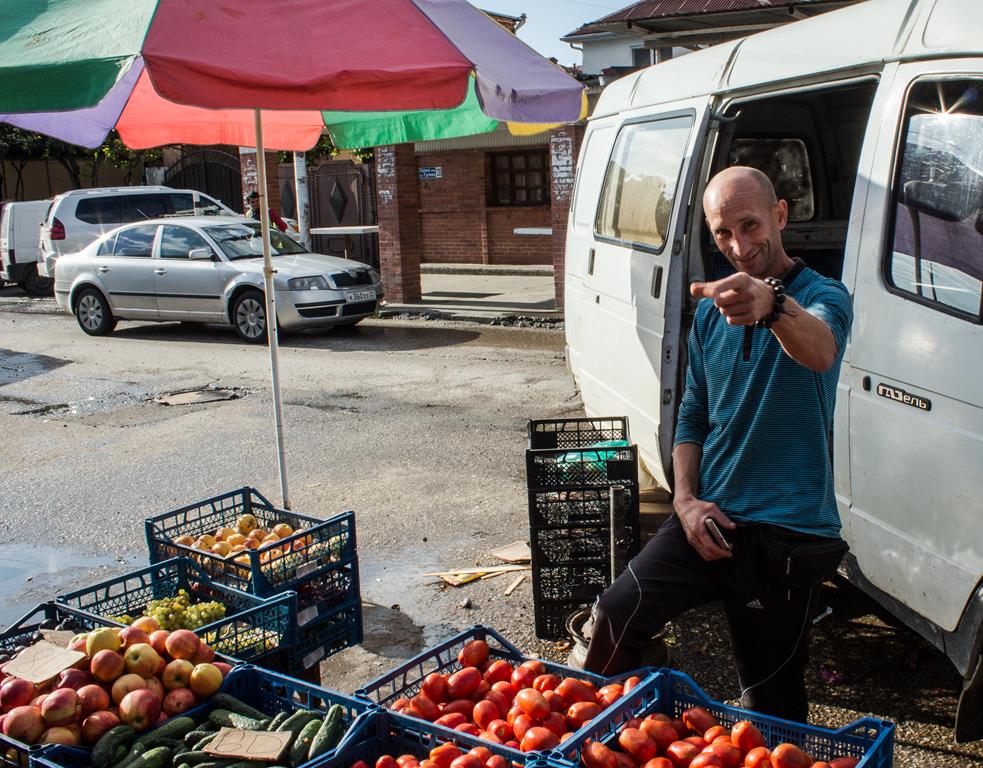 Konstantin is a single parent of two. His wife was Polish. They divorced, and she returned to her homeland.
"Russians and Poles are just incompatible," said Konstantin.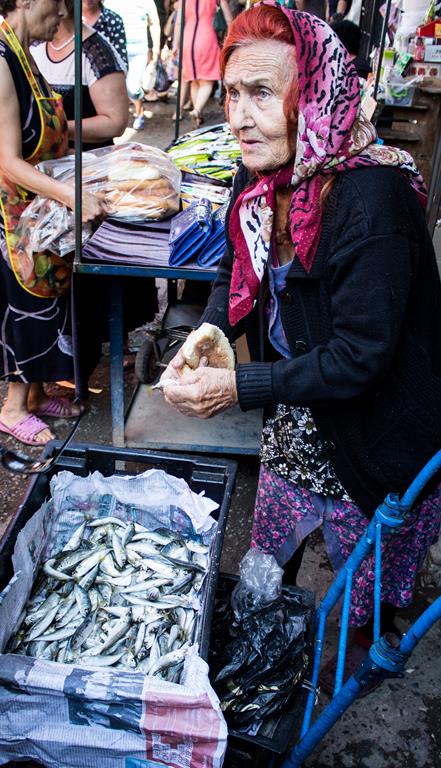 This woman is selling small fish caught in the Black Sea. She lures potential buyers in with a confident assurance that the fish is surprisingly quick and easy to clean, and that 'it's worth living just for its taste'.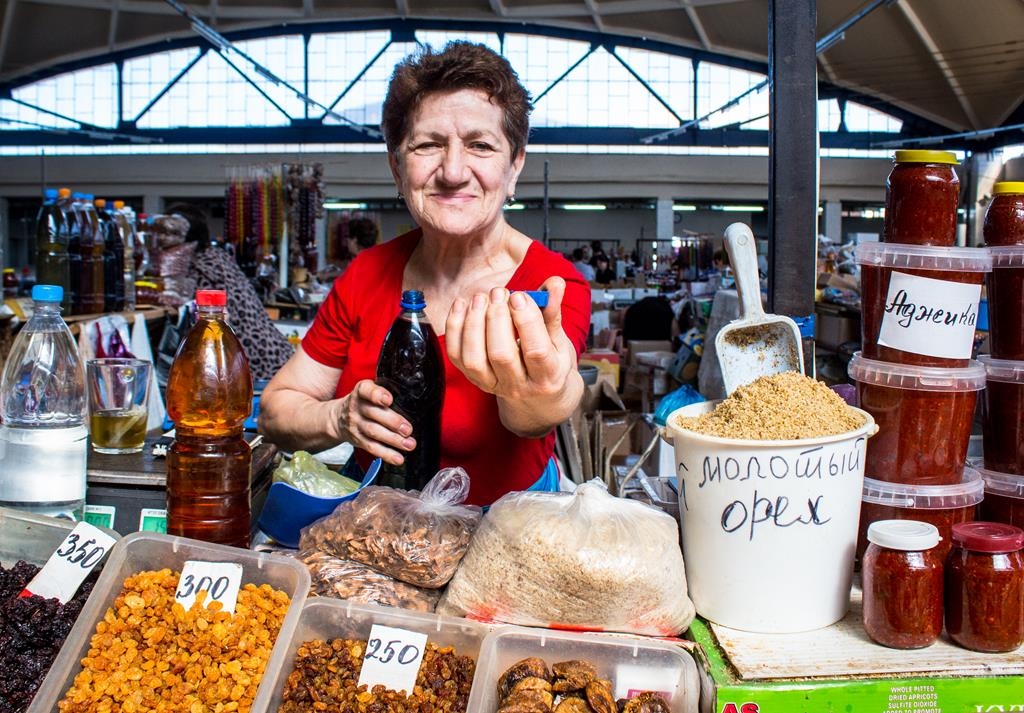 Seda is a pianist. She taught at a music school for 25 years. This was before the war in the 1990s. Afterwards, she lost her job. "Nowadays, no one cares about music. No one wants to learn how to play the piano," she said. The money she earns at the bazaar is barely enough to make ends meet. She regrets it even more so because she cannot travel. In the days of the Communists, Seda traveled all over the Soviet Union.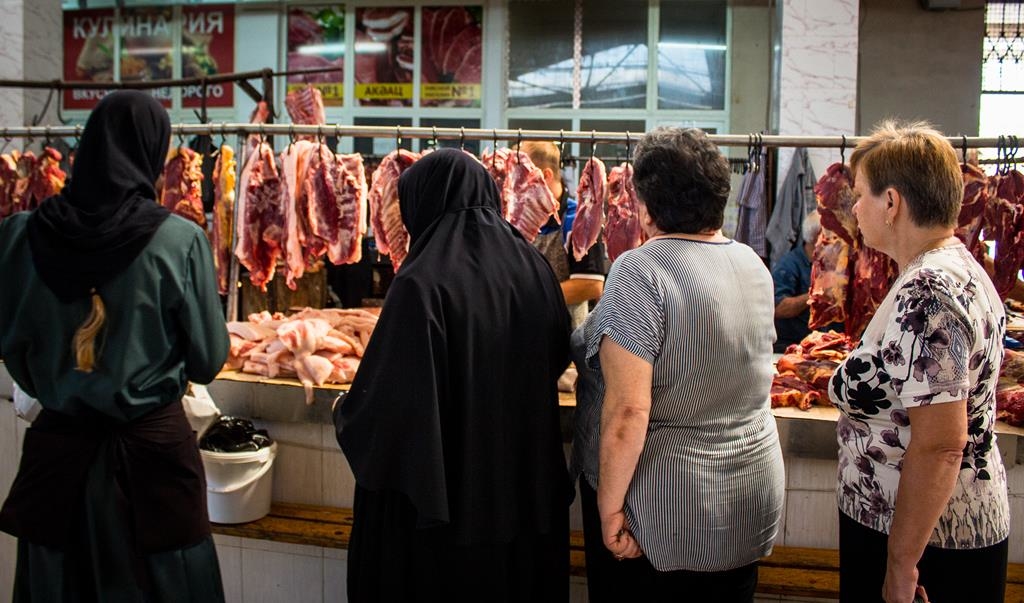 Abkhazia is a place where various religions intertwine. The differences in religions are perhaps expressed brighter here than anywhere else in the Caucasus. There is an impression that most Abkhazians are not inclined towards any one faith themselves, but some of the old traditions remain sacred to this day.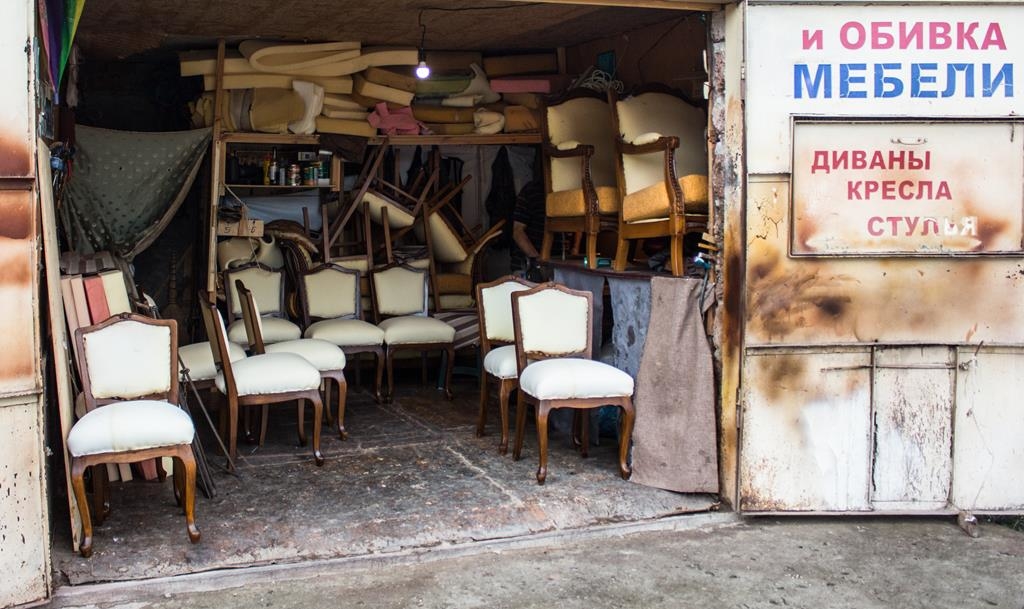 A store of old restored furniture is located at the very end of the bazaar. A tiny, dark little room, stuffed with chairs and sofas.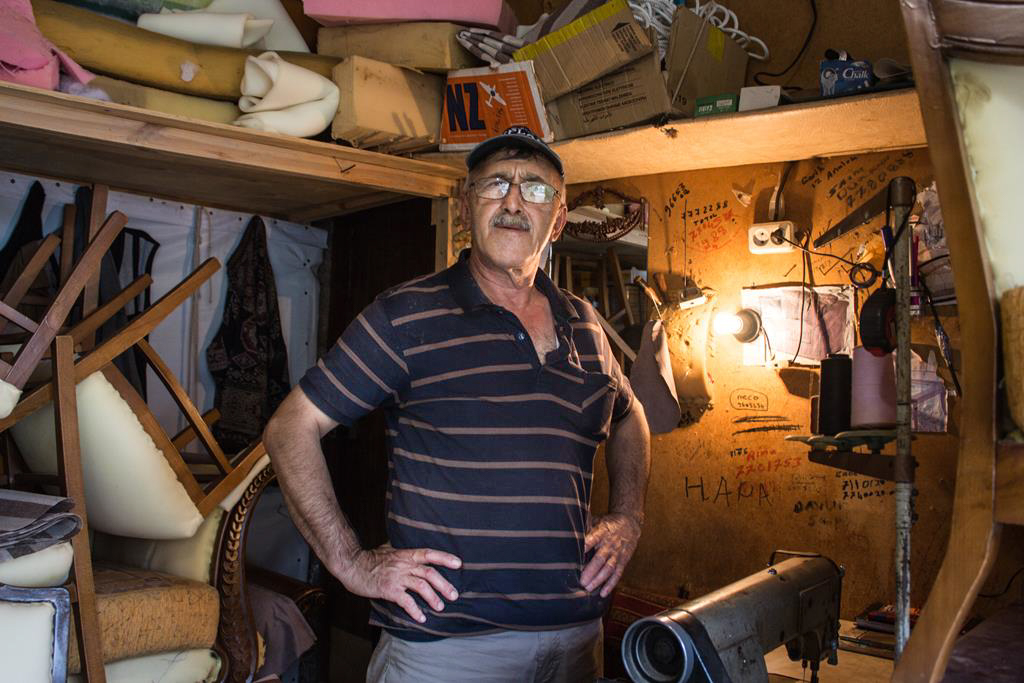 The owner of the shop is a Turk. His parents left the city back during Soviet times. He returned and opened this small business. Despite the fact that he does not speak any of the languages spoken in Abkhazia, although his family is Abkhazian and Russian, he does not complain about a lack of work or clientele.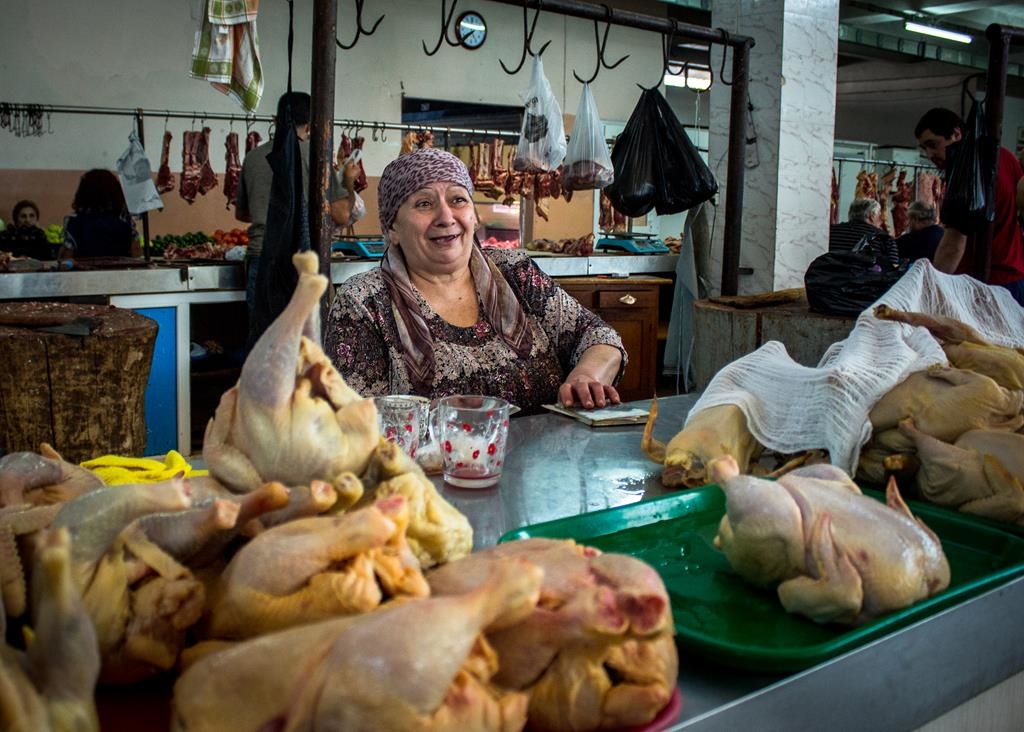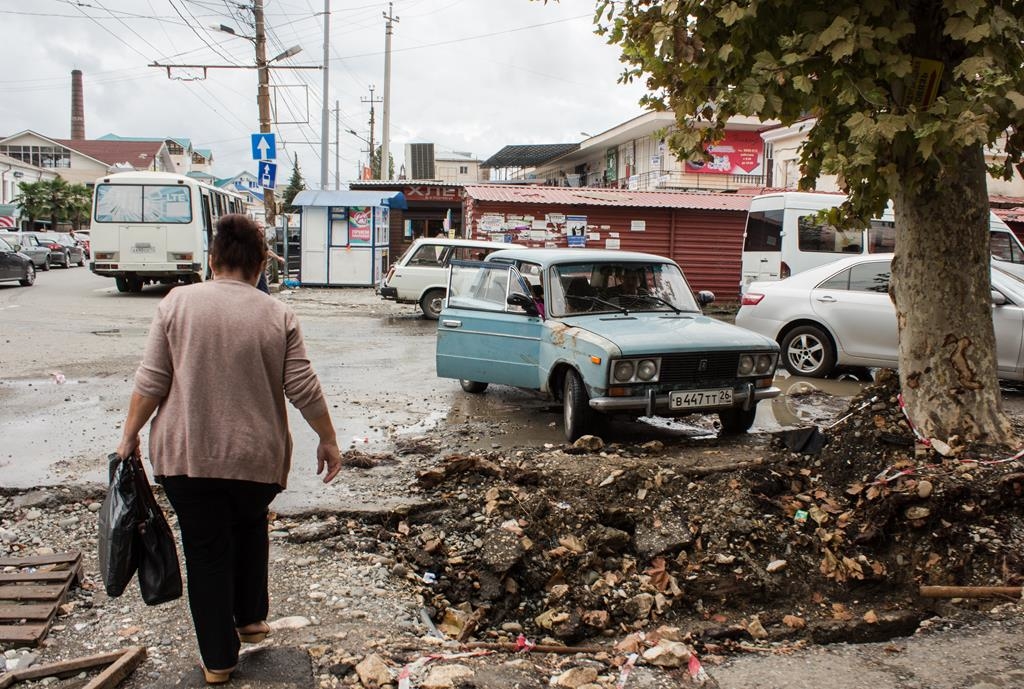 Toponyms and terminology used in the article, and views, opinions and strategies expressed in it do not necessarily reflect the views and opinions of JAMnews or any employees thereof. JAMnews reserves the right to delete comments it considers to be offensive, inflammatory, threatening, or otherwise unacceptable